Everyone knows how quickly your car can dirty, especially when you have kids and pets. Over time, dust and dirt can build up, especially as your upholstery starts to show some wear, so give it a little attention and care periodically so it looks its best. Here are a few tips on what to look for in the best car carpet cleaners and a few reviews to help you start shopping.

Top 10 Best Car Carpet Cleaners Review
Lexol Auto Carpet Cleaner – Best Stain Lifter Carpet Cleaner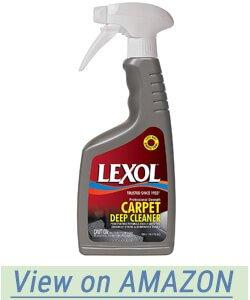 Eliminating both odors and the toughest stains, Lexol Carpet is fast-acting and powerful. It breaks down both water and oil-based stains as well as tough stains like coffee, dirt, grease, ink, and juice. It is also versatile enough to use in your RV or car as well as your home, clothing, and sporting goods. Leaves that new car smell. Great for cleaning off the dash and doors. Any plastic part in the vehicle will benefit from this.
With a penetrating formula, Lexol will easily lift up tough stains while getting rid of odors. This professional strength cleaner is safe to use on vinyl surfaces, rugs, door panels, floor mats, fabric, and colorfast carpet. Lexol is both an odor neutralizer and stain remover.
Pros
This product cleans your dash nicely and doesn't leave it looking oily
It cleans up faded areas nicely
Works great on vinyl and other interior surfaces
Cons
It is hard to find in stores
If you accidentally spray it on glass, it is hard to get off
Blue Magic Carpet Stain & Spot Lifter – Best Spot Cleaner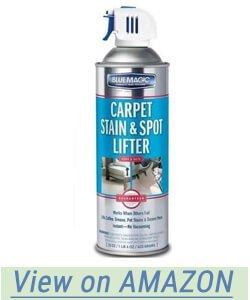 Perfect for either car or home use, Blue Magic carpet cleaner works on tough stains that are set in or stains with light discoloration. This is the perfect product to help keep your floors clean and neat and also works well with covered furniture and automobile upholstery. It also works well for fast targeted spot treatments and includes a spray nozzle for comfortable handling.
With a concentrated formula, Blue Magic Carpet Stain & Spot Lifter removes a wide range of stains quickly and easily. This easy to use product doesn't require vacuuming and is capable of removing water and oil-based spots and stains. It works on both fresh and old stains including coffee, urine, wine, blood, tar, and grease.
Pros
It has the power of an industrial product
Works easily without having to do a lot of scrubbing
It also works on furniture too
Cons
It doesn't always remove the stain completely
Chemical Guys Carpet/Upholstery Stain Extractor – Best Detailing Car Carpet Cleaner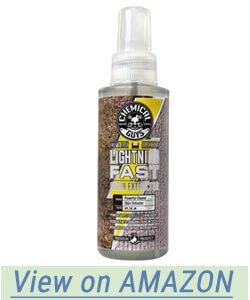 Chemical Guys Carpet/Upholstery Stain Extractor – Best Detailing Car Carpet Cleaner
For an incredibly powerful stain and spot remover, Chemical Guys Stain Extractor removes stains from carpet, upholstery, and fabric. It quickly cleans stains from pets, wine, soda, coffee, grease, and dirt. Boosted with strong cleaning agents, it can take on tough stains while eliminating odors to kill bad smells where they start.
With anti-bacterial enzymes, Chemical Guy Stain Extractor will disinfect as it cleans and works as both a pre-treatment step or as a stand-alone product. This is an easy to use product that just requires spraying on the stain, agitation with a brush, and removing residue with a towel. Even the most stubborn stains are lifted off of upholstery and carpet without affecting the feel or color.
With no sticky residue, Chemical Guys Stain Extractor leaves your floor mats and carpet looking like new. This is like two products in one that deodorizes and clean simultaneously.



Pros
This is a great product for quick detailing
Works well on fabrics and upholstery
It will eliminate odors and stains
Cons
It is a little on the expensive side
Sprayer part cracks easily
Turtle Wax 50828 Quick & Easy Interior 1 & Exterior – Best All In One Car Cleaner
An easy all in one solution, Turtle Wax Quick & Easy Interior 1 and Exterior includes all the tools to make sure your car shines inside and outside. Featuring a proprietary micro-scrub brush, this product cleans deep into the fabric and can detach for easy use and for targeted deep cleaning. You also get a premium microfiber towel making application easy.
Capable of working on vinyl, plastic, upholstery, and carpets, Turtle Wax interior and Exterior will remove odors and stains with its triple action formula that uses oxygenated cleaners that capture and get rid of odors. It is powerful enough to remove mustard, ink, oil, ketchup, makeup, grease, juice, coffee, and ground-in stains.
With the multi-purpose cleaner and the Quick & Easy Exterior Wash and Wax, you can clean all exterior surfaces along with the two premium microfiber towels. Using the advanced polymer technology, this cleaner will capture grime and dirt giving you a scratch-free clean. The Interior 1 is ideal for removing odors and stains on any interior surface while the micro-scrub brush cleans deep in the fibers of the fabric cleaning and deodorizing upholstery and carpet at the same time.
Pros
The brushing is where the magic happens with this product
The foam isn't a gimmick, it really works
It will make your car smell fresher
Cons
Initially, the odor is pretty strong and chemically
You need a couple of applications to remove a stain
Armor All Carpet & Upholstery Cleaner – Best Ground-In Stain Remover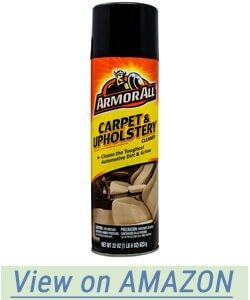 Restore the feel and look of your upholstery and fabric with Armor All Carpet & Upholstery Cleaner. Remove ground-in dirt and stains to repair the beauty of your car's interior. With a balanced formula, Armor All was meticulously designed specifically for the special needs of your car.
Rich foam lifts, soil and debris, breaking up the dirt and tough stains on the surface of the car carpet.
Lifting away debris and dirt, Armor All Carpet & Upholstery Cleaner won't harm the delicate surfaces in your car but penetrates deep into carpet and fabric fibers. Using a rich foam, this cleaner breaks up tough stains and dirt and won't discolor the upholstery or carpet. It is designed to clean the toughest automotive grime and dirt.
Pros
It works better than household carpet cleaner
Easy to use and scrub out stains
It will work in about ten minutes
Cons
You have to brush hard to get out the stains
Blue Coral DC22 Upholstery Cleaner – Best Everyday Stain Cleaner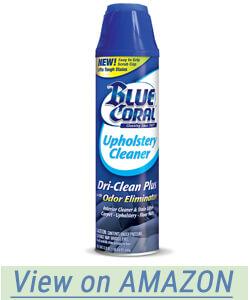 With a handy built-in scrub cap, the Blue Coral Upholstery Cleaner is easy to use and great for lifting up stains. The scrub cap lets you get out ground-in stains from floor mats, upholstery, and carpet.
With Blue Coral DC22 Cleaner your car carpets will look just as good as when you bought a car. This is subject to a lot of reviews on Amazon.
Blue Coral Upholstery Cleaner works well on blood, ink, lipstick, coffee, tar, and grease with a foam that penetrates the stain lifting it up and suspending the dirt to clean your upholstery and carpet quickly. This is a great cleaner for use on everyday spills in both your car and your home.
Pros
It is easy to use with no harsh smells
You can clean a whole couch with this product
It is quick to apply and remove
Cons
Leaves a watermark if you clean just one spot
The brush is somewhat flimsy and doesn't work that well
Meguiar's G9719 Carpet & Upholstery Cleaner – Best General Cleaning Car Cleaner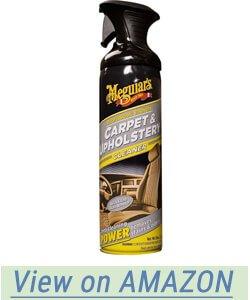 Quickly breaking down stains, Meguiar's Carpet and Upholstery Cleaner foam uses a professional formula that is great for stain removal and general cleaning. With its deep cleaning power, you can easily remove odors as well as stains.
Meguiar's G9719 Carpet & Upholstery Cleaner Dries quickly without leaving behind a sticky residue.
Meguiar's G9719 Cleaner also dries fast without leaving any sticky residue behind. Plus, it comes with a dual-purpose sprayer is a great way to clean spots and stains leaving them smelling fresh.
Pros
It works well on cloth seats
A decent cleaner that cleans up dirt with little scrubbing needed
It cleans dingy upholstery well
Cons
It does not remove odors well
It will leave a slippery residue
CarGuys Super Cleaner – Best Exterior and Interior Cleaner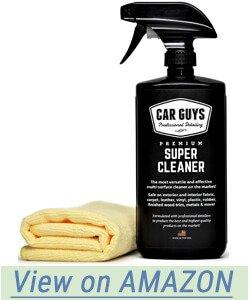 If you are looking for a multi-surface cleaner, check out CarGuys Super Cleaner that has best most recent advancements in nanotechnology that will lift away grime and dirt effectively at the molecular level. You won't have to waste time and energy on a product that doesn't work or on a special deep stain remover. This product will work on every exterior and interior surface in your vehicle except for instrument panel screens and glass.
The CarGuy Super Cleaner will work on wood trim, metal, plastic, vinyl, leather, canvas, fabric, and upholstery making it incredibly versatile. Without leaving a greasy and cloudy residue, you won't need water to rinse off the area after you clean. This nontoxic product is safe to use and also good for cleaning furniture, outdoor accessories, and boats to get rid of mildew.
Pros
Great customer service
It works well on grease stains and dashboards
It takes minimal effort to clean your car interior
Cons
It doesn't remove stains completely or work on leather
Looks great at first but it fades
303 Fabric Protector and Stain Guard – Best Liquid Repealing Cleaner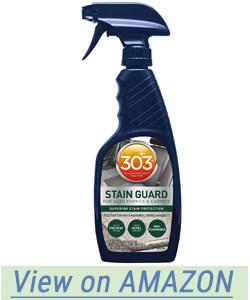 It's important to keep your car's carpets and seats looking new, even if it is ten years old. With the 303 Stain Guard for Auto Fabrics & Carpets, you can stop stains and repel liquid like pet stains, food, soda, and coffee on your floor mats and carpets.
This is a non-flammable product that doesn't have any harmful fumes. Safe for all fabrics, including natural fibers and synthetics
303 Fabric Protector and Stain Guard is a safe to use on fabric seats, carpets, and floor mats. This product is a great way to add a powerful coating that will repel water and prevent serious stains. To make sure you get the best results, clean fabric first with 303 Multi-Surface Cleaner.
Pros
It works well on cars and at home on rugs
It will also repels liquid right after a spill
Perfect product for coffee and soda stains
Cons
It has a strong smell that takes 24 hours to fade
Tuff Stuff Multi-Purpose Foam Cleaner – Best Multi-Purpose Cleaner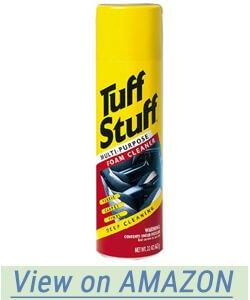 For powerful cleaning on tough stains, the Tuff Stuff Multi-Purpose Foam Cleaner is a deep-cleaning foam that will help you restore the appearance on vinyl, carpet, and fabric. This industrial strength product has a special formula for deep cleaning foaming action that works well on any painted or washable surface. You can use it on carpets, floor mats, and both vinyl and fabric upholstery.
This is a great product to use around the house on metal, wood, screens, tile, bathroom fixtures, and Formica. Tuff Stuff Multi-Purpose Foam Cleaner uses its heavy-duty foaming action to lift stains and is a handy cleaner for stain and spot removal.
Pros
The smell isn't horrible
It also works on household furniture
Works well on coffee and miscellaneous stains
Cons
It does not work as well on cloth seat stains
The aerosol can is hard to spray
Car Carpet Cleaner Buying Guide
Why Do You Need to Purchase A Quality Car Carpet Cleaner?
It is important to use a high-quality car upholstery cleaner to protect the interior of your vehicle. By keeping your vehicle's interior clean, you can extend the upholstery's lifespan for several more year's helping it to look brand new.

Benefit for Keeping Your Car Upholstery Clean
There are quite a few reasons to keep your car upholstery clean including:
Retain Your Vehicle's Value
By keeping your car serviced regularly, you can help retain the value of your vehicle. This is also true of keeping your car clean, especially the carpet and upholstery. If you think you may sell your car someday, it can help to take care of your vehicle's interior so that your car's value will stay as high as possible over time. When a buyer sees a clean car, it tells them that the car has been well looked after.
Tackle Stains Before You Can't Remove Them
When you are choosing a car, you will see lots of different interior types, but you will find that some materials clean easier than others. And, some upholstery can become stained when they get a little bit of dirt on them. This is especially true if you have kids. When you have your vehicle's interior cleaned regularly, you can make sure that dirt and those stains are removed from the carpet and seats before it's too late.
Anti-bacterial Properties
As you get in and out of your car, you tend to bring in dirt and bacteria with you. Combine that with food and drink, you are bringing even more bacteria into your car. If you get a regular upholstery cleaning, you can guarantee that your car stays clean and isn't a feed ground for bacteria which can help to prevent allergies, colds, coughs, and illnesses.
Condensation can build in our vehicles throughout the winter months and in the summertime, you can track sand and dirt into your car that can cause your floor mats to erode. If you address these issues early and clean your car upholstery you can stop damage early and keep your vehicle's interior cleaner longer.
The Problem with Car Upholstery Cleaning Services
You make think it's more convenient to pay a service to clean your vehicle, but they may not do it the way you would want. Here are a few issues that can come up with upholstery cleaners and car interior cleaners.

It can be expensive to have your car cleaned regularly. They also tend to be more focused on cleaning the inside of your car and not the outside so you may not get your money's worth. It can be difficult to find a good upholstery cleaner or car interior cleaners or upholstery cleaner so make sure to check reviews and find one that is worth the money.
Sometimes you will find that car upholstery cleaning services are also companies that operate as a local garage so their business many not focus on the type of service you want. Finding a good place that will clean your right can be hard, especially finding one whose standards match your expectations. This may take some time and effort and require a bit of hunting before you find the right one.
Since your car's cleaning should be done regularly, just like the rest of its maintenance, it can be hard to find the time in your schedule to have it professionally cleaned. If you are having it done every week, remember that you will have to be without your car when it is being cleaned and have to work around the company's books and schedule to make it fit with yours.
Types of Car Carpet Cleaners
For a one size fits all type of cleaner, all-purpose cleaners are a good choice. They are good for carpets, fabrics, vinyl, plastic, and leather allowing you to clean all your car's interior with just one cleaner.
Car Upholstery Cleaner and Shampoo
If you are working on one specific area of your car, an all-purpose cleaner might not get the job done. Sometimes you need a specialty product that will give you a professional result. It is worth investing in a good car upholstery cleaner and shampoo for specific spots and stains.
Surface Cleaners and Detailers
It isn't easy to scrub your carpets and seat well inside your car, but you also don't want to forget the plastic areas that can collect dust and dirt to give your car's cleaning a really professional look.
It is also a good idea to get a product that will protect your car's interior from future damage from sun and dirt that will help keep future maintenance minimal so that cleaning is easy and more effective in reducing future stains.
How to Choose the Best Car Carpet Cleaner
With all the options of products that you can use to clean your car with, it can be hard to know which is the best choice. You should be able to find a good car carpet cleaner that isn't too expensive that will leave your car smelling fresh and looking clean. Here are a few features to look for when choosing the best car carpet cleaner.
Make sure to match the type of cleaner to your car's interior. Do not use a general household product inside your car since that can cause irreversible damage. If you have leather upholstery, use a leather conditioner since it will contain oils necessary to preserve the leather and keep it from drying out.
You also want to look for an eco-friendly product as it will keep certain parts of your safe from damage. Even if you use the wrong product for your vehicle, if it is an eco-friendly product, it will have milder ingredients that are also highly effective at getting rid of grime and dirt.
Type of Car Carpet Cleaner
You will find that there is either a standard upholstery cleaner that won't be able to pick up loose dirt and debris requiring vacuuming first and a multi-function cleaner that you can use without vacuuming.
Always check reviews to see if you are buying an effective car cleaner and something that smells nice. Reading what others have said about a product will tell you a lot about its effectiveness.
What surface and material your car's interior is will determine the type of cleaner you need to use. Make sure to buy a cleaner that is right for the material and surface you are cleaning or use a multi-purpose cleaner.
How to Properly Clean Car Carpet
Finding the right car cleaner for your vehicle isn't always easy, plus you need to know what the best way to use this product is. Here are a few tips on how to clean your car upholstery correctly.
Even though it may seem like a straightforward process, cleaning your car's upholstery, particularly the seats, can take a lot of energy and time if you aren't using your upholstery cleaner correctly. Follow these steps for an easier way to clean your upholstery, plus get the best out of your chosen upholstery cleaner.
Needed tools:
Microfiber Towel
Sponge
Brush
Bucket of Clean Water
Vacuum Cleaner
Make sure you get car cleaner that works on a good range of stains as well as the soft part of the car cabin including carpets and upholstery. It also helps if the cleaner has a built-in brush on the cap to get out ground in stains.
First, take your vacuum cleaner and put on the brush attachment using it to clean up any loose pieces of debris. Test spray the upholstery cleaner on an out of sight piece of fabric even though most cleaners are pretty mild, it's still better to check before spraying it everywhere. If you have a foam cleaner, make sure to work in into the fabric with a hard sponge or brush working specifically on areas that are heavily stained. After doing a test, coat the surfaces liberally with the spray and let it soak in if necessary. Next, use the cloths and water to remove any dirt and extra cleaning product. After that, you can let the upholstery naturally air dry so that you can have clean seats in no time.

What Type of Car Interior Cleans the Easiest?
First, the floor mats, carpets and some types of seats will generally show the dirt faster than other areas of your car. When it comes to the seats, they are getting dirty simply because they are the most in contact with those riding in the car. Your average person will sweat around 1 ½ gallons each day and is worse in a hotter climate. There are also oils and dirt from your skin to consider and also whatever else you bring on your clothes or in the car with you. And if you have kids and pets, the dirt and debris just continue to grow. Even though you may think you're not in the car enough to get it dirty, over time that dirt will build up and make your car seats look grimy. Here are the three main types of car interior materials:
Leather – Not very cheap to have in your car but it is durable and easy to clean. They use they own specific cleaners and required waxing and conditioning.
Vinyl – Like leather, vinyl is easy enough to clean by a simple wiping down, but if you live in a hot climate, having vinyl seats can be particularly hot on any exposed skin when you get in the car.
Fabric – Fabric seats are the most common in cars since they are comfortable and are available in different patterns and colors to go with the inside of your vehicle. They are also very comfortable if you live in either extreme of heat and cold climates. It's a little more difficult to clean, but if you get a decent quality upholstery cleaner, it shouldn't be that hard.
The easiest of these three materials to clean in vinyl. Leather will wipe clean easily but needs a lot of maintenance with the required conditioners and waxes. The fabric is also not a bad fabric for car interiors but it does take the most work of the three to clean.
Tips for Removing Stains from Auto Upholstery
Coffee and blood stains are tough stains that the manufacturers of these cleaners highlight often as they can be difficult to get out of fabric. The fact that their cleaners can handle this type of tough stain means that the ordinary stains should be pretty easy. Here are a few tips on making cleaning your interior even easier:
Tackle the stain as soon as you can and don't leave it for another day.
Blot stains initially with an absorbent towel to soak up as much of the spill as possible and don't scrub it. Scrubbing can spread the stain and make it worse.
Apply appropriate car cleaners and follow the instruction for applying it. Make sure to let it soak in to lift up the stain.
Wipe down the stain with fresh water and a cloth.
Shampooing or Spot Cleaning
If you are spot cleaning, use a cleaner that is good for that type of job.
Don't leave it. Tackle the stain as soon as possible.
Car Carpet Cleaning Tips
Clean the interior of your vehicle when the temperature outside is between 60 and 85 degrees and in the shade. You will find that cleaners are more effective and won't cause as much damage to upholstery when it is not too hot or cold.
Cover glass, painted car exteriors, and other surfaces from overspray to prevent aesthetic damage.
When using fabric cleaners, make sure to open the windows and car doors to ventilate the inside when you are cleaning it to lessen the possibility of inhaling fumes from the chemicals.
Let the cleaner set into the fabric for 30 seconds to one minute unless otherwise instructed by the manufacturer. This will allow the product to remove stains and make sure to remove any excess spray with a cool, damp cloth.
Make sure you use cleaners for your car seats when you will not be using your car right away and making sure to wait a few hours so you aren't sitting on a wet car seat.
With just a little attention and some periodic cleaning, it is possible to keep your car looking brand new. Depending on your lifestyle, this can be a constant battle as your car's interior can build up a lot of dirt and dust, especially if you have pets and kids. Take the time to find the right car carpet cleaner for your vehicle's needs and you'll have a car that not only retains its value better, but it will last you longer than you expected.
Summary
Reviewer
Review Date
Reviewed Item
Author Rating