Based in Florida, the Shine Armor company was designed and built by and for car enthusiasts. Every product that the company offers is meant to enhance a car's appearance while being easy on the car owner both in terms of effort and on the wallet. Most if not all of the products are covered by a 100% satisfaction guaranteed promise. Most are also meant to be environmentally conscious by using fewer dangerous chemicals.
Shine Armor Fortify Quick Coat is a three-in-one product that washes, adds a ceramic coating and a topcoat sealant and paint protector without water, streaks, smearing or scratching.
Results can last as long as 12 months under specific conditions, however the company suggests monthly use for best, long term results. Some conditions may make the finish wear away faster. Fortify Quick Coat is sold in 8 ounce bottles which should last the average person 1 full month when used as directed.

General Use and Tips for Shine Armor Fortify Quick Coat
Shine Armor Fortify Quick Coat can be used on virtually any sealed surface, inside and out including: cars, boats, RVs and other vehicles, counter tops, some appliances and more.
If you have any concerns about the surface do a spot test first. It is listed as safe on metal, glass, plastic and chrome.
Although it is listed as a water-free product excessively dirty or muddy vehicles should be washed first. The easy to follow directions state that you should spray a small amount of Shine Armor Fortify Quick Coat on the surface you are cleaning as well as a small amount of a clean, dry microfiber towel. Gently rub the product into the surface. Using a second, clean and dry microfiber towel buff the surface making sure that you do this completely before the product dries. Repeat this process until the entire area has been cleaned and sealed.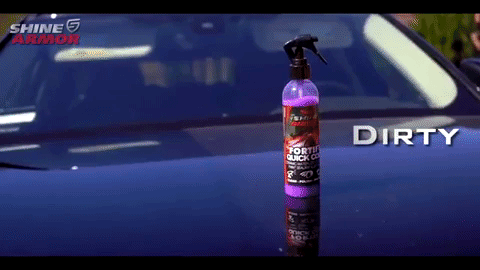 You can apply the coating any time of the day, however it works best when the surface is cool and is not exposed to direct sunlight while you are working. The optimal condition would be at the coolest time of the day and in a shaded or protected area. Extreme cold will not impact the use of the product however it will be less comfortable for you.

Shine Armor Fortify Quick Coat's Ceramic Coating for Protection
In addition to adding a shine to the paint of the vehicle, Shine Armor Fortify Quick Coat adds a layer of protective Si02 ceramic coating that is not only twenty times stronger but also longer lasting than similar sealants. This coating allows most dirt, some dust and light soil to be repealed from the surface of the car. It also protects against the harmful UV rays, pollution, water spots and the droppings from bugs and birds. It may also prevent dead bugs from sticking to the vehicle surface while driving.
It will not repel heavier types of dust or plant pollen but will make it easier to clean off.
UVA rays from the sun can crack and damage your car's paint even with minimal exposure in some areas. The darker the color of the paint, the more susceptible it is because it actually attracts more sunlight to it and holds on to it longer. Protecting your paint by adding a protective coating used to mean several steps of washing, waxing and then adding the sealant. Shine Armor Fortify Quick Coat does all of these three steps in the same process.Unlike some waxes it can also be used on windows, chrome and plastic parts of your vehicle which need the same protection from the sun as the paint.


What You Get When you Buy Shine Armor Fortify Quick Coat
The product itself comes in an 8 ounce bottle which should last average users about 1 month. Some sellers do have special offers which includes 2 reusable microfiber towels that are designed to be used to apply and buff the product. Special promotions and sales may also include a second bottle, a larger size or other additional items.
Reasonably priced, this product may also have discount codes for shipping from some retailers based on location and current promotional offers. Targeted ads through social media may also provide you with varying promotions that include reduced prices, free or reduced shipping and free items.

Is Shine Armor Fortify Quick Coat Safe to Use?
Shine Armor Fortify Quick Coat is a water based product with added ingredients including surfactants, Si02 ceramic and others. It is non-toxic, biodegradable and VOC compliant.
It can be used around children and pets and should not harm plants if it comes in contact with them.
If used correctly, there will be no run off and contact with anything other than the vehicle surface will be minimal. Remember, this product needs no rinsing after use and will be completely buffed into the surface.

Surfactants are a range of compounds that are used to decrease the level of surface tension between 2 liquids or 1 liquid and a solid. They are most frequently used as detergents (to clean) or dispersants (helps to spread a substance or compound on a surface).
Si02 is silica which is also known as silicon dioxide or quartz.
This is one of the most common types of mineral in the Earth's crust and is used in a very wide range of ways including making glass, ceramic and more. Ceramic coating is made by using suspended micro particles of silicon dioxide typically in a resin or other medium.
VOC refers to volatile organic compounds such as benzene, formaldehyde and others. Everyone encounters these everyday in some level. It is even in our soil. State and other laws and regulations determine the levels of VOCs that are allowed to be in a product and what level they should drop to after the product has been used.

The Things that Shine Armor Fortify Quick Coat Cannot Do
While this product can help repeal some dirt and damage it cannot repel all dust or pollen. Pollen is highly acidic and may damage your car's paint job if not properly removed. Shine Armor Fortify Quick Coat does make it easier to do this. It should be noted that in most cases you cannot see the pollen until it has accumulated on the car.


The ceramic coating does provide some protection against minor damage and scratches but will not be enough to keep damage from flying rocks or other debris from chipping or scratching your car's paint. It will also not remove or reduce the appearance of scratches are already on the surface of your car.
When applied as directed, there should not be any swirl marks seen on the paint's surface.
The Shine Armor Fortify Quick Coat Guarantee
Shine Armor Fortify Quick Coat is backed by the Shine Armor satisfaction guarantee.
If it does not meet your expectations, you can ask for 100% of your money back for 30 days after the date of purchase.
You must contact Shine Armor during the 30 day window with your concerns via email and then wait for approval. If the claim is approved it may take up to a while for money to be refunded if you paid with a credit card.

Is This a Recommended Product?
Once you use Shine Armor Fortify Quick Coat the first time, subsequent cleaning will be faster, easier and use less product unless you live in an area with extreme weather, a lot of pollen or a lot of dust. If the product lasts a full month, figuring on 1 use per week will cost less than the average cost of an automatic car wash and even less than a full service car wash and detailing.
It is easy to use and allows you to use less water to clean your vehicle which is a bonus especially in areas with water restrictions. Other products use chemicals that may not be non-toxic or environmentally friendly and should only be used in specific conditions.
Because it is not limited to use just on a car, Shine Armor Fortify Quick Shine has value inside and outside of the home. It can be used on counter tops, some appliances, floors, sinks and more. Use caution when using on floors or in bathtubs as it may make the surfaces too slippery for safety. Always do a spot test when using any new product and do not use on delicate or highly fragile materials.



Pros
Inexpensive product especially compared to some of the alternatives
Saves time and effort
Three-in-11 process cleans, waxes and protects in just 2 easy steps
Safe for all surfaces including plastics, glass, metals, chrome and more
1 bottle should last 1 month
100% money back guarantee
Easy to use- spray on, buff into surface
Non-toxic, biodegradable and VOC compliant
Protects against UVA damage, water spots, bug and bird droppings and pollution
Repels some dirt and makes dust and pollen easier to clean off
Can be used at any time of the day
Cons
May not remove some substances including road tar and some types of pollen
May need to be used more frequently under extreme conditions, in areas of high pollen or dust
Will not remove scratches that already exist and may provide only minimal protection from new ones
May not work as well as other products with similar application methods
Guarantee applies to date of purchase which may mean a limited window to try this product before making a claim. Delays in shipping could cause issues beyond the consumer's control. Contact the company directly in this case. Shine Armor is fairly responsive especially in this situation.
The Wrap Up
Designed to be the easiest all around product for your car and more, Shine Armor Fortify Quick Coat is water based for safety and eliminates several steps from your overall car care routine on the first use and may greatly reduce the amount of time that you spend maintaining your car afterward. The slick coating will help keep regular dirt from settling on your car and will make other types of materials easier to wash off.
If you do not drive often and keep your car in the garage most of the time, the Shine Armor Fortify Quick Coat may last 6-12 months. The more you drive and the conditions in which you drive, the more frequently you will need to treat.
It is simple to use and fairly economical. It also eliminates the use of water, potentially harmful soaps and chemicals and other things typically used to clean the car.You can use it on most of the surfaces of your car so you also eliminate the need for separate products for the chrome, the plastic and the glass. The simple process should take less time to complete on the average car than the traditional wash, dry, wax and then buff. Some waxes take a substantial amount of time to dry before they can be buffed off which is why there was such a steep decline in the number of people waxing their cars. In a 2003 article related to car care, the statistic for "non-waxers" was nearly eighty percent while the number of people who don't even do the basics of washing their vehicle was as high as 20%.

People may not have the time to do the proper car care but it is more cost effective to do the preventative work even if that means putting in an hour or so on the driveway than to have to try to repair damage once it happens. The average cost of repainting your car can run in to the thousands especially if there is pitting, rusting and other damaged areas that need to be addressed before the new paint can be applied.
Shine Armor Fortify Quick Coat protects more than just the paint since it can be used on the plastic and glass parts of the car as well. Plastic is susceptible to temperature and other extremes. Sunlight can crack and fade it especially if it is left unprotected. Using a 3-in-1 product like Shine Armor Fortify Quick Coat can help to protect your vehicle as well as other surfaces in and around your home.