There are several things that makes a portable carpet cleaner good or even great. The two most important things are obviously going to be how well it cleans and how portable it is. Most carpet cleaners come in two general styles: the larger ones that are meant to be used to clean whole carpets and more and then smaller ones that are meant to deal with sudden spills, small stains and in areas where a larger machine would be too awkward.
The following models are the latter style with most being labeled as spot and stain cleaners. Each review will cover the best feature of the unit as well as the other general features. Weight is an important consideration here because a portable carpet cleaner should be just that: portable. Once these machines reach the 20 pound mark and above they become difficult for the average person to move around with ease and storing them can become more problematic.
The features that are most important for these styles of carpet cleaners are: easy to fill and empty tanks, durability, power and their weight. Additional features like heat or power boosts and others will also be considered.
Model numbers will be included when appropriate. Most of these reviews will not talk about the actual success rate of the carpet cleaners as no one machine can clean every stain and every person will have different results. Some stains are nearly impossible to clean no matter what is tried. That is not always a failure of the carpet cleaning machine, the formula that is used or the technique but rather just the makeup of the stain itself and the type of fiber that it is embedded within.

Top 6 Reviews of Best Portable Carpet Cleaner
Bissell Spot and Stain Cleaner
Tank capacity: 32 ounces.
Hose length - 5 feet
Preset cleaning cycles that automatically spray, brush, and suction.
Equipped with two hands-free cleaning modes, quick clean for fresh stains and deep clean for set in stains.
Rug Doctor Portable Spot Cleaner Vacuum
Cleaning tank capacity: 0.5 gallons.
5.5-foot hose for corners or hard to reach places.
Removable tanks keep clean & dirty water separate.
Portable, lightweight and easy to carry.
#1. The Bissell Spotbot Hands-Free Spot and Stain Cleaner with Deep Reach Technology: Best Automatic Stain Cleaner (Model No: 33N8)
Bissell's small spot treating carpet cleaner has 2 automatic cycles that can be used for totally hands-free cleaning. You simply choose the right setting, place the Spotbot on the stain and then walk away while it works.The Spotbot can also be used as a manual spot and stain treating machine if you prefer. The tough stain tool (included) can be used to scrub and break down the average stain.
The Spotbot can be used on carpet, rugs, upholstery, stairs and in automobiles.
What You Get in the Box
In addition to the Spotbot unit, you get the on-board hose and tough stain tool, a trial sized bottle of the Pet Stain and Odor Formula as well as a trial sized bottle of the Bissell Pet OxyBoost Formula.
The Spotbot comes with a 2 year, limited warranty.
Bissell Benefits Pets
Bissell will donate up to $10 per purchase of specially labeled Bissell products to the Bissell pet foundation which benefits shelter pets and organizations across the country. Participating models include the Spotbot as well as other, pet care related products.
Is this a recommended carpet cleaner?
For small spots and stains, the Bissell Spotbot is a decent choice. It is especially handy for people who would rather let the automatic cleaning cycles handle the spot while they do other things around the house. For its size, it is slightly heavier than expected but not overpowering. In addition to the automatic cleaning cycles, the SpotBot can be used manually for fast clean ups without having to leave a machine out in the open.
Pros
2 automatic cleaning cycles for hands-free cleaning.
Capable of being used in a wide range of areas including your vehicle and on your furniture.
Spiral brush rotates at over 400 revolutions per minute.
Trial sized bottles of cleaning formulas let you try before you buy.
Bissell donates to pet charities with every purchase made.
Cons
At 14 pounds, this is heavier than it looks.
The hose attachment area is poorly designed and may leak.
A secondary issue with the hose related to the small valve located inside of it that sometimes clogs and may be difficult to unclog.
Customer service is not always helpful.
#2. The Rug Doctor Carpet Cleaning Machine, Portable Spot Cleaner: Easiest to Fill and Empty
The Rug Doctor Carpet Cleaning Machine is also available in a pet specific model. Both are easy to carry, can be pulled along and are designed to work on both new and old stains.
The Dual Tanks
The Rug Doctor Portable Spot Cleaner has 2 clear tanks. One holds clean water and cleaning solutions while the other holds the dirty water that is being extracted from your carpet during cleaning. Both tanks are removable so that they are easy to deal with. The clean water tanks has markings so that you know exactly how much water you are adding. The dirty water tank is easy to empty out and can be rinsed so that it is ready for the next cleaning session.
Additional Features
The Rug Doctor Portable Spot Cleaner has a retractable handle and mid-sized, durable wheels so that it can be taken wherever you need it to go. It has a motorized brush that spins at 1200 revolutions per minute to really agitate deep down dirt and to break up stains. The Portable Spot Cleaner also has a demonstrable two times more suction power than comparable spot cleaning models. A third party, independent testing lab performed the measurements for suction power between this portable spot cleaner and other, comparable models.
In addition to the handle for pulling, this spot cleaner has a top handle that allows you to carry the unit where the wheels may not be useful including up and down stairs as well as outside.
Is this a recommended carpet cleaning machine?
Rug Doctor is one of the most notable and trusted names in the carpet cleaning industry and this Portable Spot Cleaner does have some very good features. Be warned, it is slightly heavier than it looks but the handle and wheels allows it to be moved with relative ease.
Pros
Easy to fill and empty, dual tanks.
Retractable handle and sturdy wheels for easy moving.
2 times the suction power of other portable carpet cleaning models.
Motorized brush with 1200 revolutions per minute.
Cons
This unit may leak without warning.
Not as durable as others in the Rug Doctor line.
Customer service is problematic.
Must return the unit at your own expense for warranty service which is costly. There is also no guarantee that the warranty will be honored in some cases.
At nearly 20 pounds, this is a very heavy, "portable" spot cleaning machine.
#3. The Hoover Spotless Portable Carpet and Upholstery Spot Cleaner (Model No. FH11300PC)Lightest Spot Cleaner
The Hoover Spotless Portable Carpet and Upholstery Spot Cleaner is marketed as one of the lightest on the market. At just 9 pounds it is light but still manages to have a number of the most important features of other spot cleaners.
A Self-Cleaning Hose
The Spotless Portable has a specially designed port at the back of the unit. Plug the 5 foot long hose into this port and turn the unit on to flush out the dirt and debris that may be lingering there.
The Other Features
In addition to the self-cleaning hose, the Spotless Portable is super lightweight at just 9 pounds. It has dual, easy to fill and empty tanks as well as an anti-microbial cleaning tool. Trial sized bottles of a pretreater and a cleaner are included with your package.
Is this a recommended carpet cleaning machine?
For anyone who needs a lighter machine, this may be the answer you are looking for. It is too small to be used for full room cleaning unless you are remarkably patient but it does do the intended task of spot cleaning fairly well. Be warned that the model comes in different colors and that the red spotless has a brush that can potentially leave red marks on lighter colored materials. You can opt for other colors of these brushes which is highly suggested.
Pros
Very light at just 9 pounds.
Self-cleaning hose flushes out all of the gunk that can build up during cleaning.
Dual tanks are easy to fill and empty.
Cons
Red anti-microbial brush can leave red marks and streaks especially on light colored fabrics.
Unit sometimes leaks.
May not be as durable as it could be.
#4. The Bissell Little Green Multipurpose Portable Carpet and Upholstery Cleaner (Model No. 1400B) Easiest to Clean Hose
The Bissell Little Green Multipurpose Portable Carpet and Upholstery cleaner can be used on rugs, carpets, upholstery and in your car. It is super lightweight and easy to carry around and has removable, easy to fill and empty tanks for both clean and dirty water.
Additional Tools
The Little Green Multipurpose has two additional tools. The first is a 3 inch tough stain tool that is meant to power through the more stubborn stains as well as make it easier to get in the hard to get at spots. The second tool is a hydro rinse attachment which allows you to clean out the hose after every use.
You get more reach with the Little Green Multipurpose because of the 5 foot long hose and the 15 foot long power cord. A trial sized bottle of the Spot and Stain Formula is included.
Is this a recommended carpet cleaning machine?
The Little Green Multipurpose Portable Carpet and Upholstery cleaner is easy to set up and use with dual tanks that are fully removable and a lightweight unit. The tough stain tool helps break down tougher stains as well as reaching into tighter spots. Be warned though, there is a major drawback to this unit. The dirty water tank is difficult if not impossible to clean completely which can lead to a foul odor whether the unit is in use or not.
Pros
Easy to fill and empty, dual tanks.
Lightweight.
Tough stain tool for those hard to reach, stubborn stains.
Hydro rinse tool attachment to blast the gunk out of the hose after every use.
Cons
Design of the dirty water tank does not allow it to be thoroughly cleaned out leading to trapped debris and odors.
Not very durable especially for the Bissell brand.
1 year warranty is difficult to deal with and may not cover the most common issues with this unit.
#5. The Bissell SpotClean Professional Portable Carpet Cleaner (Model No. 3624) Best Professional Style Carpet Stain Cleaner
In addition to this model, Bissell has 5 others in this line. The SpotClean Professional is designed to remove even tough or older stains from carpet, stairs, upholstery, car interiors and more.
What is in the box?
In addition to the SpotClean Pro you get a 5 foot long, 5 inch in diameter flexible hose plus a 22 foot long power cord to reduce the times that you have to change outlets. You also get a 6 inch stair tool plus a 3 inch tough stain tool and a trial sized bottle of the Professional Deep Cleaning Formula.
The SpotClean Pro has a very large water tank which holds 3/4 of a gallon of water and cleaner.
Is this a recommended carpet cleaning machine?
The Bissell SpotClean Professional Portable carpet cleaner has some huge pluses including the larger the average water tank and the bigger hose. The stair and tough stain tools are also positives. The drawback here is a design flaw in how the hose attaches to the unit itself. The placement means that eventually the hose will crack and leak or fully break and be useless. In either case, the 2 year, limited warranty will not cover this despite it being a well known and frequent issue with this particular model.
Pros
Bigger diameter hose means less chance of clogging.
3/4 gallon tanks gives longer cleaning time.
Stair tool and tough stain tool lets you get to more places.
Long power cord for convenience.
Cons
Hose area cracks or breaks because of the design. This is not covered by the warranty.
On the heavier side at just over 13 pounds.
#6. The Bissell Little Green Pro Heat Portable Carpet and Upholstery Cleaner: Best Carpet Cleaner with Heat Boost
The Little Green Pro Heat was designed to do everything in a single step from spraying to suctioning clean and then helping to dry the carpet. It also has built in heating to help get better results on new or old stains on carpets, rugs and upholstery.
The Features
The Little Green Pro Heat has dual, removable and easy to fill tanks. The dirty water collection tank can hold up to 48 ounces at a time. It also has a 2 in 1 crevice tool and a 3 inch tough stain tool. A trial sized bottle of the Bissell Stain and Odor Formula is also included.
The hose is 4 feet long while the power cord is 15 feet long. It is very important that the Little Green Pro Heat not be carried while the heat boost is activated as it can cause water to leak out and lead to burns. The unit should be positioned near the stain that is being treated and then the heat boost button should be used. The unit should be allowed to cool slightly before being moved again.
Is this a recommended carpet cleaning machine?
While Bissell is a respected name in the industry and most of the Little Green branded models are decent, this one fall short for a number of reasons. First, a gasket at the bottom of the unit tends to accumulate gunk and debris which allows the entire thing to leak. Information about cleaning this gasket is either so well hidden or not available at all that most people simply do not know. Second, various parts of the Little Green Pro Heat tend to clog but are next to impossible to clean. Third, the heat tends to be erratic at best with water either being barely warm or scalding hot with no way of controlling this. Overall, it is not a durable example of Bissell's products and it has more than enough design and performance flaws to say that it is not a recommended option for most uses.
Pros
Dual tanks are easy to fill and empty.
Heat boost for enhanced cleaning.
Only carpet spot treating machine with a crevice tool.
Cons
Overall not durable.
Hose and power cord are very short.
Relatively heavy at 11.6 pounds.
Bottom gasket gets gunked up and then leads to leaking.
Heat may be erratic at best which could potentially lead to serious burns.
Various parts become clogged frequently with little to no real way to clean them.
The Spot Treatment and Carpet Cleaning – Buyer's Guide
There are several questions you should ask yourself before you buy a spot treating machine. The first is: do you want a machine that is dedicated to simply cleaning small areas at a time rather than a machine that could be used to clean the entire room if needed? The other questions that should be asked are:
Do I want a heat boost, a powerful cleaning formula or both?
What kind of tools are important for a spot cleaning carpet machine?
What kind of features should the water tanks have?
What are some other beneficial features that I should look for?
Spot Cleaning vs. Full Carpet Cleaning
The size of the room or area you are cleaning most frequently typically will determine the size of the machine that you need. Obviously no one wants to try to clean an entire carpet with a portable spot treating machine. If you have frequent spills or stains, for instance with a puppy that is just starting the house breaking training, a small, easy to use and easy to store machine is the thing to have on hand. Many people opt for these smaller machines and either rent a full sized machine once or twice a year or have their carpets professionally cleaned and treated.
Choose the one that you will have the most immediate use for, the one that you can actually handle and the one that will not present a problem when it comes to storing it.
Should You Look for a Heat Boost Unit, One that Uses Spray Formulas or Both?
Even on the small, spot treating units, heat boost is an option usually as a steady state setting. Heat can be a very effective treatment against certain types of stains including oil or grease based stains, some wine stains and chocolate based stains. Other stains should be treated with cold water or the heat may "bake" the molecules of the stain into the fabric. Blood, urine and feces based stains should be treated with cold water as they contain proteins that may bind with carpet fibers when heated or activated.
It should be noted that hot water is different than steam cleaning. For one, a heat boosted carpet cleaner is going to leave your carpet damper than just steam cleaning it would. Steam cleaning is rarely advised for carpet stains and may simply set them into the fibers rather than breaking the stain down and then pulling it away.
Spray formulas that are designed to be used in your specific machine are good but have some limitations. Some are very harsh and could potentially damage your carpet or upholstery especially if it is delicate or very old. Always test the liquids you are using on a small part of the fabric before you get started. Remember that some formulas may not be safe if heated so completely read the labels. It is best to use the formula or brand of cleaner that is suggested by any carpet cleaner with a heat boost option for safety.
Are There Tools?
For small spots and stains, a random bunch of tools is rarely going to be necessary and may be more hassle than they are worth. Most of the carpet cleaning machines on this list (as well as most similar style models) only have one or two tools. The most important tool is the tough stain tool which has a spinning scrub style brush to help really break down the stain without requiring a lot of effort. Most of these brushes are 3 inches wide and have varying amounts of power and speed. Look for a tool with the highest rotations per minute for the most stain fighting power. The tool should have a brush with actual bristles that agitate the stain away.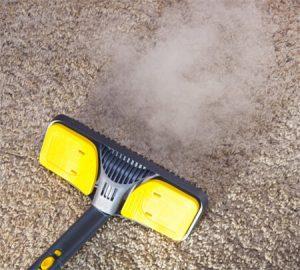 What to Expect from the Tanks
The two biggest concerns with the water tanks is capacity and ease of filling. Removable tanks are not only easier to fill but prevent overfilling that can often lead to leaks and other issues. Clear tanks with markings are even better because you can control exactly how much cleaning formula and water you are adding each time. Removable tanks are usually easier to empty and clean as well. Dual tanks, which keep the clean and dirty water separate are the ideal. Again, it is important that the tanks are removable so that they can be thoroughly cleaned out between use. Debris of any kind can cause offensive odors in just a short time.
Each tank should hold a decent amount of liquid. The dirty water tank can be smaller since you will be pulling less water out of the carpet or upholstery than you are putting in, but it should still be of adequate size. Most units are designed with tanks that are the same or similar sizes.
Why Size Matters
With a few exceptions, most of the stain treating machines on this review are under 15 pounds. This is important because they need to be easy to move and set up as well as easy to store. Super lightweight machines may give up some stability and some durability while heavier machines may be harder for some people to use frequently. Models with wheels may help out somewhat, as long as the wheels are designed to roll smoothly and are not simply tracking additional dirt through the treated areas.
Once you have finished using the carpet cleaner, it is important that you clean out as much as possible, allow to dry and then store away. Most units allow the cords to be wrapped around them to stay tidy. Remember that hoses can crack or break when pressure is exerted on them over long periods of time. If possible, remove the hose to store separately to keep this from happening. Not all hoses will detach from the body of the carpet cleaning machine. If yours is not removable, try to minimize the kinks or bends in that area during storage.
Conclusion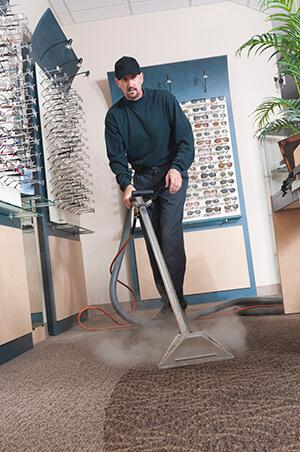 No matter what style or brand name that you eventually choose it is important that you always use it as directed for overall safety and to prevent further damage to the carpet of upholstery. When replacing an older unit, always read several reviews about the updates because the changes are not always for the best. If you are buying from an entirely new company or a different model and style from your current favorite brand name, read about the features paying careful attention to the pros and cons.
Try not to switch stain formulas frequently as they do not always work well in different machines. Once you find the right type that works for the stains you have most frequently, stick to that formula.If you must change, always do a spot test first and consult the owner's manual to be sure it will not damage your machine in any way.
The faster that you find and deal with a stain, the better your overall cleaning results will be. Some carpet cleaning machines can get out older stains but it may be difficult and you may have to try several attempts to be successful. If you see a stain, try to blot as much of it as possible and then take steps to keep it from setting. For some stains, blotting (never rubbing) the stain and then dabbing it with cold water may keep it from setting while others are better treated with a solvent, a detergent or an actual stain treating formula. If the stain is already dry, you will need to break out the carpet cleaning machine to help you re-wet, break down and then get rid of the stain before it becomes permanent. Again, this may take more than one treatment.
It is also important to note that some stains may appear to be gone while they are still wet but will "reappear" when the area dries again. The stain may appear to be gone because the area is wet and probably a little flattened down. When it dries and the fibers fluff back out, the stained area may show again. Finally, remember it is important that pet related stains be handled carefully as they may look clean but still have enough scent left behind to attract your pet to that spot over and over. It can also leave behind odors that are triggered when the weather is warm and humid or when it rains. For these types of stains look for an enzyme based cleaner that will do a better job of destroying the odor causing natural materials that you will not be able to see with the naked eye.