The best vacuum cleaners for your stairs must do several things. First, it must obviously be strong enough to pick up hair, dust and debris without a lot of effort. It should be light weight and easy to move up and down the stairway. It should have a long hose and power cord so that it is more convenient. There should be a tool designed for use on every part of the stairs including the front risers and along the crevices. If your stairs are only partially carpeted, you will want a vacuum cleaner that is designed for multiple floor types.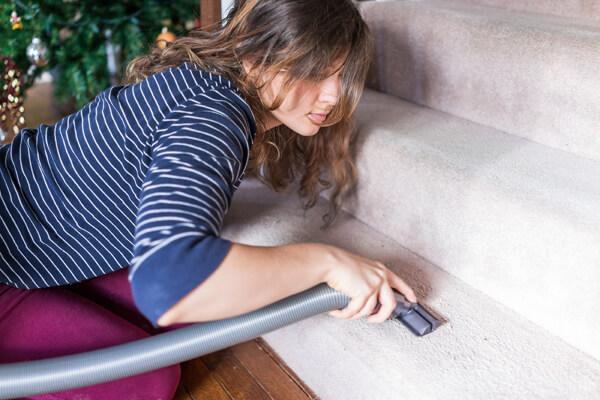 Several types of vacuum cleaners can be considered:
Corded or cordless
Upright or handheld
Another option is a convertible vacuum that allows you to use the vacuum as a traditional model then lets you remove part to use as a handheld version.
Some also use a powered brush that is perfect for use on the stairs, upholstery and other areas. A convertible model that has all of these features is great for the home with multiple types of flooring, pets and stairs to deal with.
A final consideration for any type of vacuum cleaner that you bring in to your home is the filtration system. While very few have bags anymore, you should make sure that the dust collection system is large enough to be worthwhile and easy to clean. There should also be filters in place that keep dust and debris from being kicked right back out while you are cleaning.
Replaceable filters are often expensive and as companies phase models out so frequently can become difficult to find after only a year or 2 of use.
Reusable filters are better because they save you the expense of having to continually buy them and can be easily washed, dried and then replaced between uses.
The more filtration a vacuum has, the less dust you will stir up and put back in to the air with every use. HEPA filters are the industry standard and are capable of removing dust, dust mites and other potential allergens from the air very effectively. Coupling a HEPA filter with an odor filter and at least one other filtration stage gives you and your family the ultimate protection against germs and viruses and eliminates the highest amount of dust and dander in the process.

Best Vacuum for Stairs Reviews of 2019
1. The Bissell CleanView Bagless Vacuum with One Pass Technology (Model 9595A): Most Powerful Suction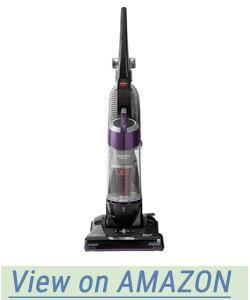 Available in several different packages and bundles, the Bissell CleanView Bagless vac was specifically designed to clean more area with a single pass of the cleaning head. This model uses cyclonic action to create longer lasting, more powerful suction while also preventing even small dust particles from escaping. Like most cyclonic vacuums, the dust, dirt and debris is gathered and then swirled at high speeds in the collection area. From there, the debris including pet hair and clumps of dirt are dropped in to the collection bin while the air continues to spin.
Features of the CleanView Bagless
In addition to the cyclonic action, the CleanView Bagless vacuum cleaner uses a multi-level filtration system to give you a cleaner home including the air that you are breathing. The final filter in the system is made of foam and is entirely washable to reduce expense and for convenience. The power cord is 25 foot long and the entire vacuum is 15 pounds. The easy to open, easy to clean dirt tank is 2.0 liters, allowing you to clean multiple rooms before needing to empty.

Included Tools
The Bissell CleanView Bagless vacuum cleaner comes with a Turbo Brush which is designed specifically for use on stairs, furniture and upholstered items. It can also be used on drapery. Additional tools include: an extension wand, a dusting brush and a crevice tool.
Recommended or Not?
With powerful suction and a large, easy to clean dust bin, this is a vacuum cleaner that can get most cleaning tasks done quickly and efficiently. However, it is fairly heavy at 15 pounds and while the power cord is pretty long the included extension wand is not making it less than ideal especially if the main use will be on the stairs. If you can handle moving it up and down stairs during the cleaning process it does get the job done so, it is a recommended model for the average user.
Pros
25 foot long power cord
2 year limited warranty
Several tools including the turbo brush
Cyclonic action and multi-level filtration featuring washable filters
Designed to clean on a single pass
Cons
Hose and extension wand are very short
Some parts of this vacuum clog easily and are difficult to get to for cleaning
The on/off switch may not be conveniently located for all users
May spit out dust and debris if the filters are not properly cleaned and replaced
2. Shark Rocket Corded Ultra-light Handheld Vacuum Cleaner: Lightest Handheld Vacuum (Corded)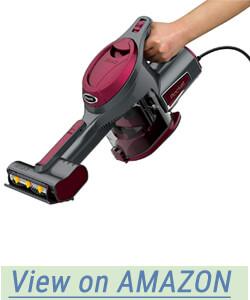 The Shark Rocket Corded Ultra-light handheld vacuum cleaner weighs less than four pounds and comes with a number of attachments and features that make it convenient and easy to use. One of the most important features is a miniature motorized brush designed for use on carpets, upholstery and stairways. Listed as the "True Pet" brush, its main function is to pick up and remove pet hair.
Attachments and Tools
The attachments included with the Shark Rocked Ultra-light vacuum cleaner include the motorized pet brush, a 12″ crevice tool, a dust brush and an extended reach, stretchable hose. This hose allows you to reach more areas without having to move the vacuum from place to place.
This vacuum uses washable filters instead of expendable bags which saves money and time.
All collected dust is filtered to the easy empty dust cup which is of moderate size.
Recommended: Yes or No?
While the Shark name is both familiar and trusted, this small, handheld vacuum may not be the perfect solution for everyone especially for those who are looking for the right cleaner for their stairway. First, the dust cup is on the smaller size so it must be emptied frequently. The power cord is short at only 15 feet and the stretch hose does not provide a lot of extra room to work either. For quick touch ups around the house as well as for small spills it is fine. For overall cleaning or for taking care of pet hair, dust and debris on stairways it is not the best choice. This one is not recommended for these reasons.
Pros
Lightweight- weighs less than 4 pounds
Easy to use
Washable filtration filters
Easy to open, clean out and replace dust collection cup
Basic tool set is included
Cons
Very short power cord (Only 15 feet)
Extended reach hose is also very short
Warranty period is only 1 year
Dust cup is smaller than average
Major components are made of plastic making this a less than durable vacuum cleaner
#3. Hoover Power Scrub Deluxe Carpet Washer (Model FH50150): Best for Deep Cleaning the Stairs
Available in bundles with a variety of cleaning solutions, the FH50150 model comes with standard, sample size carpet cleaning solution. Designed for more than just carpet cleaning, the Power Scrub Deluxe has nozzles and tools to help clean upholstery, drapery and more. The Dual V nozzle is ideal for use on stairways allowing cleaning to be quick and easy.
Attachments and Tools
In addition to the Dual V nozzle, the Power Scrub Deluxe Carpet Washer comes with an 8 foot hose, a stair tool, upholstery tool and a crevice tool as well as a mesh bag for easy and convenient storage of all of your tools.
Innovations and Special Features
The Power Scrub Deluxe uses a 360 degree spin scrub brush system giving you more dirt lifting action from every angle and allowing you to use less energy as you clean.
The tank is completely removable so that it can be easily refilled and holds one gallon of water/solution. Forced, heated air eliminates long drying times so you are not kept out of just cleaned areas for hours on end. The entire unit weighs just over 18 pounds and has a 20 foot long power cord. With the included, 8 foot hose and various tools you have nearly 30 feet of cleaning reach to work with. There is a 2 year warranty on this carpet washer.
Recommended or Not?
If you are looking for a deep cleaning tool that will help you restore and revive your carpets, this is a good choice. It has a number of tools and innovations that make it fairly easy to use. The long power cord coupled with the long extension hose allows you to clean your stairs with a minimum amount of struggle in the process. It has a quicker drying time than most types of carpet washers which is also a huge bonus.
Pros
Long power cord (20 ft.) plus a long cleaning hose (8 ft.)
360 degree spin brush scrubbing system
Dual V nozzle for quick and even cleaning
1 gallon tank is easy to fill at the sink
Forced, heated air makes drying time super fast
Tools are stored in a mesh bag
Cons
Tanks on some units leak which can cause problems on floors and other surfaces
Some parts may become rusted and fail quicker than would be expected
Hoover's customer service is not what would be expected for a long term, long trusted and established brand
4. Dyson V7 Trigger Cord-free Handheld Vacuum Cleaner: The Most Versatile Cordless Vacuum Cleaner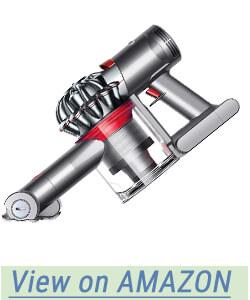 Like most of the Dyson vacuum cleaners, the V7 Trigger, Cordless handheld uses cyclonic action to trap dirt, dust and pet dander down to .5 microns. For reference, this is as effective as the average HEPA filter on the market. The V7 uses lithium-ion batteries which charge quickly and then deliver approximately 30 minutes of evenly powered cleaning time before needing to be recharged.
The V7 features a dirt ejector button so that you do not have to physically touch a dust collection cup while you are using this handheld vacuum.
Dyson backs this product with a standard 2 year parts and labor warranty which includes free shipping to an approved repair shop and then back to your home.
Tools and Accessories
The Dyson V7 comes with a number of specialized tools including: a mini motorized tool, a combo tool, a crevice tool, a mini soft dust brush and a firmer, stubborn dust brush. The battery charger is also included.
Recommended or Not?
Dyson is still considered to be one of the top names in the vacuum industry and sells well despite the hefty price tags for most models. Falling in the second tier, price wise, the V7 is a smaller, less powerful vacuum at a slightly more reasonable cost. At just under 4 pounds it is light enough to be carried wherever it needs to go and can be used to clean both floor and above floor surfaces with relative ease. Not having to deal with a cord is a bonus but you do sacrifice in terms of power especially toward the end of a charge cycle. It is a good choice for quick touch ups and to clean minor accidents around the house but may not have the staying power for longer or deeper cleaning sessions.
Pros
With no cord to deal with there is no struggles to find the right outlet
Charges quickly and lasts for around 30 minutes of cleaning time
Cyclonic action traps the majority of dust
Dust ejector button keeps you from having to deal with dust cups or bins
Very light weight for easy cleaning whether it is the floor, upholstery, drapery or stairways
Parts and labor warranty covers the cost of shipping your vacuum to and from the repair shop which saves you money
Cons
Batteries may not fully charge in some units
Even at full charge you may not have a full 30 minutes of cleaning time making this inconvenient for deeper cleaning needs
5. Eureka 71C Easy Clean Deluxe Handheld Vacuum Cleaner (Corded): Most Versatile Corded Handheld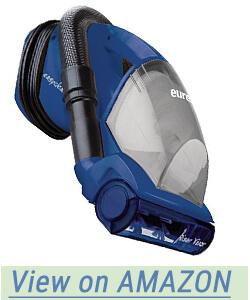 Lightweight and powerful, the Eureak 71C was designed to be used on a variety of flooring types including carpet, tile and hardwood. There are 2 motors including one that powers the revolving brush and another that is used for creating suction.
Tools and Accessories
The 71C Easy Clean Deluxe comes with a small number of tools including an onboard crevice tool and a "riser visor" designed specifically for use on carpeted stairs.
This tool allows for easy cleaning of both the flat (step) part of each stair but the front (riser) part as well.
The Easy Clean Deluxe is lightweight at just under five pounds and comes with a 20 foot long power cord. The stretch hose is also long and gives a good deal of extended reaching power to minimize the number of times that you have to move your cord to a different outlet during your cleaning session.
Recommended or Not?
Eureka has been a trusted household name since it was founded in Detroit, Michigan over 100 years ago. The 71C Easy Clean Deluxe has fairly strong suction and a revolving brush for getting the dirt up and out of your carpet. While this model does not come with a lot of added tools and features what it does have are well designed and work well under most circumstances. Being able to use this for more than just carpets is also a bonus especially for people who have many types of flooring in their home. While some people may like cordless vacuums, others find that they can rely on a corded unit to keep on working long after the batteries have died on the cordless models.
Pros
Lightweight, weighing only 4.8 pounds
Long power cord (20 ft.) and long stretch hose gives you all the reaching power you need
Dual motors mean that there is no need to "split" power between the revolving brush and the suction
Specially designed tool for use on stairways
Cons
May not fully remove pet hair from all surfaces
Some parts are not as durable as they can be
6. Dirt Devil Razor Pet Steerable Upright Vacuum Cleaner: The Most Maneuverable Vacuum Cleaner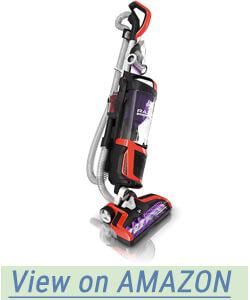 The Dirt Devil Razor Upright Vacuum cleaner was designed with pet owners in mind. From the no loss of suction technology to the Spin 4 Pro premium brush roll, it was meant to be able to lift dirt, pet hair and dander from a wide variety of surfaces without struggle. The Turbo Claw pet tool gives additional power for cleaning pet hair from upholstery and stairways as well.
The Razor Upright uses a three stage filtration system including an odor trapping filter. Filters are washable and reusable.
Tools and Features
The Dirt Devil Razor Upright vacuum has a 25 foot long power cord plus a 10 foot extension hose and removable cleaning wand. The tool pack includes: a 2 in 1 crevice and dusting tool, a powered stair and upholstery tool and the Turbo Claw pet tool.
The dirt cup is extra large so that you can get more cleaning done without having to stop to empty it. It is just under 11 pounds and features swivel steering and a low profile allowing it to be used in, around and under nearly any type of furniture you have in your home.
Recommended or Not?
If you have a house with a lot of furniture (with or without pets) you need to have a vacuum cleaner that will allow you to clean around and underneath it all without ever having to try to get on your hands and knees or worse force you to move every thing. With a low profile and swivel steering, the Dirt Devil Razor is not only super maneuverable, it has the suction power to make that flexibility count. The extra large dirt cup is a huge pro as are the long power cord and long cleaning hose.

Be warned, however, as customer service is an area where the Dirt Devil company name is taking a hit. Customer service should be one of the selling points of most brands but this is not the case here.
Pros
25 foot long power cord plus a 10 foot long cleaning hose
Tool pack includes a powered tool meant to get stubborn pet hair off of upholstery and your stairways
Three stage filtration system includes an odor filter which is a bonus especially for pet owners
Powerful but lightweight at just under 11 pounds
Cons
Some parts are not very durable
Customer service is not a high point and has been described as "unresponsive" at best. This is disappointing for a company that has been around for well over 100 years
7. Tineco A10 Hero Cordless Vacuum Cleaner: Best Filtration for a Cordless Stick Vacuum Cleaner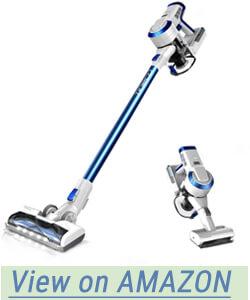 The Tineco A10 Hero Cordless vacuum cleaner features ultra quiet performance with suction that is reportedly up to four times more powerful than other DC motors on the market. It is super light and has a continuous power button lock for easier cleaning no matter what position you are holding it in. The lithium battery can be detached and upgraded at any time.
Tools and Accessories
In addition to the battery and charger, the package comes with several tools including a full-sized LED power brush, a mini power brush, a 2 in 1 dust brush and a crevice tool.
Features
The LED power brush lets you see exactly what you are picking up even in darker areas of your home and under furniture. The entire unit is light enough to be used on upholstery, drapes and stairways with ease.
The A10 Hero uses a 4 stage, fully sealed filtration system which reducing the amount of dust that is released back in to the air during the cleaning process.
The A10 Hero has a 2 year, limited warranty.
Recommended or Not?
While Tineco has more than 20 years of design and sales in China and in several European countries, it may not be as familiar a brand as others. It has been earning trust over these years however and now has more than 50 million units produced and sold worldwide. The A10 Hero is lightweight and as effective as most cordless vacuum cleaners. Its biggest selling feature is the filtration system which is really near the top for these types of vacuums. There are some issues with batteries and charging as well as a minor design flaw which prevents this vacuum from standing up on its own for storage, but these are not reasons to disregard it as a valid choice for your cleaning needs.
Pros
Lightweight at only 2.87 pounds
Cordless with a 350 watt motor
Lithium battery charges quickly and lasts for nearly 25 minutes per charge
LED lights on the power brush
4 step filtration system
Easy to empty dust bin
Cons
Battery life may not be as long as stated for some users
Batteries may stop charging without warnings
Unit does not stand on its own
8. Bissell Lightweight Cordless Handheld Vacuum Cleaner: Lightest Cordless Vac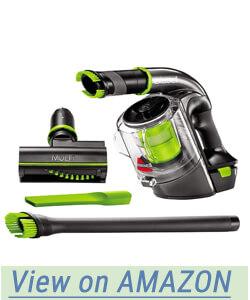 The Bissell Lightweight cordless handheld vacuum cleaner is one of the lightest on the market at just under 4 pounds. The 22v. lithium battery provides around 15 minutes of cleaning power per charge.
Tools and Accessories
There are several tools for the Bissell Lightweight Cordless handheld vacuum cleaner including an on board, built in extension hose, a motorized brush roll, an extention wands, crevice tool and a dusting brush. The dust bin is easy to empty.
Recommended or Not?
If you are considering the Bissell Lightweight cordless handheld vacuum cleaner as an every day cleaning tool you may not be satisfied with its performance. Small and weak the battery only stays charged for roughly 15 minutes at most which means that you may only be getting started when the battery gives up. The suction is less than ideal and may struggle at picking up more than just fine dust. For quick, short cleanups this is an acceptable option but not for regular cleaning.
Pros
Cordless convenience
On board tools
Lightweight at just 3.9 pounds
Easy empty dust bin
Cons
Suction is weak
Battery tends to fail after less than a year of use
Battery life is 15 minutes of less, barely enough time to get anything done
9. Puppyoo 536 Cordless Vacuum Cleaner: Best Convertible Cordless Vacuum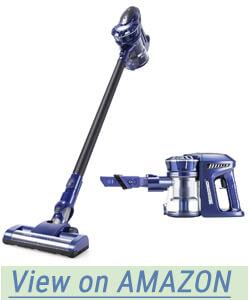 The Puppyoo 536 Cordless is both a stick and handheld, convertible vacuum cleaner for more convenient cleaning in any situation.Capable of cleaning on most floor types as a stick vacuum, you can switch to a handheld with just the push of a button for cleaning upholstery, drapes and stairways.
Battery Run Time
After achieving full charge, the 536 Convertible Cordless vacuum cleaner can be expected to run for roughly 22 minutes on high power and 35 minutes on normal.
Tools and Other Features
The 536 Cordless comes with three brushes to allow you to clean most surfaces with ease. It also has a 2-1 flat nozzle that can be used for a variety of cleaning purposes including in crevices and corners. This vacuum cleaner uses a 4 stage filtration system including a washable HEPA filter. The dirt collection cup is adequately sized and empties with the press of a button.
This vacuum cleaner can be mounted to the wall for convenient storage between uses. It weighs only 5.5 pounds and has a 2 year warranty.
Recommended or Not?
Puppyoo may not be a household name but the company has been in business since 1999 and has sold well over 25 million vacuum cleaners. For people who prefer a cordless vacuum cleaner for quick clean ups and the occasional spill, this is a good choice however the suction power is not nearly enough for an all around deep cleaning and the battery life is often far shorter than advertised.
Pros
Convertible from stick to handheld with relative ease
Lithium battery provides 22-35 minutes of cleaning time depending on the selected mode
4 stage filtration uses all washable filters
Wall mount for easy storage
Cons
Not a well known brand
Suction power is lower than similar, corded vacuums
Batteries may take a long time to charge
Battery life may not be as advertised in all situations
10. Roomie Tec Cordless Vacuum Cleaner: Best Customer Service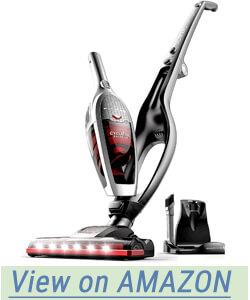 The Roomie Tec Cordless vacuum cleaner is a 2-1, convertible that allows you to switch from a stick to a handheld vacuum with just a simple button. It has an upright charging base to make it easier to store away between uses and corner lighting lets you see exactly where you are going and where you need to clean.
Features
You can clean multiple floor surfaces with this unit as a stick vacuum and then push a button to clean other surfaces including drapes, upholstery and stairways as a handheld. It has 2 modes to choose from including "eco" mode for daily cleaning and turbo mode meant for tougher dirt and stubborn pet hair. The wheels are rubber coated to prevent damage to your flooring, walls and baseboards. The bottom of the unit features 6 LED lights so that you are able to see while you are cleaning.
This convertible vacuum cleaner uses washable filters and a rechargeable battery. Once you have finished using it, simply place the unit on the charging base where it will recharge between uses. Once the battery is fully charged the base will automatically shut off.
The Roomie Tec Cordless vacuum cleaner is maneuverable with 180 degree rotation capability. It is also super light weighing in at 4.5 pounds as a stick vac and only 2.1 pounds as a handheld unit.
Recommended or Not?
While Roomie Tec may not be exactly a household name, it is an 18 year old company and does provide excellent customer service for every unit that it sells. With local support offices, 100% response rate and a response time under 24 hours, any concerns can be quickly handled. It is a lightweight unit and pretty maneuverable. The additional features like rubber wheels and LED lights make this a solid choice.
Pros
Lightweight. 4.5 pounds. 2. 1 pounds when used as a handheld
180 degree rotation for maneuverability
LED lights
Rubber wheels
2 modes/ Eco and Turbo
Washable filter
Excellent customer service
Charger base charges the battery automatically and then turns itself off
Cons
May not be very durable
Average clean time is only 23 minutes per full charge
Buyer's Guide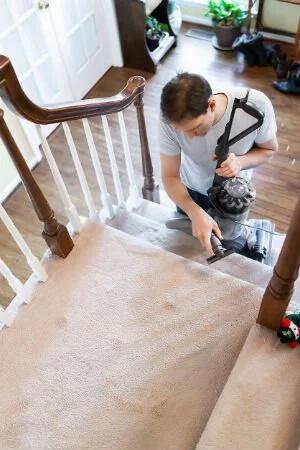 There are several things to consider when choosing a vacuum cleaner for your stairway. First, it should be light enough to carry up and down the stairs. Second, the power cord should be long enough to clean the entire area unless you prefer a cordless option. Finally, the right vacuum will clean the stairs no matter what type of flooring they are made of. This is especially important for people who have combination stairs.
Cords vs Cordless
For some people a cordless vacuum cleaner will never have enough power. Some models do not stay charged long enough to handle deep cleaning tasks although improvements are constantly being made especially in this area. If you choose a cordless:
It should be quick to charge
The charge should stay at full power for an adequate amount of time.
The batteries overall life should be longer than a few months
If you prefer a corded vacuum cleaner the cord should be long enough to allow you to clean most of the area without needing to find new outlets.
Cleaning the Stairs
There are several parts of the stairs including the step and the riser. A good vacuum cleaner will be be designed to clean both of these areas or will have the attachments to allow this task to be completed as easily as possible. Most options have several tools such as a turbo brush which can be used to easily lift pet hair and dander from the stairs.
Suction Power and Filtration
There are 2 common types of vacuum cleaners including the actual "vacuum" and the type that uses cyclonic action to collect dirt. For either type, the more powerful the motor that drives the action, the more powerful the suction that will be created. Cordless vacuum cleaners tend to lose power quicker than corded models as the battery starts to lose charge.
Both types can become clogged and should be easy to clean if that becomes necessary.
In vacuums that have a spinning roller brush, the option of being able to turn it off for use in certain areas is a bonus especially if there is a risk of tangling in carpets with longer pile or in rooms that might have a lot of hair on the floor. Beater bars and roller brushes should be easy to remove and clean regardless.
Very few vacuum cleaners have bags anymore as most companies have moved to using different filtration systems. Reusable, washable filters are easier and more cost effective in the long run but they must be properly cared for. The more steps in the filtration system, the more effective it will be at keeping dust from reentering the air during cleaning. At least one of these filters should be a HEPA filter especially if you are trying to minimize allergens in the air.
Final Thoughts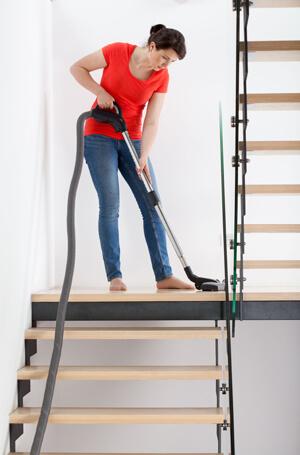 Cleaning the stairway does not have to be a struggle with the right tools. Choosing a vacuum should mean picking the right option for the majority of the house and not just a single area. You should have the flexibility, options and tools to take care of difficult areas like the stairs. Most people do not have outlets in the middle of their stairs, so any vacuum that you choose should be able to cover the entire stairway from top to bottom without having to unplug.
The vacuum should be lightweight although this should be a given for every cleaning tool in your home. The lighter you go, the more power you may be giving up however, so you should be ready to make that trade off. You also sacrifice power when you opt for a cordless vacuum cleaner, no matter what brand that you choose.
If you are leaning toward the cordless options make sure that you are okay with the length of charging time and always be aware of the average cleaning time that is listed by the manufacturer. Since these numbers are averages you may get more or less time per charge.
Tools are a bonus, too. The most important tool for stairway cleaning is a power brush which may be called by another name depending on the manufacturer. A brush with a separate motor is typically more powerful than a tool that uses the same motor as the vacuum. All tools should be easy to store.
The average vacuum's warranty period is 1 year while the average lifespan is between 5 and 8 years. With proper maintenance and use, you can get the most use out of most vacuum cleaners.
Summary
Reviewer
Review Date
Reviewed Item
Author Rating