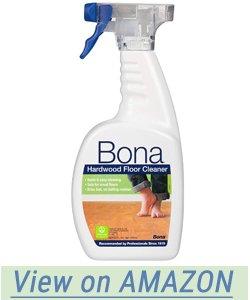 It's a shame to let beautiful hardwood floors get dull and scratched by grime. You can't just throw anything down and expect to keep their glory, however. You need something that's tough on dirt, but gentle for your floor, helping restore the wood and impressing your mom once again.
Bona is a big name in hardwood cleaners, but does its floor cleaner live up to the hype. We've tested it out and have the answer in our Bona Hardwood Floor Cleaner review. Let's break it all down.

What is Bona?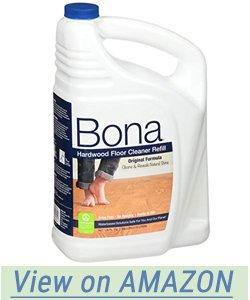 Bona is a water-based cleaner suitable for any finished wood floor. Its formula sprays on and dries ultra quick, so you aren't left with any wet spots. It uses simple ingredients from a company with a 100-year-old heritage in cleaning wood.
The big appeal of Bona is you don't have to dilute it with anything like you do with lots of other wood floor cleaners. You spray it directly on your floor and mop it up. It's certified by GreenGuard Gold as nontoxic for both you and the environment.

How Do I Use Bona?
Bona is suitable for both spot treatment and for cleaning an entire floor. The spray makes it easy to control the amount of product that gets on your floor. You spray a small amount on a mess you need to clean, or you can continually spray a thin film as you mop following the grain of the wood.
It uses a water-based formula to lift dirt and grime gently without leaving behind a film.
Some wood floor cleaners attempt to leave an artificial shine, but those ingredients can end up dulling your floor over time.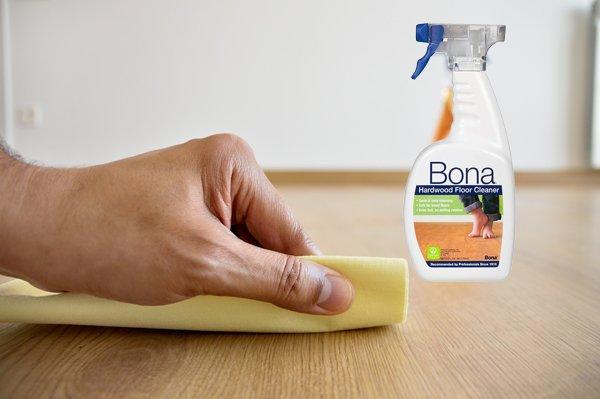 Bona reveals the natural shine of your floor. It may not look quite as shiny as those other products, but over time, your floors are going to look so much better without the residue.
Once you mop it up, there's no need to go back over the floor to rinse. It comes up without any issues.

What Accessories Go With Bona?
Bona makes a reusable mop specifically designed to work with their floor cleaner. The mop head can be laundered, making it more economically than disposable pads, but you know you've got a clean surface each time you use it.


ONce you buy the spray bottle, you can find refills for the spray at a slight bulk discount. The refill jug is available in quantities up to 160 ounces and also comes ready to use. There's nothing to mix or dilute. Just refill your spray bottle, and you're good to go.


Is It Safe For Pets? Children?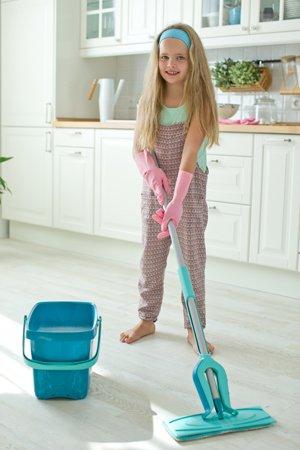 The formula is GreenGuard Gold certified. GreenGuard works to ensure that products have a minimum set of standards for toxicity and harm to the planet. When something is GreenGuard Gold certified, this is one of their highest honors.
Stricter criteria cover more sensitive individuals such as children or the elderly. Gold certifications find the product safe to use in a place such as a school or a healthcare facility. It was previously called Greenguard Children and Schools certification.
It's also safe for pets. Pets are notorious for licking strange things, so you don't want to use anything with unsafe toxicity if you have pets in the house. Bona will clean your floors without leaving any dangerous residue behind.

Is It Expensive?
Bona isn't too bad. No, it's not as cheap as knock-off cleaners from a big box store, but do you really want those in your life? Considering how well it works, we think it's about an average expense.
You can get slight bulk discounts if you purchase the refill option instead of rebuying the spray bottle every time. We prefer this method anyway because it keeps us from running out at inopportune times.
What Are The Benefits?
Bona is great for houses with all hardwood floors. Your floors should be sealed and unwaxed, but that's the majority of hardwood flooring now.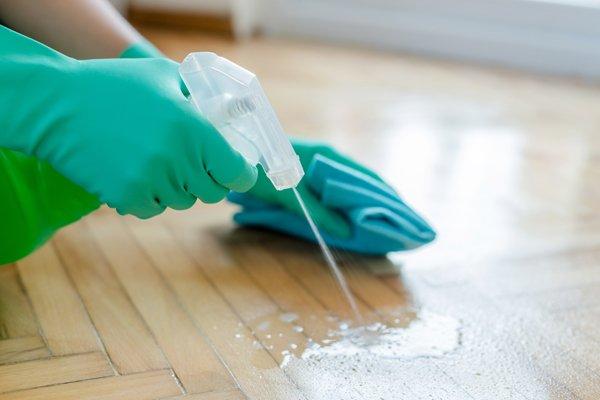 You don't have to keep a mop bucket around, and you don't need to rinse the product off. Sometimes we use a slightly damp mop head to wipe it up for extra cleaning power, but the product is good to go as is.
That's really convenient when you're doing a lot of floors at a time. Since you don't rinse things off, you won't spend a long time waiting for your wet floors to dry (a hazard) or risk tracking dirt around as you're moving your mop (yuck).
It's a safer alternative to some types of cleaners that may have hazardous or harsh chemicals. Households with pets and children are always on the lookout for things that can harm delicate respiratory systems or leave behind toxic residues.
With Bona, you can use the spray as much as you want without worrying.
A huge bonus for Bona is that it's both a large scale and a spot cleaner. Your cabinets are overflowing with a bunch of targeted cleaners, so get rid of a few of them. Bona can handle those food spots on your wood cabinets, the muddy paw print on the floor near your door, and the weekly mopping you need before your mom comes over, all in one convenient bottle.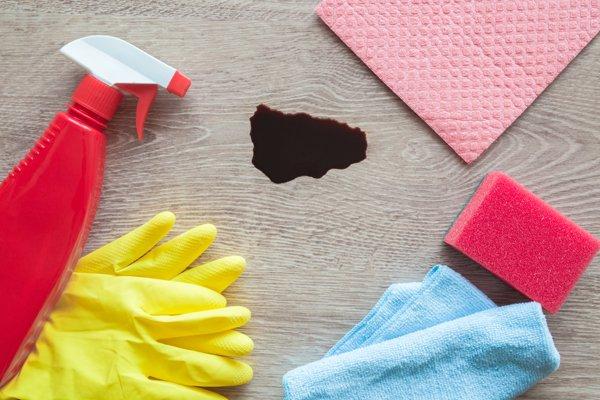 What Are Potential Issues?
This cleaner isn't a disinfectant, unfortunately. Not that you'd want to disinfect the flooring at your house all the time, but if you had a spill such as chicken juice or other hazardous material, Bona's not the best choice.
It's not going to shine your floors necessarily. If you're used to cleaners with high levels of a "shine" ingredient, it may take a bit for Bona to remove the old residue and give your floors a natural shine.
While we prefer the more subtle shine of Bona, if you want a high shine product, there are other options out there.
The spray bottle itself is a bit of a weak point for us. The sprayer can be difficult to detach and difficult to properly screw on again. For a bottle meant to be used again and again, we'd like to see something a little sturdier.
If you have a heavy duty spray bottle that you already love, you could use it and just buy the refill bottle. It's cheaper in the long run, and you won't have to worry about the sprayer on the Bona bottle.


The Good And The Bad
Still not sure if it's the right one for you? Here's a quick overview.
Pros
leaves a natural shine with no residue
doesn't need rinsing
GreenGuard Gold certified (safe for schools and healthcare spaces)
comes in a very economical bulk refill
both a spot cleaner and a full floor cleaner
Cons
doesn't encourage a high shine (if you're into that)
not a disinfectant
spray bottle itself can be challenging at times
may take a few passes to remove old residue if you're just now switching to Bona
We recommend it for:
We recommend it for
households with children and pets
families with respiratory allergies
people who prefer a natural shine for their hardwood floors
We don't recommend it for
households with heavy disinfectant needs
people who prefer a high shine
Final Thoughts
Bona is an excellent cleaner. The company has a long history of success with hardwood products and cleaners. If you really want a product that works. We also recommend the Bona mop. It's an economical way to complement your Bona hardwood cleaner without using a million paper towels or a messy mop and bucket.




The cleaner itself satisfies our wishlist, something safe for our children and pets and something that cleans both small and large messes. It's convenient, doesn't require rinsing, and leaves just the right amount of shine without a residue.
We definitely recommend this product for most households with wood floors. Get those floors back in order before your mom visits again. Happy cleaning!
Is this your first experience with Bona products or have you been using them for a while? Let us know all about your experience and your hardwoods in the comments below.
Summary
Reviewer
Review Date
Reviewed Item
Bona® Hardwood Floor Cleaner
Author Rating