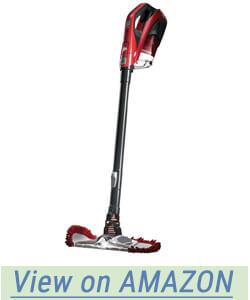 The Dirt Devil 360 Reach Pro is a corded, bag free vacuum cleaner that can be used as either a stick vac or a handheld. It comes with a number of tools that allow it to be used in a wide variety of situations as well as a number of features that make it easier to use than other vacuum cleaners of this type. The Reach Pro uses cyclonic action to help clean floors and other surfaces with a minimum of effort. The main unit is made of hard, plastic in the distinctive Dirt Devil red color. The majority of the attachable tools are also made of plastic.

The Tools
Even though this is a fairly lightweight vacuum cleaner, it does come with a number of tools. Instead of attaching to the cleaner's body and adding more bulk and weight, these tools are kept in a handy storage bag. This way you do not lose the sleekness of the vacuum and don't run the risk of bumping in to furniture and other items while you are cleaning because of the tools.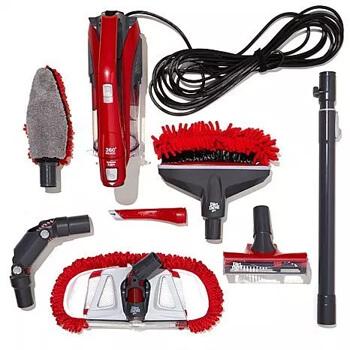 The collection of tools includes a 6 inch powered stair and upholstery tool. The additional power allows you to get to deeper than the surface dirt. This tool also features a clear window that can be moved allowing you to clean from the side or from the front of the tool. Other tools include a hard floor tool, an above the floor tool, a 48 inch extension wand, a ceiling fan tool and the Swipes washable microfiber pad. Additional Swipes pads can be purchased as well. The storage bag is included as well.

The Features
The Dirt Devil 360 Reach Pro vacuum cleaner is super easy to use and includes a reusable, quick rinse filter. The more frequently you empty and rinse the filter, the better the suction power of this vacuum cleaner will remain. It should not have to be replaced at any time under normal use. The dirt cup is a bottom empty style which is easy and fast. Simply hold it over a trash bin and then push the button to release the contents out.
The reusable filter, washable floor pads and lack of bags means that you are not continually paying for replacements, further reducing the operating cost of this vacuum cleaner. You can buy additional Swipes microfiber pads if you like to have spares of them which is a good idea if you plan to use the Reach Pro frequently. That way if one is in the wash you still have others to use.

The power cord is 27 feet long which allows you to clean entire rooms without having to find a new outlet. The entire unit weighs around 3 pounds making it super light and easy to carry up and down stairs or to hold up for cleaning over head.
The Reach Pro is covered by a 3 year, limited warranty which includes defects in materials or workmanship when the unit is used under normal, household conditions. There are a number of restrictions to this warranty. All warranties should be read carefully before using the appliance for the first time for the protection of the consumer.
Cyclonic Action
The concept for a cyclonic action vacuum cleaner was originally developed in 1913 by Brian M. Kent. He received a patent for this concept 4 years later. Dirt Devil, a company that had already developed a number of vacuum cleaners by this time would introduce its version of a house vac with a cyclonic system in 1955.
In a cyclonic action system, dirt is drawn in to a container via suction and then spun around at high rates of speed. Dirt, debris and heavier dust particles are then held against the sides of the debris collection cup while cleaner air and some small particles are allowed to escape back out through exhaust vents. When the machine is turned back off, the cyclonic action stops and the collected material falls and settles on the bottom of the collection cup to be dumped into a trash can.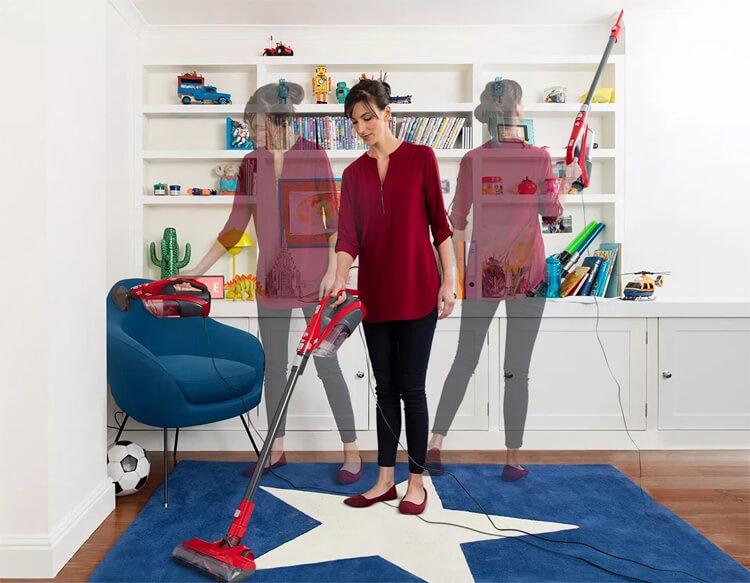 Most cyclonic vacuum cleaners use at least one stage of filtration- the more filters the cleaner the air that will be released from the vacuum. A single filter, at the start of the cleaning cycle will remove some of the smaller dust particles and allows the cyclonic action to remove the remaining, larger particles. If a secondary filter is included it will further clean the air before it is blown back out of the exhaust. This model uses a single, washable and reusable filter.

Performance and Technical Issues with this Vacuum
For most people, this is a quick clean vacuum, often used to supplement a larger and more powerful machine and used just for quick messes or light, in between cleaning purposes. It does seem to work much better on hard wood floors than on carpets or rugs although the powered upholstery tool does allow it to work fairly well on furniture and on carpeted stairs. The tool can also be used to clean car seats as well.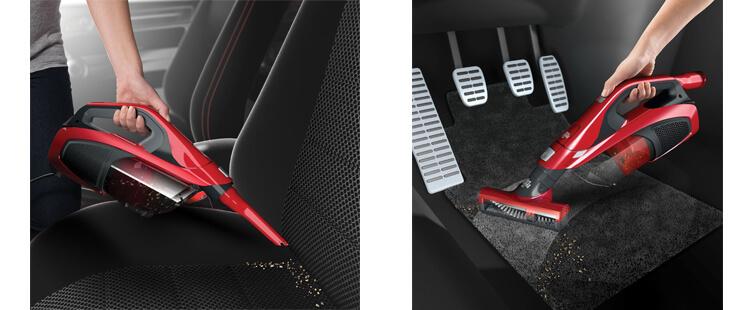 One of the most serious performance issues that the Reach Pro seems to have is with suction power. The suction is not entirely very strong and can become weak as the collection cup fills. The cup itself is fairly small and will need to be emptied frequently. It also seems that you will spend a lot of time unclogging this vacuum cleaner as several areas are prone to clogging with debris especially in homes where pet hair is going to be picked up often.
A serious issue of overheating is also common. The unit nearest the motor overheats to the point of having the potential to catch on fire, to cause burns and for a notable odor of burning plastic to be noted. While there are no reports of actual fires with the Reach Pro there have been complaints of painful burns and the potential for fire is there.
Allow the unit to cool completely before storing it and never allow it to be operated by children without direct adult supervision for any reason.
The design of the Reach Pro does not allow it to fit well under furniture and it may not be as agile as its name implies. Finally, the Swipes washable pads may also be problematic as they tend to fray and unravel especially if they are being washed frequently. However, not washing them or using alternative methods of washing could be even more serious as it may allow germs and bacteria to be spread around your home while you are "cleaning". It is highly advised that you trim off any loose threads before using the Swipes pads as these could tangle in the vacuum cleaner and increase the risk of overheating.

Is This Vacuum Recommended, Yes or No?
Whenever you are buying a home appliance of any kind it is important to know how you will be using it and what your expectations are. For a vacuum cleaner the expectations are that it will make it easier to clean your home. There are two types of vacuums to consider: the heavy duty type that will be used for the overall, heavy or deep cleaning and the lighter machines that are going to be used for lighter cleaning days, quick messes and small areas of the home. The Dirt Devil 360 Reach Pro is definitely one of the latter. The collection cup is too small and the suction level too low for it to be useful as an all over, deep clean vacuum cleaner.
For a quick cleanup in your hardwood floor areas or to clean stairways, upholstery and overhead areas, it is a solid vacuum cleaner for the price.




Pros
Lightweight vacuum at just 3.2 lbs
Super long power cord keeps you from having to move outlets over and over just to finish a single room
Bottom empty dirt cup is easy to clean
Washable filter eliminates additional, recurring expenses
Washable microfiber cleaning pads
Tools that store in a separate storage bag while not in use including a powered stair and upholstery tool as well as an extension wand
No bags to run out of eliminating more potential, recurring expense
3 year limited warranty covers defects in original workmanship and materials
Cons
The suction power is pretty low
Unit easily clogs
This vacuum cleaner overheats to the point of becoming a fire and/or a burn hazard
The Swipes microfiber pads fray and unravel during normal cleaning
This vacuum is not designed to go under your furniture at all
Some of the tools are difficult to insert correctly and may pop off during use
The power cord does not clip in to place for storage. There is not an area for the cord to be wound around but rather velcro straps that are difficult to attach correctly
The Reach Pro works better on hardwood than on carpet or rugs
Final Thoughts on the Reach Pro Vacuum Cleaner
For fast and easy cleaning around the house, you may not need a bulky, high powered machine. The Dirt Devil 360 Reach Pro Corded, bag less stick/handheld vacuum cleaner is light enough to be used for a wide range of tasks including cleaning stairways, ceiling fans and reaching up on bookshelves and can tackle tasks like cleaning up a spilled houseplant or just tidying up after the pets.
It is good on hardwood floors and has a hardwood floor tool to prevent scratching and damaging the surfaces. It does not do well on carpet or rugs but can do well on upholstery and stairways because of the separate, powered tool for those jobs.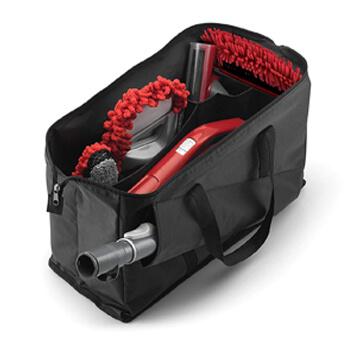 The extension wand gives you two feet of additional reach so that the average height person can safely clean things like ceiling fans and high shelves without having to use step ladders or chairs. The ability to use the powered upholstery tool in two different ways means that you don't have to try to turn your wrist in weird angles to clean every area. Simply adjust the window and clean from the side or the front of the tool with ease.
The conversion from stick to handheld vacuum allows you to easily transition from cleaning the floors to stairs without having to contort yourself and without having to drag unnecessary parts with you. As mentioned,the tools are not attached to the vacuum itself so you have even less to carry. Simply remove the tool or tools that you will be using and leave the others in the storage bag. Dealing with the power cord may take a little bit of getting used to. The cord itself is both a pro and con in that it is a good length (27 feet) but does not have an easy way of storing it once the cleaning has been completed.
The collection cup is easy to empty and should prevent you from ever having to touch dirt with your hands. Press the button and the cup empties from the bottom. A simple shake should be all that you need to make sure that the cup has fully emptied out.
The exception to this is when the unit has clogged. The frequency of clogs and other issues may depend on the amount of times that the vacuum is used and the type of debris that you will be attempting to clean up. Pet and human hair does tend to be a problem for most vacuum cleaners even under ideal situations. Other pet related messes such as cat litter or spilled food may also cause clogs to occur more frequently.
Dirt Devil has been a trusted name in home vacuum cleaners since 1905 and has sold millions of vacuum cleaners of many shapes, sizes and types. The company headquarters is in Ohio. The company was founded in the Buckeye state 114 years ago.
Summary
Reviewer
Review Date
Reviewed Item
Author Rating