The air you breathe is precious, and places untouched by allergens and pollution are few and far between. Since you can just move to the Swiss countryside, it may be time to invest in a quality purifier.
Air purifiers are more than just odor reducers. Levoit makes a range of purifiers with true HEPA filters that can drastically reduce odor particles from VOCs, dust, mold, and even bacteria and viruses. They work to ensure that your lungs are clear despite what went into building your office or what kind of trees your neighbors planted outside.
Let's take a look at four of our favorite Levoit air purifiers to find out which one should be helping you breathe a whole lot better.

Levoit LV-H132 Review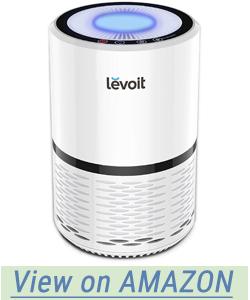 Our first Levoit is a cylinder style purifier with a true HEPA filter, activated carbon layer and a lifetime of support. It filters a range of allergens including 99.9% of dust and has a gentle nightlight function. It includes a one year guarantee against manufacturing defects with an optional second-year extension.
What Are The Features?
Let's take a look at what sets the LV-H132 apart from competitors and other Levoit models.
Filter Type
True HEPA filters are a must for a real difference in your air quality, and that's what you get here. It features a layered approach that traps odor particles in the carbon layer. As air moves through the rest of the filter, it traps particles as small as .3 microns plus pollution of PM 2.5.
The filtration happens in three stages. An activated carbon filter handles odors, including tough-to-eliminate odors from smoke and pets. A HEPA traps most particulates, and fine preliminary filter reduces mold, pet dander, and other allergens.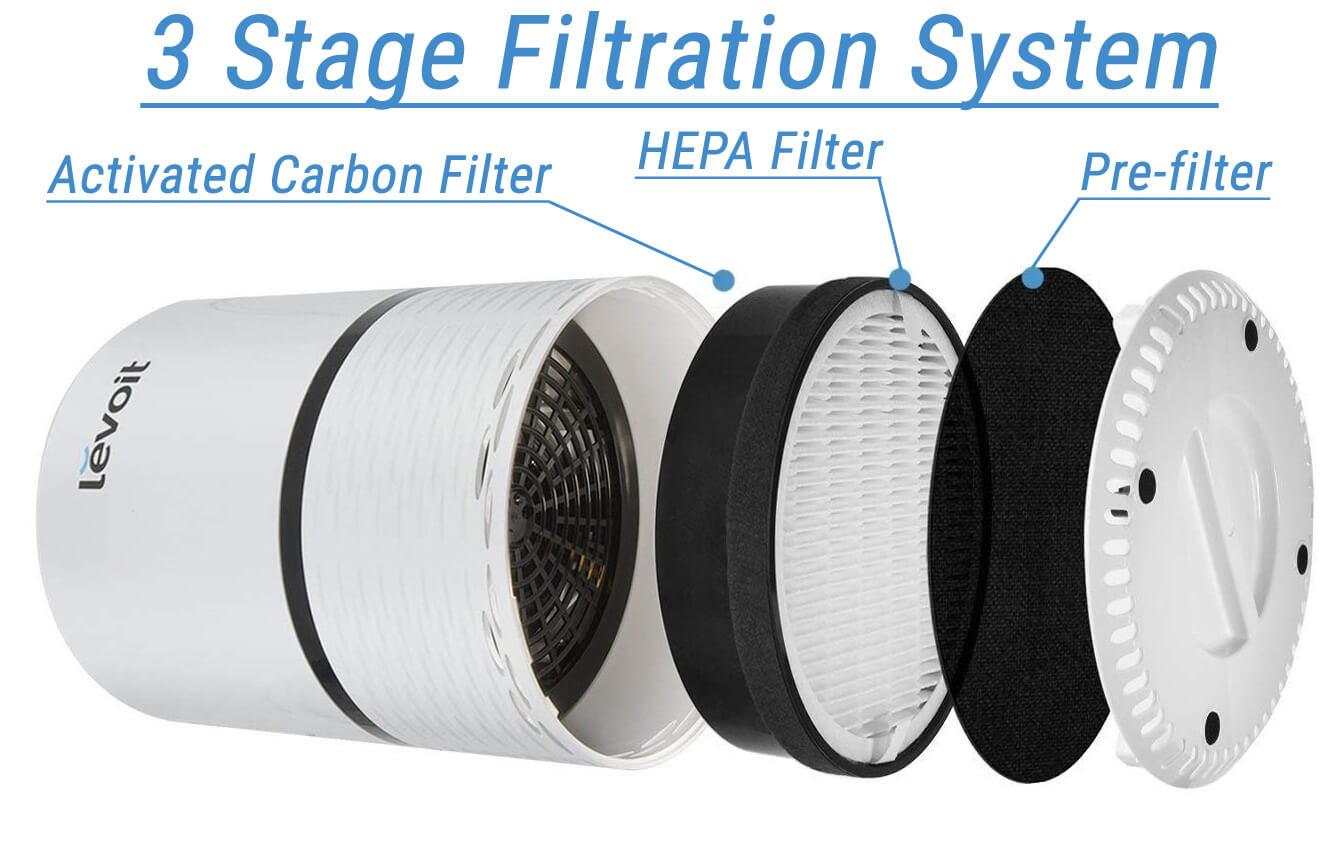 Fan
There are three different fan speeds to account for better or worse air conditions. The first speed is a quiet option for nighttime operation or for relatively clean air. The highest speed is noisier but handles those emergency situations where you've burned the popcorn and need to control the odor faster.
Indicators
It comes with a bare-bones indicator style. You've got four for controlling things like fan speed, power, nightlight functions, resetting the filter, plus a light telling you when it's time to change the filter. There's no remote option and no automatic setting either for power or changing the fan speed.
For those of you who need a set it and forget it model, this isn't a bad thing. If you prefer a range of functionality and options, this may be a little too simple of a choice for you.
Design
We love the design of this air filter. It's an attractive white finish with silver accents in a cylinder style that should fit in on a tabletop or nightstand.
It has a gentle nightlight, making it a good option for a children's room as a combination air filter, noise machine, and light source.
The simple indicators are easy to read and intuitive to operate. The triple filter design ensures a steady and consistent filtration and helps prolong the life of the HEPA filter with a prefilter that can be cleaned and reused.

Is It Noisy?
One of the best features of this purifier is the noise levels. The highest level is something akin to a larger household fan, which may be pleasing to most folks as a white noise machine. The lowest setting is relatively quiet and works well at night when you don't want a lot of noise going on. It's one of the quietest air filters on the list.
How Do I Use It?
This model is built for small rooms of about 100-150 square feet. Bedrooms and side rooms or as an accent to a larger filter would be -great choices for placement. You'll need to kick the fan up if you notice more odors than usual, but for the most part, it should operate in the background without a lot of input from you.
What Are The Benefits?
It's quiet and unassuming, which we love. There aren't a lot of bells and whistles to confuse your operations, so it operates best in areas where you don't need to give it a lot of input. It also uses a triple filter, only one piece of which has to be replaced. Because that replaceable filter isn't handling all the filtration, it significantly increases the time you can go between replacements.
It's very lightweight – just over six pounds – so you can move it anywhere without worrying about hurting your back or breaking your side table. The cylinder shape is highly attractive and fits in well with just about any decor without drawing attention to itself. It's relatively inexpensive and is mostly as noisy as a basic room fan.
What Are The Downsides?
While we love the concept of the purifier, it's not much of a standout when you compare it to other filters in similar price ranges. It filters air good enough, but it's such a simple system that it may leave you wishing it had more functionality. It's best for areas such as a children's room where you aren't going to be fiddling with the settings all the time, but outside of that situation, it doesn't shine.
Who Is This Purifier For?
We see this purifier in places where you aren't going to be messing with settings often. Children's rooms, as we said, are great because you only need the basic fan speed and nightlight. It also could be great for guest rooms because you wouldn't need to teach your guests how to work your fancy purifier. Just turn it on and go.
It could also be suitable for the elderly for that same reason. If your loved one needs a basic purifier, but you don't want to have to write down pages of instructions, this could be a good one. It's akin to the three button TV remote instead of the 50-button smart remote.
Quick Look
These are the most important things you need to remember about the Levoit LV-H132.
Pros
quiet
relatively inexpensive
simple, intuitive operation
three stage filter: preliminary fine filter, HEPA, and activated carbon
produces no ozone (not an ionizing filter)
Cons
not suitable for medium to large rooms
no auto functions
no remote
---
Levoit LV-PUR131 Review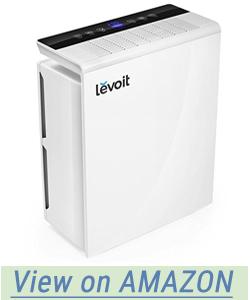 The Levoit LV-PUR131 is a slightly bigger option designed for rooms up to 300 square feet or so. It uses a three-stage filter and includes an auto mode to make operation a little easier. It comes with a one year guarantee against manufacturing defects with an option to extend it to two.
What Are The Features?
Let's take a look at what you get when you move one step up from our first purifier. Some of the new features may be more suited to your individual situation.
Filter Type
It uses a three-stage, true HEPA filter system to handle particulates as small as .3 microns and air pollution rated at PM 2.5. The preliminary filter processes larger particles like dust and dirt, helping keep the HEPA filter clear for longer. The true HEPA filters smaller particles including things like mold, pet dander, and some bacterial contaminants. The activated carbon filter handles odors from simple pet odors to more noxious cigarette smoke and cooking disaster odor.
Fan
It has three fan stages. The lowest is a quiet operation mostly for maintaining good air quality in a room that already has pretty good air and for running the machine at night when noise may be an issue. The highest setting kicks things up to handle bigger odors and poorer air quality, but you're going to increase the noise significantly.

It has an auto feature that allows the machine to automatically adjust the fan speed based on air quality indicators, giving you a rest from having to remember to adjust the speed manually. This is great for more public areas where a faster adjustment may be necessary to maintain air quality.
Indicators
The indicators are easy to read and simple to operate. There's a power button, an air quality indicator, auto mode, fan speed, and display options. You read the air quality guide through color choice. Red is the worst option and will kick fan speed up to high on automatic mode. Yellow is moderate quality and chooses the medium setting. Green is good air quality and requires only low-speed maintenance.
If your air quality is good enough, the unit will show blue and go into sleep mode to preserve energy.
Design
The design uses Levoit's modern white design with black accents. The Levoit logo is a bit larger on this model, and the shape is boxier. It does feature rounded edges, but it may be best tucked away where the square is a better fit.
We still like how clean the lines are and that it features an automatic function, so we don't' have to check our air quality and adjust regularly. The triple filter doesn't all need to be replaced, just one section, so it does reduce the overall cost of the filter replacement.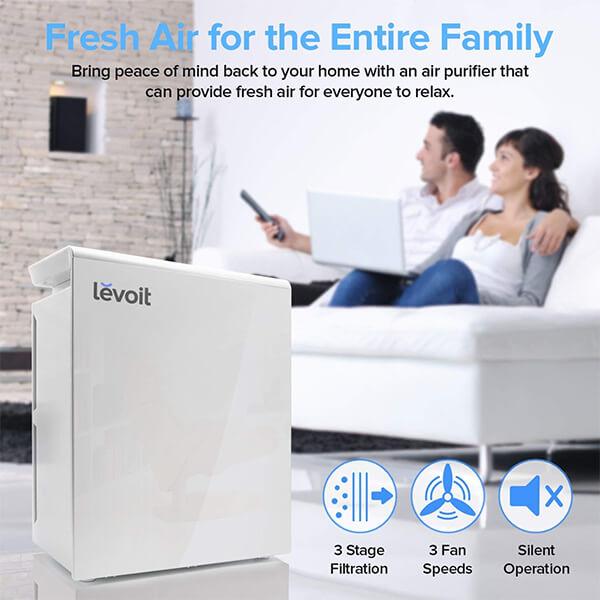 Is It Noisy?
This model is one of the quietest purifiers you can get in this price range and capacity. Even the highest setting is relatively unnoticeable, especially in a public room like a living room. The lowest fan option isn't discernible except in the quietest settings such as a small bedroom at night.
If noise bothers you, this may be just the purifier for you.
How Do I Use It?
It's rated for about 300 square feet, but we think it's a little slow at that maximum. We recommend coming down to 200 to 250 square feet for the best operation. If you have a smaller living room, it would fit in well there. It could also be good in galley style kitchens to handle cooking odors quickly.
You can manually choose a speed when you only want it to operate one way (the lowest during movie time, for example), but the automatic feature means you wouldn't have to think about it at all. Just replace the filter every six months fan, and you should be good to go with no fuss.
What Are The Benefits?
Having an automatic feature and a clearly defined air quality indicator makes it easier to keep on top of your air quality. If you find that you have to change the fan speed pretty often for a standard purifier, this may help you avoid getting behind on days when you've produced more odors, or there's more outside pollution in general.
It can handle rooms twice the size of our first purifier, so bring this one out to your small living room, or let it handle the master suite.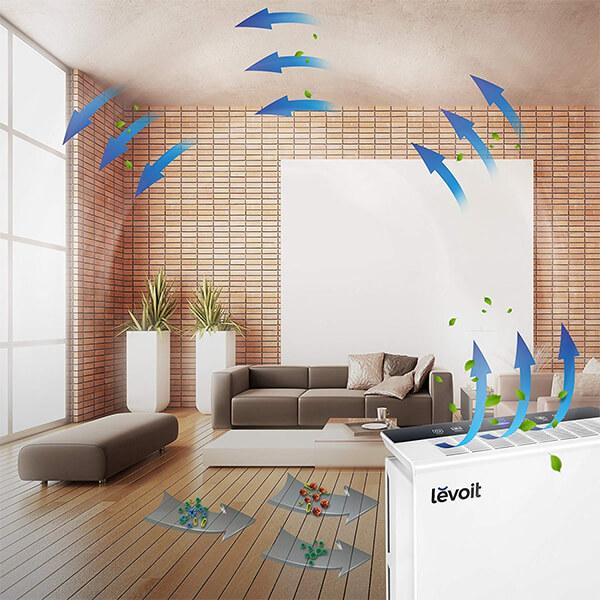 What Are The Downsides?
Although it's rated for bigger rooms, it can be slow at when reaching over the 300 square feet mark. If you've got a medium-sized or large living room, it may always be on high as it tries desperately to keep up.
The filter replacements are somewhat expensive. Although prefilters help increase the filter's lifespan, you're still looking at increased costs for operation with the number of replacement filters. If your purifier is always on high, that could happen sooner than you think.
Who Is This Purifier For?
This is an excellent purifier for larger master bedrooms or for kitchens where you need to stay on top of odors and other grime. We picture this one in smaller common spaces like the kitchen or the family room.
It's great for those who aren't home a lot to fiddle with the settings on the purifier. It handles adjustments while you're gone, and you come home to excellent air quality. No more scrambling to increase fan speed and then having to wait an hour for your air quality to adjust.


Quick Look
Here are the most important things to remember about the Levoit model LV-PUR131
Pros
automatic speeds
clear air quality indicator
affordable purifier
small to medium room sizes
modern design
Cons
logo is huge
replacement filters can be expensive
the design may not be suitable for tabletop placement
---
Levoit LV-H133 Review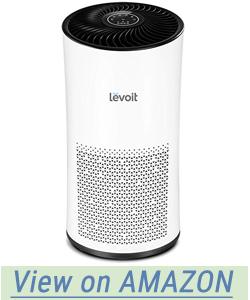 As one of the company's flagship purifiers, this model mimics the design of the 132 but at a much bigger capacity overall. It has a triple filtration system and comes with a one year guarantee with the option to extend to two. It's suitable for rooms up to 538 square feet.
What Are The Features?
Let's take a look at a few things this flagship purifier can do for you. It does have some standard features, but there are a few special ones tucked away.
Filter Type
It uses a triple filter system to help improve air quality and lengthen the lifespan of the replaceable filter. The prefilter handles larger particles such as dust and pet hair. Air passes through a true HEPA layer that filters out particles down to .3 microns, which includes most mold, pet dander, and some bacterial contaminants.
Fan
It includes three different fan speeds to account for levels of air quality. It also includes an auto-mode that adjusts based on an air quality sensor that reads poor air quality within 30 seconds.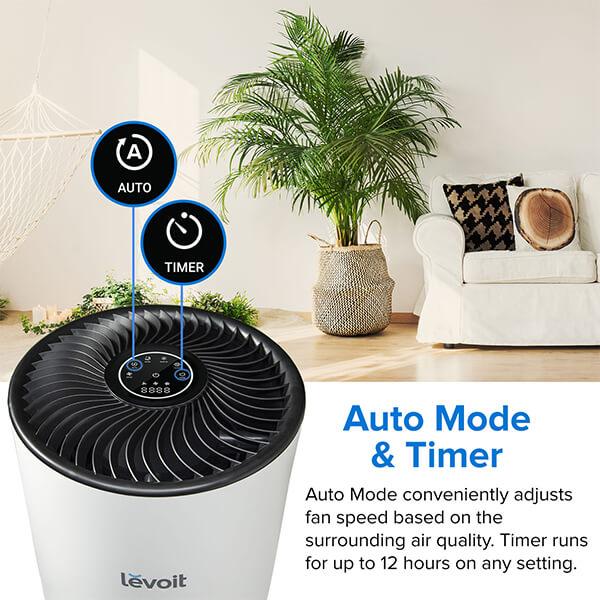 It's an excellent option for those of you who aren't home all day or who don't have time (or brain power because you've got 1000 other things to do) to adjust your fan speed constantly.
Indicators
It has clear indicators and controls, allowing you to adjust the speed manually or choose auto options. The air quality sensor uses an infrared sensor that adjusts within 30 seconds to changing air quality, keeping your machine up to date.
It has a timer function in clear digital numbers. The ring around the display lights up to show air quality from red (poor) to blue (perfect). Other buttons control power, sleep mode, fan speed, and a filter light tells you when it's time to replace your filter.
Design
The cylindrical design is modern and inconspicuous in most home decor. It's larger than the 132 option, so it's best for beside the bed or in the corner of the room. It can handle larger rooms of up to 532 square feet making it great for public spaces such as your larger living room or living room and kitchen combo. It's also a good option for open floor plans as it helps circulate the air with a pretty powerful fan.
Is It Noisy?
It's noisier than the smaller options, but only on the highest setting. It feels a bit like a room fan, but the lowest fan is barely noticeable unless your room is completely quiet. Some purifiers have obnoxious noise levels, but you should be able to run this purifier and still have a conversation if you need to.
Sleep mode helps keep things quiet when you don't need the highest setting. It maintains the purifier at the lowest level and turns off lights so it's as inconspicuous as it can be. Considering that it's pretty sizable, that's a feat.
How Do I Use It?
We recommend using the auto feature to help control and sustain proper air quality. You can always switch to manual mode if you're watching a movie, but for the most part, the sensor is good enough to adjust the fan speed quickly for different types of air qualities.
It's perfect for a living room or an open floor plan, and the design makes it suitable as a smaller piece of furniture. You may have to find a corner for it, but for the most part, the design and functions should fit right into your space.
You can also switch to sleep mode where the fan operates on the lowest levels and the lights dim to allow you to sleep. This mode is also good for times when you don't want noise disturbance.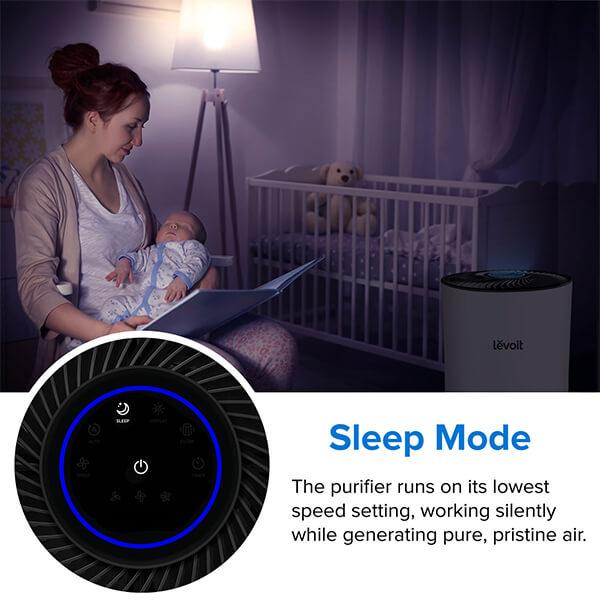 What Are The Benefits?
It's made for larger rooms, and the top-mounted indicators are easy to use and see. Also, the extra sensitive air quality sensor adjusts the auto fan speeds more quickly than some other models. We like that it's set up for ease of use and for automatic air filtration.
The prefilter helps extend the life of the replaceable filter, cutting down on operation costs. The triple filtration system also helps maintain air quality even with smaller particulates such as some kinds of bacteria or mold.
What Are The Downsides?
It's a more significant expense to get started. Upgrading the size also increases the budget line to just over $300. While air quality is definitely worth the cost, that can hinder some who may be on a much tighter budget.
It's also a little slower than some comparable air purifiers out there. While we love the design and think the display is a marked improvement over some other purifiers, this one feels just the smallest bit underpowered. If you reduce your room size just a bit, you may not even notice the lag.
Who Is This Purifier For?
If you've got a larger living room or an open floor plan, this could do the trick. Also, if you aren't home often, or you want to keep your air quality in check despite the length of your work day, the auto feature on this model has you covered.


Quick Look
Remember these key points while you're making your decision about the best air purifier for you.
Pros
automatic fan adjustment
excellent display
suitable for medium to large rooms
quiet operation
triple filter system
Cons
bigger investment
feels slightly underpowered at the max room capacity
replacement filters can be expensive
---
Levoit LV-H126 Review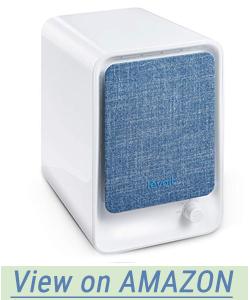 The tiny Levoit LV-H126 is a personal air purifier designed to keep the air in your space cleaner. It's small enough to fit on your desk or side table and operates really inconspicuously.
What Are The Features?
This air filter is suitable for a narrow subset of people, so let's break it down to see if it might be the right option for you.
Filter Type
Even though it's small, it still uses a triple filtration system typical to all Levoit purifiers. A prefilter helps sort larger particles such as dust and hair, allowing the true HEPA filter to get to work on particles as small as .3 microns. The activated carbon filter helps get rid of heavier odors such as cigarette smoke or cooking odors.
Fan
It has three fan speeds, low, medium, and high, but no automatic option. Other than that, there aren't that many options with this particular model. It's entirely manual with no indicator lights, using a turning knob to make your selections.
If you need a purifier that uses the most straightforward operations, this one is probably the one.
Indicators
There aren't any indicators with this model. It uses turning knobs to select the fan speed and a simple knob to show a number for the filter. You can set that knob for the month you put in the new filter or the month you need to change your filter out, but you may want to check the state of the filter between because there's no light telling you when your filter's useful lifespan is over.
Design
The design is simple with a retro twist. It almost resembles a radio or other old fashioned machine, but we like the simplicity. It's easy to use and blends in with any decor without having to steal a bunch of space.
That's probably the biggest draw of this particular purifier. It's intended for spaces where you can't find the room for a standard purifier.
Is It Noisy?
In a word, no. It's nearly indiscernible on the lowest setting and the highest setting it's still almost unnoticeable. The body style helps reduce the vibrations from the fan speed and makes it suitable for personal use near a bedside table or a smaller, quieter room.
How Do I Use It?
It's best suited to rooms less than 150 square feet, but it can feel a bit underpowered if your room is close to that maximum. We recommend putting it near your bed or your favorite chair so that you reap the maximum benefits of cleaner air without the unit having to work too hard.
Select your fan speed based on what you feel is the quality of the air and get to work. Remember to set a reminder on the fan dial so you know when to change the filter out.
What Are The Benefits?
It's targeted to those who have trouble finding a purifier that fits into the space they have. It also satisfies a budget niche because it's around $50 and can supply cleaner air directly in the area where you need it most. It's simple to use and doesn't have a lot of fancy options that could be confusing. It's also quiet enough to use in a space like a baby's bedroom.
What Are The Downsides?
It's suitable only for the smallest spaces. The lack of indicators means you'll have to use your best judgment for your air quality and for when to change the filters out. If you've had purifiers before and you need something that can handle a whole room without your input, this isn't the right one.
Who Is This Purifier For?
New parents who need a purifier near the crib, the elderly who want to keep odors and allergens away in a bedroom, students sharing spaces with less than considerate roommates could all benefit from this tiny, personal sized air purifier.


Quick Look
This purifier is meant for a small subset of people, but here are a few critical points about choosing this one.
Pros
ultra compact
simple to operate
suitable for smaller rooms or shared spaces
really quiet
affordable
Cons
not suitable for spaces larger than 150 square feet
no indicators for air quality or filter quality
no auto mode
---
Choosing The Right Purifier
All of Levoit's purifiers use a triple filtration system to help prolong the life of the HEPA filter and to filter out small particles. None of their filters use any sort of UV or ionic system to filter air, so there's no risk of ozone leaks during operation. The wide range of sizes and budget options make Levoit a good choice if you're looking to finally improve your air quality and get on with your best life.
Summary
Reviewer
Review Date
Reviewed Item
Author Rating