You have hard surfaces in your house, and you need something to make sure they're clean. Keeping those floors clean is the key to prolonging their life whether it's hardwood, linoleum, or tile. Not every mop or vacuum is created equally, though, so it's important to look at a few options.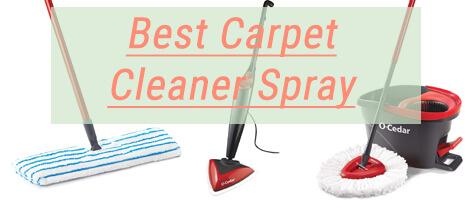 Dirt and debris can scratch and ruin the finish of your floor if you don't handle it frequently. Tools that are inconvenient encourage you to procrastinate with your cleaning until it's too late, however. Making sure your cleaning tools are effective and also convenient is a big step to finally adulting right to keep those floors guest-ready.
O-Cedar has been making mops for generations, and they have a few products we think may help you keep your floors consistently clean. They have everything from simple dusters to robots that take over cleaning for you, so let's take a look at a few of our favorites to see if we can find your next floor cleaning best friend.
Here are a few of our favorite O-Cedar products.

O-Cedar Microfiber Flip Mop Review
Our first mop isn't quite a mop at all, or at least, doesn't look like one. There's nothing to wring out, and nothing to clumsily wash out in the sink. Instead, it uses a simple microfiber pad to gently clean floors and then removes to go in the washing machine.
How Does It Work?
The traditional mop handle ends in a rectangle that provides the frame for the pad. Velcro the pad onto the frame, and you're ready to mop. It has a convenient flip mode that allows you to turn the mop head over for a clean side to finish off your floors.
It can be used wet for mopping action, cleaning up spills, sticky messes, mud, and other debris. You can also use it dry to attract dust, dirt, and pet hair. When you're finished, just remove the pad and throw it in the wash to clean and sanitize it.
It stores easily because of a loop on the end of the handle. The handle itself isn't telescoping, but it measures 48 inches, which should be comfortable for the average height. You can invest in a few different pads, but the included pad is a terry cloth style with scrubbing strips on both sides.
How Do I Use It?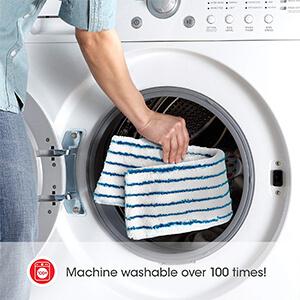 When you're ready to mop, make sure the mop pad is attached and spray your floor cleaner onto your mess or onto the floor as you go along. If you have a bucket wide enough, you can also dip one side of the pad into the cleaning solution and use the other side as a "dry" side.
As you go along, the microfiber pulls up dirt and grime, tucking it away into the fibers of the mop. There's no dirty water spreading around and nothing to wring out. You can spray as much or as little of your cleaner as you need to.
It's safe for sealed hardwood floors, linoleum, tile, and other types of solid, non-porous flooring. For porous flooring, the microfiber head is soft enough to attract dust and debris without scratching or damaging floors but double check your cleaning solution.
When you're finished, throw it in the wash and dry it. Hang the mop up for next time.
What Are The Benefits?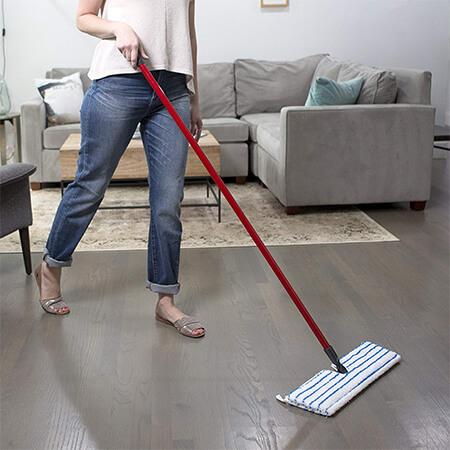 If you're used to a traditional mop, you'll be pleasantly surprised that this one doesn't require you to touch the wet mop head to remove excess water. It's made perfectly for spraying your cleaner and mopping up the excess, so we recommend using a slightly damp mop and spraying the cleaner directly on the stain or soiled area.
It's suitable for small messes and for doing the entire floor. Since it's effortless to use, you won't feel like you're dragging out all your cleaning supplies just to handle one little spot on the floor. The mop head flips completely for when you need a clean spot. You could use one side to clean up spills and the other to continue on with regular floor cleaning, for example.
The mop pads make great dusters, which is good news for pet owners especially. The flippable head gives you one side for light sweeping and the other side to clean with your spray cleaner.
We love that it's washable. Traditional mop heads are typically difficult to get completely clean because you can't detach them from the handle, but this one can go directly into your washing machine for a thorough cleaning. It's fast and easy.
You can invest in more than one mop pad to make cleaning even easier. You could always have a clean mop head and one in the wash each time you use it. It's also easy to store the entire thing hanging in a closet or standing up in a utility room.
What Are The Downsides?
It doesn't have a spray nozzle on its own as some flat head mops do. You'll have to carry around the spray bottle with you or dampen the mop pad before you do any cleaning, which might be inconvenient for extensive areas.
The handle doesn't adjust. The height should be suitable for most people at average heights, but really tall people may find themselves hunched over too much for it to be comfortable. The upside is that it doesn't have a weak spot where most telescopic handles meat, but that's small comfort if your back is killing you hunched over.
One issue you may have if you're left-handed is that the pressure from holding the mop handle may cause the head to come unscrewed periodically. The head attaches using a thread, and the thread direction is in the direction of where a lefty would apply pressure. Since most of you are right hand dominant, you may not even notice, but heads up if you're the opposite.
It does have trouble getting stains and messes towards the edges of the mop pad because most of the pressure is concentrated in the very center of the pad. With small spills, this should be fine, but as you're doing the entire floor, you may notice some missed spots along the way because of the outside edges of the mop pad.
Quick Look
Here are the essential things to remember.
Pros
machine washable mop pad
suitable for all types of floors
easy to store
suitable for both dry and wet cleaning
Cons
non-telescoping handle
pressure is uneven
may come unscrewed for left-handed users
Who It's For
We recommend this simple mop for people with smaller living spaces or a mix of hard surfaces and carpet (which won't need a mop). Using it for very large areas may be frustrating. It's also good for pet owners.
O-Cedar EasyWring Microfiber Spin Mop Review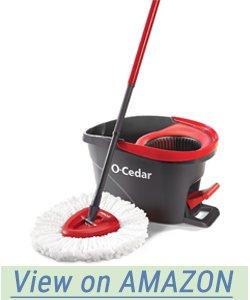 Our next mop is an easy wring option that resembles a traditional mop a little bit more than the one above. It uses a microfiber mop head to trap dirt, and it comes with a bucket made explicitly for this mop head, so you don't have to wring water out by hand.
How Does It Work?
It works a lot the same way the mop pad above does except this one is made with short, microfiber tendrils like a more traditional mop. They splay out to provide plenty of coverage for bigger jobs, and they draw up dirt and other messes into the fibers where it stays.
The bucket has a built-in splash protector, so you don't get wet water all over your floor. A convenient pedal system makes it simple to wring out excess water, and the bucket itself is difficult to top over accidentally.
When you're finished, the mop head pops off and goes straight into the washing machine where it can be thoroughly cleaned. The oblong shape of the bucket makes pouring water out much easier with less mess. The mop stores inside the bucket up straight.
The telescoping handle adjusts for a variety of heights and adjusts to 24 inches for easier storage, 36 inches for petite people, and 48 for average height. We'd love to see a slightly taller mop, but that'll do for the vast majority of people.
How Do I Use It?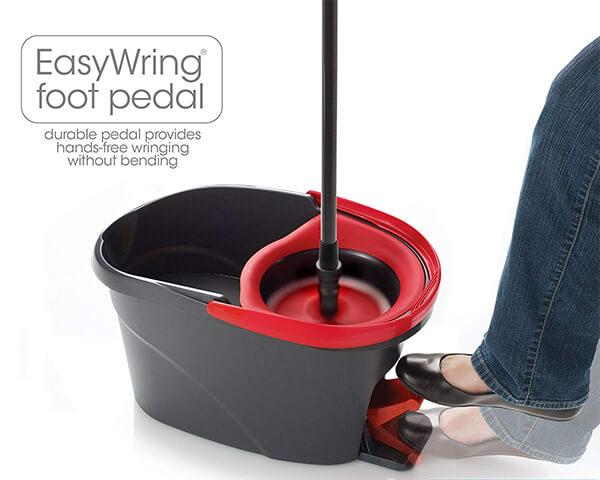 Fill your bucket up halfway with warm water and your cleaner of choice (follow the directions specifically for your cleaner as to how much to use). Dip your mop into the water and place the mop in the wringing nest. Push the pedal down and turn the mop to help wring out excess. Mop as usual.
The microfiber can also be used as a dry mop for catching dirt, pet hair, and dust. The microfiber has a slight static charge that draws light pet hair and dust to it, trapping them inside the fibers where they can't escape.
Once you're finished either dry mopping or wet mopping, you can remove the microfiber head to throw in the wash for a thorough cleaning. To make it even more convenient, you could invest in a second mop head so that you've always got a clean one ready to go.
What Are The Benefits?
If you're used to a traditional style mop and prefer it, this offers you a better way to get your floors clean. Because it's machine washable, you're never pushing around dirty water from other messes. You can also replace the mop head every so often when it begins to come apart without having to throw away everything.
The mop bucket is really convenient too because you don't have to touch the mop head to wring it out. Instead, the pedal action keeps your hands clean and prevents you from having to bend over to work a hand crank (like on some industrial mop buckets).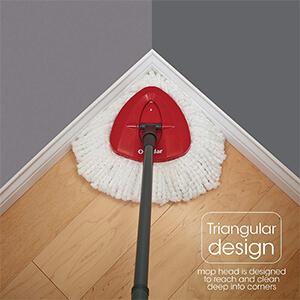 The bucket itself is hard to tip over and has a splash guard. The entire thing can store easily in your closet because the oblong shape of the bucket rests more easily against the wall or in between other things.
We love that we can adjust the handle to different heights including one for storage and one for petite people. It gives us more control over the pressure of the handle. Also, the shape of the mop head fits well into corners, and the 360-degree swivel helps us get around furniture and along baseboards without having to adjust our grip.
What Are The Downsides?
There's a trade-off for a telescopic handle. The joint where the handle adjusts is a weak point and could snap if you put too much pressure on the handle in just the right spot. It also can come loose if you aren't careful.
The mop head itself is a bit small and could make cleaning large floor areas a little frustrating. The bucket has no separation for clean and dirty water so you may have to wring the mop out but keep a sink of fresh water nearby.
It still doesn't telescope as much as we'd like, but it's nice to have some flexibility. The mop head itself tends to come apart after a few months of heavy use, making it necessary to buy replacement mop heads several times a year if you use the mop every day. The mop heads aren't that expensive, but that rate of replacement could make it expensive.


Quick Look
Here's what you should remember about this mop.
Pros
removable mop head
hands-free wringing system
telescoping handle for three different heights (including one good for storage)
suitable for wet and dry cleaning
Cons
telescoping handle has a weak spot
mop heads don't last very long
the mop head is small
Who It's For
If you have smaller areas of hard surfaces to clean, or if you have pets and twice daily dry sweeping, this is a good choice. Also, if your style trends towards maximal (i.e., a lot of furniture), the swivel of this mop could be a great fit.
O-Cedar Microfiber Steam Mop Review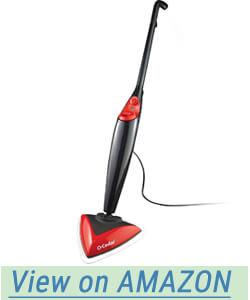 We're moving up the ladder here. This moves away from dry and regular mopping to steam mopping, a function that helps bring up dirt and grime and gently sanitize floors. O-Cedar's steam mop is an easy to use, lightweight steam mop with a corner-suitable mop head. It even includes a glider so that you can refresh your carpet areas.
How Does It Work?
Steam cleaning is a gentle way to sanitize floor without harsh chemicals. A reservoir inside the mop handle heats up water and forces the steam through small holes in the bottom of the mop head, quickly dissolving grime and dirt so that the mop fabric can pull it up. The microfiber cloth on the mop head traps that dirt, so you aren't spreading it around your floors as you clean.
You can control the level of steam, and it takes just 20 seconds from when you plug it in to begin producing the steam. The steam is safe for a variety of floor types including sealed hardwoods, linoleum, and nonporous tiles.
It stores easily, but there's no loop to hang it up. You'll have to store it upright somewhere. The cord winds up to stay out of the way, and the microfiber pad removes completely to throw into the washing machine.
How Do I Use It?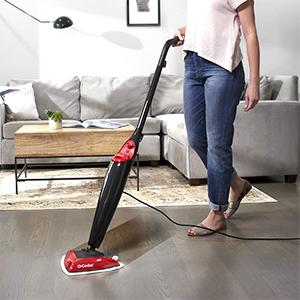 Unlike some other steam mops, this one doesn't have a trigger. Once you plug it in and set the steam level, it produces continuous steam the entire time you're cleaning so you can focus on applying the right pressure to get up messes.
Attach the microfiber mop head to the frame and make sure it's secure. If you're using the carpet glider, attach that to the bottom of the frame as well. Check the water reservoir. If there isn't enough water, add enough distilled water to fill it. Don't use tap water because that can cause mineralization and hard water spots.
Plug the mop in and wait 20 seconds. You should begin to see (and hear) the steam. Move slowly over your floors taking extra care over stains and spills, until the area is clean. Unplug the mop and wait for it to cool down before detaching the mop head.
Once the mop head has cooled, detach it and throw it into the wash for a complete clean. It comes with an extra microfiber pad so that you always have a clean one ready to go.
What Are The Benefits?
This is a lightweight tool, so it isn't hard to push around even with the full reservoir. It provides the same functionality as a much larger steamer without feeling like you're going to break your back carrying it.
The steam function is great for households that don't like to use harsh cleaners but still need to sanitize floors. In tests, it killed over 99.9% of e. Coli bacteria without any cleaner at all, which is good news for households with allergies, frequent illnesses, and other aversions to harsh cleaners.
We love that it doesn't require a constant trigger pull to produce the steam. This saves our hands a lot of pain and soreness later and gives floors a consistent steam coverage from start to finish.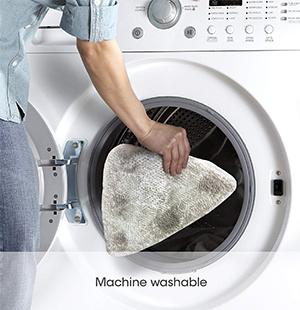 The triangle mop head is great for getting into corners and around furniture. The swivel of the head is good for maneuvering without having to change your grip every five minutes. We like that it keeps a consistent pressure as well. Plus, being able to throw the mop pad into the wash at the end is a great feature. Not only does the microfiber trap grime so it doesn't spread all over your floors, but it also gets completely clean in the washing machine after each use.
It can refresh high traffic areas of your carpet using steam to fluff compacted fibers without soaking into the carpet. It won't work over large amounts of carpet unless you're very, very (very) patient, however.
What Are The Downsides?
Steam will only do so much to lift dirt and grime away from a floor. It may sanitize it, but you may notice a film that develops on your floors if you get a lot of dusty or dirty foot traffic. Having to use a light cleaner every so often may not be a big deal for you, however.
It won't hang up, so you'll have to find a place to store it upright. While it's small enough to stay out of the way, finding a place where it won't topple over might be tricky.
If you've got really large areas, the mop head might be too small to be convenient for the slow moving of a steam mop. Also, you're hemmed in by the cord length although it's about 18 feet in length.
We also have a note of warning. If you're waiting for the unit to heat up to produce steam, try not to leave it sitting on your wood floors. It could leave watermarks in the wood that are not possible to get up without refinishing the floors thoroughly.


Quick Look
Here are the most important things to remember about this steam mop.
Pros
sanitizes without harsh cleaners
no trigger required; just plug in and go
steam levels adjust
lightweight
Cons
awkward to store
carpet refresher is good only on small areas
can't be used as a dry sweeper
Who It's For
If it makes you nervous to use harsh cleaners, a steam mop is a good option for sanitizing without them. We recommend it for people who need that kind of cleaning and could also use some refreshing in high traffic areas (such as around the front door).
O-Cedar O-Duster Robotic Floor Cleaner Review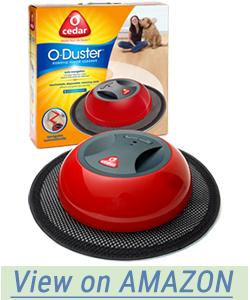 Our final O-Cedar product isn't a mop at all but a smart solution for pet owners and those with children. The robotic floor cleaner is O-Cedar's response to much more expensive robotic sweepers, trapping dirt and debris and avoiding obstacles.
How Does It Work?
It's not a robotic vacuum, so don't misunderstand its purpose. If you've got carpets, this isn't the machine for you. It has an O-ring pad that attaches to a wheeled device. It helps to pick up thin dirt and debris plus pet hair to keep your floors free of loose grime.
It moves around by itself, but it doesn't store dimensions of your house. The movements are somewhat random, but as long as you've got a wider open space, it should work just fine. Periodically remove the pad to replace it with a clean one.
It's a simple tool to use when you just need to keep on top of pet hair or dust in between big cleanings. It's great for homes with all hardwood floors and suitable for other types of hard surfaces as well.
How Do I Use It?
Charge the cleaner and set the timer for 30 minutes or 120 minutes. It moves in a single direction, spinning the pad to trap small dirt and debris. Whenever it encounters an obstacle, it runs in a different direction, though it may get stuck periodically underneath furniture. If you have areas of carpet, you can't program it to move away from it, causing the machine to get stuck trying to move over carpets or rugs. When the battery runs down, place it back on the dock to recharge it. You can store it out of the way close to its charging station to keep it ready to go whenever you need it.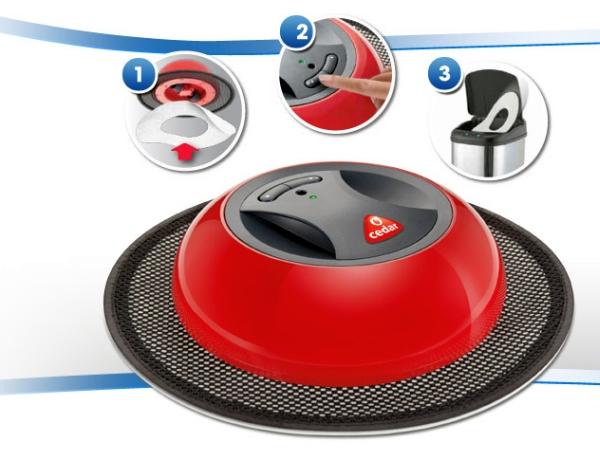 The primary purpose is dusting, not vacuuming, so you should use it the same way you'd use a Swiffer duster mop. It performs the same type of function, except you don't have to do it yourself. Also, you should be ok with a random movement that could leave little pockets of dust here and there, but for the most part, it can handle most of a space.
What Are The Benefits?
It's not a smart device, but it's certainly a budget one. It isn't going to vacuum or remove large bits of dirt and debris, but it will keep your floors free of pet hair and dust. This is the biggest draw. It can sweep your floors while you're doing something else so that you're ready to mop or just to keep floors refreshed in between mop sessions.
The pads are disposable, so you never feel like you're spreading mess around. They don't even have to go in the wash, so there's always a new one ready for use. If you find that you forget to launder reusable pads, this could be a viable option.
It's quiet and unobtrusive. It cleans well next to baseboards and in corners as well as under furniture where dust tends to gather. It's also really easy to use. Did we mention it's affordable? We did, but let's reiterate. It's about a third of the cost of the base model for most smart robot vacuums.
What Are The Downsides?
If you don't have much hard surface to clean, this could still be a waste of your money. It isn't going to vacuum up large debris, so consider the primary type of mess you're dealing with. Pet hair? Check. Dirt from your muddy boots? Probably not.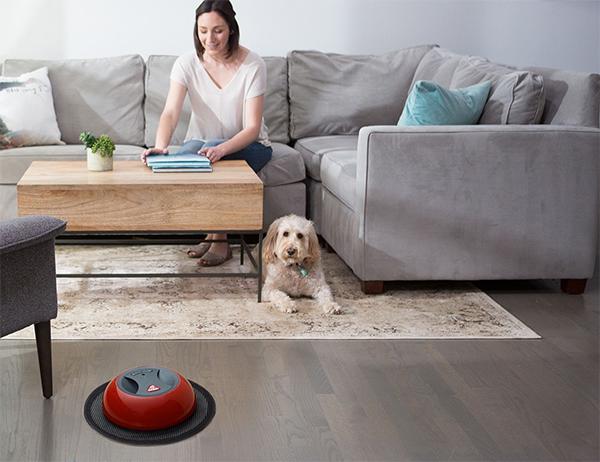 It doesn't sense when the battery is running low, so it will just stop wherever it is instead of returning to its docking station. You will have to remember to keep it charged and ready to go. It won't go over the carpet, but it will undoubtedly get stuck. You can't program the dimensions of the room in, so the robot's movements tend to be a bit random. You hope that it gets the majority of the room done before it dies or the timer runs out.
If you have a lot of furniture in your room, it may be frustrating. Check the clearance on each piece of furniture because it can get stuck, and retrieving it from the back of your couch can be a pain.
If you're environmentally conscious, the reusable pads could give you pause as well. The pads are cheap themselves, but replacement cost adds up over time. YOu'll have to decide if the convenience is worth it.

Quick Look
Here's what you need to remember about O-cedar's automatic duster.
Pros
automatic sweeper
highly affordable
no pads to remember to wash
quiet
Cons
reusable pad cost can add up over time
can't program room dimensions
easily stuck on the carpet
Who It's For
As long as you understand what it is you're buying, this could be good for anyone who wants to keep hardwoods refreshed in between major cleanings. It's excellent at sweeping up pet hair and dust, as well as smaller debris. It's a duster, not a vacuum, so decide accordingly.
Final Thoughts
O-Cedar's expertise goes a long way to creating a line of products that are affordable without sacrificing convenience or effectiveness. We think you'll find that at least one or two of these products might actually help you not to freak out when surprise visitors are headed to your house or cause you to question your right to live unsupervised when you step in yet another mess you forgot to clean up.
They won't break your wallet and should help you prolong the life of your hard surface floors without having to use harsh chemicals to sanitize or having to drag out the huge mop and bucket for small spaces. They're easy to store and lightweight. Some even adjust to fit your height requirements better and make storage a lot easier.
Picking up an O-Cedar product does get you generations of experience with cleaning, and thoughtful products worth keeping around. Let's keep those floors in top shape and your sanity in check.