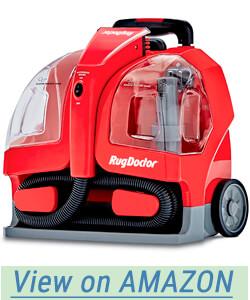 Everyone's raving about their hardwoods, but you're over there loving the soft pile of your carpet in the winter. It looks cozy, and it's never cold.
You're pretty smug about it until someone spills wine on the floor. Your neighbor just wipes the wine off the floor, but your heart stops when you see that stain.
The good news is the Rug Doctor Portable Spot Cleaner might be able to help you, but does it work? We've got all the answers in our review. Let's break it all down.
What Is The Rug Doctor?
The Rug Doctor is a handheld stain remover with an oscillating brush to help lift stains more efficiently. You can use it on your carpet but also on other types of fabric and upholstery. It takes the work out of removing deeply set stains.
Some types of stain removers use dangerous levels of heat or damaging steam.
The rug doctor uses pure suction to help lift stains. It has wheels that glide smoothly over carpet and an extendable hose.
It's not intended to clean a full carpet and doesn't provide the same cleaning power that a full shampooer will. It lifts out minor stains and spot cleans fabrics while blending the cleaned fabric in with the surrounding fabric.


How Do I Use The Rug Doctor?
When you have a stain, fill the first tank of the Rug Doctor with cleaning solution. When you press the trigger, the cleaning solution flows through the hose. It sprays the stain while you gently scrub it out. The vacuum feature prevents the stain from getting spread around, sucking it back into a side tank.
The oscillating bristles on the brush really help get stains lifted, so you cut down on scrubbing. The vacuum prevents spreading the stain because the vacuum sucks up all the stain and the dirty solution with it.
It has two removable tanks. They're easy to fill and empty. Just unscrew one to fill with water and add the cleaner. The other fills with the dirty solution and empties quickly.

How Easy Is It To Maneuver?
It's highly portable and easy to move over carpet. The whole thing weighs just under 20 pounds, so you shouldn't have any trouble moving. Even if 20 pounds is too much to pick up, it has a retractable handle to help pull things around.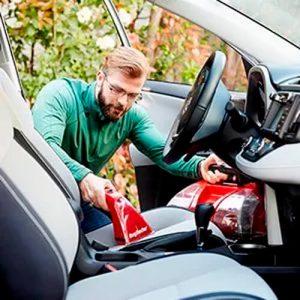 Compared to commercial machines and some other comparable residential machines, it's lightweight and easy to move. This is where the machine really shines. You can store it with room to spare, and the hose folds up directly into the side of the machine to keep things wrangled.
It fits well on the stairs, a common issue with other types of rug cleaners. The narrow dimensions sit on most stairs, so you don't have to hold it the entire time you're cleaning. The cord reaches 15 feet, so you don't have to unplug as often, and the brush head is a solid four inches wide to cover more area.
The hose is nearly five and a half feet long as well. Between the cord and the hose, you can get to just about any spot in your house.
What Are The Benefits Of the Rug Doctor?
There are a few problems this can solve. Let's take a look.
Power
It has a lot of power. Considering the usual amount of power for home machines, this is excellent. You need a lot of power if you aren't going to use heat or steam. You need to be able to lift a stain quickly and efficiently. Even deep-set stains should come out pretty quickly with the sustained power of the oscillating brush and the vacuum.
Maneuverability
The wheels, retractable handle, and narrow dimensions make it a lot easier to move around than the competition. It moves well across a variety of carpet types. One downside for many commercial carpet cleaning tools is they're bulky and designed to be carried from place to place. The wheeled-suitcase style of this tool lessens the load and gives you the chance to move around without having to stop and start the machine.
The cord and the hose lengths give you a combined 20 feet of reach. Nobody wants to move outlets every time the machine has to move, so the cord here allows you to reach most average sized rooms without unplugging at all.
A five-foot hose increases what you can clean. Curtains? No issue. Stairs? Easy. Your car? Simple. It's not just relegated to your carpet. The four-inch hose head covers the average size of most stains, so you're covered there, too.
Solution And Waste Containers
The containers hold a lot of volume. You won't have to keep emptying containers. It minimizes the risk of the spills because you can empty and fill the containers anywhere. There's no overlap between clean water and dirty water either. You move along from stain to stain stopping only when the wastewater chamber is full. There's plenty of volume storage there, so it's not even after each stain.
They lift out for disposal, so you aren't wielding the entire machine around looking for ways to empty it.
Cleaning Method
Some commercial cleaners use heat and steam to help lift a stain. This method is fine for tough, apartment-style carpet what's meant to take a beating, but what about the delicate fabric of your curtains? That's going to cause some damage.
The gentle oscillation of the brush head is the primary method for scrubbing and lifting stains. Continuous suction pulls the stain out gently as the brush helps deep clean. It's safe for many fabrics (though you should always spot test an inconspicuous place first.

Cost
The cost of the Rug Doctor is moderately expensive, but very affordable compared to the cost of professional cleaning or replacing a carpet altogether. This tool is going to save you a lot of money in the long run because the longer you have it, the more life you get out of your carpet.
Stains that would have caused replacement down the road are taken care of. We think the initial cost of investment gives you so much return later.
Refills for the cleaning solution are also highly affordable so you won't have a ballooning budget for replacements there.
Noise Level
The noise isn't so bad. You shouldn't need earplugs unless your ears are particularly sensitive. It's not any louder than a small vacuum, and what you get in return is more suction. The suction sound is what causes most of the noise, so trade off as you will.

What Are The Downsides?
Cost VS Professional Cleaning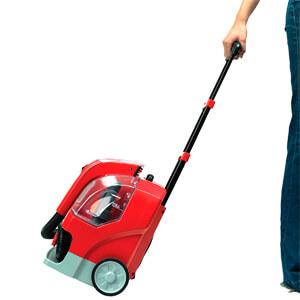 They're definitely affordable, but if you only have a reason to clean spots on your carpet once or twice a year, they're still more expensive than just renting a machine. However, households with kids and pets (or just lots of clumsy adults), this machine could save you a lot of money.
Spills
The tanks are convenient, but we still had some trouble with spilling out of the top side of the water tank until we mastered the installation of the containers. If you don't lift them carefully, or if the machine somehow tips over, the holes at the top aren't self-sealed. You could end up with a huge mess if you aren't careful.
Cleaning Style
This machine isn't going to clean your entire carpet either. It's intended only for spot cleaning. If you have to wash your entire carpet or a whole set of furniture, it's going to take forever. This isn't the machine for cleaning whole areas in your house. Make sure you know what the capabilities are so you aren't disappointed with the machine.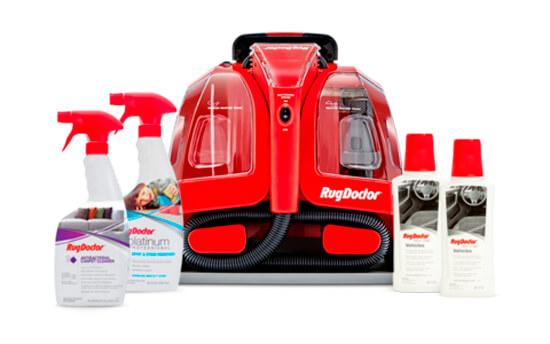 Accessories
The oscillating brush head is fine, but we'd love to see some other types of attachments for specific types of stains or fabrics. The oscillating brush might not be so great for very delicate fabrics, for example. It's also tough to get into the grooves and curves of an automobile, so brush heads specifically for cleaning our car would be nice.
Replacement parts are available, but not so easy to get. You can't just run down to the store and find a hose, for example. You'll need to order them online, making it not as convenient as other types of cleaning tools.
Who Is This Machine For?
We really think that this machine could be great for a busy family that needs a little bit of maintenance between professional cleanings. You shouldn't have to worry about how your kids treat your couch or whether your dog is perfectly behaved on your carpet.
We think it's a good investment if you love your carpet but don't want to spend all your time worrying about things. It's an excellent tool to have around the house.
The Good And The Bad
We think this is a convenient tool to have around the house and one of the better machines like this on the market. It's not for everyone, however, so if you're still undecided, here are the key takeaways.
Pros
It's an affordable alternative to replacing carpet every two years due to removable stains.
15 feet of cord and five feet of hose give you a lot of reach for most living spaces.
Oscillating brush head helps lift stains without using damaging heat or steam.
Removable solution and waste containers are more comfortable to maneuver.
It has slightly more power than comparable machines on the market.
The narrow body helps clean previously challenging places like stairs.
Cord wraps up behind the machine, and the hose tucks into the side for convenient storage.
Cons
It doesn't clean your whole carpet. You need a carpet shampooer for that.
The brush head is harder to maneuver in an automobile.
The waste and solution containers aren't self-sealing. Be careful when emptying them.
The narrow body is great for stairs, but too much force and you can pull the machine over (emptying both clean and dirty water all over your carpet.
Final Thoughts
If you shampoo your carpets periodically throughout the year, you may not need the rug doctor. Its primary purpose is spot cleaning. Households with frequent small messes (hello pets and kids!) could find the machine a life saver in between full carpet cleaning. However, if it's just you and you're pretty clean, it could be overkill.
The noise may bother some people, but again, we don't think it's any louder than a small vacuum, and the trade-off is power. The suction can lift a stain in as little as a few seconds while you get on with your day.
We wholeheartedly recommend it for households with kids and pets. Homes that don't experience stains on a regular basis should skip this tool and invest in a basic stain remover spray.
How much wear and tear does your carpet experience? Are stains a daily occurrence or something that happens every once in a while? Let us know in the comments below.
Summary
Reviewer
Review Date
Reviewed Item
Rug Doctor Portable Spot Cleaner
Author Rating