According to the Asthma and Allergy Foundation of America (AAFA) the cost of allergies of any kind total roughly 18 billion dollars. Nearly 10 billion of those dollars are spent on "non-medical" consumer products such as air filtration and purification systems for homes, offices, cars and even small devices that a person can wear around their neck.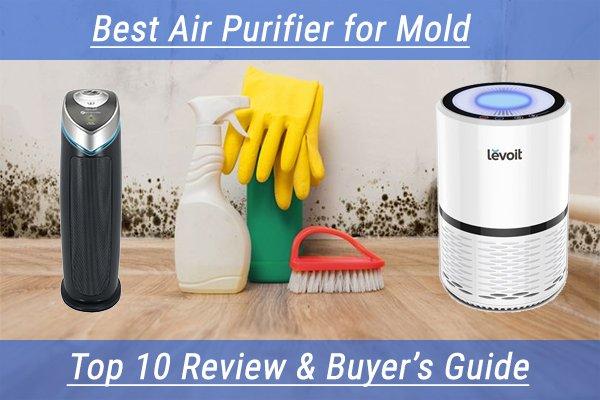 When shopping for an air purifier it is important to note whether it is rated for mold and other potentially harmful pollutants, how well it performs and what type of filtration that it uses.
One of the best ways to determine how well an air purifier works is by looking at the CADR or "clean air delivery rate" This will be a number usually listed as "CFM" which means "cubic feet per minute". The higher the CADR, the more effective the air purifier is at removing contaminants.
Some air purifiers will list several of these ratings. Always choose a purifier that has pretty consistently high ratings for best overall performance.
Fortunately, we have reviewed 10 of the Best Air Purifier for Mold on the market.
Top 10 Reviews of Best Air Purifier for Mold
VEVA 8000 Elite Pro Series Air Purifier
Filter Life: 6-12 months
Coverage: 325 sq. ft.
Premium activated carbon pre-filters
Does not use UV or Ions which produce trace amounts of Ozone
ETL Certified and tested by NRT Laboratories to UL Standard
Coway AP-1216L Tower Mighty Air Purifier
Filter Life: 6-8 months
Coverage: 330 sq. ft.
Quiet operation with noise level ranging from 21 dB to 52 dB
Pollution sensor communicates indoor air quality in real-time
Fellowes AeraMax 300 Large Room Air Purifier
Filter Life: 13 months
Coverage: 300-600 sq. ft.
Certified by the asthma and allergy foundation of America
Provides built-in protection from the growth of odor-causing bacteria
---
GermGuardian AC5250PT 28″ 3-in-1 Full Room Air Purifier: Best Value Priced Whole Room Purifier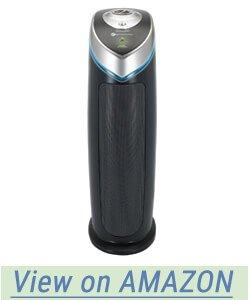 This small tower style air purifier still as enough power to eliminate as much as 99.97% of dust and allergens including particles as small as 0.3 microns. For reference, the average human eye stops being able to see things at 40 microns.
The GermGuardian AC 4825 traps and eliminates:
Pet dander
Smoke and smoke odor
Mold
Dust
Germs and bacteria
How it Works
The GermGuardian AC5250PT uses a three-step process that started with an air cleaning "pre-filter", a true HEPA filter and finally a UVC sanitizer. The pre-filter is a charcoal filter and is responsible for eliminating and/or neutralizing odors. Designed to fit in most rooms it is available in either a white or grey. It has 3 speeds and can clear the air in a room up to 167 square feet in size. For that size of a room, this air purifier will circulate the air four times every hour.

The filter should be changed every 6-8 months depending on usage. There is a light that indicates when the filter should be changed. This air purifier has a 3 year limited warranty.
The Germ Guardian AC5250PT is certified by the Association of Home Appliance Manufacturers (AHAM) as well as by Energy Star.
Recommended or Not?
While it is pretty small in size, it does have a fairly high Clean Air Delivery Rate (CADR) for dust and pollen (118 and 125 respectively). Yes, it is recommended for small to medium rooms.
Pros
AHAM and Energy Star certified.
Three stage filtration system.
Small design does not take up floor space.
Cons
Reported to be quite noisy especially at night.
Maybe a potential fire hazard. Use caution with this or any other electrical device.
Levoit LV-H132 Air Purifier with True HEPA Filter: Best for Eliminating Smoke Odors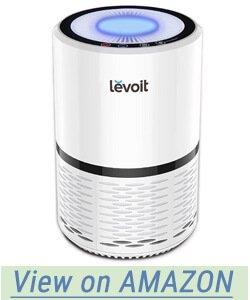 Even people hundreds of miles from a wildfire can be affected by the blowing ash, the risk of additional fires and of course, the smoke. The smell of smoke from a wildfire can permeate a house in seconds flat, even with the windows closed. Most air purifiers can eliminate some but not all of the smell of cigarette smoke and have an even harder time with the smell of giant wildfires.
According to Home Air Guides, indoor air pollution can be as much as 5 times more dangerous than outdoor air pollution. This is because we are more confined inside of our homes and chemicals, pollutants, mold spores and more can build up over time. Adults can spend as much as 90% of their day inside, breathing in the same air over and over at a rate of 7-8 liters per minute.
Three Stage Filtration System
The Levoit LV-H132 uses a three-stage filtration system that consists of a pre-filter, a HEPA filter, and an activated charcoal filter. It eliminates as much as 99.97% of dust, smoke, and other odors as well as mold, pet dander and allergens. It is 100% ozone-free. As an added feature this air purifier has a nightlight function with 2 brightness settings. This feature can be turned off if it is not needed.
The filter should be replaced every 6 months. The company suggests using a higher priced filter to reduce the time between changes and save money.
This air purifier is rated for rooms around 86 square feet.
Recommended or Not?
The Levoit Lv-H132 is best for very small rooms and may work best in pairs. However, the small area it can clean it does well. If it can remove the smell of smoke it is well worth it.
Pros
Three stage filtration can eliminate even smoke odor.
Nightlight function.
No ozone.
Cons
May make a frequent chirping sound.
Some units may have a burning smell.
Veva 8000 Elite Pro Series Air Purifier: Best Safety Features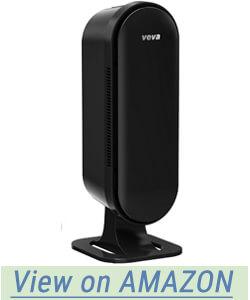 The Veva 8000 Elite Pro Series Air Purifier features a three-stage filtration system with not one but four activated charcoal filters. Activated charcoal has been proven to eliminate most home odors including from pets, smoking, cooking and more. This is a larger room filter and is capable of filtering the air up to 325 square feet with an effectiveness of 99.97%.
This filter has a three-stage fan that runs from quiet to turbo. Filters should be changed every 6-12 months depending on air quality and usage. It is 100% ozone-free.
Safety Features
The Veva 8000 Elite Pro Series Air Purifier has a unique safety feature that prevents the unit from running when the front panel is not firmly and correctly in place.
Recommended or Not?
With the larger size and the safety feature it is a definite yes. Keep in mind that this unit can be pretty loud.
Pros
3 Stage filtration, 4 activated charcoal filters.
2 year Warranty but lifetime support from Veva.
Safety feature makes this a good choice for homes with small children or pets.
Cons
Unit is loud even on the "quiet" setting.
Sometimes wobbles or falls over especially when the fan is on higher speeds.
Rabbit Air BioGS 2.0 Ultra Quiet HEPA Air Purifier (SPA-65A): Most Awards for Design
The Rabbit Air BioGS 2.0 Ultra Quiet HEPA Air Purifier is available in three color choices (tone leaf/tone royal and white) and is capable of clearing a 625 square foot room twice an hour on the highest setting. It has 4 separate stages of purification and deodorization that start with the BioGS HEPA filter. The prefilter is washable and the activated charcoal filters only need to be replaced every 2-3 years depending on usage. The motor has 5 speeds and is Energy Star certified.
Award Winning Design
The Rabbit Air BioGS 2.0 Ultra Quiet HEPA filter has won the following awards:
(Germany) Red Dot Award
Good Design by Chicago Athenaeum
(Japan) Good Design Award

Recommended or Not?
The average air purifier uses a 3 stage purification process while the Rabbit Air BioGS 2.0 uses a 4 stage system. The filters for this air purifier last for years rather than months and the motor is nearly silent on the lowest speed. While the price tag may be a little steep, it is a small price to pay for better air quality in your home especially if you have children. From 1980's to the mid 1990's the number of young children with asthma more than doubled. It costs more to treat an asthma attack than to take every possible step to prevent them. The Rabbit BioGS 2.0 is recommended.
Pros
5 year warranty plus lifetime customer support.
5 speed motor.
Long lasting filter.
Cons
May not be super effective at removing odors especially cigarette smoke.
Pure Zone 3-in-1 True HEPA Air Purifier: Quietest Air Purifier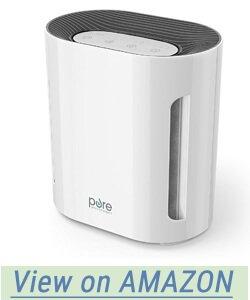 For an air purifier to work it must suck in air (like a vacuum) then run the air through the filtration system before blowing it back out to circulate. The more air per minute that an air purifier moves the louder it typically may be. While you can lower the speed of the fan, that slows the rate of air being moved. The Pure Zone 3-in-1 has a three-stage filter that works at destroying mold, germs, and bacteria without all of the sounds.
How Quiet is "Quiet?"
The Pure Zone 3-in-1 True HEPA air purifier operates at a noise level of around 30 decibels. To put that in perspective, from the New Orleans Musician's Clinic and Assistance Foundation: The safe range for sound is between 0 and 80 decibels. At this range there is little to no risk for hearing loss or impairment. Other things that fall in this range from low to high: whispers, rain drops, normal conversation, vacuum cleaners.
Recommended or Not?
The Pure Zone 3-in-1 is quiet, there is no doubt about that. It also has a solid warranty (5 years) and is very simple to use. However, it is a very small unit and does not move a lot of air. It's going to struggle with dust and will probably not be super effective at really strong odors. As a back up unit or as a unit for a very small space, it is fine. It is not going to handle purifying the air in a whole room of any size.
Pros
Quiet.
Can set a timer for 2,4 or 8 hours of operation.
5 year Warranty.
Cons
Not powerful enough to clean the air of a small room by itself.
Should only be used for a personal space air purifier.
Winix 5300-2 Air Purifier with True HEPA Filter and Plasma Wave: Best CADR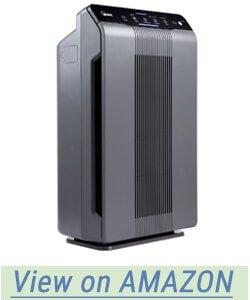 The Plasma Wave on the Winix 5300-2 Air Purifier is described as a permanent filter that is designed to break down odors, allergens, mold and more without chemical vapors and without using ozone in any way. It is part of the three-stage filtration system that includes a HEPA filter and a carbon filter as well. A smart sensor tracks the pollution in the air and turns the fan off and on as needed. There are 4 speeds including sleep mode which is basically silent. There is a filter replacement indicator light. Both the indicator light and the operational lights can be dimmed.
Clean Air Delivery Rates (CADR)
The Winix 5300-2 has a delivered air flow of around .236 CFM (cubic feet per minute). The CADR for smoke is 232, dust is 243 and pollen is 246. Remember, the higher the CADR, the faster the air is cleaned and returned. This unit is rated for a room that is 360 square feet.
Recommended or Not?
This is a fairly powerful unit with good CADR rates and at a decent price. Keeping in mind that there is no warranty and the customer service is less than adequate here, this is an air purifier that should be among the first to be considered. Definitely recommend.
Pros
High CADR rates for the most common pollutants.
Big Enough to clear a 360 square foot room.
Noise level is under 30 decibels.
Smart sensor turns the fan on, off or up as needed.
Cons
Does not have a warranty.
Customer service is terrible even for simple questions.
Blue Pure 411 Air Purifier: Most Effective Air Purifier for Small Rooms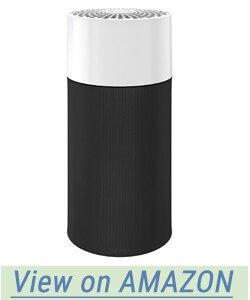 The Blue Pure 411 is a three-stage filtration system with 2 washable pre-filters and will deal with mold, dust, germs, pet dander and odors, ridding your home of up to 99% of airborne pollutants. The pre-filter gathers the larger particles of dust, pet hair and mold spores and traps them. The activated charcoal filter removes odors and further filters out the smaller particles that the first filter missed. The filter is rated to handle a 160-175 square foot room and has a CADR of 105 CFM.
Clean Air and Decor Friendly
The Blue Pure 411 Air Purifier's pre-filter is not only washable but replaceable and interchangeable to match the decor of the room it is being placed in. You receive a dark blue and a grey but can order other colors online.
Recommended or Not?
The premise of the interchangeable pre-filter is an interesting one but leaves a lot to be desired in the execution as it ends up looking like a small bag or a sock. It is an effective air purifier but only for the very smallest of rooms. As a secondary unit or for personal spaces it might be perfectly adequate.
Pros
99% effective at purifying the air of most pollutants.
Washable pre-filter eliminates some of the struggles of owning an air purifier.
Cons
Small unit but very loud.
Not effective in removing cigarette odors.
May not be entirely effective on other strong odors.
Coway AP-1512 HH Mighty Air Purifier: Best Energy Saving Air Purifier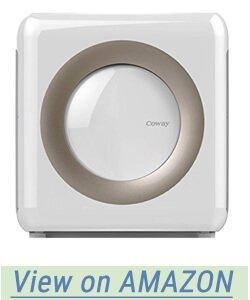 Available in either black or white, the Coway AP-1512 HH Mighty has a number of features that help it to save you energy while you are cleaning your home's air. It is Energy Star certified and has an Eco mode. If the sensor does not sense any pollutants for thirty minutes at a time the unit will automatically turn off. It also has an automatic mode that turns the unit on and increases the speed as needed based on air quality.
Four-Stage Filtration and More
The Mighty Air Purifier uses a pre-filter, a carbon filter, a true HEPA filter, and a vital ion filter. The airflow rate is 7.6 CMM and the decibel rating is between 24.4 and 53.8 decibels. It can clear the air in a room that is 360 square feet.
There are two indicator lights. One will let you know when air quality has slipped below the acceptable threshold and the other lets you know when the filter needs to be changed.
Recommended or Not?
If you are looking for a 4 stage air purifier that is both powerful and loud and is still able to save you money during operation, this is the unit to consider. Able to handle a decent sized room with good air flow, the Mighty Air is powerful enough to get the job done but quiet enough to let you stay in the same room.
Pros
Eco Mode prevents you from wasting energy.
Auto Mode turns on as needed so you never have to guess.
Indicator lights let you know when it is time to change the filter and when the air quality is not as it should be.
Cons
The fan sometimes makes a strange sound like it is hitting something in the housing.
Customer service is not great. Slow response, inadequate answers and no follow up with complaints.
Hunter HT 1701 Air Purifier with ViRo-Silver Pre-Filter: Best Filter Against Bacterial Growth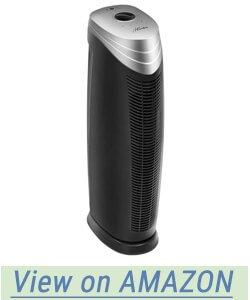 As confusing as it may seem, there are good bacteria and bad bacteria all around us. Many millions of them live inside of our bodies in a delicate balance. Some of the harmful bacteria can become a serious problem in as little as a few hours so it is important to stop their growth as much as possible. The Hunter HT 1701 is a multi-stage filtration system that is effective to 99% for particles down to .3 microns. It has 3 speeds, and filter change indicator lights. The pre-filter should be changed every three months while the HEPA filter should be changed every 12-18 months.
What is ViRo Silver Filtration?
The pre-filter for the Hunter HT 1701 uses bamboo and long grain, activated charcoal to remove most odors, Volatile Organic Chemicals (VOCs) and larger particles. Next is the ViRo silver filter which filters out smaller filters and more odor-causing bacteria. This is the part of the filter that uses silver infused technology to prevent 99% of bacterial growth. The final filter is a true HEPA filter.
Recommended or Not?
The trusted Hunter name is one that many people are familiar with. This highly effective air purifier has 3 speeds and unique features that allow it to not only stop odors but prevent bacterial overgrowth. It has a three year warranty plus life time support from Hunter all at a decent price. Highly recommend.
Pros
Available in several color options including: titanium/black, champagne/white and rose gold/white.
Trusted company with a long history of quality products.
Highly effective at both purifying the air and killing bacteria.
Good price, solid warranty, good support.
Cons
Pre-filter needs changed frequently (Every 3 months).
Can be a bit loud.
AeraMax Large Room Air Purifier: Best Purifier Certified to be Asthma/Allergy Friendly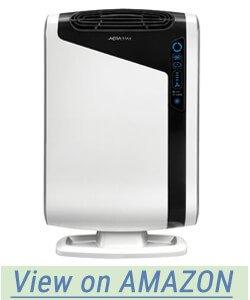 According to the Asthma and Allergy Foundation of America (AAFA) more than 50 million people have some type of allergy whether it is airborne, food, or medicine. Allergies are the 6th leading cause of chronic or long-term illness in adults and the most common affecting kids. In 2015, over 8% of adults and 8% of children were diagnosed with some degree of seasonal rhinitis also known as hay fever. The number of children who have asthma has climbed considerably. People, especially children, the elderly and those with weakened immune systems who live in urban areas with lots of automobile traffic are at the highest risk for asthma, bronchitis, cancer and heart disease. Air pollution is the 4th largest killer in the world accounting for 6.5 million deaths every year. (AAFA.com)

Specially Designed for Allergy, Cold and Flu Season
The AeraMax was designed to be effective for people with allergies as well as those with asthma and other chronic breathing issues. It has a special high-performance mode that was specially designed for use during the allergy, cold and flu seasons. It also uses a smart sensor to monitor for the relative air quality and then to adjust the fan as needed. This is a four-stage air purification system to filter out 99.97% of all pollutants including mold, dander, and pollen as well as odors.
The AeraMax was certified to be asthma and allergy friendly by the AAFA.
Recommended or Not?
Whether you or a family member have current breathing problems, this four stage filtration system can help you reduce the risk of developing them. Since nearly half of all adult onset asthma cases are brought on by allergies it makes good sense to do everything to protect your health and eliminate as many allergens from your environment as possible. This unit will clear a room 300-600 square feet making it perfect for larger rooms and open areas.
Pros
Good for larger sized rooms.
High-performance mode for colds, flu and allergy season.
The smart sensor monitors air quality and then turns the fan on or up as needed.
Certified by the Asthma and Allergy Foundation of America.
Cons
Unit can be noisy especially during high performance mode.
Does not do well on certain smells especially cigarette smoke.
Buying Guide: Choosing the Right Air Purifier for Mold
Before you buy an air purifier there are several things that you should look for. These are:
Size of the room they are meant to be used for
The CADR and CFM
Levels and Types of Filtration
Style of Filters
How to Choose Based on Room Size
Nearly all air purifiers will have some reference to the size of the room they are meant for. For example, the AeraMax has a listed room-sized rating of between 300 and 600 square feet. If you have a lot of furniture, heavy drapes, pets, inside smokers or live in a high traffic/industrial area deduct from the overall room size.
Why CADR and CFM Matter
Obviously, the amount of clean air that an air purifier is able to put out is the most important factor when choosing one. CADR and CFM both express how much clean air is being delivered and how quickly. The higher the CADR number the more air is being filtered and returned. Most air purifiers have adjustable fans so that you can speed up the process as needed. Others use smart sensors that tell when the air quality is getting poor and will turn the unit on or up as needed.
The Clean Air Delivery Rate may not be listed or even messaged in every air purifier's online listings. This does not mean that the rate is low. It may be considered "too technical" for some companies who like to keep their advertising language more simplified.
Why is Four Stage Filtration the Best?
The more filtration, the more particles that get trapped it is that simple. As the air goes through the various filtration steps it is cleaned even further. A two-step filtration system may only remove the larger particles which means that the air that is being blown back out of the "purifier" is only partially clean.
It is important that any filtration system use more than one type of filter as each type is more useful for different things. Activated charcoal filters a best for filtering out smells while HEPA filters remove the smaller particles that the pre-filters might miss.
Replacement Filters, Washable Filters
All air purifiers use at least one type of filter. Many uses two or even more types of filters. Most of these will need to be replaced at different rates. A sensor light may tell you when a filter needs to be replaced but when there are more than one type and only one light you might become confused. It is a good idea to use a calendar or a tracking system for replacing filters. Washable filters should be washed and air-dried according to manufacturer's recommendations.
Improper washing or replacing the filter before it is dried could actually increase the risk of mold growth. HEPA filters themselves work to kill mold because of the dry and sterile environment. Introducing a little bit of moisture plus just a single mold spore could mean trouble in a very short period of time.
Always follow recommendations for filter replacement including the right model number and size. Consider the cost of replacing the filter when choosing an air purifier. Look at the overall cost of operation per year which includes the amount of energy that the unit uses plus the cost of any replacement parts that are needed based on the stated frequency of replacement.
Air Purifiers are Not Silent
While there are some models that have sleep or silent modes or advertise themselves as "virtually silent" on the lowest setting, most are pretty noisy. Think of them as they are designed and you understand the level of noise. Most are meant to suck in air like a vacuum and then redistribute the cleaned air back into the room like a fan. Both vacuums and fans are noisy but whether they are "too" noisy or not depends on the person. Some people use air purifiers as white noise machines and find them comforting when they are trying to sleep while others cannot tolerate the sounds they make. It may come down to personal preference as to which model will work best for you.
Future Upgrades and New Technologies in the Industry
Most of the changes to air purifiers will come to the filtration system with most going to the four-stage systems. Other changes will likely include more use of the combination of bamboo and activated charcoal in at least one step of the filtration system. Finally, most successful brands will add a variety of sizes to their air purifier lines so that people are able to choose the size that they need based on the room it will be used in.
More brands may also seek certification from groups such as the AAFA and others. This certification shows that they meet certain standards set by the group and independent labs in relation to removing allergens and pollutants that can trigger asthma attacks.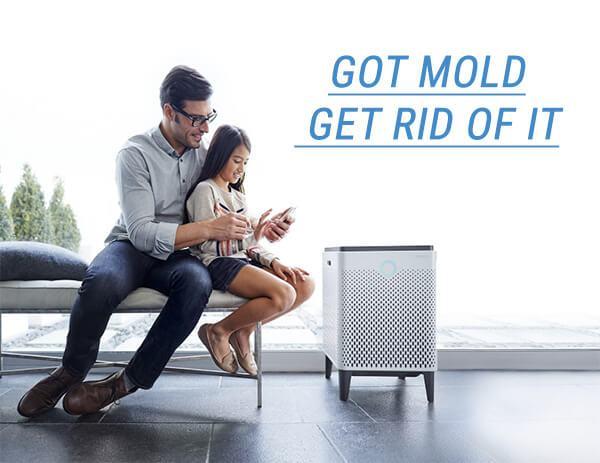 Conclusion
Poor air quality kills and the quality of our air inside of homes, businesses, and schools are often much worse than what is outside. The longer we stay inside breathing that air the higher the risk of certain diseases becomes. From asthma, allergies, and bronchitis to cancer and heart disease, the air we breathe is slowly killing too many people. Air purifiers are one way to combat the thousands of particles in the air from pet dander, dust mites, mold spores, bacteria, and germs. Finding the best air purifier for mold is often the problem. There are so many models to choose from with different functions, features, and styles. It can be easy to get carried away with all of the bells and whistles but in the end what you need is a system that moves dirty air through and pumps clean air back out in a quick, efficient and relatively quiet way.
People who have asthma and/or allergies should be especially cautious when choosing an air purifier especially the small units that may not do enough to be even worth it. Look for a certified model preferably from an organization like The Asthma and Allergy Foundation of America. Another important certification comes from Energy Star and lets you know that the cost of operating your air purifier is not going to break the budget.