Your broom needs an upgrade. Maybe you've moved to a larger space, or you're looking for one for your business. Perhaps the pet hair is out of control. There's a broom that can help you with whatever problem you have without dragging out your noisy vacuum (or least, before you drag it out).
We've put together a list of our top picks for best brooms for hardwood floors. Plus, we've answered some questions you may have about how to choose. Let's take a look.

TOP 15 Reviews of Best Brooms For Hardwood Floors
#1. Landhope Extra Large Push Broom With Squeegee Edge – Best Extra Large Broom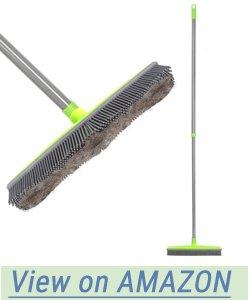 You've got a lot of pet hair on your floor. If it's cat hair, you might think it's impossible to get it all up. Landhope's rubber-bristled push broom is extra large to capture hair in wider areas for less time sweeping. The handle is adjustable from 31.5 inches to 54 inches. Rubber bristles are easily cleanable under running water, so you don't worry about spreading dirt and allergens around.
Why We Like It
Rubber bristles work on hardwood, tile, carpet, outdoor surfaces, and pretty much everything else. If you have trouble getting pet hair out of the fibers of your carpet, this one can be a lifesaver.
The extra wide head is suitable for larger homes where you don't want to spend hours trying to sweep through. The handle is adjustable so you won't break your back bending over to push the broom.
The squeegee attachment cleans your windows or any surface, so you move seamlessly from one cleaning task to the other.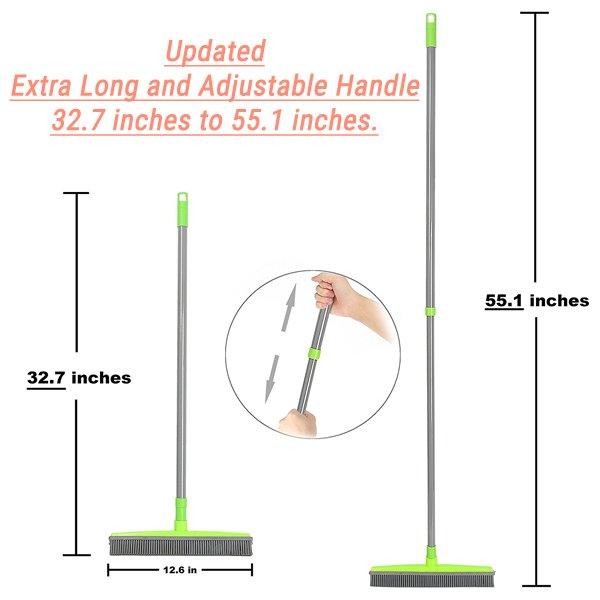 Watch Out For
The telescoping handle is convenient, but there's no locking mechanism to keep it in place. It has a tendency to come loose under vigorous cleaning.
It doesn't pick up the hair from carpets. Instead, it fluffs it out of fibers and creates little balls of hair. You'll still have to use the vacuum to get the hair up. If you're looking for a one-stop cleaner, this one doesn't fit the bill.
Who It's For
If you've got large areas to clean and don't want to keep several different types of brooms around, this is a good choice. It's also suitable for carpeted households with pets as a vacuum aid.
Pros
extra wide broom head
includes a squeegee
Cons
no locking mechanism on the handle
#2. OXO Good Grips Sweep Set – Best Broom/Dustpan Combo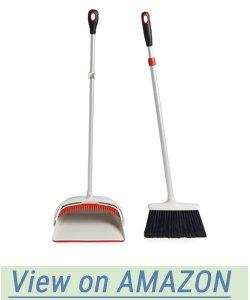 The OXO set is better for those wanting a traditional broom. The broom has soft feather bristles in a fan shape to capture dust and debris easily. The handle telescopes from a hand broom to a full sized one. It comes with a long-handled dustpan that locks into place for easy cleaning. The broom snaps into the closed dustpan so you can store both upright and together.
Why We Like It
Traditional brooms are great for houses with exclusively hardwood or mostly hardwood and tile. The dustpan has little teeth to help comb out dirt and debris from the broom bristles, so the broom stays cleaner.
The broom bristles are gentle enough for delicate floors, so you won't have to worry about how often you sweep. The dual positions of the broom handle are excellent for handling a variety of sweeping jobs, and the long handle of the dustpan makes cleanup a lot easier.
The extended broom handle goes all the way up to 53 inches, a little shorter than some, but still plenty tall for a variety of body sizes.

Why To Doubt
The bristles of the broom bend out of shape more easily than some of the other brooms on the list. They're traditional bristles, so if you're vigorous sweeping, you may see bent bristles sooner than you'd like.
The broom is nothing special, really. The real draw is the dustpan with teeth. The broom is good, but it isn't as durable so you might be replacing your broom soon if you use it frequently.
Who It's For
People with exclusively hardwoods who need gentle cleaning tools. It's best for occasional sweeping because of the bristles. If you're looking for a really useful dustpan, this set is a good option.
Pros
gentle bristles
dustpan has built-in broom cleaner
#3. LiKe Upright Dustpan And Broom – Best Environmental Option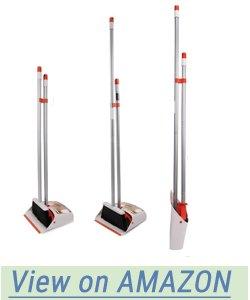 LiKe's set is another traditional one with soft bristles. Both the broom and the dustpan have long handles so you can stay upright to complete your sweeping. The dustpan has teeth to clean the bristles while the rubber track helps guide dirt into place.
Why We Like It
The bristles are gentle enough for hardwood floors, and they won't absorb water if you've got a wet mess. This prevents web debris from tracking all over your house. The broom and dustpan fold up together for easy storage.
The broom is made from recycled PET bottles. We love an excellent environmental product. The dustpan also keeps dirt from spreading all over the place because the teeth gently comb debris out of the broom, helping give it a longer life.
Why To Doubt
The dustpan has trouble laying flat on the floor. If you aren't paying attention, it's easy to sweep dust and debris under the dustpan. It can be frustrating if you need to finish a job quickly or you aren't physically able to hold the dustpan yourself.
The bristles are pretty durable, but you may need to wipe them clean every once in a while beyond what the dustpan teeth will do.
Who Is It For
People who find environmentally friendly products critical should feel good purchasing this one made of recycled materials. PET bottles are a huge issue with landfills and ocean waste, so it's nice to know you're doing the world a small favor.
Pros
made from recycled bottles
bristles don't absorb water
Cons
dustpan isn't flush with the floor
#4. WISPsystem Broom and Dustpan – Best Dustpan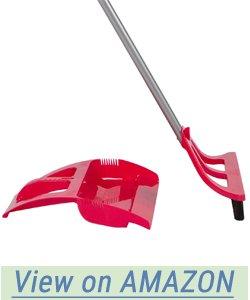 The WISPsystem is a really interesting broom. The head curves and the bristles are angled, so it's easier to sweep something up one handed. It comes with a foot maneuvered dustpan for easier cleaning.
Why We Like It
The innovative head makes cleaning targeted spills much easier. The bristles have a slight electrostatic charge, so they draw dirt and hair towards them easily.
The sides of the dustpan have teeth to help clean the bristles of the broom and prevent grime from spreading around. It's awesome because we don't have to bend down to sweep up hair, and we can handle the broom with just one hand.
The 90-degree bristles are made to last longer than most standard brooms. It also reaches well into awkward spaces such as above the door.

Watch Out For
The head of the broom may be inconvenient for routine sweeping. It's good for targeted messes, but using it across the whole floor could be a pain.
Be careful you don't accidentally snap the dustpan when you step on the foothold. It only needs light pressure, or you may crack the plastic. We'd like to see a more durable plastic, but until then, tread lightly.
Who It's For
If you hate bending over for dustpans, this one is for you. Also, if the majority of your messes are targeted rather than routine sweeping, it should save you a lot of hassle operating the broom by itself.
Pros
innovative broom head
foot powered dustpan
Cons
not suitable for large, routine cleaning
#5. Meibei Soft Sweeping Broom – Best For Wet/Dry Spills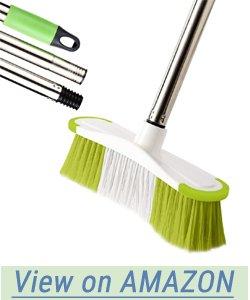 Meibei's soft broom uses split tip bristles to capture dust and dirt without scratching your floor. The handle adjusts from 36 to 51 inches, and the broom head can handle both wet and dry spills.
Why We Like It
It works well with different types of flooring, and the head is small enough to fit into smaller spaces. It's excellent for a galley style kitchen or houses that use a maximal decor. We like it for all kinds of jobs including dusting walls and getting cobwebs out of tall corners.
It doesn't have a dustbin, but it's excellent at piling up dirt and debris so you can vacuum it up for good. If your house is mostly hardwood floors, you'll really enjoy this one.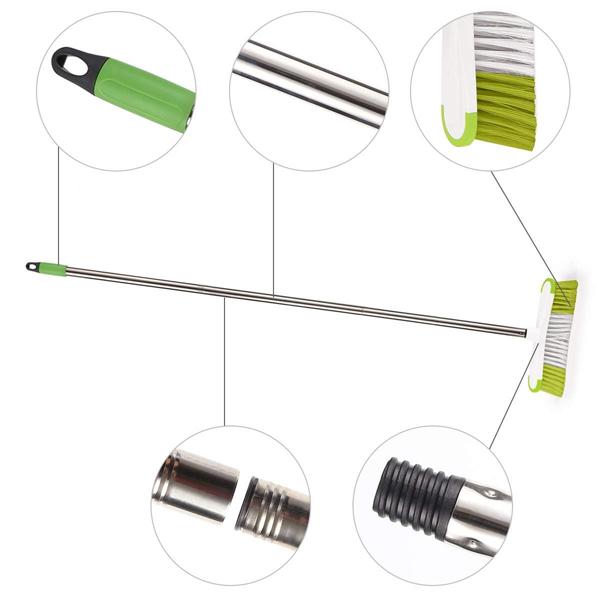 Why To Doubt
If you have carpet, the bristles are far too soft to agitate fur out of carpet fibers. It's also too soft to use as an outdoor tool.
If you have large areas of floor to clean, the head might be a little frustrating. It's just over ten inches wide. It reaches into smaller spaces, but for large surface areas, that doesn't quite do it.
Who It's For
People who clean wet and dry messes in smaller spaces should find this broom easy to maneuver and easy to maintain.
Pros
good for small spaces
handles wet and dry messes
#6. Evriholder FURemover Broom with Squeegee – Best Long Handled Pet Broom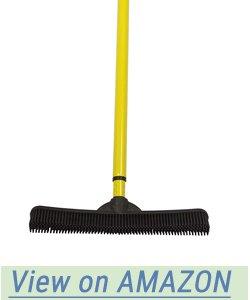 The FURemover broom is a rubber bristled broom made to agitate hair, dirt, and debris out of a carpet. Natural rubber attracts hair across a variety of surfaces while the squeegee attachment helps you move from one task to another seamlessly.
Why We Like It
If you've got a lot of carpet and your pets have the run of the house, you'll appreciate the way this agitates fur out of the fibers of your carpet. It cleans large areas, so you aren't continually going over the same area twice.
The natural rubber bristles are like magnets for hair. They have a natural static that pulls hair in and traps it. It agitates hair out of carpet fibers, so your vacuuming is deeper. It helps to get more of the hair out of your carpet and into your vacuum or dustpan where it belongs.
It has an extra long telescopic handle that extends from 36 inches to 60 inches. That's one of the most extended handles of any of the brooms on our list, so you should have plenty of flexibility for all your cleaning.
The squeegee on the other side helps with wet spills on hardwood or other flat surfaces. The rubber is industrial quality, so it should be durable enough for most of your household needs.

Why To Doubt
Pet owners with large areas of carpet should appreciate the combined head size, telescopic handle, and the rubber bristles
The handle may be long, but it's a bit flimsy. It can fracture if you overtighten it when you adjust the height. It's not as good for loose dirt on bare floors because it can make the dirt skip around. The rubber doesn't move smoothly enough to sweep up the way you would with a traditional broom.
Who Is It for
If you need a much taller handle, this gives you six feet to work with. It's also suitable for households with a lot of hair and a lot of carpet. It might get old maneuvering it all on bare floors, so stick with at least half carpeted spaces.
Pros
extra long handle
industrial quality rubber
#7. SLC Broom and Dustpan Set – Best Adjustable Broom Head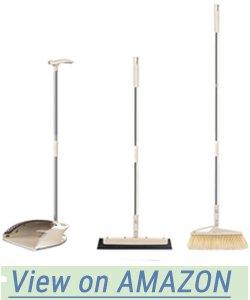 SLC's broom and dustpan are an exciting combination. The broom head can detach to be used as a hand broom. When the handle is attached, it can unlock at the base so the head can swivel underneath furniture or other obstacles. The dustbin has teeth on both sides to help clean the broom while the rubber track guides dirt inside the collector.
Why To Like
If your decor trends towards maximal, you'll appreciate that with a simple flip, the head angles and allows you to sweep under surfaces without contorting too much. The height of the broom is adjustable, and the hand broom function is ergonomic and easy to use.
The bristles are soft and feathered. They're perfectly safe for hardwood floors and other delicate flooring. It doesn't matter how often you sweep. You should be fine.
The dustpan is extra wide at the base, so there's plenty of room to maneuver the dust for collection. Both sides of the bin have cleaning teeth so you won't have to change position to clean the bristles effectively.
It comes with a separate squeegee attachment for easier cleaning.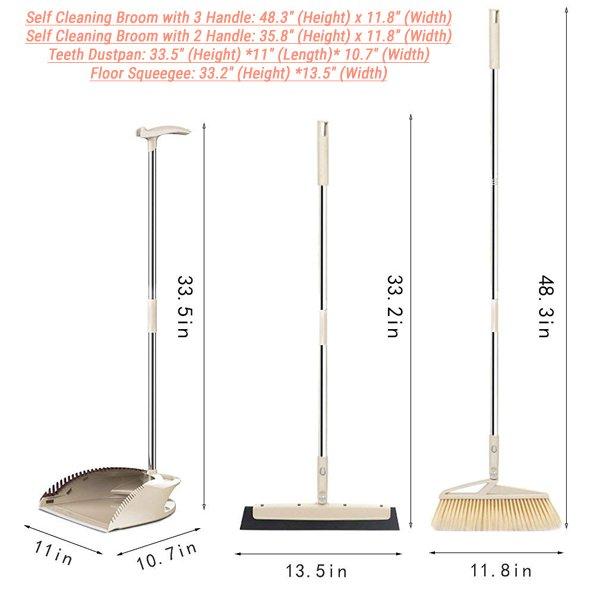 Why To Doubt
The bristles are almost too soft. If you have thicker spills such as heavy pet hair or something like beach sand, it may not get everything up the first time. We hate going over the same spot over and over, so stick with lighter, looser debris.
Who It's For
We recommend this one for lighter spills and for those who don't have pets. It's suitable for occasional use and for small spaces.
Pros
angled head
extra wide dustpan
Cons
bristles are too soft for heavy debris
#8. TreeLen Long Handled Broom – Best All-Purpose Broom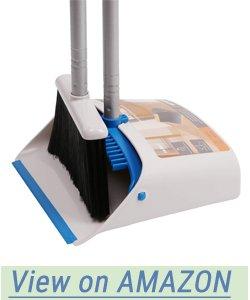 TreeLen's broom is a traditional style with long, soft bristles. It's not too wide, so it fits into smaller spaces easily. The dustpan locks into place for easier collecting and the teeth towards the top help clean the broom and help give it a longer life.
Why We Like It
This is an excellent all-purpose broom. It's a good size for most household sweeping jobs. The dustpan's ability to clean the bristles off helps keep dust and grime from getting spread around. The bristles are soft and appropriate for a variety of flooring including delicate hardwoods.
The bristles are plastic, which is durable and not as likely to lose their shape or shed. It folds up inside the dustpan for easy, upright storage.
Why To Doubt
The dustpan has a hard time staying in place without putting your foot on it. If you aren't careful, you can end up sweeping the dirt underneath the dustbin instead of inside.
The handle can come loose if you sweep too vigorously. Be careful that you don't accidentally snap it as it comes loose.
Who It's For
Need an all-purpose broom? One that's not too big and not too small? This is a good option for that. It's an excellent complement to your stronger sweeping tools or your vacuum and is suitable for smaller messes, especially along the baseboards.
Pros
all-purpose broom
plastic bristles don't shed
Cons
dustpan isn't flush with the floor
#9. Carlisle Duo Dustpan and Broom Combo – Best Classic Broom Combo
This broom is another janitorial classic. The dustpan folds down to trap dirt and debris and then folds right back up for disposal. The broom bristles are plastic, safe for different kinds of hard floors. Both the dustpan and the broom have two piece handles for adjusting height.
Why We Like It
The folding action of the dustpan quickly traps dust and debris, so you don't accidentally spill it on the way to the trash can. You can clean up spills that happen away from each other without trailing a bit of debris behind you or trying to sweep them all together.
The head is 12 inches, so it's an excellent size to clean up large or small areas. It's lightweight and easy to maneuver.
Why To Doubt
It doesn't have a very long handle, only about three feet. It doesn't adjust well, so if you're unusually tall, this one won't be as comfortable.
It isn't going to work well with massive spills because the bristles aren't stiff enough to handle that volume. It won't handle wet spills either.
Who It's For
If you have children, for example, who create little spills here and there, this would be a good one. It allows you to clean up those spills and safely trap the debris while you move around. When you're finished, you can dump it safely without worrying about accidentally spilling the dustpan.
Pros
dustpan folds up
broom is suitable for combination spaces
Cons
the handle isn't very long
#10. RAVMAG Rubber Broom And Squeegee – Best Heavy Duty Broom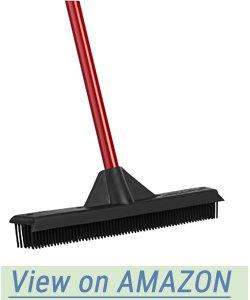 RAVMAG's natural rubber bristles are designed to get pet hair and other debris out of the fibers of your carpet, helping extend its life. It's 100% TPR rubber with sturdy bristles and a squeegee tool on the other side.
Why We Like It
This is another heavy duty pet cleaning tool. It's safe to use on all types of surfaces, but it shines with pet hair and carpet.
The handle is heavy duty and extra long so you can get some strength behind your broom. The squeegee can help dry, wet messes and reduce the amount of time you spend cleaning.
It removes hair in a single pass thanks to a thick wall of rubber bristles. You spend less time going over the same spot. It washes easily with water, so you never worry about spreading grime from the last job all through your house or business.
Why To Doubt
It doesn't have a telescoping handle, but it is long. If you want something that you can adjust to your personal preference, this one isn't the one.
The squeegee section sometimes leaves some wet spots behind, but as long as you put your weight into it, it should work. The head pops out of the handle regularly as well, but overall it works fine enough.
Who It's For
This is great for carpet around pet cages or beds where hair congregates. It also works well in places of business where hair is an issue.
Pros
includes squeegee
handle is durable
Cons
the handle doesn't adjust
#11. Gloyy Push Broom With Small Brush – Best Handheld Broom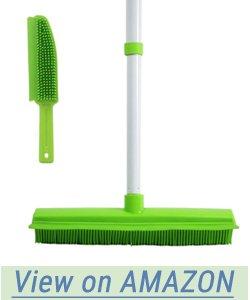 Gloyy's broom is the ultimate pet tool. The rubber bristles attract dust and hair on all kinds of surfaces while the included smaller brush can help you with your furniture. It's durable and an eye-catching bright green.
Why We Like It
It works on flat, open areas with plenty of space. The natural rubber bristles have an electrostatic attraction that pulls hair towards them. It helps your vacuum get deeper into the grime of your carpet for brighter, longer lasting carpets.
Cleaning the bristles with just water is easy. Rinse the bristles, and you won't worry about spreading the dirt and dust around your house for the next cleaning job.
Including a separate hand brush is fantastic because you can finish getting the hair off smaller rugs or furniture. The more you can get up during one cleaning session, the less hair will filter its way to your floors. It's really convenient.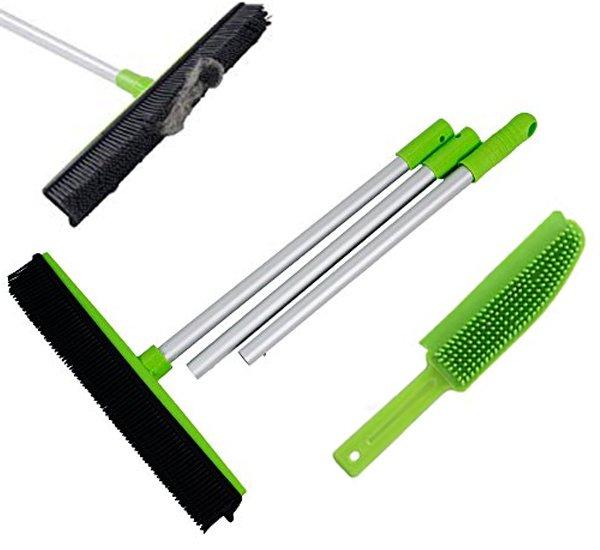 Why To Doubt
The handle is a little bit flimsy considering how much elbow grease you need to get the hair out of carpets. Even though we love the bristles, we'd love to see a reinforced handle. It's on the shorter side, so if you're tall, it may not be very comfortable.
Who It's For
If you have so much hair all around you that you practically carry a brush in your purse, this is the package for you. You get one all-purpose rubber bristled broom for your house and a separate handheld for everything from your furniture to your car.
Pros
includes separate hand brush
natural rubber bristles
#12. Bissel Smart Details Upright Push Broom – Best Push Broom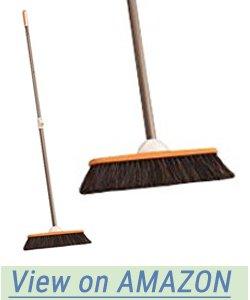 Bissel's design is a classic janitorial push broom. It has a wide head with soft bristles suitable for hardwoods. It's designed to gently lift dirt and debris to brighten your hardwood floors just before mopping or cleaning.
Why We Like It
It's hard to argue with a classic design. Push brooms help you get a bit of power behind your sweeping, so stubborn grime comes up too, not just loose dirt. Soft touch grips make keeping it in your hands easier. The handle collapses for easier storage.
It's suitable for areas where things like beach sand might be a problem. The bristles can get the sand up so you can just run your vacuum over the areas and get it all. No more stuck grime.
Why To Doubt
The handle doesn't telescope. It's collapsible for storage, but it's a little too long for some shorter people.
The fibers in the broom tend to shed a bit, which might be an issue. We don't like to see shedding this soon in the life of a broom, but it should still have plenty of fibers for the standard life of a broom.
Who It's For
If you live in a place that gets more than just loose dirt or pet hair, this can be an excellent option to help get the dirt dislodged for the vacuum or the dustpan. The head is wide enough for larger areas, so you won't spend all your time going over the same space over and over.
Pros
collapsing handle for storage
strong enough for heavy debris
#13. O-Cedar Power Corner Large Angle Broom – Best For Utility Spaces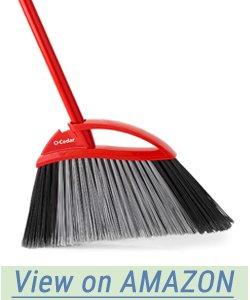 The O-Cedar is a large broom with bristles made of 83 percent recycled bottles. It's excellent for larger spaces and has an angled head that cleans everything from interior floors to exterior spaces like garages.
Why We Like It
The bristles are more flexible than some types of brooms, so you won't have any trouble manipulating it. It's durable and won't scratch your floors or shed the way some brooms will. The synthetic bristles can handle moisture without fraying, and you should be able to use it on interior and exterior surfaces without damaging them.
Why To Doubt
The head twists off the handle somewhat easily, and it doesn't come with its own dustpan. For traditional brooms, we like to see a dustpan that matches the broom so that we can store them together. You'll have to find one of your own.
Who It's For
It's suitable for interior and exterior spaces. It's a great garage broom or one for a utility space.
Pros
large broom head
made from recycled bottles
#14. Urban Groomed Large Indoor and Outdoor Angled Commercial Power Broom – Best Commercial Broom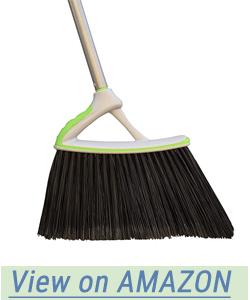 Urban Groomed's broom is a larger broom excellent for outdoor spaces. It does convert to a hand broom for indoor chores, but it really shines as a yard option. It has a larger, 14-inch broom head angled for easier accessibility.
Why We Like It
The bristles are more durable for outdoor surfaces. They're longer, so you can reach into cracks, and the handle detaches if you've got a particularly stubborn bit of debris. The handle is ergonomic and fits well into your hand.
The rubber grip handle makes it easier to maneuver the broom while the angled head helps get under lawn chairs, eaves, or other hard to reach places. It extends to about 54 inches tall, so most body types should find sweeping comfortable.
Even though the bristles are very durable, they're gentle enough to use on messes indoors on hardwood floors.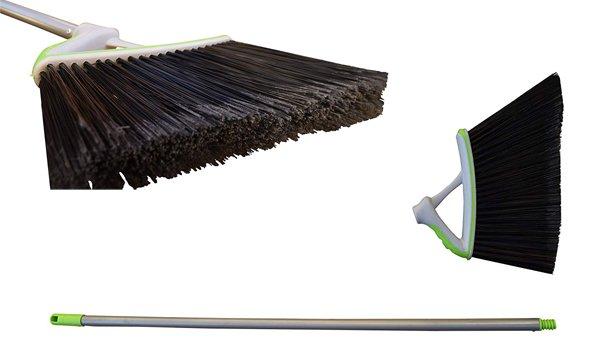 Why To Doubt
It's a bit heavy for hand broom. Although it technically works, it's cumbersome in this position. You may want to reserve that function for when you can't find anything else that will work. The head tends to come unscrewed from the handle as you're working. Not a deal breaker, but it's kind of annoying as you're sweeping.
Who It's For
This is a good broom for outdoor spaces that are on the smaller side. If you've already got an indoor sweeping tool, this can be a good one to store outdoors.
Pros
usable outdoors
rubber grips
#15. Superio Horsehair Broom – Best Horsehair Broom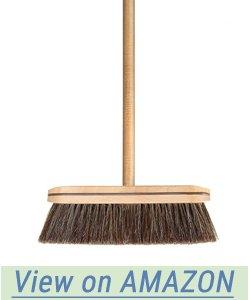 This is a broom for traditionalists. If you're looking for the hard to find horsehair of brooms of the past, the Superio replicates that design in this push broom. It's suitable for hard floors and helps gently ease dirt into the dustpan.
Why We Like It
It's very gentle on your hardwood floors, but the bristles are heavy enough to trap dirt and debris as you sweep. The handle screws on so you can always remove it for storage. It's 100 percent horsehair, so it draws dust and dirt naturally to itself.
Watch Out For
The handle screws directly into the broom head instead of at an angle. As a push broom, we find this a bit awkward to maneuver, but it does make pulling dirt into a dustpan easier.
It doesn't use any plastic, which is good because wood is more durable. However, we don't find the broom quite as comfortable to hold.
Who It's For
Broom traditionalists will love this. Also, if you're on a campaign to eliminate all plastic from your life, it's excellent.
Pros
gentle on hardwood floors
no plastic
Cons
the wooden handle isn't that comfortable
Buyer's Guide
How Do I Choose A Broom?
There are a few things you should consider before making your final decision.
Materials
Do you want a broom that uses natural materials like wood and horse hair? Would you rather the light durability of plastic? Decide how you plan to use your broom before you begin to look. That may help you decide on the basic materials.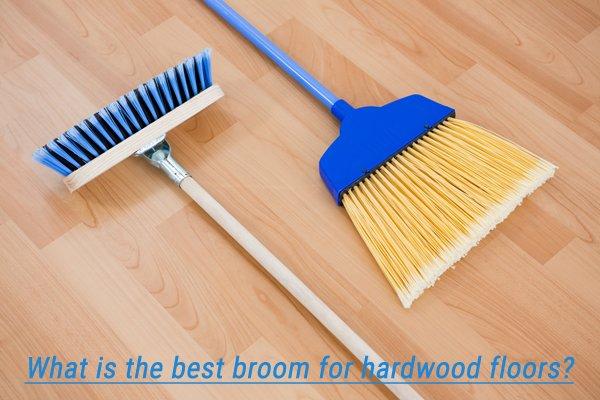 Bristles
Plastic bristles are the new normal. They're durable and don't shed. You can get a broom with frayed ends so that the bristles are soft enough to use on hardwoods.
Rubber bristles have natural electrostatic charges, so they draw hair to them. These types are good for agitating pet hair out of the fibers of your carpet just before you vacuum, so your carpet stays cleaner. They're also completely washable.
Horsehair is ultra-traditional. If you don't want any plastics in your house, but you want something soft, horse hair can handle heavier spills without scratching your floors.
Handle
How tall are you? You need to consider your height and the comfort of your grip. If you aren't sure, a telescoping handle can help you adjust the height of the handle to the right size. If you plan to do lots of different kinds of jobs, a telescoping handle can help you reach out of the way places such as cobwebs on the ceiling or underneath furniture.
Fixed handles are more durable than telescoping ones because there's no joint to get weaker as time goes by. Consider also how vigorously you sweep. You may cause unnecessary stress to a telescoping handle if you're a particularly vigorous sweeper.

Storage
Some broom handles collapse for easier storage. If you don't have a lot of space, a collapsible handle helps you store the broom in more places in your house, not just a tall cabinet or out beside the counter.
If your broom comes with a dustpan, you may want them to fold up together so you can store them upright. This style also protects the bristles from dust and protects them from bending out of shape while being stored.
Dustpan
If you already have a dustpan that you like, you may want to skip the broom and dustpan combos. Plenty of brooms on our list come alone.
Other combination sets include the dustpan. The advantage here is it's made directly for your broom. They fit together, so you don't have a broom head that's larger than your dustpan or that doesn't fit well.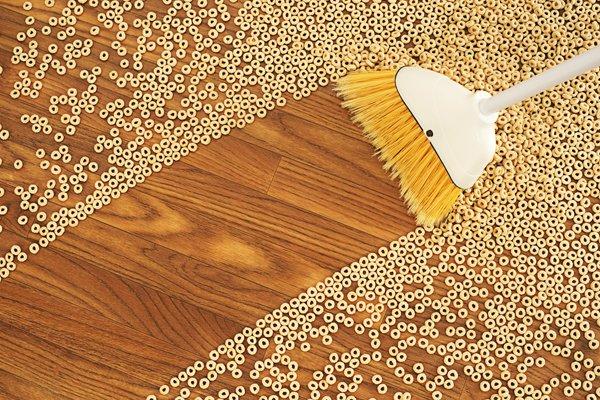 Some dustpans have teeth on the top or sides that help dislodge debris trapped in the bristles. Cleaning the bristles extends the life of your broom and helps prevent dirt and grime from getting spread around the house each time you sweep.
Accessories
Other types of accessories include squeegees for cleaning wet messes and for helping to gather up really fine debris like coffee grinds or sand. A squeegee also helps you transition from one cleaning job to the next seamlessly.
Some brooms come with a separate handheld brush to get smaller messes. If your broom doesn't, it may unscrew from the handle for an impromptu hand brush that can maneuver dirt into the dustpan better than the handle.
Your accessories should complement your broom and help you complete all your jobs. If the head detaches, make sure its ergonomic enough that you can actually use it rather than being cumbersome.
You might want a separate brush anyway so you don't have to worry about converting your broom each time you're completing a job. Sometimes, different tools are faster.
It's best if all the accessories store together so you don't lose them and you always have everything at hand.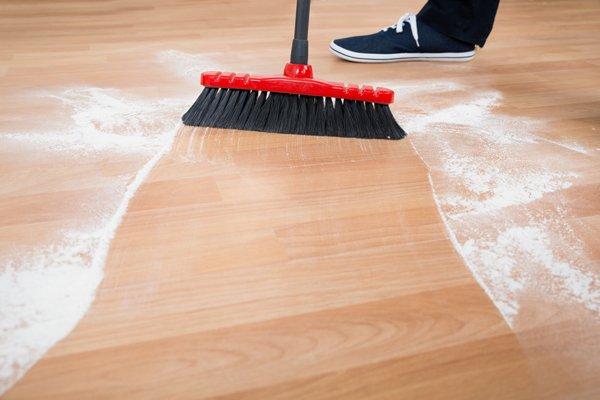 Final Thoughts
Brooms might be old fashioned, but there are times when you don't want to bother with a noisy vacuum. They're easy to take out for smaller messes or to help gather up the pet hair blowing around the edges of your home.
Brooms can also help your vacuuming be more productive. A stiff or rubber bristled broom can agitate hair and debris out of the fibers of your carpet, keeping it cleaner and prolonging its life. It's especially good around high traffic areas such as doorways, and close to pet kennels or beds where hair is likely to concentrate.
Whatever broom you choose, make sure it suits the job you have, or you may be a little bit disappointed. Happy cleaning!
Do you still use a broom? Have you switched to something more high tech? Let us know in the comments below.
Summary
Reviewer
Review Date
Reviewed Item
Brooms For Hardwood Floors
Author Rating