There are many options when it comes to cleaning your floors. While you can certainly make do with an old-fashioned broom and dustpan, there are more efficient ways. The oldest of these is a carpet sweeper. Usually made of light metal or even plastic, these sweepers are non-electric and are meant to clean everything from bare floors to carpets without having to haul out a giant vacuum cleaner.
They can use either rotating bristles or blades to pick up debris which is then deposited in a small bin or cup on the underside of the sweeper. These are easily emptied and then the cleaning can resume. Some are better at picking up larger items than others. Some work better on carpets than on bare floor largely due to the static electricity that helps attract more dirt, dust and hair.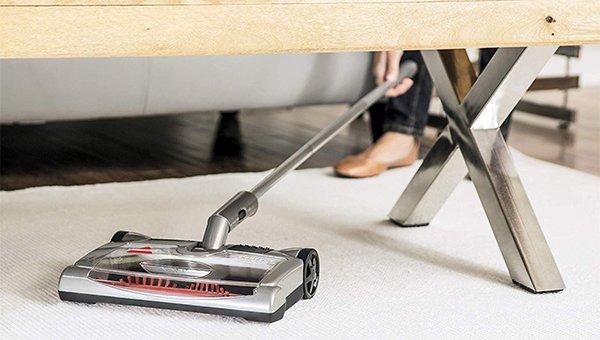 The first of the floor sweepers was invented in 1811 by a man named James Hume of England. In 1876, Melville Bissell applied for a patent on his own version of the carpet sweeper. His wife, Anna, would go on to become the first female CEO when Mr. Bissell died unexpectedly. The first versions of these sweepers were sold door to door, mostly in the local areas of Michigan. The Bissell company now sells a wide range of products in over 60 countries around the world.
Your choices have expanded greatly. You can have a sweeper with bristles or blades. You can upgrade to the more modern rechargeable, cordless brooms for quick and easy clean ups around the house. You can also find models that let you adjust height enough to let a child use it as these are safer for little ones than a traditional vacuum cleaner would be. Most have a rubber bumper on the front so that there is no risk of damage if things get bumped in to during the cleaning.
Some have dual dust bins which lets you clean twice as long. Others may have smaller bins which means that you may have to frequently stop to empty them out. This only takes seconds to do. Some models use a small pedal or push tabs that let you open the bin without actually having to touch it.
Because there is no motor, you can expect these sweepers to be very light with most weighing well under 10 pounds.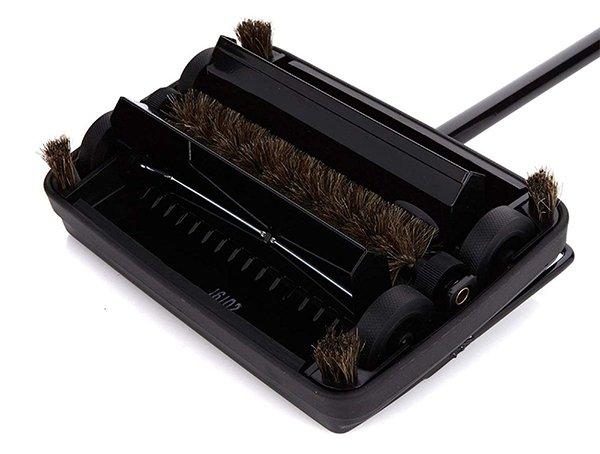 They are easy to store and are able to get up under furniture without having to push everything out of the way, perfect for keeping things tidy even if you do not have time for a full out cleaning day. Since there are no electrical parts, you save money on utilities. You don't have to buy cleaning pads or other accessories, so you are saving money there as well.
Finally, since these sweepers are of such a simple design they should last nearly a lifetime saving you money in the long run as well.
These are economical, environmentally friendly and designed to be ergonomically friendly as well. Even if you have a top tier vacuum cleaner, these floor cleaners can help you keep a tidier house and may reduce the strain on the expensive machine so that it lasts longer as well. It is a win-win for everyone.

Review of Top 10 Best Carpet and Floor Sweeper 2019
#1. Bissell Natural Sweep Carpet and Floor Sweeper: Most Eco-Friendly Sweeper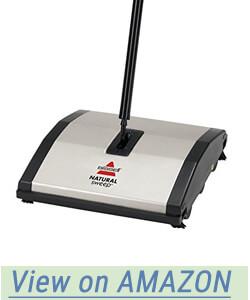 The Bissell Natural Sweep Carpet and Floor Sweeper features a dual brush, rotating system that also includes 4 corner edge brushes so that dirt does not have any place to hide. Meant to be used on a wide variety of surfaces from hardwood to heavy carpets, the sweeper is super light at just 4.2 pounds. Made of 100% recycled, PVC free plastic, this sweeper has a cleaning path width of nearly ten inches.
A soft bumper prevents damage to your furniture even when the sweeper is used underneath cabinets and other items.
Recommended or not?
This is one of Bissell's flagship products and one that is easily recognized. It is light with a fairly wide cleaning path. The double brushes and the addition of 4 corner brushes make this highly effective in most cases. The drawback to this sweeper is in the material. Because it is made of recycled plastic instead of the typical metal, it may not be as durable as others in the same price range. Still, it works as expected and should last long enough to justify its very moderate cost. If not, there is a lifetime warranty on this sweeper.
Pros
100% recycled plastic makes this sweeper less than 5 pounds.
2 full brushes plus 4 corner brushes.
Cleaning path width of 9.5″.
Lifetime warranty is included on this sweeper.
Cons
May not be as durable as the metal sweepers.
Sometimes struggles to pick up things that are very large or very small.
Tends to work better on some floors than on others.
#2. Fuller Brush Electrostatic Carpet and Floor Sweeper: Most Color Options for a Sweeper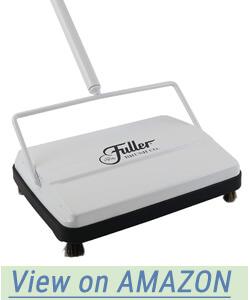 Fuller Brush, the famous door to door cleaning tools company was started in 1906 by Alfred Fuller. At the time, the wares were typically smaller brushes and other cleaning tools that were carried in black cases to be shown at houses on a set, door to door route. The electrostatic carpet and floor sweeper and other cleaning tools were added over the many years. Made of metal for durability, this sweeper relies on the creation of static electricity to pick up dirt, hair and dust from bare floors and carpets. The handle comes in 4 sections which can be removed to make it much shorter, perfect for allowing a child to help out with the chores. The sweeper housing is also metal with a vinyl bumper to prevent damage. The cleaning path is 9 inches wide and the entire sweeper weighs just three pounds.
Pleasing Color Options Makes Cleaning Pleasant
While it is not a necessary feature, a bright pop of color can make cleaning just a little easier. The Fuller Brush Electrostatic Carpet and Floor Sweeper comes in bright white, fresh mint, red or a rich gold color making it small and attractive enough to leave in a corner so that you are always ready for unexpected little messes and surprise guests at the door.
Recommended or Not?
Fuller Brush is one of the most notable companies in the cleaning tool industry. Electrostatic carpet sweepers are pretty simple and straightforward. This one works well in most cases but there may be areas where building enough of a static charge may be difficult especially on hardwood or tiled floors. This one is a bit on the pricey side but it is made of metal and other than the occasional need to replace brushes, should be built to last.
Pros
Made entirely out of metal but is still light at just 3 pounds. (The bumper is vinyl).
9 inch wide cleaning path.
4 colors to choose from.
Sectional handle can be adjusted for height.
Uses electrostatic charge and rotating bristles to clean.
Cons
May not work very well on hardwood, vinyl or tiled floors.
Brushes may wear out over time.
More expensive than similar models.
#3. Ontel Products (SWS Max) Max Cordless Swivel Sweeper: Best Rechargeable Sweeper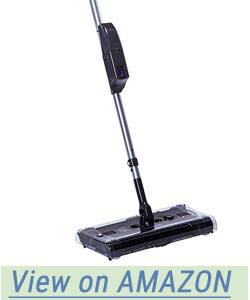 The Max Cordless Swivel Sweeper is made of lightweight yet durable plastic. Using quad brush technology, the sweeper is easy to use, easy to clean and effective. The brushes spin at a rate of over 4000 RPM (rotations per minute) and has 33% more power than previous models have had. The brushes can be easily removed to clear out tangles, hairs and other debris that might get caught in them. This sweeper weighs just 2 pounds altogether.
Rechargeable and Cordless for Convenience
The Max Cordless Swivel Sweeper uses a 7.2 volt battery and is quickly recharged. Each charge should last roughly 55-65 minutes with continuous use or several days with brief, intermittent use.
This sweeper has a 90 day warranty.
Recommended or Not?
The Max Cordless Swivel Sweeper does have a fairly low profile which makes it great for cleaning under furniture including dressers, beds and cabinets. It is very light and works with a quickly rotating set of brushes eliminating the need to push the sweeper to build up electrostatic charges. The brushes are easy to remove and detangle which is an added bonus.
Pros
Lightweight, only 2 pounds.
Durable plastic.
Brushes spin at 4000 RPM.
Remove the bristles to untangle hair and strings or other debris as you go.
Cons
Very short term warranty at only 90 days.
The charger and battery may be issues for some people.
It is important to remember to remove the sweeper from the charger once it is fully charged to prevent damage to the battery or charger unit.
Must be placed near an outlet for charging.
#4. Hoky PR 3000 Sweeper with Rubber Rotor Blades: Best Wet/Dry Sweeper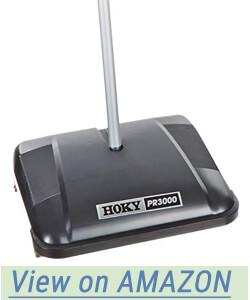 Most floor and carpet sweepers are used on dry floors. Their bristles or brushes may get clogged with wet messes and the water may damage the debris bins. The Hoky Sweeper uses rubber rotor blades that are perfect for wet or dry messes. With a super wide, 12 1/2″ cleaning path, this sweeper will make light to moderate cleaning tasks even quicker. The dust bins are easy to open and secure in place with just a click.
Rubber Blades Make the Difference
Using easy to clean rubber rotor blades, the Hoky Sweeper can tackle even messier spills and damp messes without damage. The blades can then be rinsed off with clean water and are ready to go for the next challenge.
This sweeper weighs just over three pounds.
Recommended or Not?
If you frequently have to deal with damp messes rather than just dust and pet hair, this may be worth a consideration. As just an average floor and carpet sweeper it is a bit too expensive and not on bar with a full size vacuum of similar prices. The wide cleaning path and washable rubber rotor blades are nice but not worth the extra cost.
Pros
Lightweight at just over three pounds.
Can be used for wet messes.
Rubber blades are easy to clean and do not tangle as much as bristles or brushes.
The dust bins are super easy to open.
The cleaning path is one of the widest on the market.
Cons
This sweeper does not work well on bare floors.
Rarely picks up hair of any kind on any floor surface.
May spit out more than it picks up.
This is a very expensive carpet and floor sweeper.
#5. The Shark Ultralight Cordless Floor and Carpet Sweeper: Widest Cleaning Path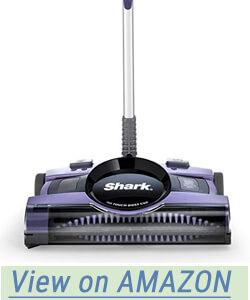 The Shark Ultralight Cordless Floor and Carpet Sweeper has a number of innovations including the folding, back saver handle which allows the user to sweep under furniture and cabinets without having to stoop and bend to get at the low angles. The brush roll is motorized and has 2 operating speed options. Each charge will last for just under a full hour with an 18 volt battery. The dust bins hold nearly 2 quarts of dirt which eliminates the frequent bin clearing that can really slow your progress down. It also has swivel steering for easy maneuvering around furniture and other obstacles. There is a 1 year warranty on this sweeper.
The Super Wide Cleaning Path
At 13 inches, the Shark Ultralight Cordless Floor and Carpet Sweeper has one of the widest cleaning paths on the market today. That allows you to tackle the floors in nearly every room at a fraction of the time you would spend with a smaller sweeper.
Recommended or Not?
The Shark name is one that is highly trusted in the cleaning tool industry. This cordless and rechargeable floor and carpet sweeper has a number of really great features that might make it the right choice for busy families especially those who want a tidy house but do not want to pull out the full size vacuum all of the time. It holds a charge well and runs for nearly an hour per charge. It also holds a great deal more dirt than other sweepers on the market which is a huge plus. Even with all of these innovations and features, it is hard to justify the price tag for a carpet sweeper that does not pick up as well as a vacuum cleaner.
Pros
Super wide cleaning path; the widest on the market.
Super lightweight at just 7 pounds.
18 volt battery stays charged for nearly 1 hour per charge.
Swivel steering.
Back saver handle folds down so that you don't have to.
Motorized brush roll has 2 speed options.
Cons
May be too hard to push on some surfaces.
Does not pick up well under some conditions.
Very expensive for this type of sweeper.
#6. Casabella Neon Carpet Sweeper: Most Compact Carpet Sweeper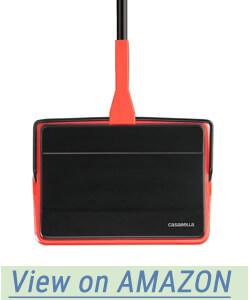 The Casabella Neon Carpet Sweeper comes in a number of bright and bold color options including: neon orange, silver and black and silver and magenta. It is made of lightweight metal with a 3 part handle that can be taken apart for storage. You can also hang this super light sweeper for convenient storage as well.
It uses bristled combs and an easy to open dust bin.
Small and Easy to Store
The Casabella Neon Carpet Sweeper weighs just 2.5 pounds making it a good choice for people who are looking for something very small and light. The handle comes in three parts for easy storage but can be used with one or more pieces removed so a child or a shorter adult can have a more appropriately sized sweeper for their use. It can be stored in a closet, a corner, a cabinet or even under a sofa so that it is always ready for a quick tidy up session.
Recommended or Not?
For a young person who is just starting to learn about chores or for an older person who likes to stay busy but may not have the ability to push a full size vacuum cleaner, the Casabella Neon Carpet Sweeper is a good choice. It has bright and fun colors which does make it seem more like a toy but it actually does all of the work that it is supposed to do.
Pros
At just 2.5 pounds, this is one the lightest carpet and floor sweepers on the market.
3 part pole can be taken apart for storage. The pole can also be shortened for children or smaller adults.
Bright colors make this a little more enjoyable to use.
Cons
Not as durable as other carpet sweepers.
Advertised as "metal" but many consumers are finding their packaging referring to recycled plastic instead.
#7. Rubbermaid Commercial Galvanized Steel Floor and Carpet Sweeper (Model No. FG 42188BLA): Most Easily Recognized Name Brand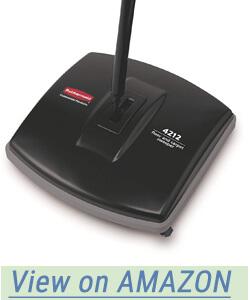 Rubbermaid has been around since 1968, selling everything from durable storage containers and trash cans to cleaning tools and other household and commercial items. It is an easily recognized and trusted brand.
This commercial grade floor and carpet sweeper features a 6 1/2″ cleaning path and easy open dust bins. It is made of both galvanized steel and ABS plastic to be both durable and lightweight. It weighs just under 4 pounds. The sweeper head has a very low profile so that it can easily fit under tables, cabinets and other furniture in both a business and home settings. The wheels are soft, non-marking rubber.
Recommended or Not?
This is the commercial version of the floor and carpet sweeper which implies that it would be the one used in business settings. It is super light and does fit under furniture with ease however its narrow cleaning path and lack of swivel makes it time consuming and frustrating to use. It is also less efficient than a standard broom and dustpan especially near corners.
Pros
Lightweight at just under 4 pounds.
Low profile fits under furniture with ease.
Galvanized steel is very durable.
Soft rubber wheels prevent damage to most floor surfaces.
Cons
Not very efficient at picking up most types of debris.
Terrible near corners.
Does not swivel at all.
Narrow cleaning path means you will be working longer.
#8. Bissell Swift Sweeper (Model No. 2201 B): Best Multidirectional Floor and Carpet Sweeper
The Bissell Swift Sweeper has dual rotating brushes as well as 2, easy to open dust bins. Made of durable steel with a rubber bumper it is still a lightweight sweeper, weighing just 4 pounds.
In addition to being light, the Bissell Swift Sweeper can pick up dust, hair and other debris in either the front or back so no matter whether you push it or pull it, you are picking up as you go. This sweeper has a 1 year warranty.
Recommended or Not?
The Bissell name is a trusted on in home cleaning tools. The price for this carpet and floor sweeper is reasonable. It is made of steel for durability but remains lightweight and easy to use. Two dust bins pick up twice the debris before needing to be emptied. One of the best features of this floor and carpet sweeper is the ability to pick up items in both the forward and backward motion. There are some minor inconveniences but overall, this is a decent tool for quick pick ups and between cleaning day tidying.
Pros
Rotating brush picks up in two directions.
2 dust bins means you are emptying less often during your cleaning session.
Lightweight at just 4 pounds.
Cons
May not stay together correctly.
The rotating brush roll is easily tangled and frustrating to clean.
#9. Swivel Sweeper Max Blue Rechargeable Floor and Carpet Sweeper: Most Amount of Swivel.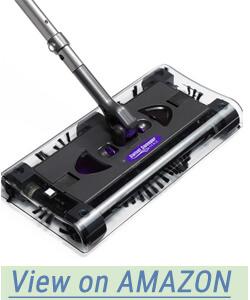 The Swivel Sweeper Max Blue Rechargeable Floor and Carpet Sweeper was designed to deliver up to 30% more power than the original model. A bristle brush rotates at 4000 RPM and corner brushes add more dirt lifting capability. You never have to worry about touching dust or hair even while emptying the debris tray. A press tab on the top allows you to empty the tray while keeping your hands clean the entire time.
More Mobile Than Other Models
The Swivel Sweeper Max Blue Rechargeable Floor and Carpet Sweeper is able to swivel a full 360 degrees meaning that you never have to pick the unit up to change direction. If you did, it would be no big deal as the sweeper is less than three pounds.
Recommended or Not?
If you like a rechargeable sweeper and have a lot of obstacles to work around, this might be the right choice for you. However, there are some issues with the batteries that might be worth noting before making a final decision. It is lightweight and works well when charged.
Pros
Lightweight at only 2.75 pounds.
Swivels a full 360 degrees.
Brush rotates at 4000 RPM.
Cons
Batteries may fail to charge even when new.
Battery charger may stop working after only a few uses.
#10. Ewbank 525 Handy Floor and Carpet Sweeper: Longest Handle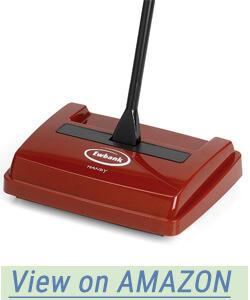 The Ewbank company has been making home care products and cleaning tools for more than 130 years. The 525 Handy Floor and Carpet Sweeper is only one example of enduring products that have been around for many years. It is lightweight at just under 3 pounds with an 8 inch wide cleaning path. Although there is only one height setting on this floor and carpet sweeper, it does lay completely flat so that you can easily clean under furniture and cabinets.
Long Handle for Convenience
The handle is coated steel and among the longest in the industry so that you can get way underneath furniture without struggle. You can also remove a section of the handle to make it more appropriately sized for a shorter adult or a child. The entire handle can be removed for easy storing if that is necessary.
This floor and carpet sweeper can be purchased singly or in multiple packs of 2, 3, 4 or 5.
Recommended or Not?
The Ewbank 525 Handy Floor and Carpet Sweeper works like most sweepers of this type. It has a standard sized dust pan which is easy to empty and clean. It is similar in weight to others at 2.9 pounds. The long handle is a bonus especially for people who are very tall and struggle to use average height cleaning tools. It can also be height adjusted for shorter people which is a nice feature. It is a basic cleaning tool that should be able to handle most tidying up tasks.
Pros
Long, coated steel handle gives more reach for cleaning with far less effort needed.
Lightweight.
Easy to store.
Lays flat to get under low furniture.
Long established company.
Cons
Does not work very well on hardwood or tiled floors.
Is a bit pricey for this type of sweeper.
The handle may become weak at the threads if it is unscrewed repeatedly.
Buyer's Guide
A floor and carpet sweeper is a very basic cleaning tool with very few things to consider about them. Newer versions are available as rechargeable or "electric brooms" for people who like to stick with modern living. After choosing whether you want to have a name brand or not and picking the right name, these are the things that you might want to consider before purchase:
Bristles or Blades
The Debris Container
The Overall Size and Weight of the Sweeper
Electrostatic or Rechargeable?
Storage Potential
Bristles or Blades?
The most common floor and carpet sweeper will have either 1 or 2 rotating rolls of bristles or brushes. Some may have additional bristles in the corners for improved cleaning ability. As these bristles rotate they pick up hair, dust and other debris and deposits it in the collection cups. Some bristles wear out faster than others. Some are easily tangled. Sweepers that allow you to pop out the bristles for easier detangling are better for homes with long haired people or pets as well as for homes where craft supplies are common.
Blades are usually rubber and do not have as many issues with tangling as bristles. Blades are better for damp or wet messes and may not be able to pick up smaller bits of dirt, hair or dust.
The Debris Container
A carpet sweeper can have 1 or 2 dust cups. These can be as fairly long and shallow, short and deep or anything in between. Some models have fairly large dust bins as their best feature. Whether they are large or small, deep or shallow, they should be easy to open and clean and should close completely and securely. A bonus is a cup that has latches or tabs that allow you to open it without having to touch the underside of the sweeper.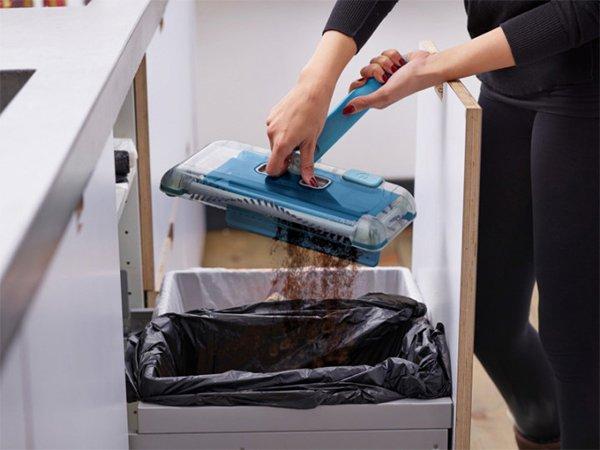 The Overall Size and Weight of the Sweeper
Because they do not have a motor, most carpet and floor sweepers are very lightweight. You should expect yours to be well under 10 pounds with most coming in at under half of that. The handle of these sweepers can either be one solid piece or may come in sections that are threaded together. One or more of these sections can be omitted so that a shorter adult or a child can use the sweeper with greater comfort and control.
Another aspect of the size of the sweeper is the cleaning path. The path is not the actual size of the cleaning head of most sweepers but instead refers to the length of the rotating bristles. This can be as narrow as 6 inches to a width of 13 inches. The wider the cleaning path the quicker the cleaning should be done.
Whether they are made of metal or plastic can impact weight and durability but even the galvanized steel carpet sweepers remain comparably light and will last much longer than the average plastic model will.
Finally, you have to consider the height of the cleaning head. Most are able to get under most furniture especially if they are designed to lay down flat. Very few models of floor and carpet sweepers have height adjustments and even then it is only 1 or 2 at most. Keep that in mind especially if your home has a wide range of flooring types. Obviously this sweeper will work better on a deep carpet than it would on a bare floor if it is barely making any contact with it.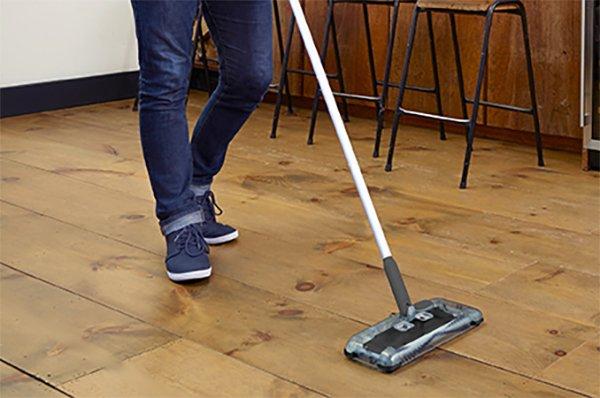 Electric or Rechargeable
The typical carpet sweeper uses static electricity to help draw in debris to the bristles. The more the bristles rotate along the floor the greater the charge will become. This is why some carpet sweepers do not work as well on hardwood or tiled floors. A rechargeable sweeper uses a small motor to turn the bristles very rapidly.
When comparing a traditional carpet sweeper and a rechargeable, you have to consider the price (Rechargeable sweepers tend to be more expensive) as well as the cost to operate. A rechargeable sweeper uses electricity and may also result in future expenses such as replacing the battery and the charger when they eventually start to fail.
Storage Potential
No matter what type of floor and carpet sweeper you opt for, you will eventually need to find a place to put it. Some come apart to make storage simpler however that means that you have to put it back together every time that you want to use it. Most are light enough to hang up wherever you store your other cleaning supplies. An innovative person might even thread the sweeper on to a hanger and store it in a hall closet.
Some sweepers can be pushed under a sofa or in a cabinet. There are plenty of options for storage since these sweepers are so small and lightweight.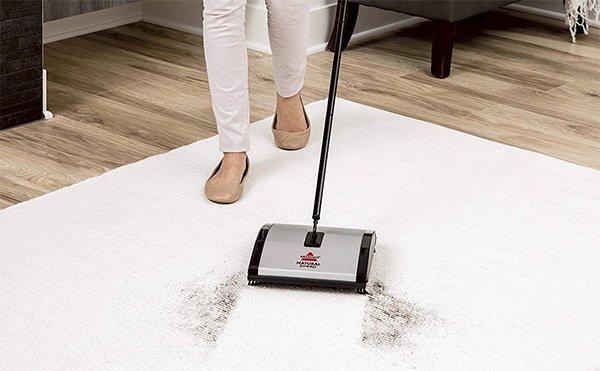 Final Thoughts
Because they do not use electricity, floor and carpet sweepers are good for quickly cleaning up small messes or for daily passes in busy, messy areas like kitchens or play rooms. There is no need to worry about outlets, untangling cords and the heavy weight of a full sized vacuum cleaner. These are simple to use and light enough for an adult with arthritis or mobility issue and children to use them. Many people buy these to introduce their children to household chores because they are so light and have fewer hazards than vacuums.
There are many options of floor and carpet sweepers but most follow a standard design. Final decisions may come down to name brand and price. The most common features tend to be similar across the board with some brands making a few innovative changes here and there but this is a product that has been on the market for many, many years. There are not going to be a lot of major changes.
Whether you choose a name brand or go with a relatively unknown brand, a metal or a plastic, traditional or rechargeable, these floor and carpet sweepers are a good tool for basic tidying and to spot clean a room just before unexpected guests come to your door.Decide how frequently you are willing to replace a carpet sweeper before buying it.
As with anything that you buy, make sure you are getting the most value for your money, a solid warranty backed by a company with a good track record and strong customer service and always know what to expect performance wise. These are small sweepers so they should not be expected to clean as well as a vacuum cleaner.
Summary
Reviewer
Review Date
Reviewed Item
Author Rating