Whether it is a young puppy learning everything from scratch or an older dog who may be forgetting some of his house manners, keeping up with urine or other stains and odors can be a major challenge. It is also one of the least pleasant aspects of pet ownership.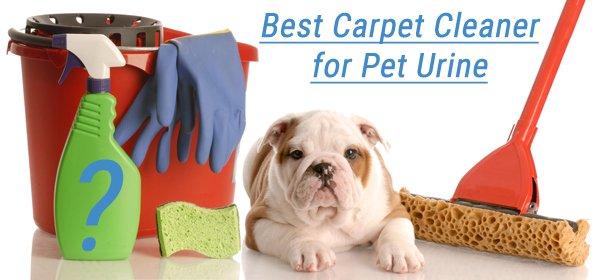 Pet care in general is a billion dollar a year industry and growing. New items in every category are always being added and there should be little surprise to this. According to the American Pet Products Association, nearly 70% of American households have at least one pet with many having multiple pets. Dogs and cats represent the lion's share of those pets. In an annual survey regarding benefits and drawbacks of animal ownership, only 12% of the dog owning families felt that odor was a drawback. The number was nearly 30% for cat owners.
Removing any odor can be a challenge. The process can depend on whether it is a new or old stain and what caused it. For a newer stain the first step is to remove as much of the mess as possible. Second, use newspaper to soak up the remaining liquid.
If the mess was made by a dog, remove the wet newspapers to the desired potty area if this is possible. He will smell the urine and assume this is where he is supposed to go. Once the area is pretty well dry you should rinse with cool water, blot dry and then move on to stain removal and odor neutralizing.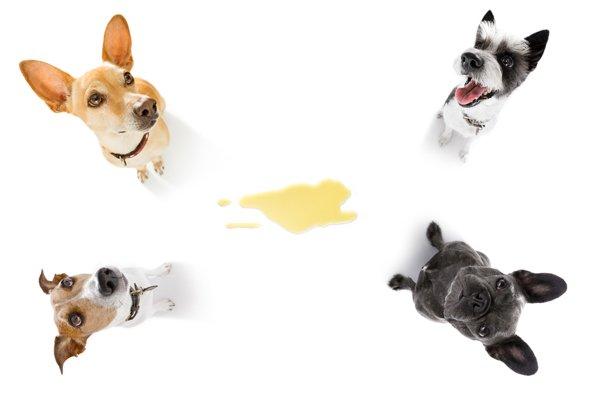 If the stain is older, you need to use a carpet cleaner to remove as much of the stain as possible and then go to the odor neutralizer step. You may have to treat the stained area several times to get it clean and odor free.
With both old and new stains:
Avoid steam or high heat during cleaning as this will set the stain in the fibers of the carpet.
Avoid using ammonia or vinegar. Ammonia is likely to attract the pet to that area even more.
Oxygen based cleaners are best for removing some odors and color residue. Vomit and some fecal stains are best cleaned with these type of carpet cleaners.
Enzyme based cleaners are best for most organic stains as they will remain active until all traces of the organic materials are removed.
It is important to remember that not every cleaner will get out every stain. You should also note that sometimes what you think is a failure of your cleaner might be the pet returning to the scene of the crime once again. It is also important to remember that any stain that soaks to the padding and the material will need far more work than just some spot treating and odor neutralizer. The padding must be treated and in some cases will need to be removed and replaced.
Damage to the subflooring will also need to be addressed or the pet will continually return to that spot. You may also continue to notice odor in that area especially when it rains or during hot and humid parts of the year.

Best Carpet Cleaner for Pet Urine Reviews of 2019
#1. Pet Stain and Odor Miracle: Best Enzymatic Cleaner with the Leaping Bunny Certification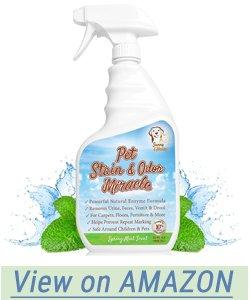 This enzymatic carpet cleaner by Sunny and Honey Co. has been given the Leaping Bunny Certification. The logo is internationally recognized and means that the product has been developed without using animal testing of any kind. It is listed as both child and pet safe when used as directed and can be used on virtually any surface. The company does recommend spot testing before any new use to ensure that the item will not be harmed in any way. It is available in both a 32 ounce spray bottle as well as the gallon jug. It has a "spring mint" scent.
Multiple Surfaces, Multiple Messes
The Pet Stain and Odor Miracle carpet cleaner can be used on: hardwood, tile, carpet, pet beds, clothing and other surfaces with proper testing. It can be used to clean messes that include urine, feces, vomit and drool from any of your pets (and children).
Charitable Donations
Sunny and Honey Co. donates 10% of its profits from this and the full line of animal care products to animal rescues and shelters.
Recommended or No?
Understanding that not every stain can be easily removed this product does seem to have more benefits than drawbacks. It should also be noted that there is a satisfaction guarantee if it does not work for you. If nothing else, you can feel good that your purchase has helped shelter and rescue animals in a small way.
Pros
100% money back guarantee eliminates all risk from this purchase.
No animal testing is important to most pet owners.
Donations to pet shelters and animal rescues is a huge bonus.
Cons
The Spring Mint smell is very overwhelming and not pleasant.
There is a distinct smell of chemicals whenever this product is used.
Chemical and Spring Mint smell may mix with the mess that is being cleaned and will become unbearably unpleasant.
#2. Emmy's Best Powerful Pet Odor Remover: Best Money Back Guarantee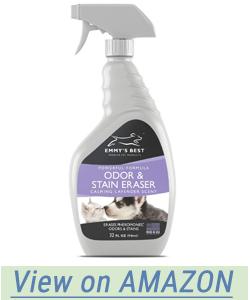 Emmy's Best Powerful Pet Odor Remover is an enzyme based carpet cleaner and odor eliminator that can be used on the toughest stains and odors on many surfaces in the house. It is available in two sizes including a 32 ounce sprayer bottle and a gallon jug. The company promises that this carpet cleaner serves three purposes: to remove the stain from the carpet, to neutralize the odor and to help eliminate repeat soiling of the same area. It also promises that there are no chemical odors and that all that remains will be the calming scent of lavender.
The Guarantee
The Emmy's Best company guarantees that this carpet cleaner will work as expected or you can get 100% of your money back whether you have used a little or a lot. The company's guarantee promises that even if the bottle is empty, you can get your money back if it fails at some point.
Recommended or Not?
The lavender scent sounds good especially for older dogs who may have accidents when they are upset or stressed out. The biggest benefit here though is the money back guarantee which makes this a completely risk free purchase.
Warning: if you use lavender scented potty pads the scent could possibly attract your pet to the newly treated area out of confusion.
Pros
100% protected by a money back guarantee.
Lavender is a calming scent which can help older or high strung dogs.
No chemical odor.
Triple action, enzyme based formula.
Cons
Some puppies seem to be attracted to the same scent, maybe because of the lavender scent.
It failed on some stains.
This product did not seem to work well on cat urine at all.
#3. Simple Solution Pet Stain and Odor Remover: Best Three in One Nozzle Sprayer Bottle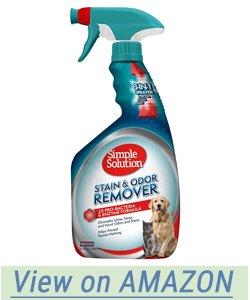 A fairly low-priced carpet cleaner and odor remover, the Simple Solution Pet Stain and Odor Remover uses a bacteria and enzyme formula to remove stains and smells from any water safe surface in your home. It is rated to be child and pet safe when used as directed. This formula can also be used in some styles of carpet cleaning machines. Be sure to check for compatibility first.
Three in One Nozzle Sprayer
Simple Solution's sprayer bottle comes with a nozzle that can be used for stream, foam or mist depending on needs. Foam and mist should be used for larger areas while stream should be used where the solution should be more precisely applied.
Recommended or Not?
The price is substantially lower than other products but it seems to be well received and should work well for most types of stains on most surfaces.
Pros
Lower priced than many carpet cleaners of this style.
Three in one nozzle gives you the ability to choose the right type of application for each task.
May be used in some carpet cleaners.
Cons
May not fully neutralize uric crystals.
Many stains are still visible under black light. If black light can see it, the dog can smell it and may return to that spot at some time.
There is too much fragrance in this carpet cleaner.
#4. Rocco and Roxie Professional Strength Stain and Odor Eliminator: Recipient of the Seal of Approval by the Carpet and Rug Institute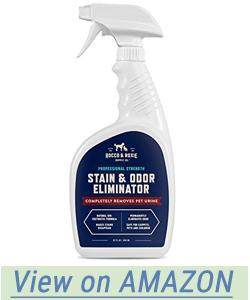 The Rocco and Roxie Professional Strength Stain and Odor Eliminator is available in both a 32 ounce sprayer bottle and a gallon jug. It is an enzyme and bacteria based formula which is chlorine free to be color safe. It is child and pet safe when used as directed. This formula can be used as a laundry pre-treating solution for tough stains including grass stains and blood.
Safe For Most Carpets
This carpet cleaner has earned the Seal of Approval by the Carpet and Rug Institute.
Launched in 2004, the CRI tests any product or equipment that is used on carpets or rugs for a number of qualities before the seal of approval is given. Each product is tested for: overall cleaning ability, the rate that the area becomes resoiled, the pH of the product. Testing also looks at whether the carpet or rug had surface texture changes after treatment or if there were any color changes. Certain ingredients including optical brighteners are not allowed in any product that is petitioning for the seal of approval.
Recommended or Not?
Since the product has earned the CRI Seal of Approval it should work for most stains without damaging the carpet or rug. This product does have a money back guarantee for added peace of mind.
Pros
CRI Seal of Approval.
100% money back guarantee.
Can be used to pretreat laundry as well.
Enzyme and bacteria formula.
Cons
May have a stronger chemical odor than some people can handle. Please use plenty of ventilation especially if you are sensitive or have breathing issues of any kind.
May leave a sticky reside on some surfaces. Always do a spot check before use.
Some people report that they were left with a "glowing" carpet after using this product.
#5. Nature's Miracle Oxy Formula Stain and Odor Removal: Best Oxygen Based Carpet Cleaner
The original formula of Nature's Miracle is an oxygen based stain and odor remover with an orange scent and is meant to be child and pet safe when used as directed. Oxygen based formulas are meant to be able to get to the deeper stains in carpets and other material. The oxygen bubbles and reacts with the stains and lifts it to the surface. Oxygen based cleaners are best when used to remove color residue and dyes and may be able to remove some odors but may not be as effective as other cleaners to remove other smells.
Recommended or Not?
For stains that involve dyes or discoloration this may be a good solution to try. For other stains and for most difficult to remove odors, this may not be as effective as other types of carpet cleaners.
Pros
Light orange scent is not unpleasant.
Uses oxygen rather than strong chemicals for cleaning.
Cons
May not remove non-color based stains.
May not be as effective at removing most types of odors.
Orange scent may block the smell from human noses but not from the pets leaving them attracted to the same spot.
#6. All Natural Professional Strength Pet Stain and Odor Remover: Best for the Environment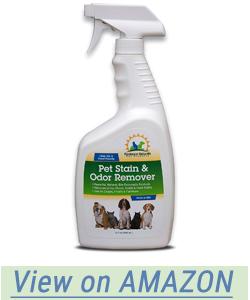 The All Natural Professional Strength Pet Stain and Odor Remover by Radiance Naturals is powered by all natural, plant based enzymes to be safe for your kids, pets and the environment as well. Radiance Naturals does not do any animal testing on any of their products. The company offers a full, 100% money back guarantee for this carpet cleaner.
Recommended or Not?
Listed as "professional" strength, this carpet cleaner is backed by a 100% money back guarantee. It is also listed as safe for kids, pets and the environment which is a huge bonus. It is a enzyme based cleaner meaning it should be effective on most stains and odors.
Pros
All natural, plant based enzyme formula.
100% money back guarantee.
Safe for everyone including the environment.
Radiance Naturals does not test their products on animals at all.
Cons
May not be effective against the smell of cat urine at all.
Does not work very well for vomit odor or the related stains.
More expensive than most carpet cleaners in the same size bottles and similar formulas.
#7. Advanced Pet Supplies Odor Eliminator and Stain Remover, Professional Strength: Best Odor Neutralizing Carpet Cleaner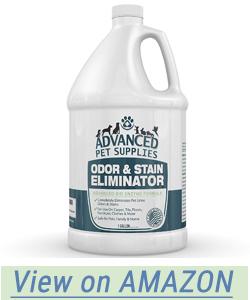 Advanced Pet Supplies promises that their carpet cleaner is professional strength and capable of neutralizing virtually any odor to the point that the pet will not be drawn to the same spot for remarking. It comes in both a 32 ounce spray bottle plus a 1 gallon jug. There is a 100% money back guarantee if this carpet cleaner does not meet your expectations. The company does include information that some stains especially older, set in stains may need several rounds of treatment so that the odor can be completely neutralized. It is important that the pet be retrained and/or kept from this area during the process as residual smell may trigger him to remark the area.
Even though it is professional strength, this carpet cleaner is safe to use around pets and children when used as directed.
Recommended or Not?
As with most carpet cleaners, it is impossible to guess whether one will work for your particular stain without giving it at least a try. It is important to know that some cleaners can get a stain out in one try while others may take two or three treatments to be effective. Sadly, some stains cannot be removed by even skilled professionals. With a 100% money back guarantee the risk is minimal.
Pros
Uses "odor control" technology and a professional strength formula to neutralize odors.
100% money back guarantee eliminates most risk from using this product.
Safe for use around family and pets.
Cons
May not be as effective as stated for some odors and/or stains.
#8. PetSeer No Marking Spray Pet Stain and Odor Eliminator and Remover: Best Bonus Gifts with Purchase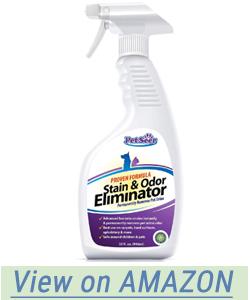 This anti-marking spray comes in both a 32 ounce spray bottle and a 1 gallon jug. It is an enzyme based formula that is meant to destroy all organic material including stains and odors so that the pet is not drawn to the same place over and over. It is CRI certified and is safe to use around children and pets. It has a short term (90 days) money back guarantee.
Your Bonus Gifts With Purchase
When you purchase this carpet cleaning product you will receive 2 eBooks that explain why your pets may be having accidents in the house and how you can speed the training process to stop them from happening. The books also cover older pets and illness and how to lessen the issues you may see when they forget their potty training manners.
Recommended or Not?
While the money back guarantee is only for 90 days, that is plenty of time to find out if it is going to work at all or not. The bonus eBooks are a nice feature especially for people who feel like they have exhausted every option for training their dog. Be warned that the company's customer service may not be all that it is cracked up to be with some complaints stating that the listed phone number is "not in service".
Pros
Enzyme based formula.
Bonus eBooks can be a valuable resource for people who are struggling with training issues/sick pets.
CRI Certified to be safe for most carpets and rugs.
Cons
Money back guarantee period is only 90 days.
Some complaints that the cat sprayed more after using this product.
Some complaints that the listed number for the PetSeer company is not a working number, so customer service may be a problem.
#9. Earth Rated Pet Stain and Odor Remover: Best Carpet Cleaner with an Unscented Option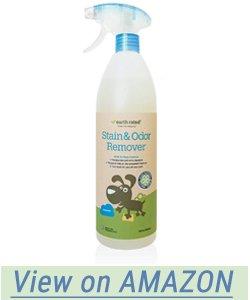 For people who prefer not to use products with added fragrance, the Earth Rated company's carpet cleaner might be the right choice. Available in both a lavender scent plus an unscented formula, this enzyme activated stain and odor remover is safe to use around family and pets and is certified by the CRI.
Available in a 32 ounce spray bottle, Earth Rated's carpet cleaner is in the middle price range.
Recommended or Not?
Like most enzyme based carpet cleaners it is usually a matter of time, effort and the makeup of the stain that determines how well it will work. The Earth Rated company does not offer a guarantee on this product but it is fairly priced and is certified to be safe for most carpets and rugs. Carefully inspect your order though because there are many reports of broken sprayers. This is a simple problem to fix so it should not be enough to make you not buy the product.
Pros
Enzyme based formula reduces the need for dangerous chemicals.
Certified by the CRI.
Unscented formula is available.
Cons
May not remove all odors.
May not be effective with many common pet related stains.
Many people were shipped bottles with broken sprayers.
#10. Bubba's Rowdy Friends Pet Supply Company Stain and Odor Removing Enzymatic Cleaner: Best Multipurpose Cleaner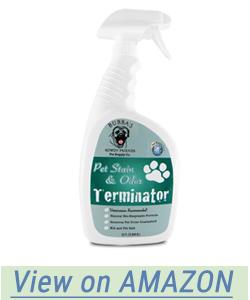 In addition to carpets, rugs and other surfaces, Bubba's Rowdy Friends Pet Supply Company claims that their enzyme based cleaner can be used for the laundry to help remove set in stains like grass and blood, to remove the odor from inside of shoes, to clean a litter box and to treat concrete stains. The company offers a full money back guarantee and does not test any of their products on animals.
Recommended or Not?
A money back guarantee always makes it easier to at least try a product especially one that may be difficult to assess without trying it for yourself. Be aware that there are issues with the customer service for Bubba's Rowdy Friends Pet Supply Company that include potentially not honoring the guarantee or sending instructions for the product's use that contradict the label. That is enough to raise questions about the product both in terms of effectiveness and safety. It also calls the business practice in question as well. Proceed with caution and document any contact that you must make with the company.
Pros
No animal testing.
Can be used for laundry and other purposes.
Money back guarantee.
Cons
Customer service is terrible for this company and may not easily honor the money back guarantee.
Some customers related email exchanges that included the directive to "buy more" of the product and try it with new instructions before money would be refunded.
Product is not effective on a number of stains and odors.
Buyer's Guide
There are several things to keep in mind when choosing the right carpet cleaner. First, you have to keep in mind whether the stain is old or new. It will also help to know what type of stain it is so that you can choose between an enzyme or oxygen based stain remover. No matter what, the cleaner should also include an odor neutralizer for best results.
Be cautious with scented carpet cleaners because they may leave the carpet heavily scented with a mix of both the original odor and a new, chemical based perfume.
Some carpet cleaners do offer an unscented version but this does not mean that it will be completely scent free. You may still smell the cleaning materials which in some cases will smell like chemicals. Plant based enzymatic cleaners may have a more earthy aroma which some people may find unpleasant.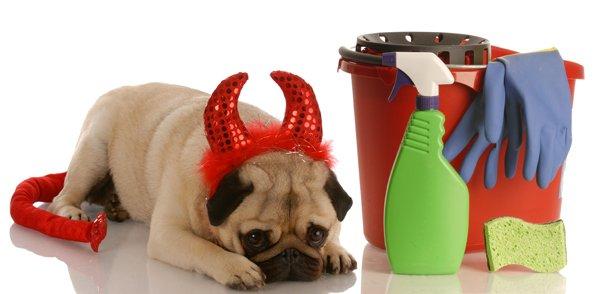 The Best Type of Cleaner
Most carpet cleaners are either oxygen or enzyme based. Oxygen based cleaners remove dyes and colors. The best example of how this works is with dog or cat vomit especially if it happens right after eating. Lesser quality dog foods typically add dyes to make the food look a certain way. Those dyes can stain carpets and other surfaces if the dog throws up. The cheaper the food, the higher the concentration of dyes might be.
Enzyme based carpet cleaners use special organic based enzymes to attack the organic parts of the stain and odors. They are designed to continue working until all of the organic matter is gone however, this may not always be the case. This is why repeat treatments might be needed.

The Type of Surface You are Cleaning
No matter what the stain or odor is and no matter what type of cleaner you are trying, you should always do a very small test spot first even with a trusted brand.
Some cleaners may react differently to new stains. It is always easiest to remove newer stains because they may not have had enough time to work their way below the surface layer. If it is a rug: make sure that the floor beneath it has not been affected. It might be a good idea to roll up the rug and treat that surface just to be on the safe side. If it is a carpet: make sure that the padding, the subflooring and other layers are not wet or stained. If so, all of the cleaning in the world will not matter because the smell will just seep up from underneath the carpet and you will find the dog or cat drawn to that area over and over again. In the best of this worst case scenario, that part of the carpet, the padding and the floor underneath it will have to be cut out and entirely replaced. In the absolute worse case scenario, the entire carpet, padding and parts of the floor beneath will need to be replaced. At this point you may consider retraining your pet so that this does not happen again.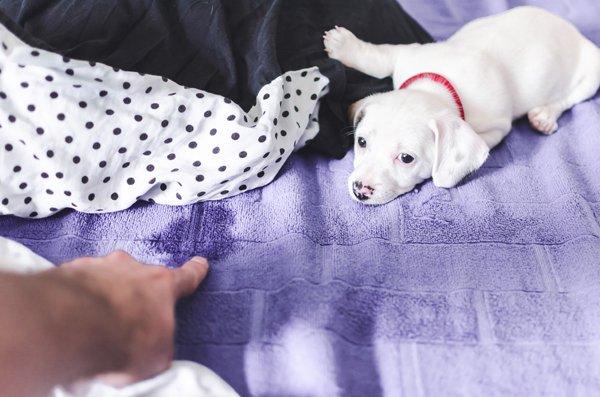 Washable surfaces like pet beds, throw rugs and linens should be treated with an odor neutralizer (some carpet cleaners and stain removers can be used for this purpose) before being laundered. If the odor is not fully removed it may be easier to replace this item than to continually have to keep treating it over and over. There may be a psychological reason the pet is drawn to that item that goes beyond simply the scent.
Shouldn't All Carpet Cleaners be Approved by the Carpet and Rug Institute?
To be given the Carpet and Rug Institute's Seal of Approval a company must first apply for it. The product is then put through the testing process and must meet several standards before being given this approval. Some companies prefer not to go through this process.

Even products that have earned this or any other "certification" should not be assumed to be safe especially for light or very dark colored carpets and rugs, old or delicate materials. Lighter colors tend to show stains more readily while darker colored carpets can bleed color when they are cleaned with certain types of formulas. Oxygen based carpet cleaners may lift some of the color from a dark carpet especially if the dye is not set correctly during the manufacturing process. This could leave an area of discoloration on your rug. The color could also seep through to the flooring beneath and may also stain other surfaces especially while it is still wet. These products should always be tested first for these exact reasons. Make sure that you are testing a small area for colorfastness of the carpet itself and then another small area to make sure that the product and the stained area do not react with one another.
What "Safe" For Kids and Animals Means
Carpet cleaners that say they are safe for kids and animals does not mean that they can be used with them in the immediate area. It means that they do not leave a residue or chemicals behind in most cases. Enzymatic carpet cleaners usually do not contain chemicals but that is not always the case. Read labels and always follow the directions carefully.
Children and pets should be removed from the room during any type of cleaning and proper ventilation and safety precautions should be followed. Anyone who has a breathing condition or may be sensitive to the cleaner should also be kept out of the area until the cleaning has been completed and the room has been allowed to air out for two to three hours.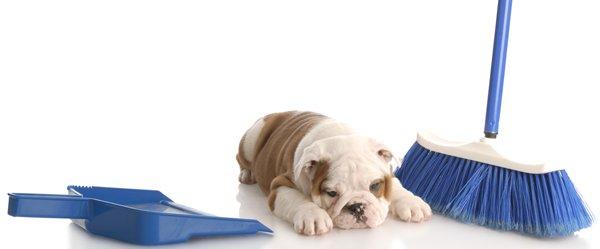 What No Animal Testing Really Means
In 1996, the Coalition for Consumer Information on Cosmetics (CCIC) was formed. From that group of several different animal rights groups came the Leaping Bunny Program. This logo certifies that a product adheres to certain standards including not using or allowing animal testing on their products at any point during their development.
Companies can say they are cruelty free or that they do not use animal testing without the certification by Leaping Bunny but that does not make it true.
Recap
Not every stain can be easily removed. Some stains may not be removable at all. Even a stain that looks like it is gone may have residual odor which the pet may be able to smell. Underlying padding and subflooring can be affected, so it may continue to be a problem even if the carpet has been adequately treated. Most stains are easiest to remove when they are new however older stains are not hopeless in all cases. Be careful not to use any cleaning methods that could set the stain permanently. This includes steam or heat based carpet cleaners.
Applying vinegar or ammonia to the area can make a stain and/or odor worse and may attract your pet to that spot. Cats may be especially drawn to ammonia because it smells the most like their own urine.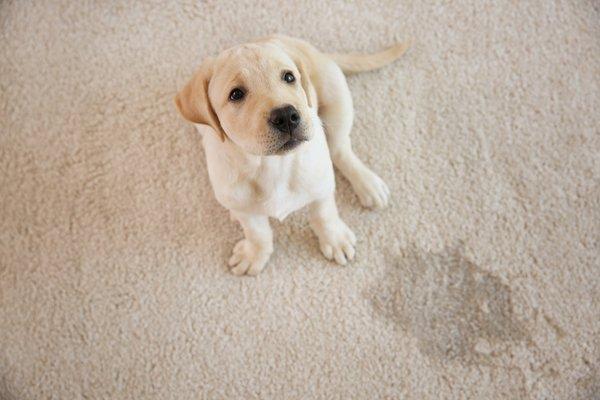 Dog and cat urine can be very different. A product that works well for dog urine/feces and drool may not work at all for cat urine. It may take experimentation to find the right product for your pet's stains and odors on the surfaces in your home.
Always try the smaller size of a new product even though it is more economical to buy the larger one.
Finally, remember that consistency is important while training a new puppy. Make sure that he is never unsupervised until he has mastered potty training even if that means that he has to be crated during part of the day. There are many methods for training a new puppy so try to find the one that works best for your pet and your family's time and dedication to this crucial time. For a dog or cat that has been trained for years, sudden accidents can be a warning sign of a health condition so a trip to the vet is in order. If there is nothing physically wrong it could be a change in diet, routine or simple stress. A brief bit of retraining might work. If not, the pet may have to be moved to a non-carpeted part of the house.
Summary
Reviewer
Review Date
Reviewed Item
Carpet Cleaner for Pet Urine
Author Rating