Carpet cleaner sprays can be used for single stains, multiple stains or entire carpets. Some can be used in carpet cleaning machines while most are meant to be used solely on their own. There are several formulas that can be selected including water based, enzymatic and oxygen based.
It is important to know what type of stains you are going to be dealing with most frequently, the types of materials that you will be cleaning and the type of effort that you are willing to expend.
You should also know that despite the claims of manufacturers, not all stains can be removed with some even defeating professional cleaners.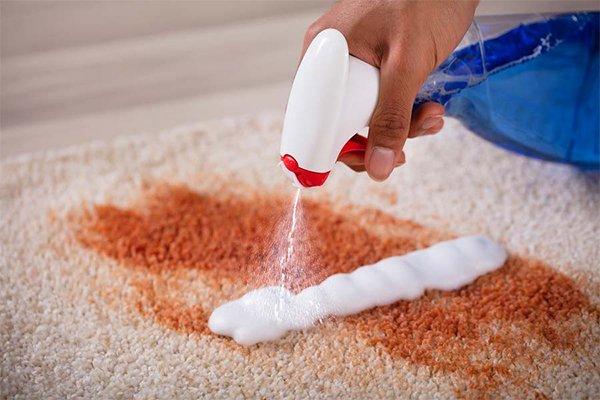 Regardless of the type of carpet cleaner that you buy, it is important to follow the directions on the label as well as to be aware of the recommendations for the care of your carpet or rug. If you are not sure of the care instructions for your rug, err on the side of caution unless it is hopelessly stained already and this is your last ditch effort before having to replace it. Spot testing is always advised and should be done in more than one spot.
Consider the way that the sunlight hits in the room and use one spot that is in the sunlight and one out of it to do your testing. With some cleansers, sunlight may cause a reaction that would not be revealed to you during a spot test in an area that is in a darker part of the room.
Always follow safety precautions including using plenty of ventilation even with sprays that claim to be free from harmful chemicals or are safe to be used around people and pets.

Best Carpet Cleaner Spray – Professional Reviews 2021
Bissell Destroyer Pet Plus
Size: 22 Ounces
Safe for kids and pets when used as directed
30-Second permanent stain removal
Eliminates tough pet odors
Folex Carpet Spot Remover
Size: 32 Ounces
Does not leave a sticky residue
Non-toxic and completely non-irritating to normal skin
No rinsing, no vacuuming
---
Bissell Destroyer Pet Plus (1773) 22 ounce Oxy Stain and Pretreat Spray: Easiest to Use Carpet Spray
Described as either a stain remover or a pre-treating spray, the Bissell Destroyer Pet Plus promises permanent stain removal in 30 seconds. It lists a number of mostly organic compounds that it can remove including dirt, mud, grass, blood and all pet related stains. It is also meant to remove pet odors which can help prevent remarking of the same areas if the pet is drawn there purely on scent alone. Some animals develop a preference for one area and will return there out of habit.
Simple Directions
The Bissell spray's directions are easy to follow. It is suggested that all excess liquid or material be removed from the area first. Next, thoroughly soak up to two times the entire area of the stain. Blot with a damp cloth after allowing the spray to work for a short time being sure to work from the outside of the stain and toward the middle so that the stain is not spread. For older stains it might be necessary to repeat this step. It is also important to use enough spray to get to the base of the stain which may have soaked all the way through the carpet backing to the padding or even to the subflooring.
Is this a recommended carpet spray?
Destroyer Pet Plus is made by a trusted name in the floor care industry (Bissell) and has a decent price tag. It should be able to handle the bulk of the average family's stains on most carpets and rugs and does so with minimal hands on time, scrubbing or drying time. This is an oxygen based stain remover and is listed as safe for use around kids and pets when used as directed.
Pros
Decent price
Easy to use formula
Can be used to pretreat stains as well as for stain removal
Cons
Many people felt that the original formula smelled better than this one
Rocco and Roxie Professional Strength Stain and Odor Eliminator: CRI Certified Carpet Spray
The Carpet and Rug Institute (CRI) accepts applications for any product, service or machine that is used on carpets and rugs and then evaluates them based on 7 different criteria. These include things like how well the product cleans, whether resoiling occurs after use, how much moisture is created and/or left behind during use and whether the product alters the appearance of the carpet during or after use. The Rocco and Roxie Professional Strength Stain and Odor Eliminator has earned this organization's seal of approval.
Available in a 32 ounce, 1 gallon or multipacks, this carpet spray is enzyme activated, chlorine free and color safe and leaves no residue behind. Live enzymes feed on the organic material in a stain until it is all gone. This spray can also be used to treat stains on clothing and other materials.
The Rocco and Roxie Supply Company offers a 100% satisfaction guarantee on this product and customer service is very responsive to customer questions, comments and complaints.
Is this a recommended carpet spray?
For people who have new or higher end carpets and rugs, the struggle to find the right carpet cleaner can be worrisome. Many will opt for the relative safety of a professional carpet cleaning surface but with small or run of the mill spots and stains that can become very expensive in a short period of time. Keeping stains from settling in to the carpet fibers may also mean needing to take care of it before a pro could even be scheduled. The more expensive the carpet, the more cautious you are likely to be. The CRI Seal of Approval is one thing that should give you confidence in this product while the money back guarantee is another. It is important to still perform spot tests and to always follow the directions on the label for the best results.
Pros
Can be used to pretreat laundry stains in addition to cleaning carpets and rugs
CRI Seal of Approval
Money back guarantee
Excellent customer service
Cons
The 32 ounce size is a little pricey
This may have a very strong smell and may trigger asthma attacks in some people
Some reports of glowing carpets after using this product
Nature's Miracle Dog Stain and Odor Remover with Fresh Orange Scent: Best Citrus Based Formula
Nature's Miracle has been creating and improving pet cleaning products as well as pet care supplies for more than 3 decades. The Dog Stain and Odor Remover with Fresh Orange Scent uses an oxygen based formula that finishes with an orange scent. Available in three sizes (24 ounce, 32 ounce and 1 gallon) the spray is easy to use and requires no special tools. It should be allowed to dry naturally for the best results. Drying time can vary depending on amount of spray used, thickness of the carpet and general conditions in the room. Pets should be kept away from the area as much as possible until the stain is thoroughly dried.
Is this a recommended carpet spray?
While reviews are suggesting that stain removal is pretty hit or miss with this product, there are other concerns that may be more important to consider. First, the orange scent may be overpowering to some people. Many also found that it did not completely lift the original odors leaving behind both the bad smell and the orange smell for an unpleasant combination. It is also far more expensive than the other sprays on the market. This one just does not earn a recommendation.
Pros
Customer service is obviously a top priority for Nature's Miracle with representatives very responsive and helpful to questions and comments
Three sizes to choose from
Cons
Very expensive
May not lift odors
May take a long time to dry even when used as directed
Chem-Dry Carpet Stain Extinguisher: Best Green Certified Carpet Spray
Chem-dry's Carpet Stain Extinguisher comes in a unique can that looks like a small fire extinguisher. It uses carbonation to lift stains and spots from any type of water safe material and can be used to pretreat laundry stains as well as on furniture, bedding and more. It contains no harsh solvents or chemicals and has been given the Green Seal for that. It can be bought as a single can or in multi-packs.
Is this a recommended carpet spray?
By all reports the Chem-Dry Carpet Stain extinguisher works well with one caveat: the design of the can may be problematic. Nearly every issue, concern or negative comment about this product is not in how it works but rather in how much is available to use. Cans are sent that feel half empty or feel full but stop spraying out. It is such a common problem that it cannot be overlooked or discounted as a fluke or user error. It is at a pricing point that not getting to use half or even a quarter of the product is going to hurt.
Pros
No harmful chemicals or solvents
Can be used on virtually any water safe material or surface
Can be used as a laundry stain pre-treater
Cons
Defective cans can mean only getting to use a small portion of the product inside or even none at all
Spot Shot Professional Instant Carpet Stain Remover: Best Professional Grade Carpet Stain Remover for Home Use
Sold in a 32 ounce spray bottle, Spot Shot's Professional carpet stain remover can be purchased as a single unit or in 2, 3 and 12 bottle bundles. Price wise it falls near the lower end of carpet sprays and promises to clean, deodorize and prevent the stain from returning without the need for scrubbing, vacuuming or rinsing. Spot Shot also claims that it the favored carpet spray for professional companies but provides zero names or types of businesses to back those claims.
Is this a recommended carpet spray?
While it may work for some stains there is plenty of evidence that it may fail at older, more set in stains. This is also a product that is going to require plenty of ventilation during use as it produces heavy, potentially toxic fumes. It is sold at a decent price so it could work. Use as directed and make sure that you are airing the room out very well before allowing people and pets to enter the area
Pros
Good price
Professional grade but easy to use formula
Can be purchased by the case
Cons
May not work as advertised
Has a heavy, chemical smell that lingers
May trigger asthma attacks
Folex Carpet and Spot Remover: Best Multi-surface Stain Remover
Folex Carpet and Spot Remover can be used on any material that is color-safe and approved for water based cleaning. This includes furniture, clothing and more. It is a no rinse, no vacuuming needed spray and contains no harmful or toxic chemicals. It is designed to leave zero residue so that stains do not return and dirt is not attracted to the newly cleaned area. Results are supposed to be instant however some stains, especially older and set-in stains may need to be treated more than once to be completely removed.
Is this a recommended carpet spray?
Despite some packaging complaints (see Cons below), this seems to be a product that works quite well at a good price point. It lacks the harmful chemicals that could overwhelm some people and is easy to use.
Pros
Non-toxic formula
Can be used on multiple surfaces and as a laundry pretreater
Good pricing point
Very easy to use, no scrubbing needed formula
Cons
Bottles are often defective leaving customers receiving less than half of the product that they had paid for
Customer service is unhelpful with comments, questions and concerns
BioKleen Bac-out Stain and Odor Remover Foam Spray: Best Plant Based Carpet Spray
BioKleen's Bac-out Stain and Odor Remover spray is environmentally friendly and plant based using lime peel extract and live enzymes to digest and destroy all organic materials in stains. It uses no artificial fragrances or colors and can be used around children and pets including birds when used as directed on the label.
About BioKleen
BioKleen is a family based business and has been using green manufacturing processes for their products. The company has been in business since 1989.
Is this a recommended carpet spray?
If you are concerned about toxicity of a product, this could be the right choice for you. It is a foam rather than a purely liquid spray which gives better control and may also mean less splatter. The main ingredients are plant based and include live enzymes, lime peel extract and caprylyl which is used as a surfacant.
Pros
All natural, plant based ingredients
Not harmful to the environment
Family based business has been creating and selling products since 1989
This company has outstanding customer service
Green manufacturing processes
Cons
People either love or hate the smell with very little in between
It can be pretty hit or miss with some stains especially older stains
Rejuvenate Bio-enzymatic Carpet and Upholstery Spot and Stain Remover: Best GreenGuard Gold Certified Carpet Spray
This carpet spray uses a neutral ph formula without phosphates, solvents or other potentially harmful chemicals. It has been GreenGuard Gold Certified to be low in volatile organic compounds (VOC) and is odor and fume free. Gold level certification is the same level that is required to be met in schools and similar settings.
The product is fairly simple to use although it does involve more than a single step. Tougher stains are treated with the spray and then covered by a damp cloth for the night. Treatment may be repeated as needed in the case of older or very stubborn stains.
Is this a recommended carpet spray?
On this listing of products this is the only one that does not have any cons to list. This is literally the first time that this has happened. The only negative things that people have had to say about this product are more about some confusion about labeling vs. actual directions. Rejuvenate markets this spray as a spray and walk away however, the directions are different. Even with that in mind, this is an easy to use product and does not require vacuuming or scrubbing or actual hands on work.
Pros
GreenGuard Gold Certified
Easy to use for carpets and upholstery
Neutral ph without phosphates, solvents or other harmful chemicals
No fumes, no odor
Cons
a few complaints about the product's inability to get rid of the odor
Black Diamond Stoneworks Carpet and Upholstery Cleaner: Best Money Back Guarantee
The Black Diamond Stoneworks Carpet and Upholstery Cleaners is available in single or multi-packs of the 1 quart size and is also available in a one gallon size. Ti can be be used to remove new or old spots and stains even those of questionable make up. This is described as a professional strength formula with zero phosphates. It is also biodegradable and hypoallergenic so it is safe for people, pets and the environment when used as directed.
Black Diamond Stoneworks is a family owned business that stands behind this product with a full, money back guarantee if it does not meet customer expectations.
Is this a recommended carpet spray?
In addition to being both professional strength and environmentally safe, there is the money back guarantee if it does not perform as expected. Not many carpet sprays offer full money back guarantees so this is encouraging. It is also a people and pet friendly formula and is sold at a good price.
Pros
Family owned business
Can work on new or old spots and stains
Safe for people, pets and the environment
No phosphates. Biodegradable and hypoallergenic
Money back guarantee
Cons
This product may leave a mark on very light or very dark colors. Always do a spot test for this or any other product before using
Sunny and Honey Pet Stain and Odor Miracle Enzyme Cleaner: Best Charitable Company
Sunny and Honey is a company that makes a variety of pet care supplies that includes cleaning sprays and tools. The Pet Stain and Odor Miracle Enzyme Cleaner is meant to clean bodily fluids like urine, feces, vomit and drool from many different surfaces including hardwoods, leather and more. Because it uses enzymes to clean it is safe for use around children and pets when used as directed. It is available in both a 32 ounce and 1 gallon size.
The Sunny and Honey company stand behind this product with a 100% satisfaction guarantee. The company also donates 10% of its profits to animal rescues and shelters.
Is this a recommended carpet spray?
This is a enzyme based spray that will help rid you of the stains and odors faced by every pet owner at some point. Since it can be used on surfaces beyond just carpets and rugs, it will save money by eliminating the need to buy separate sprays. It does have a money back guarantee so you are only risking a little bit of effort by trying it. There is also the bonus of knowing that you are contributing to animal rescues and shelters.
Pros
Risk free to try this product with the money back guarantee
Donations made to animal rescues and shelters
Able to be used on a number of surfaces including hardwood, leather and more
Child and pet safe when used as directed
Cons
Has a strong, chemical odor that can trigger asthma attacks in some people. Use adequate ventilation and always follow directions
What to Look for in a Carpet Spray Cleaner: Buyer's Guide
There are several things that a carpet spray must do to be worth its price. It must completely remove the stains and the odors. It must prevent both of these from returning. It must be safe for the surface that you are cleaning and should not cause problems for the people and pets that live in the house. It should not require hours of scrubbing or more than a few steps to use. It should not require several days or weeks to be completely dry especially if you must keep traffic out of that area during that time.
The Types of Carpet Spray Cleaners
Carpet cleaners can be broken down into several categories including some with very scary, potentially toxic chemicals that are usually reserved for professional use. Some companies use a fraction of those chemicals and then label their product as "professional strength" which makes it very important to read the label and know what you are about to use in your home.
An oxygen based cleaner becomes activated when it meets the stain and is exposed to oxygen. The oxygen creates a chemical reaction that will break down color molecules in the stain. The reaction will continue as long as there is adequate oxygen and enough materials to cause the reaction. These types of cleaners are best for stains that have some color to them such as cheaper red wines that may have artificial color enhancers. Another perfect example is cheap, dry dog food. Most is made with coloring agents that are not easily digested so if the dog throws up the resulting vomit will have a high concentration of coloring.
An enzyme cleaner contains live enzymes that feed off of organic materials in the stain. Once the materials are all gone the enzymes will be starved and will die.
Reading the Directions – How to use Resolve Carpet Cleaner Spray
It is important that the directions be followed for any type of carpet cleaner. Most will direct you to perform some preliminary cleaning before getting to work on the actual stain, especially in the case of a new, wet mess. After removing as much material as possible, the label will probably direct you to thoroughly saturate the stained area.
It is important that you use plenty of product especially if the stain has seeped through the carpet backing and into the padding or even to the flooring below.
This is where the types of cleaners wildly diverge. Some say to just leave the spray to work for up to an hour before gently wiping it (working from the outside edges and then in toward the middle so you do not spread the stain.) Others instruct you to gently agitate the area with your fingers or a clean sponge and then leave the cleaner to work. Some require rinsing and others do not. Some also require time between repeat applications while others work best if you repeat the first few steps immediately. Most do not require vacuuming.
The Threat of Restaining
Sometimes a stain will look like it is completely gone but will return once it has fully dried. Sometimes the stain will be gone and the pet will return to that area to mark it once again. In some cases, the pet returns to that spot out of habit and not because the odor is still there, however this may not always be true. The nose of a dog is infinitely more sensitive than that of a human. Even if you can't smell anything, the dog might be able to. Scent alone will not show up with black lights, either so it may be hard to tell if it is habit or scent that is bringing your pup back to this spot.
If the stain went all the way through the carpet and backing it may reappear gradually because of vacuuming and traffic in the area rearranging the carpet fibers so that the stain is more noticeable. Vacuuming may also pull some of the deeper, embedded stain closer to the surface. You may have to treat this area several times to be sure that every trace of the stain is really gone.
Drying Time
For most carpet sprays, the drying time is the time when the chemicals are evaporating and the smells are being destroyed. This is also the time where most labels caution you to keep traffic to a minimum in that area. If the stain that is being treated is in the center of the most used room of the house or right in front of a door, it can be nearly impossible to keep everyone away from it.
Drying time relies on a number of factors including the size of the stain and amount of product that was used, relative humidity in and around the home and air circulation. Anything that you can do to speed drying without disturbing the area is to your own benefit.
Utilize fans in that room especially if you have opted for a stronger, "professional" strength carpet cleaner. If you do use fans it is important to be sure that they are not blowing chemicals and odors in to another living area. If possible open the windows and let fresh air in while pulling the "bad" air out. If you have windows that are diagonal from one another open one fully and the other one partially to start a cross breeze that will circulate the air in the room quickly.
Chemical Odors and Residue on Carpets
Even cleaners that are labeled as "safe for use around children and pets" can have an unpleasant odor. Others may be labeled as natural and still have an odor that could be described as chemical. Citrus based cleaners, while natural can be offensive to some people while others love them. It is important to know how much a product smells especially when it comes in contact with a stain with an already unpleasant smell.
You may be able to get an idea of how much of an odor there will be by sniffing the can or by spraying a small amount of the cleaner but in most cases it may be impossible to know how it will smell or how you will react to it. Look for a spray that says "low odor" on the label and be wary of any that promises no odor at all.
Residue is another problem that you should be aware of. Some cleaners leave an invisible film behind that may attract dirt and dust to that area. Others may feel sticky, slick or may cause carpet fibers to attach to one another forming clumps or matted spots on your carpet.
This residue may be impossible to remove so always check labels and read reviews. When doing a spot test it is important to allow the product to dry thoroughly before assessing how it works.
Foam or Liquid Spray
Carpet cleaners can be either foamy or more liquid. Some people feel that the liquid penetrates the layers of carpet and padding better which makes it better for older or set in stains. Foam cleaners give you better control which may be important when you are trying to clean a stain in a tight area or a stain that is just on the surface. In either case, it is important to use enough of the product to actually target the stain and to use it correctly.
Expectations vs. Reality
No one buys a product without at least some hope that it is going to do the job. Most people see a stain and hope that they can get a product that will remove it, the first time. It is important to remember that no matter how good a product is not every stain can be removed. You may be able to lighten a stain or shrink it in size to the point where it is only noticeable to you but it may still be there. At other times you may not be able to get any change at all.
Some stains are more difficult to remove. Some materials are more prone to staining.
Improper handling of the stain may cause it to be further ground in to the carpet fibers. This can be the case when a stain is vigorously rubbed at instead of lightly dabbed.
Иногда пятно не замечают, пока у него не останется достаточно времени, чтобы впитаться во многие слои на полу и высохнуть на месте. Если вы повторили правильную процедуру для спрея, которая была у вас несколько раз, и не увенчались успехом, вы можете попробовать другой тип спрея (например, переключиться с энзима на кислород), профессионально почистить ковер или, если Пятно это то, что заметно и безнадежно, заменить ковер полностью. Если вы уже попробовали три или четыре марки и виды коврового спрея без прогресса, пятно остается постоянным.