Introduction
The highly popular and fashionable forged-aluminum and magnesium alloy wheels need constant maintenance to stay durable, lightweight, and high-quality. There are many alloy-wheel cleaners on the market today offering multiple benefits for buyers who need good products that work wonders. You will now learn about the Best Cleaners for Alloy Wheels along with their great benefits, specifications, performance features, technical issues, pros and cons, and product recommendations.
This detailed review is a buyer's guide for making the final decision!

Best Alloy Wheel Cleaner Reviews
The Car Guys Premium Series Is A High-Quality Wheel Cleaner
Overview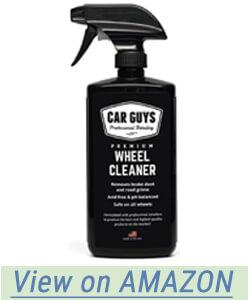 First impressions are last impressions. Since this product comes in a sleek black bottle with strong white fonts, the design delivers an important message to the customer about completing the job properly. This bottle contains a concentrated gel spray that makes the wheels look cleaner and brighter. It does not matter if they are made of chrome, alloy, steel, polished, painted, aluminum, powder-coated, non-coated, clear-coated, or plasti-dipped, this premium wheel cleaner seems to do the job well. The chemical concoction is formulated and synergized to remove brake dust, harmful salt, and road grime. These particles will ultimately damage the wheels if they stay on there for a long time.
The Car Guys Premium Series Wheel Cleaner is made of high-quality chemicals that do not contain nasty organisms or toxic matter, showing it is safe to use on the alloy material. During synthesis, the manufacturer made sure that the chemicals conform to the United States safety regulations.
This means that the liquid is acid-free and has a proper pH balance that protects the environment and the wheelbase. Because of this, the wheel cleaner does not have a strong smell unlike the others in the same class. Moreover, this product protects the paint and even the parts. The bottles come in two sizes; 18 ounces and 1 gallon.


Performance & Technical Issues
Some customers say that this product damages the paint when leaked on non-automotive parts. This happens on chrome wheels as well. The product has a bad habit of oxidizing black rims and staining others. Some customers even report that it won't remove the brake dust. They believe that you could use other products for the same quality. So why pay the extra money? Prices are too high for an average-quality product, they say. Some reports say that this product has a hard time getting the grease and oil off the rims.
Pros
Made with high-quality chemicals
Buyers will feel patriotic supporting products made in the USA
Some customers say it smells like soap
Cons
Some customers report that this product does not work better than regular soap and water
Customers say it will eat away the paint over time
A bit expensive than the other brands
Is It Recommended?
Yes. You should always stay on the edge when using this product because of the nature of the complaints. However, the non-toxic formula creates a pleasant smell. Also, you can use this product for all types of wheels, which is another plus. Since this product is made with high-quality materials in the USA, you can probably trust the performance. It is very hard trying to please everyone. Someone out there will not like this product. The customers who left negative reviews might just be dissatisfied for their own personal reasons.
TriNova Premium Wheel Cleaner – Prevents The Dirt & Grime Buildup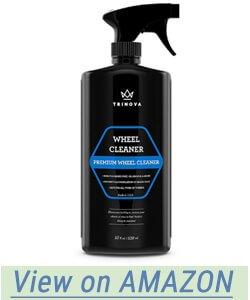 The TriNova Premium Wheel Cleaner comes in an elegant black bottle. The manufacturer claims it will remove unwanted brake dust, grime, and residue from the wheel. Benefits are taken further with a protective chemical that prevents the brake dust from accumulating on the wheel. A prevention feature is something not readily found in cheaper brands.
Customers can expect a restored shine after cleaning up the stains from painted-alloy wheels, chrome wheels, and polished wheels. There are approximately 18 ounces of liquid inside the bottle. That is more than enough to do the job several times for a long time.
The formula is acid-free and non-toxic. It does not matter if the rim is black or machine gun-metal, this product seems to do the job well.
Performance & Technical Issues
It seems that this product will leave a white residue that makes the rims cloudy after the clean. Sometimes customers may need to re-polish the rim to remove all the dirt or grime. Other customers report a liquid spray instead of a gel; a total contradiction of the manufacturer's claims. Some say that this product does not offer anything special than what you can do yourself with soap and water. Moreover, the sprayer might have a faulty mechanism.


Pros
Take longer for brake dust to collect because of the protective chemicals
Very easy to use
Has detailed directions on the back
Has a balanced pH level for a natural clean
Offers a coupon code to save money
Comes in a nice elegant bottle with enough liquid to do the job
Cons
Might leave a smudgy finish
Some customers complain that the product does not work as good as it claims
Overpriced
Is It Recommended?
Not only is this product an all-natural cleaner that is very safe for the environment and powerful enough to use on your wheel, but it has a protective chemical that prevents the buildup of dust and grime. That means you do not need to keep buying products, because this one will last long. Moreover, if you need to save money, then the coupon codes are a plus. The spray nozzle would be an annoyance while cleaning. However, the entire unit is good and workable.
Sonax 230241 Wheel Cleaner Gets Tough On Dust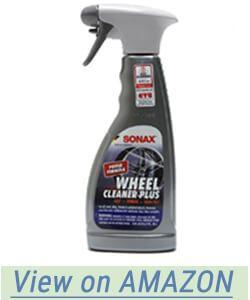 Sonax has a reputation for being one of the best cleaners on the market. It comes in a bottle with interesting designs, such as a gleamy wheel with a clean shine. The formula is created in a way to get rid of brake dust, grime, and salt, and concludes with a squeaky-polish clean on the alloy rims. There is a warning message on the back letting you know the risks of using this product along with directions for proper use.
An acid-free formula that has no dyes and a high pH balance means that this product is very safe to use no matter the application material.
The bottle comes in 16 ounces, but there are also 169-ounce and 845-ounce bottles available for bigger jobs. Once the spray is on the wheel, the cleaner goes to work by turning red to show the dirty areas. This means that you can easily locate the particles and wash them off quickly. It does not matter if the wheel is painted, alloy, or clear-coated, this product seems to do the job well.
Choosing this product is a great choice because it cleans 30% stronger than its predecessor; the Sonax Wheel Cleaner. This specific product is safe to use on motorcycles, custom wheels, and volatile organic compounds. Moreover, it has easy-to-read instructions.
Performance & Technical Issues
Since this product has a chemical that turns red upon contact with dust and grime, many people might get confused about what it means. They might think that the red color means something else, especially if they do not read the instructions. Since this product comes in a smaller bottle people would naturally think it is not enough to do the job. Buyers might look at the competitors for a better product. However, it has proven to produce enough power to clean properly.


Pros
Turns red on contact letting you know that cleaning is in progress
Safe enough to use on other surfaces
Has many positive reviews
Removes different types of participles from the wheels
Very safe to use on any rim
Comes in a unique gray color that is soothing
Cons
Only comes in a 16.9-ounce bottle
Some customers report that this product falls short in performance
Smelly
Pricey
Is It Recommended?
This product is highly recommended because it is one of the best in the market. One valuable feature is preventing dust buildup. Although the bottle is smaller than the others, this product still handles the brake bust, dirt, and grime pretty well.
Chemical Guys CLD_203_16 Signature Series Wheel Cleaner Brings The Power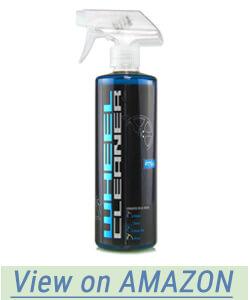 This spray bottle has a stylish design with a clear spray nozzle. You can either spray it directly on the wheel or on a rag to wipe clean. This product will get rid of the corrosion, oil, grime, salt, and dust from powder-coated, painted, polished, chrome, custom, and alloy wheels. The chemical formula is safe to use on many types of surfaces. Just as the name indicates, Chemical Guys, show that this product synthesizes with the right chemicals for a true shine. There is a one-gallon jug, a pack of 4 (1-gallon jugs), a 4-ounce bottle, and a 16-ounce bottle to purchase on Amazon.
People with custom rims like to use this product because of the citrus smell. Another positive benefit is it will not damage other parts of the vehicle, including the suspension and fenders.
Performance & Technical Issues
Recommendations suggest diluting the product to a 4-1 ratio if you decide to stretch the formula. Some customers prefer to see this product as a gel than the liquid. However, there are not any more performance or technical issues that we can see.


Pros
Comes in many sizes
Versatile; can use on different parts of the vehicle, not just the rims
High-quality
A gentle cleaner
Cons
Some customers say that this product does not work as expected
It can become toxic
Smells like glass cleaner
Is It Recommended?
The product prevents corrosion and oil and grease breakup. Drivers who frequent rough terrains will find this product very useful. Furthermore, the citrus smell is a huge plus because people prefer not to work under smell conditions. Recommenced.
Eagle One Etching Mag Cleaner – A High-End Solution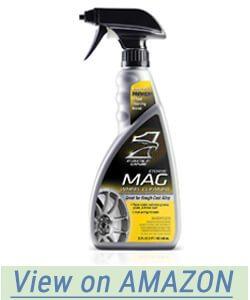 As stated earlier, first impressions are last impressions. And this one definitely has a lasting impression because of the high-end, professional design that you would see on the shelf in a luxury car dealership. It has clear instructions on the back detailing how to use the product.
The acid-free formula seems to make sure that your mag rims are free of brake dust, grease, and grime. Moreover, it eliminates rust and corrosion. Unlike the others in the same class, this one has a long bottle, which indicates it holds more liquid. This product seems to work really well on the alloy and chrome wheels.


Performance & Technical Issues
It does not fully remove all the surface oxidation through the metal. Many customers report that the instructions suggest not to use this product on aluminum rims, but the advertisement on Amazon says the exact opposite. Customers can get confused by that. This product also contains hydrogen fluoride, which many believe is a horrific toxin that causes health problems.


Pros
The handle will fit to your grip
The spray ejects a far-reaching mist
Comes in a large bottle
Can be used on ATVs, motorcycles, and other unique vehicles
Cons
You need to wipe away the foam yourself
Smelly
Is It Recommended?
This product should get recommended to people who drive luxury vehicles because there are exclusive design features. Moreover, you cannot overlook that it eliminates rust and corrosion. Sometimes the "dangerous" chemicals should get used for the best clean. They penetrate the dirt well. There are not many reviewers who say that this product does not work. The complaints are for other things. Therefore, this product seems to work exceptionally well. Also, the fact that it applies a protective coat is a huge plus. Because of that, it is highly recommended.
Adams Deep Wheel Cleaner Brings The Power & Toughness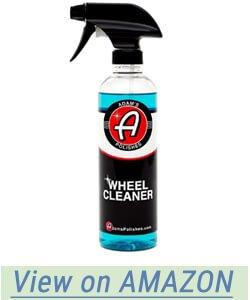 Adams Deep Cleaner comes in a clear bottle so you can gauge how much liquid is inside. This product polishes and shines rims to perfection. It is an exclusive wheel cleaner that is tough on the dust and grime, but very gentle on the wheels.
The bottle has a screw top for easy accessibility. Also, the color-changing formula will let you know when dust, grime, or grease is present.
Furthermore, the acid-free chemicals have a natural pH balance to make sure that the quality stays stable, no matter the surface. This formula is best for powder-coated, chrome, alloy, painted, and clear-coated wheels.
The smell is not too harsh, so it is not harmful to your health. The liquid will dissolve upon impact, but there will be some scrubbing involved. Also, all products are made in the USA. Bottles come in 16 ounces, 5 gallons, 1 gallon, and a bundle that consists of a brush, spray, and a gallon.


Performance & Technical Issues
Some customers report a dull and hazy look after wiping off the color formula. Therefore, it might be rough on brake calipers. Other customers claimed that this product only removes the brake dust and avoid fighting against the sticky buildup.


Pros
Made in the USA
Contaminants change colors
Some customers say it is okay to dilute the product by at least 50%
Comes in many sizes and a bundle
Cons
Only made to use on the wheels. Never spray on other parts
Intense smell
Need to scrub the wheel thoroughly to make sure it is clean
Is It Recommended?
This product seems to bring the power and performance together. However, it might be too powerful for its own good. But it's definitely a power player against the competitors. It is very hard on dust buildup on many types of wheels. A bundled package is available for a more items for a cheaper price.
Meguiar's Wheel Cleaner Brings The Power, Style & Comfort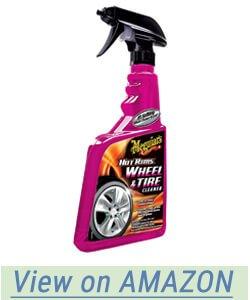 Meguiar's Wheel Cleaner comes in a stylish bottle that holds about 24 ounces of liquid. Moreover, it comes with a flexible design that fits comfortably in your hand. The formula is safe to spray on coated wheels by delivering an extreme effect for digging out the dust and grime.
There is a brief introduction, instructions, and potential hazards on the back describing the important information that you need to know.
It seems to work the strongest on chrome wheels and very gentle on the aluminum ones. The Xtreme Clean Foam claims to clean the vertical surfaces effectively by breaking up the dust, grime, and grease on chrome, painted-polished, and clear-coated wheels.
You can visually see the particles lifting off of the rim. Moreover, there is an easy to tighten and un-tighten spray nozzle.


Performance & Technical Issues
It cleans on the surface, but sometimes you might actually forget to wipe off the liquid. This product may not work well on plasti-dipped wheels, but delivers an exceptional performance on clear-coated ones. Moreover, you need water to rinse it off because it would not come off by itself. Otherwise, expect a little oxidation buildup, especially if the wheels are silver painted. The foam will turn white to brown which may confuse some customers.
You might need to leave the liquid on for 30 seconds or more, although the bottle says otherwise. This is to ensure that the protective seal settles. Also, never spray this product on the glass because it might never come off, damaging the property permanently.


Pros
Has a protective seal that can last for months
Works well on factory rims
Has a protective seal that can last for months
Cons
Claims to work well on coated rims. No other ones are described
Some customers report that it is not good for anodized or powder-coated surfaces
Some customers say that it will foam up but will not clean
Some customers report that it will strip the wax coating
Is It Recommended?
This product seems to be very tough and strong, therefore you need to stay cautious about where to spray it. The pictures on the bottle really stand out and there is an organized section with more information and instructions. You need to clean up after spraying, which could be a huge inconvenience. However, it will break up the dust and grime.
Cleaners For Alloy Wheels – Buying Guide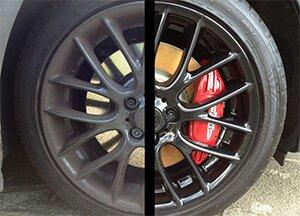 The best characteristic to search for when considering buying a good alloy-wheel cleaner is the feature that identifies the dirt, grime, and salt. Some products have a chemical that will turn red upon impact letting you know where the dirt, grime, and salt is located. From there, you can clean it off easily and effectively.
Having a product that protects the rim from attracting dirt, grime, and salt is also a plus. This prevents you from continually using the bottle and buying more products.
Also, you want to choose a product that has a long spray stream. This limit bending and kneeling to reach the rim.
One major aspect of a product is the non-toxic element and acid-free chemicals. Firstly, a toxic formula is annoying and unhealthy to smell. Secondly, the chemicals will harm the environment and damage your wheels.
Having clear instructions on the back is a must. That way you do not need to search for the instructions.
Getting a product that can be diluted is very important. Adding water or other cleaning supplies will help stretch the product for longer use.
Also, read as many reviews as possible to make sure that the product works well on a range of vehicles from motorcycles to ATVs.
Summary
There are many alloy wheel cleaners on the market. Some are perfect and others fail to deliver. The ones above are the best to consider when making a final decision. You can always use the comparison chart to help your search.
Cleaning your alloy wheels could take a considerable amount of time and energy. These products ease the search process. Once you find the right one that fits your needs, the possibilities are truly endless!
Summary
Reviewer
Review Date
Reviewed Item
Cleaners for Alloy Wheels
Author Rating