Your car is a disgusting mess. Maybe you have a toddler who likes to take one bite of a chicken nugget and throw it on the floor. Perhaps you live near the beach, and the sand is relocating into your car.
Maybe your car is your baby, and you can't stand the idea of dust and dirt shortening the lifespan of your upholstery.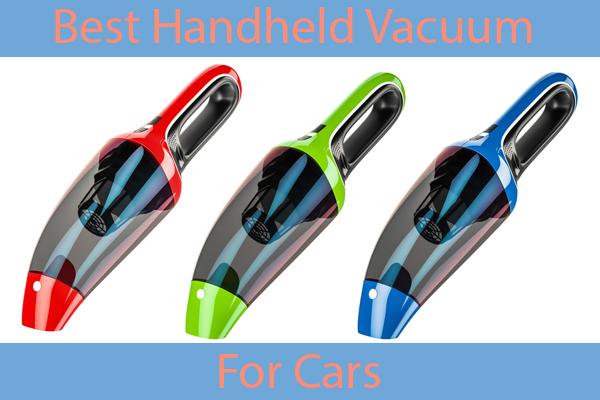 You can keep spending all your quarters on vacuums, or you can keep dragging your household vacuum outside trying to get everything clean, but why? A car vacuum can keep things clean without all that maneuvering.
We've put together a list of our top picks for best car vacuums. Plus, we've answered some questions you may have about how to choose the right one. Let's take a look.

TOP 10 Reviews – Best Handheld Vacuum For Cars
#1 ThisWorx for TWC-01 Car Vacuum – Best For Dry And (Small) Wet Messes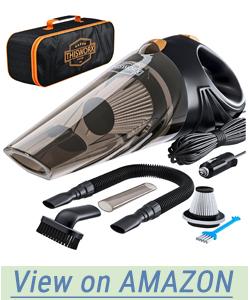 Our first handheld uses a powerful 106-watt motor and metal turbine for efficient and complete suction. It has 16 feet of cord and an elastic hose and nozzle attachment set. The trash compartment is transparent so you can see when it's full, and the design prevents debris from falling out when you empty the container.
Why We Like It
It is corded, but at 16 feet, you should have plenty of space to maneuver into small spaces in your car. The hose attachment reaches those irritating places where crumbs like to hide while the regular nozzle traps a wider area of debris.
The HEPA filter is washable and comes with a small brush specially designed to clean it.
HEPA filters help reduce allergens, dust, and other contaminants, so your car gets cleaner. It works on both wet and dry dirt (equally well).
No waiting for that mud or spill to dry before you can clean it.

Watch Out For
The cord plugs into your car, so you'll have to clean while your car is running. Certainly convenient for when you aren't at home, but it might be irritating if you need to leave your car running in your driveway.
Accessories
It comes with three different cleaning attachments (nozzle and hose, brush, and narrow nozzle extension). The company also sends you a spare HEPA filter just in case something happens to yours (or you're waiting for your other to dry out). It also comes with a carrying case to keep everything together.
Pros
extra long cord for reaching all around the car
a washable HEPA filter for easy vacuum maintenance
106-watt motor
self-sealing trash container to prevent accidents
Cons
plugs into the car itself, so the car has to be running to operate
stitching on the carry bag isn't very durable
#2 LIBERRWAY Car Vacuum Cleaner – Most Powerful Suction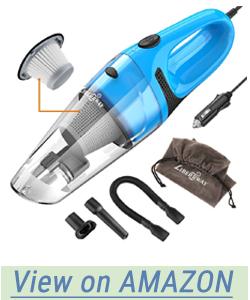 Liberrway's vacuum boasts a powerful 5.0Kpa suction. On average, that's about one and a half times the suction of other car vacuums. It has a metal fan and a double filter system to trap smaller allergens. It comes with a few accessories and a carry bag.
Why We Like It
The metal fan creates a more powerful suction despite being plugged into the car. Most car adaptors have a 12v capacity, and this vacuum does test that limit. However, it cleans a car faster than the average car vacuum.
The HEPA filter removes dirt and debris beyond large crumbs, and you can wash it. Reusing a HEPA filter cuts down on your maintenance costs and keeps the suction clear as you clean it. Make sure you dry the filter completely before using it again.


Watch Out For
The cord is only about 14 feet. If you've got a larger car, it might take some maneuvering to get it all the way to the back of the car. We recommend folding seats down, so they don't get in the way of the cord if you're detailing the entire car.
Once again, this plugs only into your cigarette lighter. It's convenient, but make sure you actually have a cigarette lighter attachment in the car before you purchase this one. There's no alternative power source.
Accessories
It comes with three different accessories plus a carry bag. A hose and nozzle attachment extends the flexibility of the vacuum so you can get underneath seats or down into the crevices near doorways. Brush attachments are useful for kicking up stuck pet hair or other dust. The crevice tool gets between the seats well.


Pros
more powerful suction than the average car vacuum
a metal fan is more durable than plastic
reusable HEPA filter works in a double filter system (first large debris then microscopic allergens)
Cons
14-foot cord might prevent you from reaching the very back of your larger car
pay close attention to the unit so that it doesn't overheat. It requires the max amount of voltage your cigarette lighter can handle
#3 HOTOR Corded Car Vacuum – Best LED Option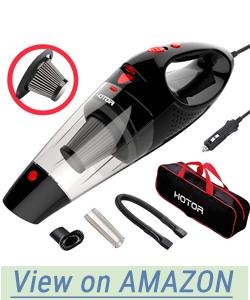 Hotor's vacuum is lightweight and includes a light at the end so you can always see what you're doing. The extra long cord gives you plenty of space, and it comes with two steel HEPA filters and a few accessories.
Why We Like It
The cord is finally long enough for a minivan! It gives you 16.5 feet to work with, so you may not even have to fold down seats. The steel HEPA filter is durable and most importantly, reusable.
This vacuum is also tiny. You could easily leave it in your car permanently for when you need to clean a spill out and about. It does mean that you need to empty the container more often, but we'll take that trade-off.
It also has an independent LED light. You do have to keep your car running to work the vacuum, but this gives you light for underneath the seat or some other place where your interior light doesn't reach.

Why To Doubt
You do have to empty the canister a lot. For larger spills, that might be annoying. For daily cleanups, it's not that big of an issue.
The suction isn't bad but make sure you watch for overheating. It loses suction as debris sticks to the filter, so you might be cleaning it out more often than you'd like.
Accessories
It comes with three different accessories and a bag. The hose and nozzle extend the reach of the vacuum while the brush helps with hair and dirt removal on seats and floorboards. The narrow nozzle gets down into the crevice of the seats and other places where crumbs like to hide.
The bag is an actual carrying bag and not a drawstring bag making it easier to store directly in your car. It's a nice detail.
Pros
extra small vacuum that you can leave in the car for storage
better bag than some other vacuums
extra long cord gives you plenty of space
Cons
the storage container is really small
HEPA loses suction fast so you may be cleaning the entire unit out really often
#4 Fortem Car Vacuum Cleaner – Best For Low Noise Needs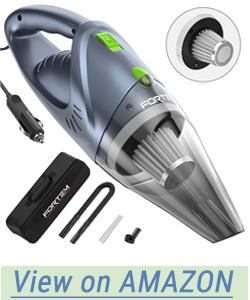 Fortem's 120-watt vacuum is a little bit more powerful than the ones so far on the list. It's a wet/dry vacuum with low noise and a set of attachments to make it easier to get into all the spaces in your car. It still draws power from your cigarette lighter at 12 volts.
Why We Like It
Upping the wattage just a bit may not seem like much, but it does help this vacuum pick up just a bit more debris. Car vacuums can take a long time to use, and this one shaves off a few minutes.
We like the reusable HEPA filter because it keeps vacuum maintenance to a minimum, but the filter itself is durable. The canister is self-sealing, so you don't risk accidentally dumping dirt and debris out as you're emptying it.

Why To Doubt
A 14-foot power cord isn't short by any means, but it may not reach to the back of your minivan without some maneuvering first. The power cord attachment gets hot during use, so stop periodically and check on it so you don't blow your car's fuse.
The suction gets weaker as the HEPA filter gets dirty, so check the state of the filter before anything else if you're losing suction.
Accessories
It comes with a very nice zippered bag with handles. The package includes three different attachments including a hose with a nozzle for reaching into awkward spaces, a narrow nozzle for getting down between the seats, and a brush attachment to agitate hair and dust from the seat itself.
Pros
higher wattage means slightly more suction
the steel HEPA filter is durable and reusable
comes with a really nice zippered bag so you can leave it in the car for storage
Cons
the power adapter gets really hot after extended use, so be sure to check it regularly
A 14-foot power cord is long-ish, but we'd like to see about two feet more to work with larger cars
#5 Vacplus Car Vacuum Cleaner – Most Convenient Cord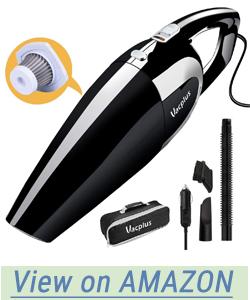 Vacplus's vacuum is another 120-watt unit, but this model has a longer cord. It's a little bit heavier than the previous one but includes the reusable HEPA filter, carry bag, and several attachments for getting into tight spaces.
Why We Like It
There's nearly two and a half feet more of cord with this higher wattage model. That length makes it easier to get to the back of a larger car without having to get so creative. We also love that that the higher wattage makes it easier to pick up debris because of the more powerful suction.
The reusable HEPA filter is always a plus because HEPA filters out smaller particles and allergens. Your car can be a big source of allergies if you don't clean it regularly, so that's a huge plus. It's steel, so you shouldn't have any problems getting it really clean.
Why To Doubt
With that much power, your power attachment may get hot the longer you use it. Double check it periodically so you don't accidentally damage your car's cigarette lighter.
Technically it's a wet/dry vacuum, but the well is very small, and there's no valve to keep the water from coming back out once it's in the container. You should exercise caution when operating so that you don't accidentally soak the motor. It's only for very small amounts of liquid, so you may have to wait for some to dry for large spills.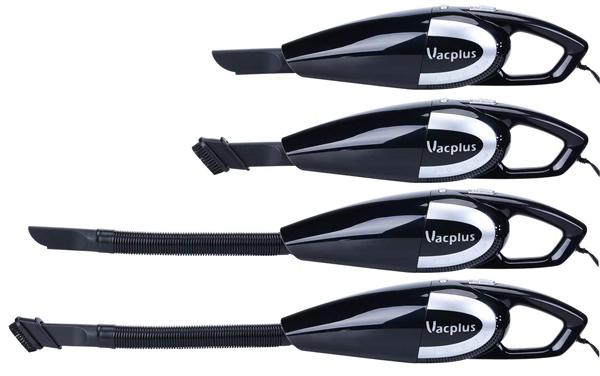 Accessories
It comes with a zippered carry bag, but the stitching isn't very durable. You do get a hose tool with a nozzle for more flexibility, a narrow crevice attachment, and a brush to help lift dirt and hair out of the fibers of the seats. Everything can be stored in the car.
Pros
16.4-foot power cord for some extra maneuverability
stainless steel HEPA filter
120 watts of power for better suction
Cons
the bag's stitching isn't very durable
the power cord attachment gets hot. Check it periodically as you're using the unit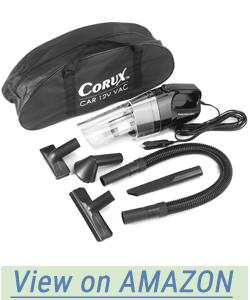 The Corux is a 150-watt vacuum with multiple attachments and a 13-foot power cord. It does provide a lot of suction for this size of vacuum, but the power cord might make cleaning your trunk an issue even in a smaller car (if you can't go through the interior).
Why We Like It
For a small vacuum, it has a lot of power. Car adapter vacuums sometimes don't have the power capability we'd like when cleaning deep down dirt, but this one gets you a little bit closer to the way larger vacuums perform. You aren't going to set any record with this one, but a few minutes quicker may be enough for you.
It has something called a Pro-Cyclone system. It creates and maintains a better suction than other types of regular vacuums. The attachments don't weaken the suction either.
Watch Out For
The cord really isn't long enough for our preferences. If you have a smaller car, hatchback style, or another way to reach through the interior to clean the back, it'll work. If you've got to walk around the outside to clean out your trunk, you might be out of luck.
As with many of the vacuums on our list, the power attachment can get hot right where it plugs into your car. It should be safe but check on it periodically so you don't accidentally overheat your adaptor.
Accessories
It comes with a zippered carry bag that fits everything inside for organized storage. You get a hose attachment with a nozzle, so you have more flexibility. It also comes with a brush attachment for getting hair and trapped dirt out of seat fabric, and two different widths of wide mouth attachments. There's also a narrow crevice tool for getting in between the seats and down around the doors.
Pros
more power gives it a bit more suction
includes a wide mouth attachment for general vacuuming
Pro-cyclone system maintains suction better even when using attachments
Cons
13-foot power cord isn't long enough to make cleaning the back of your vehicle easy
it can't be used on any kind of liquid spill
#7 SunplusTrade Car Vacuum Cleaner – Best Value Option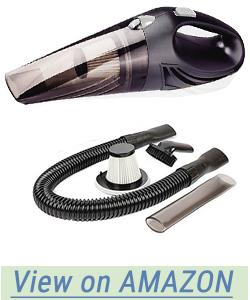 SunplusTrade's vacuum is a reliable car vac that comes with several attachments to make cleaning easier. It has a reusable filter and a special brush for cleaning it. The power cord is long enough to reach to the back of your vehicle easily.
Why We Like It
With a power cord that's over 16 feet long, you won't have to do any significant maneuvering to get to the truck for cleaning. The suction is good enough to get most bigger dirt and debris, and if you go over the area with the brush attachment, you should get everything else.
It's lightweight and balanced. You won't get quite as tired vacuuming for long stretches as you would a heavier one.

Watch Out For
The suction is moderate. Although you may need to go over the area a few times before you get it completely clean, it will eventually pick up most debris. The power from your car's cigarette lighter may not be powerful enough to maintain suction as the filter gets dirty or if you use the attachments.
It's loud. Ours makes a high pitched noise while it's working. You may need earplugs if your hearing is sensitive or you plan to use it for more than just a single spill.
Accessories
It comes with three different attachments, a brush for getting hair and dirt out of the fibers of the upholstery, a narrow crevice tool, and a hose to get into tighter areas. Everything fits into a carry bag for easy storage. You've also got two replacement filters for when yours can't be cleaned out anymore.



Pros
includes an extra filter
extra long power cord for cleaning the back of your vehicle
lightweight
Cons
really loud with an uncomfortable noise pitch
attachments don't maintain full suction
#8 Pagurio 120W Car Vacuum Cleaner – Most Convenient Accessories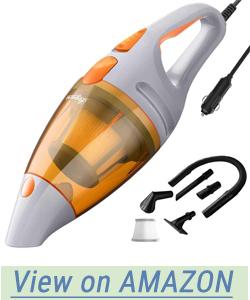 Pagurio's vacuum is a powerful vacuum with 4.5Kpa suction power. It uses a cyclone style suction that helps maintain the power of the machine even when you're using attachments. It comes with several accessories to make cleaning small spaces more comfortable, and it's very small.
Why We Like It
Where do we start? It's got an extra long hose attachment that helps to get into any weird, tight space in your car. The type of suction action keeps it from losing power when you use that attachment (huge plus). It's loud, yes, but not nearly as annoying as other vacuums on the list. It comes with more attachment pieces than other vacuums on the list.
The HEPA filter is reusable and captures more microscopic debris that can cause allergens. It cuts down on the amount of dust that's lifted into the air as you vacuum up larger particles. Washable filters also reduce the amount of maintenance you need to perform to keep the vacuum running at its peak performance.

Why To Doubt
It's a little on the heavy side for a car vacuum, and the balance feels a little bit off. Small potatoes when you think about how strong the suction actually is.
As always, be sure you check the part that plugs into the car regularly as you're using it. The vacuum draws a lot of power from the limited output of your car's cigarette lighter so it can get hot if you use the vacuum for an extended period of time.
Accessories
The vacuum comes with an extra long hose that reaches way into small corners and places like under the seats. It includes a brush attachment, a narrow crevice tool, and a wide mouth vacuum attachment. It comes with two filters in case something happens to one, or you need to use the vacuum before one of the freshly-cleaned filters is dry.
Pros
HEPA filter and cyclone suction action prevents smaller particles from being released into the air
maintains suction even with attachments
an extra long hose attachment
Cons
a little heavier than some of the other vacuums on the list
the power attachment gets hot at the plug-in site
#9 FamilyTool SwiftJet Car Vacuum Cleaner – Best Design Colors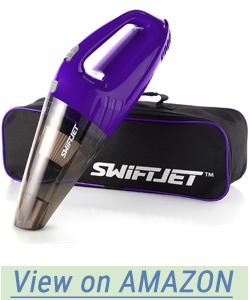 FamilyTool's vacuum comes in several different color options. It has a powerful 4Kpa suction on 120 watts, so there's plenty to clean up even smaller debris. You get a carry bag to keep everything together plus several different attachments for cleaning hard to reach places.
What We Like
It may seem silly, but we like that it comes in different color options. Aside from the aesthetics, it does pick up a lot of debris without having to go over the same spot multiple times.
The HEPA filter is washable. Washable filters cut down on maintenance and extend the life of your vacuum because you can clean out obstructive debris each time. HEPA is excellent for people with allergies. It captures much smaller particles than a standard filter alone.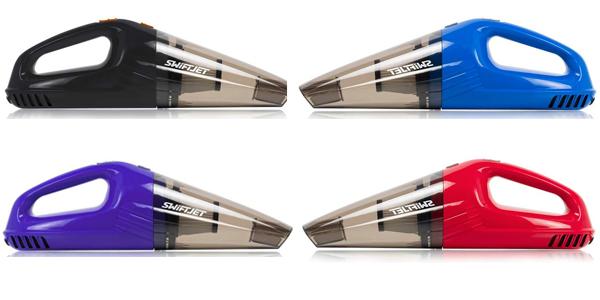 Watch Out For
The cord is 14.5 feet long. That's long enough for most vehicles, but it may not be easy to reach the back of a much longer vehicle if you have no way to go through the interior. We prefer a minimum of 16 feet for maximum reach without getting creative.
Be careful running the vacuum for more than 15 minutes at a time because it might overheat. Check the power cable frequently at the plug-in site to make sure it isn't too hot.
Accessories
It comes with standard attachments, including a 15-inch hose extender so you can get into awkward spaces. It also has a brush tool and a narrow crevice tool. It comes with a small carry case, but it requires some maneuvering to get everything back in for storage.


Pros
multiple color options
strong suction even with accessories attached
HEPA filters (includes extras)
Cons
a power cord is long enough for most vehicles but could be longer for better maneuverability
can overheat if operated for long periods of time
#10 DEENKEE Car Vacuum Cleaner – Best Overall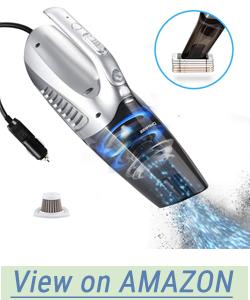 This small vacuum has very powerful 5Kpa suction that handles both dry spills and small wet ones. The suction works well even when accessories are in place. The HEPA filter is reusable and washable, so you cut down on the stress to the motor and extend the life of your vacuum.
Why We Like It
It's one of the most powerful vacuums on the list. It uses about 120 watts to maintain an excellent suction strength for this type of vacuum. The HEPA filter is steel, lasting longer than paper filters, and it's easily cleanable after every use without long drying times.
It has that coveted extra couple of feet of a power cord for a total of 16.5 feet. That gives you plenty of space not just to reach the back but to maneuver easily. You don't have to fold down seats and say a little prayer that the vacuum will reach the far back corner where that collection of dust likes to stay.
It also has an LED light. The space underneath your seats is no longer a mystery.
Why To Doubt
There isn't a lot we don't like, but sometimes the attachments pop off if you're in the middle of a particularly vigorous cleaning session.
As always, be sure to check the plug-in at the source to make sure it isn't overheating. Running the vacuum continuously for more than 15 minutes can be hard on the power source.
Accessories
It comes with a carry case to keep everything organized. You also get a hose extension for getting into awkward spaces, a brush tool for pulling up hair and embedded dirt, and a narrow crevice tool for getting between the seats.
Pros
LED light for better illumination
ultra long 16.5-foot power cord reaches everywhere even in large vehicles
powerful suction
Cons
attachments sometimes pop off
be careful not to overheat the plug-in during long vacuuming sessions
Buyer's Guide
Let's go over a few things you may want to consider when you're choosing your car vacuum.
Suction
Let's get something straight. A vacuum that plugs into your cigarette lighter isn't going to be as powerful as your standard household vacuum or the vacuum at carwashes. There isn't enough power directed through the cigarette lighter to support such a powerful system.
Suction for car vacuums should be strong enough to pick up moderate debris in your car. Some stubborn pet hair or embedded debris may need more powerful suction. Cleaning your vehicle weekly without upsetting spills should be fine with a basic car vacuum.
Weight
Handheld vacuums may not seem heavy, but if you use them for more extended periods of time (your car is filthy, right?), your arm will get tired. Ounces matter here. We like to see vacuums under three pounds at the very heaviest. Otherwise, you're arm's going to get really tired holding it.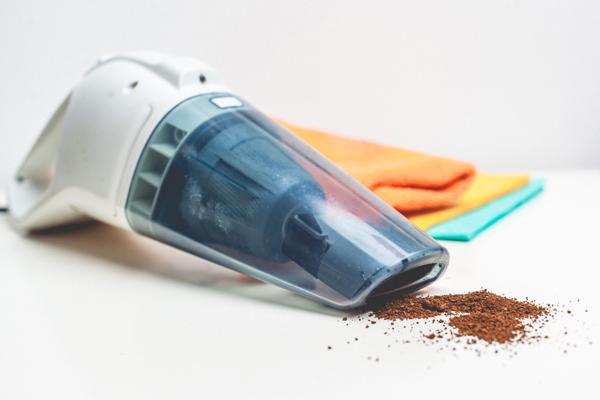 Dust Capacity
The waste collection container determines how often you have to stop to empty the vacuum. Since you're outside working on the car, you may not have a trash can nearby. Walking back into the house every five minutes to clean out the vacuum. Sure, it's okay for smaller spills, but if your car is constantly messy, parents of toddlers, you may need a capacity that can take the mess.
Accessories
You can't put the vacuum in all the crevices of your car. You need something that can get into tight spaces, so dust and dirt don't keep creeping back up.
Some models have a lot of accessories, but here are three basic attachments you need. A brush attachment helps stir up deeply embedded dirt and debris from the fibers of your upholstery. It also helps pick up hair that's stuck.
A narrow crevice tool is excellent for getting down into the seat. Crumbs and dirt can slowly migrate down there keeping your car from ever being entirely clean. A narrow crevice tool gets in between seat cushions to get all that out. It's also good for getting down near the doors and around the consoles.
A hose attachment helps to get underneath seats where the vacuum can't fit. A suitable attachment should be at least a couple of feet long so that it can thoroughly reach all the small places. A longer hose can reach even to the back to give you a few extra feet to work with.
Other types of attachments could be a wide mat tool for getting larger amounts of debris at a time. Other tools may be specifically for pet hair.
It's also excellent to have a carry bag.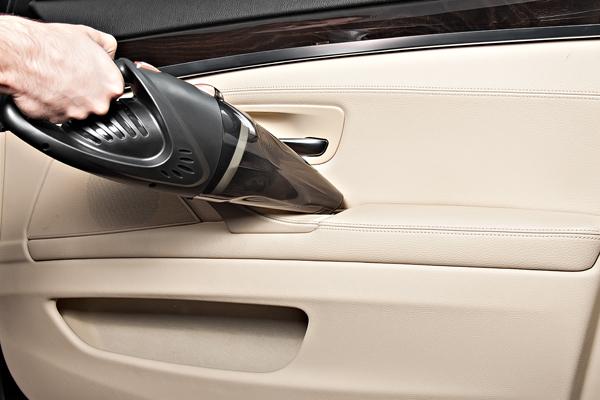 Wet And Dry
All vacuums handle dry debris, but a few can even help clean up a wet spill. None of them can handle large quantities of wet spills, but some of them can handle a little bit of juice or mud without completely clogging.
While it's definitely not a must-have, it can make cleaning a car a whole lot easier. Cars are susceptible to environmental damage, so a bit of flexibility here is a good thing.
Cost
Your car vac doesn't have to be expensive. Spend a lot of money if you want, but none of the vacuums on our list are over $100. You don't need to spend a lot to get a decent vacuum with good suction.
One common cost is accessories. Buying just the vacuum isn't going to work because your car isn't a wide open space. You'll need at least a few accessories so you can actually get the job done. Saving money by not getting accessories is going to frustrate you. Instead, think of what kind of accessories you might need and purchase a kit that has your minimum.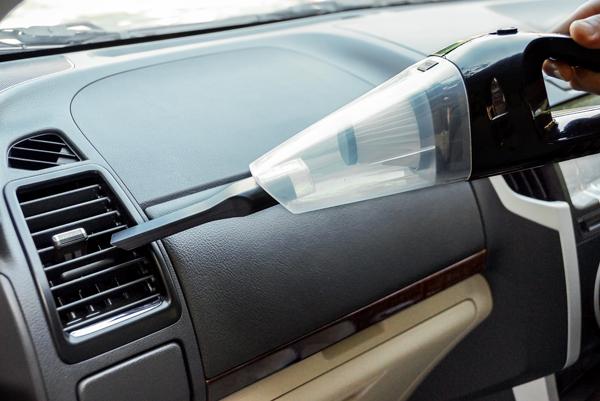 Final Thoughts
Your car needs a facelift. You may not be able to afford regular detailing and waiting for the car wash vacuum may be frustrating. A simple car vacuum can help you keep your car clean, extend the life of the upholstery, and help you avoid the embarrassment of having someone get into your disgusting car.
A dedicated car vacuum is ready to go whenever you need it no matter where you are. Good ones have a bag for the vacuum and all the attachments so you can be ready at a moment's notice. Make sure you keep everything together in the back, and you won't have to apologize for the state of your car to any passenger ever again.
What's your car vacuum's main focus? Are you a beach bum? Mother of dragons (ok, toddlers)? Do you commute a long distance and practically live in your car? Tell us all about it in the comments below!
Summary
Reviewer
Review Date
Reviewed Item
Author Rating