Leather conditioner helps to protect your car's interior from damage. Damage comes from the sun, daily wear and tear and even some of the very products you have used in the past. Some products can leave a waxy residue which unfortunately attracts more dust, dirt and grunge and can damage the surface of your leather. This guide will not only help you find the best leather conditioners but will also help with some tips about good leather cleaners as well. Each review will end with whether it is recommended or not.

Top 10 Best Leather Conditioner for Cars Review
#1. Zymol Z-507, Leather Cleaner and Z-509 Leather Conditioner: Best Nature Based Leather Care Products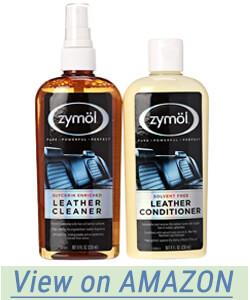 Sold as a kit with 1, 8 ounce bottle each of the Leather Cleaner and Leather Conditioner, both are all-natural with ingredients made from plant based, natural products and enriched with ingredients that are known to protect and revitalize leathers of all forms including auto seats, furniture, coats and clothing, shoes and boots and more.
The cleaner is glycerin enriched and comes in a spray and wipe formula. The leather conditioner is a cream which is rubbed in to the surface of the leather to help to protect against sun damage, extreme temperatures and other conditions. It contains Vitamin E, aloe vera, neatsfoot oil, glycerine and collagen.
Pros
All-natural products with plant based ingredients.
Easy to use formulas.
Conditioner helps to protect leather from damage from the environment.
Cons
Not a commonly known company.
Some minor reports of an "off" smell about the leather cleaner.
Recommended or Not:
Yes. Ingredients such as neatsfoot oil are enough to recommend this product. Used since the 18th century to protect leather of all types, it is all-natural unless it is a cheap blend. Both the cleaner and conditioner are all-natural, easy to use and are safe for most types of leather.
2. Lexol E301123100 Leather Conditioner Care Kit: The Total Package for Cleaning and Conditioning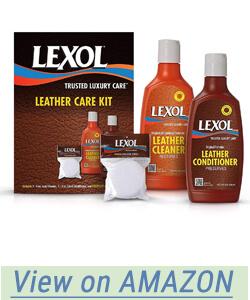 A conveniently packaged and priced kit, these 2 products can be used on all of your leather goods from your car interiors to furniture, accessories, shoes and boots. Available in either an 8 ounce or 16 ounce size, the kit also comes with the special microfiber applicator. Additional applicators can be purchased separately. It is a good idea to have extra especially if you will be using this for both car and home.
Cleaner
The Lexol Leather Cleaner is ph balanced and made without alcohol, silicone or any other harmful ingredients. It gently cleans the leather without leaving waxy or greasy residue behind. Any residue will attract more dirt which means more frequent cleaning.

Conditioner
The Lexol Leather Conditioner also has no silicone ingredients and helps to protect the leather from the drying process that can make it crack or look dull. As leather gets older it loses moisture which makes it susceptible to cracking and can also make it look dull or faded.
Both are super easy to use. Wipe on the cleaner with a sponge and gently agitate the surface in circular motions to loosen the dirt. Wipe with a separate cloth to remove excess plus loosened dirt. The conditioner is applied in much the same way. Use separate applicator sponges for these two products.



Pros
Excellent value. The bigger, 16 ounce size is the better option in my opinion and seems to last a very long time.
Easy to use, just wipe on using the applicator sponge and wipe off.
No greasy or waxy residue left behind to attract dust and grime.
Cons
More sponges should be included instead of purchased separately especially with the larger kit.
There is a small amount of residual odor with this product which while not overwhelming is not something that is welcome.
Recommended or Not:
Yes. Be warned that it is best to use this product with lots of ventilation and to keep the vehicle windows open to make sure that the lingering odor is able to dissipate.
3. Chemical Guys Leather Cleaner and Conditioner Leather Care Kit: OEM Approved Leather Care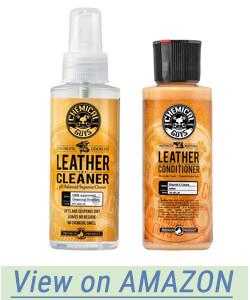 The Chemical Guys Leather Cleaner and Conditioner Leather Care Kit is the only one on this list that has OEM approval. OEM stands for Original Equipment Manufacturer and is an agreement between companies, in this case auto manufacturers and others (Chemical Guys). Simply put it means that car makers agree that this is a good product.
The kit contains both the cleaner and conditioner in either a 4 ounce or 16 ounce size. The leather cleaner is designed to open the pores on the surface of the leather so that ingrained dirt can be lifted to the surface and then wiped away.
The conditioner is used to protect the surface after cleaning to extend the life of the item. Both are odorless so all that remains is the natural smell of your leather.

While Chemical Guys the company is geared mostly to cars and trucks, the leather care kit can be used on nearly any type of smooth or unfinished leather. It should not be used on suede or similar types of leather.


Pros
OEM approved.
Easy to use formula.
Odorless and color free.
Does not leave a residue of any kind.
Cons
May be too strong for even automotive leathers.
Cleaner may not be able to lift some types of surface dirt.
Recommended or Not:
Yes, but only use after very careful testing on every surface. While that is standard warning for any cleaning product, it is especially important here.
#4. Meguiar G18616 Gold Class Leather Conditioner: Best Low Priced Leather Conditioner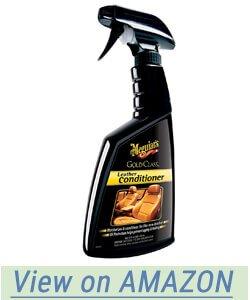 The Meguiar G186161 Gold Class Leather Conditioner is not only the most inexpensive on the list it is also created with natural ingredients that include aloe and moisturizing oils. The goal of this conditioner is to restore leather back to its original appearance without leaving a residue behind. Despite the oils it does not leave a greasy feel to the leather. It is available in a convenient to use spray bottle so that you can direct the conditioner right where it needs to go without over spray.
The bottle comes in a 16 ounce size.



Pros
High quality ingredients including aloe vera and other moisturizing oils.
The price is lower than expected for a bottle of this size.
The spray bottle is convenient.
Virtually no smell with this conditioner.
Cons
It may leave behind a glossy sheen on some types of leather.
The company claims "cleans and protects" but does not list from what or how.
Recommended or Not:
Yes! This is a good product with high quality, all-natural ingredients.
#5. KevianClean Car Leather Cleaner and Conditioner: The Best All in One Leather Care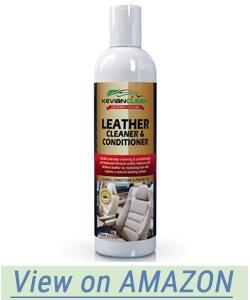 KevianClean Car Leather Cleaner and Conditioner is all-natural, organic and ph safe for nearly all types of leather. Available in several packages including a single bottle in either 8 or 16 ounces, or 16 ounces in either a 2 or 3 pack. In addition to the organic ingredients this is a unique product because it is all in one. You don't have to use different products to clean and condition your leather. It can be used for both new and old leather, vintage leather, exotics including rare animal hides and can be used on everything from car interiors to furniture and clothing, shoes and accessories.
Made in the US, KevianClean Car Leather Cleaner and Conditioner is made from organic and ph balanced ingredients sourced from plants. It is entirely bio-degradable and backed by a 60 day warranty. While gentle on leathers it is still able to help remove even tough stains like blue jean marks and ink pen from car seats without leaving behind strong smells. KevianClean has good customer service with timely response to questions, comments and concerns.
It is important to note that denim and ink stains are difficult to remove from leather especially lighter colored leather. No product can guarantee 100% removal of these stains all of the time. The earlier you catch the stain, the better the removal will be.
Pros
Plenty of buying options.
Made in the US.
All-natural ingredients that are bio-degradable makes this product safer for the environment.
Great customer support.
May be able to help remove one of the toughest stains known to leather owners.
Cons
Denim stain removal may not be 100%.
Instructions tell you to wipe on, wipe off for cleaning and then to repeat that procedure for conditioning using twice as much of the same product.
Recommended or Not:
Yes. Not only is the product made with environmentally safe ingredients, it does what it promises most of the time. In addition, the good customer support is enough to recommend the company.
#6. After Life Leather Conditioner and Restorer: Best Return Policy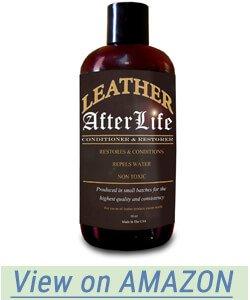 Available in an 8 ounce and 16 ounce bottle, the After Life Leather Conditioner and Restorer is made in the United States in small batches to ensure the highest quality of each bottle. It is non-toxic but the ingredients are not available to the general public, even by request.
Although not a guaranteed feature, the company markets this product as a restorer saying that it might be able to bring back the appearance and function of even older leather products from car interiors, furniture, handbags, shoes and boots and more.
After Life has a full, 100% guarantee on this product. Either you love it or return it and get a full refund with absolutely not questions asked. The company also has very good customer service.
Pros
Made in the United States.
100% non-toxic (according to the company).
100% guaranteed. Full refunds with no questions asked.
Great customer service.
Cons
Secret ingredients are concerning.
Company is not very well known.
Recommended or Not:
Yes. Despite the hesitation on a relatively unknown company, the customer support and the solid 100% guarantee are enough to take the risk.
#7. Armor All 10961 Leather Care Gel: Most Familiar Brand Name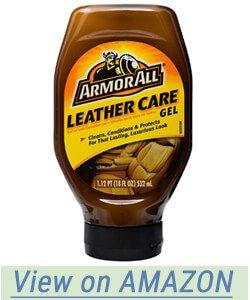 Everyone knows the Armor All brand name. Many people have used one or more of their products at some point in their life. Like many of the company's products, the 10961 Leather Care gel is meant to provide protection against the damages of the sun, heat and other extreme weather conditions. It cleans light surface dirt and conditions the leather to keep it looking like new for longer. There is a standard UV protection ingredient in this gel which is described as "rich and thick" in marketing but is actually fairly thin and watery. It is available in an 18 ounce size bottle or in a package with microfiber applicator clothes.
This gel smells like most of the Armor All products which have a distinctive aroma that may take away from the leather smell that leather owners would prefer.



Pros
Trusted and familiar name brand.
Easy to use product with an easy squeeze applicator bottle.
Can purchase with microfiber cloths.
Cons
Typical Armor All smell may be off-putting for some.
Is not really very thick for a "gel".
Recommended or Not:
Yes. People who are familiar with the Armor All brand are probably going to know what to expect from it in terms of performance and smell.
#8. 303 Leather Cleaner and Conditioner, 3 in 1 Complete Protectant: Best Complete Leather Care Product
303's Leather Cleaner and Conditioner is a true, 3 in 1 product in that it cleans, conditions and protects in one convenient bottle. Available as a single 16 ounce bottle or in a 16 ounce 4 pack, it is safe on most finished leather types but should not be used on suede. Delicate or expensive leathers should be tested before use of this or any other product.

Simple to use, you spray on a light amount and then wipe dry. Each treatment should last between 30 and 45 days depending on conditions such as temperature and amount of daily sun as well as the age and condition of the item being protected. In addition to conditioning ingredients, this product has UV protectant. Exposure to sunlight can cause leather to dry out and eventually may cause cracking, splitting or pitting.
Pros
Convenient product; eliminates many steps.
Trigger spray bottle makes application easy.
Non-greasy, no residue.
Cons
May not work as well as an actual three step process would. Multi-use products sound great in theory but one or more of the functions tends to be sub par at best.
Treatment may only last 45 days in certain conditions and may need to be used much more frequently in sunny, hot areas especially where drought and other extreme conditions are common.
Recommended or Not:
Yes. But there are better separate products that do better at the tasks this one bottle is trying to take on. There are other three in one products that also do better despite the inadequacies of combo products.
#9. Aero Cosmetics Leather Care, Conditioner, UV Protectant: Only Product to Meet Airplane Standards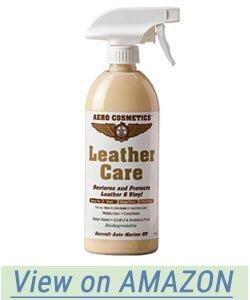 Aero Cosmetics Leather Care and Conditioner is available in three sizes, 16 ounce, 32 ounce and 64 ounce trigger spray bottles. Meant to be easy to use, the product is simply sprayed lightly on the surface, gently scrubbed and then wiped dry. Heavily soiled areas may need a second application of this product to achieve the desired results. It is a bio-degradable, green product with no harmful or hazardous ingredients.
This is the only leather care product that meets Boeing Aircraft Specifications D6-1787T. If it can meet the needs of aircraft leather that is dealing with altitude, pressure and extreme temperature changes it should be able to handle whatever your car or sofa is going through.



Pros
Boeing approved product.
Easy to use trigger spray bottle allows for easy direction of product to the surface.
Green product is easy on the environment.
UV protection helps keep the sun from fading, cracking or pitting the surface of the leather.
Cons
May be too powerful for some types of leather. Please do a spot test before using this product.
May cause leather to become shiny or slippery.
Product is watery and whitish in appearance. May leave a slight white film on some leather.
Recommended or Not:
Yes but with warnings. First, this is a super powerful product so spot testing is key to good results. Second, be aware of the risk of the white film which may form after the product has had a chance to dry. It can be cleaned off but it is an extra step that should not be needed.
#10. Weiman Leather Care and Conditioner with UV Protectant: Best to Protect Against Fading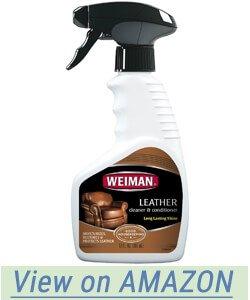 The Weiman Leather Care and Conditioner with UV Protectant is a three in one product that is meant to clean lightly soiled leather, condition it to bring back luster and softness and then to protect it from the harmful rays of the sun that can lead to cracking or fading. The product uses a Uvx-15 sunscreen ingredient that is unique to the company.
There are two areas of concern regarding this product and this company. First, the product itself is meant to be an easy care, three in one. Unfortunately there are far too many reports of white film and dulled finishes to be ignored. Sadly, that brings up problem number two which is with the lack of customer support or follow up with complaints.



Pros
Three in one product eliminates extra steps to clean, condition and protect leather.
May help stop or slow the cracking or fading associated with direct sunlight or extreme heat conditions.
Cons
There are too many complaints about the performance of this product to ignore. Be warned that you might develop a white film on your leather which must be washed off.
Customer service leaves a lot to be desired.
Recommended or Not:
No! While it might be easy to use the two listed areas of concern are enough to make us not recommend this product. Even if the white film is easy to remove from most surfaces it is an extra step that most people would prefer not having to take at all.
Buyer's Guide
Choosing the right leather care product can be difficult especially if you are caring for several types of leather. Each may need a different type of product, sometimes from different companies. The following information is supplemental to the reviews and may contain suggestions for use and more.
How did we pick the best leather conditioner?
There were a number of factors that we used to narrow down our choices to these 10. From there we used those same factors including: ease of use, safety of ingredient, price/value of the product and actual performance to choose our winner.
The Winner is:
We picked the Zymol z-507 Leather Cleaner and z-509 Leather Conditioner as the best of these 10 for a number of reasons. In addition to being a fairly good value, this was an environmentally friendly choice with good qualities. The fact that it uses commonly known and accepted ingredients like neatsfoot oil and Vitamin E is also a huge bonus.

Who Needs a Leather Conditioner?
Whether you have leather car interiors or leather furniture, you need a leather care routine that includes leather conditioners. Any type of leather should be protected to help prevent damage from sun and extreme temperature conditions. Most of these products can be used on any type of leather with the exception of anything that is unfinished or suede and similar types of leather.
Warning: none of these products are water-proofers. The word protection refers to the damages of the environment such as sunlight, extreme heat or cold and dry air. There are water proofing products for leather but those are a separate category.
Should I Use an All in One Product or Separate Cleaners, Conditioners and Protectants?
If you are just casually caring for your leather item or it is something that is rarely used/worn, an all in one product is a fine choice. They are easier to use and take less overall time because you don't have to switch bottles and applicators. However, because they are all together in one bottle, one or more of the processes is going to be shortchanged and not work as well as a separate one. For instance, when diluted in a cleaner/conditioner product the UV protection ingredient typically will not work as well as if you applied it after cleaning and conditioning.
By the very process design, you are wiping part of the useful ingredients right back off the surface that you are trying to protect.

Which are Easiest to Use?
Most leather conditioners are easy to use. Either spray or wipe on, gently scrub and then wipe dry with a soft cloth. Many of the products have applicators available or will recommend the type of cloths that are best to use. There are very few products in the leather conditioner market that are overly difficult although some may be more time consuming than others. It may depend on the size of the item you are working with, the type of product (cream vs spray) and how deeply soiled or the condition the item is in when you start.
How Often Should These Products Be Used?
Leather car seats should be cleaned as often as needed and should be conditioned at least 3-4 times per year. People who live in extreme climates should expect to need to condition and add UV protection more frequently than that. Leather furniture should be cleaned with a dry cloth once a week and conditioned twice a year. It should be positioned away from heat sources or from windows if possible.
Leather clothing, shoes and boots should be cleaned and conditioned as needed and may depend on how often they are worn and in what types of weather. Proper storage of these items is also important.
Risks and Safety Warnings
Most leather cleaners and conditioners are safe for leather of all kinds including exotics like alligator or ostrich however, they should not be used for suede or textured leather nor on specialty leathers. Painted or heavily embellished leather items may need to be professionally cleaned and conditioned to prevent damage to their surface.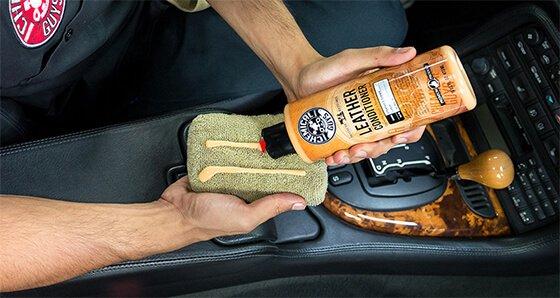 Before use, it is important to test a small area to make sure that it will not cause a film or residue, to be sure that there is not an overwhelming smell and to be sure that you are not going to change the surface appearance of the leather. For instance, some cleaners or conditioners may cause the leather to be slick and shiny when that may not be the appearance that you desire. Some products list this on their label while others do not.
Some cleaners may darken the appearance of some leathers. Special care is needed for white, cream and other light colored leathers because they are easily yellowed. This discoloration may be permanent. Leather cleaners may also stain faded or sun damaged spots in darker leathers as well. A spot test may not catch this possibility so use caution when trying to clean or restore a damaged piece of leather.

Conclusion
Leather has a certain look and smell about it. People who love it can become obsessed with its care. Treated well, leather can look nearly new for many years. If treated poorly, leather can become distressed, faded, discolored and even crack. Older leather can be restored if the condition of the surface is still okay.
Using the right products makes all the difference in the world. Leather products have been around since the first leather item was ever created. The evolution in this industry continues to be for new green products. Environmentally friendly ingredients that are all-natural and plant based will continue to become more common. Look for the bigger names to come up with their green version of their most popular products especially in the protection and conditioning areas.
Summary
Reviewer
Review Date
Reviewed Item
Leather Conditioner for Cars
Author Rating