Keeping your hardwood floors clean and beautiful does not have to be a complicated task. For the average household daily dust mopping followed by a weekly deeper cleaning is all that is necessary. Floor polishing, which involves a few more steps is typically done every month to every few months, depending on the conditions in your home, the type of mop that you use and of course, the type of floor polish.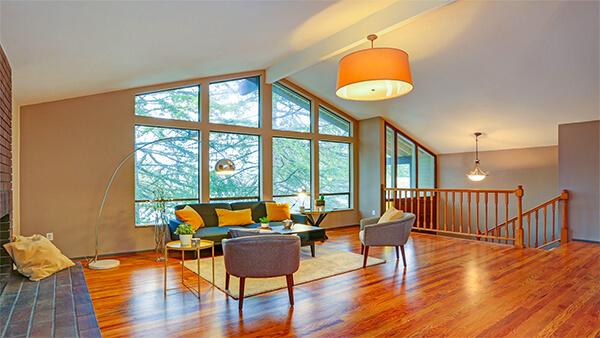 Some brand suggest more frequent use but that may be just to sell more of their product. Other brands urge the less is more approach. Many brands do come with the recommendation of complete removal after every 4-6 applications so that the polish does not build up. Those brands typically have a removal product but there are other methods that are suggested online that are just as effective and far more economical in the long run.
No matter what method and brand you use on your hardwood floors always read the label, apply as directed and always do a small spot test before proceeding. Testing is important especially when you change brands, install new floors or have any other type of change that could affect your flooring.
Always start with clean floors which is very important. Applying hardwood polish over top of dust and debris will not only cause an uneven finish but could also lead to scratches in the surface of the wood as well. Sweep and then mop the floor before adding polish with every brand.

Best Hardwood Floor Polish Reviews of 2021
Bona Hardwood Floor Polish
Size: 32 Ounce (covers about 500 sq. feet of flooring)
High gloss formulation
Adds a protective layer & fills in micro-scratches
GREENGUARD certified - low VOC emissions
Quick Shine Hardwood Floor Polish
Size: 64 Ounce
Made in the USA
Certified by the U.S. Environmental Protection Agency (EPA)
Restores the richness, color and beauty of your hardwood floors
---
#1 Weiman Wood Floor Polish and Restorer for High Traffic: Best for Microfilling Small Scratches on Hardwood Floors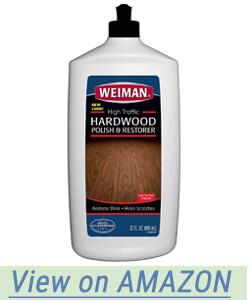 The Weiman company has made cleaning products since 1941. This Wood Floor Polish and Restorer is meant to help reduce the appearance of small scratches and irregularities by settling in to them and forming a protective layer. It is easy to use and requires no mixing or special application tools.The manufacturer does highly suggest using a microfiber mop as it provides better coverage and a more even finish. It is also considered safe enough to use around the family and pets and has earned the Good Housekeeping Seal of Approval.
Similar to Other Products in the Weiman Line
Like the Feed-n-Wax Wood Polish and Conditioner, this all in one product can be safely used on any type of hardwood or finished surface in your home including cabinets and furniture. It should be tested on a small area before each use. The Wood Floor Polish and Restorer for High Traffic does have a slightly longer drying time and may need 30-45 minutes to be fully dry. The floor should not be walked on until it is dry or there may be prints or marks that will appear.
Recommended or Not?
As a long established company, Weiman offers a wide range of products. When used as directed, this Wood Floor Polish and Restorer does reduce the appearance of some fine lines and other imperfections on most wood floors. There have been some minor issues regarding a white film that is difficult to use but that is not typical of the product and may be related to user error or anomalies in the flooring. It is very important to allow this product to be completely dry before anyone walks on the floor as foot prints may appear and ruin the surface. This particular product does have a slightly longer than usual drying time which can be inconvenient especially in higher traffic areas.
Pros
Long established company
Has earned the Good Housekeeping Seal of Approval
Can help to reduce the appearance of small lines and scratches on the surface of hardwood flooring
Ready to use in a single step without need for special applicators
Cons
Drying time can be excessive and inconvenient in high traffic areas
Poor customer service related to this product and others in the line
#2 Bona Hardwood Floor Polish High Gloss: Green Guard Certified Floor Polish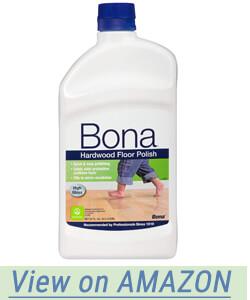 Bona's Hardwood Floor Polish promises a high gloss, durable finish without toxic ingredients and without a waxy buildup common with other polishes. It is recommended for use every two to three months depending on conditions in your home and can be used on most types of hardwood floors including those that are listed as factory finished.
Safer For Your Family and the Environment
This high gloss hardwood floor polish has been Green Guard Certified meaning that it uses fewer potentially harmful ingredients and emits fewer fumes than other, similar products.
It was designed to dry faster so that you can get on with your life without having to block off certain areas for hours on end. It leaves behind a protective layer that will fill in small scratches and improve the appearance of most hardwood floors.
About Green Guard Certification
Green Guard is a voluntary program managed by and a part of UL Environment, a subsidiary of the Underwriters Laboratories (UL). First started in 2002, the program initially tested building products and various types of furniture for harmful ingredients especially those called volatile organic compounds or VOCs. Many products emit these gases which can become concentrated in homes or businesses especially in enclosed or small areas. Normally undetected, they can become an issue especially for people who have respiratory conditions such as asthma, emphysema or chronic bronchitis. Other people may be affected with symptoms ranging from mild but persistent headaches to vomiting, dizziness and more.
Recommended or Not?
Bona is a family owned business with headquarters in Sweden. Since 1919, the Bona company has been working through every aspect of hardwood flooring for home and office through installation to daily cleaning to restoration processes. This high gloss floor polish is easy to use and has been designated as safe for virtually every hardwood floor. It is also Green Guard certified and should be used every 2 to three months. It is recommended that the floor polish be completely removed from your floor every 4-6 months so that it does not build up. This is a simple process that is explained on the Bona website.
Pros
Longstanding company with a dedication to all things related to hardwood flooring
Easy to use product
Faster drying time than other floor polishes
Green Guard certified
May reduce the appearance of small scratches and imperfections
Cons
Several complaints about the product looking different from bottle to bottle. This can be caused by several factors and may not cause any change in performance of the product
Like other floor polishes, this one must be removed from time to time. Bona does recommend using their product for this
#3 Quick Shine High Traffic Hardwood Floor Luster and Polish: EPA Safer Choice Product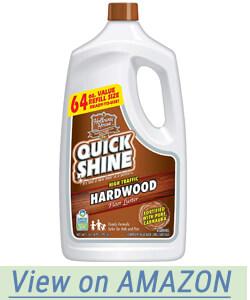 Quick Shine is made by Holloway House, a company that has made cleaning products for more than 50 years. The High Traffic Hardwood Floor Luster and Polish can be applied to any sealed wood floors and is fortified with caranuba wax. This floor polish can be used every 2 to 3 months for higher traffic areas but ever 4-6 in areas with less activity. It is applied in both areas in the usual manner including a thorough cleaning and then apply, spread and wait for the product to completely dry before allowing traffic to resume in the area.
About the EPA Safer Choice Program
Safer Choice is a voluntary program managed by the Environmental Protection Agency (EPA) of the United States. To be certified a product has to be third party verified that is safer for the home and the environment. The product must include safer ingredients and a full disclosure of all ingredients that are used. The product must be free of heavy metals, solvents and inorganic phosphates. There are also restrictions regarding packaging before being given the Safer Choice label.
Recommended or Not?
Like all floor polishes, Quick Shine High Traffic Hardwood Floor Luster and Polish should be spot tested before use on any floor. It is applied in much the same way as other brands and does build up over time which is a frequent complaint. Either people do not know that this is standard or they choose to ignore the directions that clearly state you must remove and start fresh from time to time. It can have a streaky finish on some floors but that may not be the fault of the product.
Pros
Safer Choice product for those who are environmentally conscious
Easy to use
Fortified with natural caranuba wax which comes from a Brazilian palm tree
Can be used less frequently than other floor polishes with similar results
Cons
May have a streaky appearance when dry
#4 Pledge Revive It Floor Gloss (Clear Liquid): Most Recognizable Brand of Wood Cleaning Products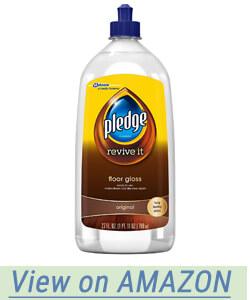 Pledge has been sold by the SC Johnson Company since the late 1950s. From furniture polish to floor care products the line has always focused on wood of many varieties. Revive It Floor Gloss is a ready to use polish (not a cleanser) that produces a long lasting shine with a mild scent. It can be used on any sealed wood as well as on other types of flooring including laminate, no wax and others. It should not be used on any surface that has not been sealed.
Easy to Use for Anyone
The Revive It Floor Gloss instructions are simple and straightforward. The label clearly indicates that the gloss should be completely removed from the floor after every 6-8 applications. Directions for doing this are also given and are clear and easy to follow.
Recommended or Not?
Pledge is a well-known and highly trusted brand name. Revive It Floor Gloss works well when used as directed which includes completely removing it at suggested intervals. Suggestions are given to improve finish including using a second coat about 8 hours after the first coat has completely dried. Drying time is fairly long and may take as much as 45 minutes to be fully dry.
Pros
Well known brand name product
Easy to use, no mixing or special applicators needed
Instructions are clear and easy to follow
Can be used on more than just wood flooring
Cons
Shine may not be long lasting for some users
May dry with a streaky finish
A residue can form if product is not removed as directed at regular intervals
#5 Howard FW0016 Feed-n-Wax Wood Polish and Conditioner: Best Natural and Non-toxic Ingredients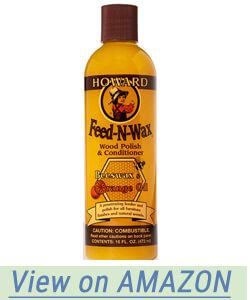 Howard Feed-n-Wax Wood Polish and Conditioner has earned the Good Housekeeping Seal of approval for this product. It is a ready to use floor polish made with beeswax and orange oil and was designed to be safe enough to use around your family and pets. It can be used on more than just your hardwood flooring and is safe for any hardwood or finished surface in your home.
One Step Ease
With just one step you can polish and restore your hardwood floors and more. Once it dries it leaves behind a protective, scratch resistant layer. It restores by settling in to smaller scratches and filling them.
This polish dries quicker than others which is a bonus especially in high traffic areas in your home.
About the Good Housekeeping Seal
Since 1909, Good Housekeeping has tested and scored products of many kinds in their labs. Every product category has several different criteria to be scored on with the points totaled at the end. A product must earn a minimum of 65 on a 100 point scale to earn the Good Housekeeping scale.
Recommended or Not?
Howard Hardwood Feed-n-Wax is made by a the Weiman company, which has been in business since 1941. It is easy to use, safe to use around the family and dries much faster than other hardwood floor polishes on the market. Available in 2 different size bottles (8 and 16 ounces) and made with natural ingredients including beeswax and orange oil, it can be used on virtually any wooden surface in your home.
Pros
Multiple uses for this product eliminates the need to buy separate polishes for cabinet, furniture and flooring
Ready to use; no complicated mixing or special applicators needed
Safer formula than many other floor polishes
Earned the Good Housekeeping Seal of Approval
Cons
May leave a white film that is hard to remove
Animal and/or human foot prints can be seen on the floor after use even when completely dry
Customer service is less than responsive via telephone and email.
#6 TriNova Hardwood Floor Polish: Commercial Strength Restorer and Protector at Residential Prices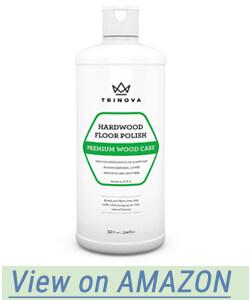 More than just a polish, this commercial strength product may help reduce the appearance of small scratches, dents and imperfections in your hardwood flooring caused by day to day activities, moving furniture or even from pet claws. This polish produces a high gloss shine even after it has completely dried.
Easy Application
TriNova's Hardwood Floor Polish is easy to use and requires no special mixing or applicators. Simply clean the floor using your regular method, apply the polish as directed on the label, spread with a regular mop or cloth and then let dry thoroughly. For best results you must allow the polish to be completely dry before allowing anyone to walk on it.
Recommended or Not?
If you prefer a less glossy or more natural finish to your hardwood flooring, this is not the polish for you. It has a very high gloss that is mirror like or may appear wet all of the time. Some people have complained that it made their floor just a little too slippery for their tastes. Another concern was that some older pets (and people) were hesitant to step on the floors finished with this polish because it may cause issues with their depth perception.

It does work as promised for most floors and small scratches may be minimized in appearance. The protective coating that is left behind may also help prevent other minor damage from occurring.
Pros
Easy to use formula does not need mixing or special applicators
Commercial strength means you may not need to use very much during each application
Protects and restores hardwood floors
Cons
May leave a film or a white powdery residue on some floors
May leave some floors too slippery to be safe
May cause problems for people or pets that have issues with vision or other sensory problems.
#7. Orange Glo Hard Wood Floor 4-in-1 Monthly Polish: Best for High Traffic Areas of Your Home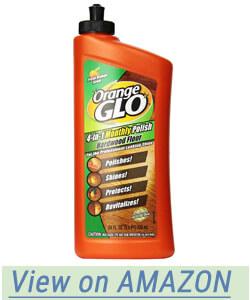 Orange Glo is a fairly well known company with products that were originally developed using real orange oil for superior cleaning and a bright, fresh scent. The Hard Wood Floor polish is made with a different formulation to prevent a slippery, dangerous finish on your hardwood floors. As a 4-in-1 product, Orange Glo Monthly Polish promises to "clean, shine, protect and revitalize". Despite the name, you will still need to clean the loose dirt from the floor before applying this product.
It is available in a number of packages including a 12 bottle pack which yields the greatest per ounce savings.
Use Monthly for Best Results
The recommendation for this hardwood floor polish is to use it once a month even in homes with high traffic or pets. It does take a while to dry and should not be walked on until it is completely dry to the touch which may be inconvenient in some cases.
Recommended or Not?
Orange Glo is a popular brand and when this product works correctly, it is great. It is not complicated to use and while the drying time could be shorter, it does usually produce great results. However, there are some concerns about the ingredients which are vaguely listed on the label and some environmental groups have raised issues with not only the labeling but the ingredients themselves. There are also some serious problems with residue on some types of floors. It is recommended that you spot test this product and wait several days to watch for signs of problems before doing the entire floor with it.
Pros
Popular brand name
Economical product
Easy to use with clear directions
Cons
May leave a powdery, white residue on some floors
Consumers have reported such serious issues that they have had to have floors professionally refinished or replaced
Buyer's Guide: What to Look for in a Hardwood Floor Polish
There are several things that you should be looking at when choosing a hardwood floor polish. These include:
Safe for your floor type
Cost effective
The level of shine that it provides
Ease of use
Does it leave a residue or make the floor slick?
Is it Safe for Your Floor?
Most floor polishes and cleansers should only be used on sealed hardwood. There may be other restrictions based on the type of flooring that you have so always follow the directions by your manufacturer/installer. In the case of homes with older floors of unknown origins, use common sense and always do the recommended spot test for any product that you are planning to use.
A spot test is especially important for people who have antique floors or whose floors may be made of a blend of hardwoods. Remember, not all woods are the same.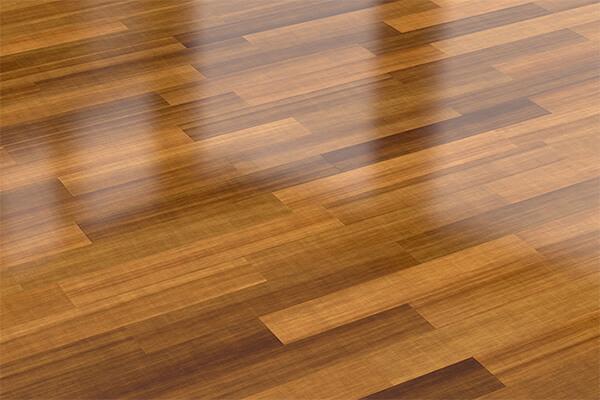 Is it Cost Effective?
Knowing how often you will be applying the hardwood floor polish will help you decide its actual cost per use. Some products are suggested for use every month while others are only used every 2-3 months or less. Your cost per use should be determined based on one coat but keep in mind that some products perform better when a second coat is applied.
Most of these floor polishes do need to be removed at regular intervals. Every brand will suggest that you use their special cleaner to do that. It is important that you keep this in mind when choosing the right product. Again, it is also important that you do spot testing during this process to prevent damage to your flooring.
Some floor polishes can be used safely on other types of flooring while others can be used on other wood items in your home. Always read the labels to see what the suggested uses of each product are and do spot tests for safety.
The Level of Shine
Shine is a matter of personal preference with some people liking a super high gloss shine like a mirror and others preferring a much more natural look to their wood. Each product will list the shine or gloss level. Doing a spot test will give you an idea of how much gloss you will get on your own floors and whether it is the right look for you.
The Ease of Use
An all in one product saves time and money by eliminating the need to use multiple products. You will still need to clean and mop the floor to remove dust and debris. Afterward, you simply follow the directions on the label and wait for the polish to dry completely. Applying the product incorrectly can increase the chance of:
A streaky appearance when dry
A longer than normal drying time
A white powdery or milky residue
A bubbled appearance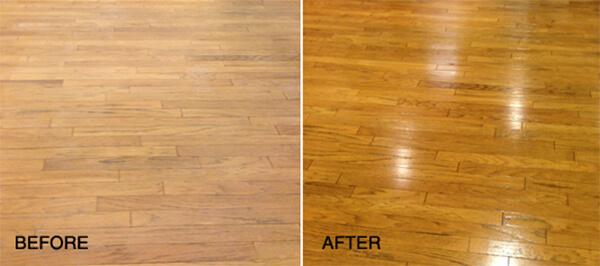 Nearly all floor polishes can be applied with a clean mop or cloth but most will have a smoother finish if you use a microfiber product for application. There are a few floor polishes that may be applied with automatic mops or similar items. Read the label of both the floor polish and the intended tool before proceeding. Some of the floor polishes are too thick to go through the spray mechanism without problem. Some have a solvent level that may be too high for the plastic tanks which might result in leaking and other issues during operation.
Never try to modify a unit to make it work in a way it was not designed to.
Residue and Slickness
Unfortunately, even the best products can behave differently in different homes because of variables in the application process, drying times and even temperatures in the house. There are many things that can cause build up and residue on your floor including not stripping the polish at regular intervals and not allowing proper drying time before allowing foot traffic to resume. Other things like not doing a thorough cleaning before using the floor polish can also factor in to the appearance of your hardwood floors.https://cleanhomeguide.com/?p=1907&preview=true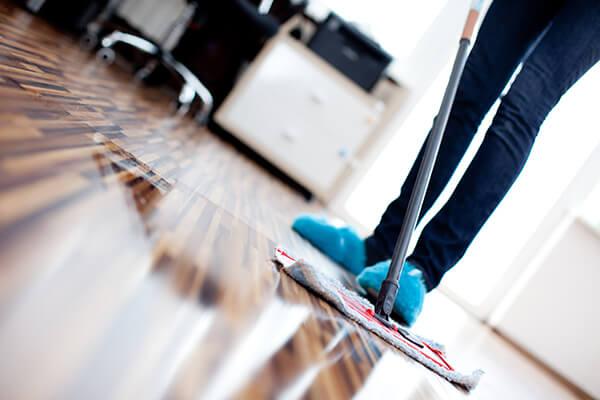 Excessive slickness is another reason that spot testing is so important. Even in floors that have low gloss, the finish may be slippery in areas to the point of becoming a falling hazard. In homes with pets, small children and older adults this could have potentially life threatening consequences.High gloss could also confuse older adults and pets and make them reluctant to step on the floor.
Unfortunately, not all polishes can be easily or quickly removed from the floor so this could be especially problematic. Read the labels and read reviews but do your own spot test before proceeding especially in the higher traffic areas in your home.
Some Final Thoughts
Hardwood floor polishes are great when they work as intended especially in older homes. Day to day life can be hard on hardwoods and may leave behind scuff marks and small scratches over time. Floor polishes not only brighten the look of the wood but can also provide a protective coating that will help prevent some of this damage and minimize the appearance of small lines. None of these products are miracle workers though so do not expect them to be able to fill in deep or wide grooves, gouges and large imperfections.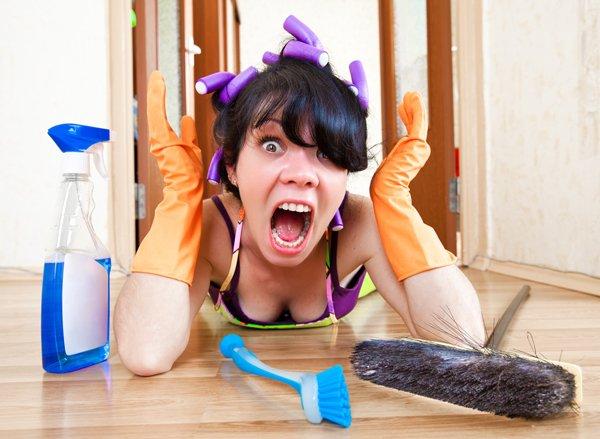 All floor polishes should be applied as directed including following the timing guidelines and removing as directed. Never use a floor polish on your flooring if you are not sure of what it is made of or if it is sealed or not. Even when you do know you should be doing the spot testing with every single bottle as some brands may change formulation but not indicate this on their label or packaging.
Several of the products listed here are considered more environmentally friendly but that does not mean they are completely harmless. It is important that these and other cleaning products are kept out of the reach of children and that family and pets are kept out of the room until the product has completely dried. If you experience dizziness or become short of breath while using these hardwood floor polishes get out of the room and in to fresh air immediately. If the symptoms do not resolve in a few moments get medical help.
Used properly hardwood floor polishes can extend the life and beauty of your hardwood floors, keeping them looking fresh and new for many, many years. Some products do give some protection from scratches such as from pet claws and heavy foot traffic but no traffic can provide complete protection from everything. Follow the care guidelines for your flooring as much as possible and always use proper precautions when moving furniture. Try to avoid sharp or angular objects on these floors as the focused pressure can make dents and even wear holes right through the wood. High heels can also be a problem, so slip on slippers while in the house to save the look of your floors. Your hardwood and your feet will thank you.