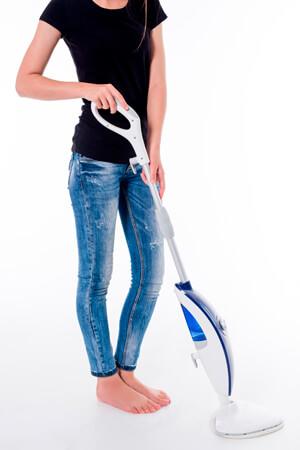 Steam is a universal cleanser, able to get caked on grime to loosen up, gently removes wrinkles from clothing and curtains without having to bring out an iron or even remove them from the curtain rods and more. Steam mops are very popular especially with people who are fastidious because they can get past just "clean" to a deeper level. Before buying a steam mop it is important to make sure that you know the difference between clean and sanitized first and foremost. It is also important to know what it takes to achieve those two levels in your own home.
Clean is the rather obvious one and it means exactly what you would think: the surface is free from visible soil of any kind. Clean might be acceptable in some places and for some people but for others it is simply not good enough.
If sanitized is the goal, you will need very hot steam as this term means that pathogens have been killed and removed to a level of 99.99%. (Sterilized would mean that all pathogens have been killed and removed).
To sanitize a surface, the steam must be at a minimum temperature of 175 degrees F. At 212 degrees, steam can kill the most common pathogens including e.coli, staph and salmonella in just 1 second.
These are the bacteria that are responsible for illness like food poisoning and more and can pose serious health threats to young children, older adults and anyone who is already health compromised.
A good steam mop should have a large tank that is easy to fill with the ability to heat water rapidly. Accessories are nice but not necessary but safety features like automatic shut off and convenience features like an extra long power cord are great as well.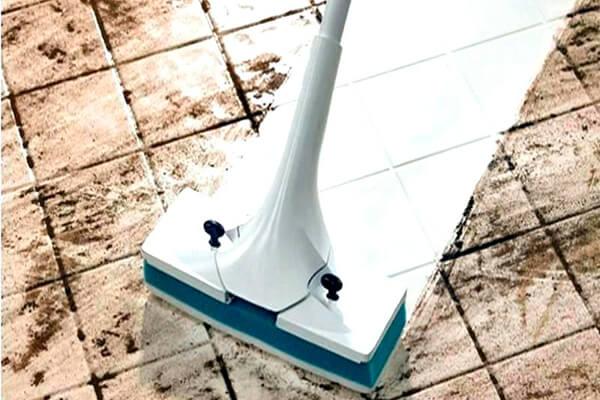 What you fill your steam mop may matter as well. Some mops say that they will work fine with simple tap water but if you live in an area with notoriously bad or hard water, you may find the machine clogged more often than not.
Using distilled water is recommended for most steam mops but even those become clogged from time to time. It is a simple process to clean them. You simply run plain white vinegar for a cycle. That will clean out all of the gunk without harming the machine. You can use the heated vinegar on some floors but not all of them.
No matter what your steam mop is filled with, it is very important that you use care on every surface. Never use a steam mop on unsealed floors or on floors that are very old. Some flooring and other surfaces can be badly damaged by heat of any kind. If you are ever unsure, do a small test area before you get down to the serious cleaning. Remember, the steam is very hot and even the best designed steam mop can leak hot water from time to time.
Do not let small children handle the mop and keep them and the pets out of the room until everything has been sanitized and dried properly.
Best Steam Mop for Tile – Reviews of 2019
#1. The Bissell Power Fresh Steam Mop and Floor Cleaner: Most Versatile Steam Mop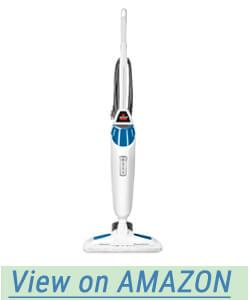 Founded in 1876, the Bissell name has been a familiar one in the cleaning products industry. Starting with a sweeping machine designed by founder Melville Bissell, the company has been keeping pace with other companies in terms of trends and innovations. The Bissel Power Fresh Steam Mop and Floor Cleaner is versatile and can provide deep level cleaning and lasting freshness to a wide variety of water safe surfaces all over your home. Available in a number of bundles including: Power Fresh only, the Freshen Your Clean bundle, the Long Lasting Performance bundle, the Refresh Your Floor bundle, the Steam Mop and Natural Cleaner bundle and the Steam Mop and Natural Cleaning wipes bundle.
Versatility in a Simple Package
The Bissell Power Fresh Steam Mop and Floor Cleaner can be used on tile, hardwood, vinyl, stone and other, sealed surfaces and kills up to 99.99% of germs and bacteria. Choose from three levels of steam (low, medium and high) based on your exact needs. For tough dirt there is a flip down easy scrubber that lets you blast and scrub away even ground in grime. It has swivel steering for easy maneuverability and a 23 foot power cord so that you can plug it in and clean most average sized rooms without having to reposition the plug in the process.
The steam is heated and ready to use in around 30 seconds. The entire unit weighs less than ten pounds and comes with a 1 year warranty.
What You Get
In addition to the steam mop itself, you get a microfiber soft pad plus a microfiber scrubber pad for tougher jobs, 2 spring breeze fragrance discs and 1 carpet glider so that you can refresh your carpets with steam.
The fragrance discs deliver a subtle burst of fresh scent along with the cleaning steam and should be removed before washing the microfiber pads.
Recommended or Not?
The Bissell name is a familiar one in most households for a lot of reasons. It is not an expensive machine by any means and does have a number of huge advantages such as the washable microfiber pads and the swivel steering. It is also lightweight so it will be easy to store away and not exhausting to use on cleaning day.

Be warned that there is only a 1 year warranty on this model and warranty service may only apply to certain parts and not the entire unit. With these warnings in mind, this is still a decent steam mop and should be capable of handling most household tasks.
Pros
Lightweight and easy to maneuver.
Flip down scrubber plus a microfiber scrubber pad can tackle tougher chores.
Spring Breeze Fragrance Discs are an interesting innovation.
Cons
Customer service is not as one would expect from such a highly respected company.
Repairs and warranty service are only done on plastic parts and not the working mechanics of this steam mop.
#2. The Shark Steam Pocket Mop (Model no. S3501): Most Lightweight Steam Mop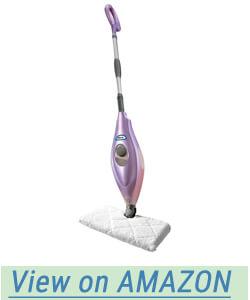 The Shark Steam Pocket mop is ultra light at just under five pounds but still has an extra large water tank that can be filled with regular tap water. The tank holds 450 ml (just over 15 ounces) of water which is super heated and ready to go in less than 30 seconds. This steam mop has a 20 foot long power cord and swivels to get around corners and tight spots with ease. The soft grip handle is designed to be easier on your hands even during long cleaning sessions.
What You Get
In addition to the Shark Steam Pocket Mop you get 2 machine washable microfiber pads.
Recommended or Not?
The Shark name is among one of the most easily recognized and gaining on top competitors at a pretty quick rate. The company behind Shark increased sales to go from 1% of the US market in 2008 to 20% in 2014. (Forbes). Innovation is one of the key factors in the increased growth with more and more design changes coming from in house rather than from outsiders. This is a fairly inexpensive steam mop and it is among the lightest on the market making it a great pick for people who cannot handle the larger machines.

This model is not perfect and may not perform as well in some tasks as others but it is still worthy for use as an add on machine or for light to moderate cleaning tasks.
Pros
Super light- it weighs only 4.87 pounds.
Larger water tank than other pocket mops means less time refilling and more time cleaning.
Washable microfiber pads eliminates the need to buy expensive refill pads.
Swivel steering lets you move around obstacles and corners with ease.
Cons
May not glide easily on some surfaces making it harder to push for some people.
It tends to leak water. Use caution when using this or any other steam mop and make sure to properly dry any surface after use.
May not be able to clean well for some tasks. May not sanitize areas at all.
#3. Steam Mop by Light'N'Easy: Best Multipurpose Steam Mop and Cleaning Tool 5-in-1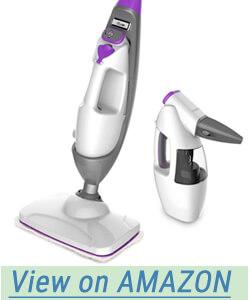 The Steam Mop 5-in-1 is more than just a steam mop. It is also a carpet cleaner, steam cleaner, handheld garment steamer, and can even clean windows, mirror and other glass surfaces. The 11.5 ounce tanks provides between 20 and 25 minutes of super heated steam to kill up to 99.99% of germs and bacteria on all water safe surfaces. Fill the tank with ordinary tap water and you are ready for steam in 30 seconds. Choose from three levels of steam based on your cleaning needs. The entire unit weighs just over six pounds. There is a 1 year warranty with a free replacement policy.
What You Get
In addition to the steam mop unit, you get 1 cloth pad, 1 scrub pad, a flexible hose, a jet steam nozzle and the water cup for easy tank refills.
Recommended or Not?
With 1 simple tool you can clean virtually any surface in your home eliminating at least 5 other tools and their associated expense. The unit is light but durable and the ability to choose steam levels based on need is a great feature. Being able to use tap water instead of having to buy distilled water every time you need to do some cleaning is also a big plus. The cleaning pad could stand to be improved but otherwise this is a decent machine at a fair price.
Pros
Versatility: 1 lightweight steam mop lets you tackle everything from the windows to the floors.
20 minutes of steam per tank lets you get a lot of cleaning done before having to refill.
20 foot power cord is convenient.
Easily converts to a handheld garment steamer so that you can remove wrinkles from your favorite clothes plus refresh your drapes without having to take them down.
Cons
The cleaning pad is not the best and could be improved.
Customer service is slow and/or non-responsive. No one wants to have to have their items serviced but when it is necessary you want someone to answer the phone or respond to an email.
#4. O-Cedar Microfiber Steam Mop with Extra Refill: Best Steam Mop on a Budget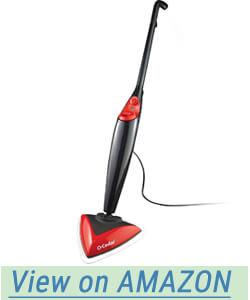 O-Cedar's parent company started in the 1900's selling cleaning waxes and other products door to door. They know sell a wide range of cleaning products and aids including brooms and dustpans and mops of nearly every variety. The Steam Mop was designed to be easy on the user and on the wallet with a small price. Weighing in at just 5 pounds, this steam mop has adjustable steam levels and is ready to heat ordinary tap water to sanitizing steam in 20 seconds.
Easy to Use Design
The O-Cedar Microfiber Steam Mop is not only lightweight but has a triangular head making it perfect for reaching in to corners. A snap on glider allows you to refresh your carpets with the power of steam and the microfiber pads are completely machine washable so that they can be used over and over again.
Recommended or Not?
With its low price, light weight and easy to use design it is a good mop for light to moderate cleaning and might be perfect for people who like to do a quick run through daily so that dirt doesn't get a chance to build up at all. However, there are some issues with durability so don't expect a lifetime of use out of this steam mop.
Pros
The price is perfect for people who want to sanitize but not blow their entire budget to get it done.
The triangular head is perfect for cleaning in tight areas and in corners.
Light enough for virtually anyone to use.
Adjustable steam levels and quick heating time means that you can get right to work and power through your cleaning tasks.
Washable microfiber pads are easy to use.
Cons
Customer service is slow or non-responsive whenever there is a problem with any of their products. This is an internationally known company that should be able to provide better customer care.
This is not one of the most durable designs on the market.
#5. SKG 1500 W Steam Mop With Accessories Package: Best Accessories For Super Versatility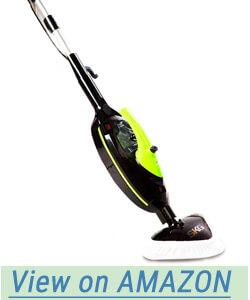 The SKG 1500 W Steam Mop comes with a number of features that make it easy to use as well as a large number of accessories that allow you to do far more than just clean and sanitize your floors. It starts with a 180 degree, swivel head with a triangular shape so that you can get in to corners and tight spots with ease. On demand steam allows you to choose from minimum to maximum based on your cleaning needs. There is also an alarm that sounds whenever the water level is low.
If you buy from Amazon you get a 30 day free trial. This unit comes with a 2 year warranty and lifetime customer service.
The Accessories
In addition to a snap on carpet glider for refreshing and spot cleaning you get a sofa microfiber pad plus the sofa cleaning head, a multipurpose cloth, a tile cloth and a table cleaning cloth. A steam head for tile and a triangular microfiber pad are also included.
There are also several nozzles and brushes for this steam mop. There is both a straight and an angled nozzle, a long brush, rubber brush and a copper brush. Finally, there is also an extension hose to make this an easy to use steam mop in virtually any area of the house.
Recommended or Not?
If you like a lot of gadgets and tools, this is the unit for you. If you have a simpler cleaning routine in mind then you might be frustrated with the extras and accessories. It does have a slightly smaller than average reservoir which can be frustrating when you are trying to do a deep clean of the entire house. Like other steam mops it does leak and splutter and may leave your floors wetter than you would like. Over all, it is a great unit for the price and the number of attachments that you get.
Pros
Lots of accessories for anything you might want to steam clean in and outside of your home.
Lifetime customer service lets you get answers even after your warranty has expired.
On demand steam lets you choose how you clean based on needs.
Low water level alert lets you know when to refill before you run dry.
Swivel head makes this an easy to steer and guide steam mop.
Cons
Water reservoir is small and difficult to fill.
Unit leaks and splutters and sometimes leaves the floors too wet.
At 13 pounds this is a slightly heavier than the average steam mop.
#6. Smart Living Steam Mop Plus: Most Fashion Forward Steam Mop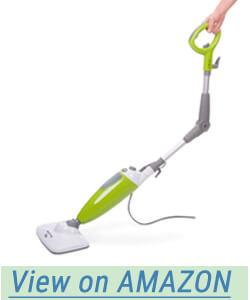 If appearance of even the cleaning tools in your home matter, this is the steam mop for you. The basic, lightweight, high temperature steam mop gets a fashion makeover in white and kelly green for a unit that is attractive enough to leave sitting in the corner all of the time.
Not Just a Pretty Face
In addition to being pretty, the Smart Living Steam Mop Plus delivers steam that reaches 230 degrees in just 30 seconds. Smart Living recommends using only distilled water in this steam mop. It uses washable microfiber pads and weighs just 7 pounds and has a 1 year warranty.
Recommended or Not?
It's an attractive steam mop but it doesn't have any features or accessories beyond the cute colors to justify the higher than average price tag. It isn't the easiest to use version of steam mop on the market either so if you are only interested for something that looks cute or goes with the decor, this is the mop for you. Otherwise, there are better, more durable and user friendly styles to choose from.
Pros
It is attractive.
The temperature reaches 230 degrees which is hot enough to kill virtually any germ or bacteria on nearly every surface.
It is only 7 pounds.
Cons
It is far too pricey for a basic steam mop with zero additional functions.
You must use distilled water in this steam mop.
It is not durable or easy to use.
Smart Living's customer service is not good.
#7. Bissell Spinwave Plus in Silver: Best for Use With Cleaning Solutions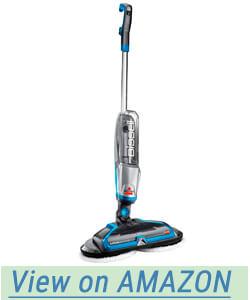 The Bissell Spinwave Plus is available as either a corded (Silver) or cordless (green and silver) steam mop. Using either water or the suggested cleaning formulas, you can use this steam mop to clean floors from tile to granite, vinyl and wood. Any sealed floor or water safe surface can be cleaned using this multipurpose cleaner from one of the top trusted brands in the industry.
Scrubbing, Rotating Pads for Easier Cleaning
The Bissell Spinwave Plus has a 28 ounce water tank that can be filled with either water or special formula cleansers. It includes 2 soft pads for gentle cleaning and 2 scrubber pads for tougher cleaning tasks. There is also a bristle brush and rotating mop pads. Swivel steering makes the unit easier to handle. All pads are machine washable. The corded Spinwave Plus has a 22 foot long power cord and weighs 11 pounds. This unit has a 1 year warranty.
Recommended or Not?
Bissell is a trusted name in the cleaning product industry. With the Spinwave Plus you have the option of the cordless or corded model with the same features and benefits so you can really pick the one that best fills your needs. The rotating mop pads are good for lifting grime without having to do a lot of bent over scrubbing or worse, getting on your hands and knees to finish a task that the mop is leaving behind. It would be wise to consider getting an extended warranty on this steam mop but it can be perfect for light to moderate cleaning tasks.
Pros
Rotating mop pads are an innovation that should be standard on all steam mops.
Bonus formulas: wood and multipurpose trial sizes.
On demand spray.
Swivel steering.
Cons
Not as durable as other Bissell products.
Not effective especially on tougher messes.
#8. Shark Steam Mop with Extra Large, Removable Water Tank Model No: S1000A: Most Recognized Brand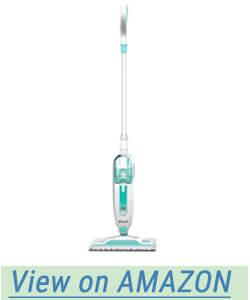 The Shark Steam Mop with Extra Large Removable Water Tank has on demand steam that is to the correct temperature in 30 seconds. The tank is easier to fill than other units which use built in, non-removable tanks. It is ultra-light, weighing just over 4 1/2 pounds. It has an 18 foot power cord and uses 2 microfiber pads. There is a 1 year warranty on this unit.
SharkNinja is one of the leading brands of a number of cleaning and other small home appliances. The Shark name is one of the most easily recognized on the market today and is competitively priced with similar features to other brands.
Recommended or Not?
If a name is important to you, Shark is one that is not only easily recognized and familiar but trusted as well. This is a basic steam mop wit the traditional features that you would expect on this type of product. The removable water tank is a great feature and makes refilling so much easier.
Pros
Super light at just under 5 pounds.
Comes with 2 microfiber pads which are machine washable.
Steam is on demand.
Priced under $60.
Cons
Customer service is very poor and unresponsive.
Does not produce a lot of steam.
Steam does not seem very warm which makes it ineffective for sanitizing any surface.
There is no way to control how much steam you release at any given moment.
#9.The Light'n'Easy Steam Mop (Model No. S7339): The Most Flexible Steam Mop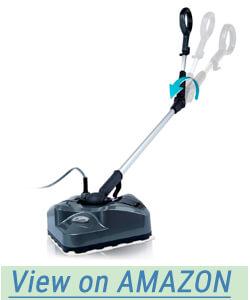 The Light'n'Easy Steam Mop has the standard steam mop features with a slight twist. Instead of a trigger release for on demand steam, this mop uses a smart sensor. The faster that you move the mop, the more steam is created and released. The 90 ounce tank heads water to the correct temperature in 20 seconds. There is a carpet glider that allows you to refresh your carpet.
Flexibility Where it Matters
One of the most unique features of this steam mop is the bendable handle which lets you maneuver under cabinets, beds and other objects without having to bend over. This flexible handle also can come apart for easier storage.
This unit has a 20 foot power cord, a 1 year warranty and customer service is offered 24 hours a day.
Recommended or Not?
If you have a lot of heavy furniture that you need to clean around or under, the flexible handle is one of the best things that you could have. It is fairly lightweight and easy to use.
Pros
Smart sensor controls the amount of steam that is released by the speed of the mop's movement.
Lightweight at just over 6 pounds.
90 ounce tank gives you more cleaning time.
Bendable handle is perfect for cleaning under furniture.
Cons
Steam may not be hot enough to provide sanitizing.
Some units take longer than the stated 20 seconds to heat up.
#10. The Sienna Luna Plus Steam Cleaning System (Model No. SSM-3016): Most High Tech Steam Mop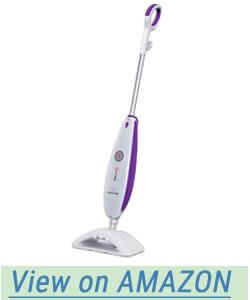 If you are interested in advanced technology, this is the steam mop for you. It starts with the Luna Plus sonic micro pulse vibration technology which delivers 90 vibrations per second to loosen and break up ground in dirt and grime. There are three levels of steam and it heats to 212 degrees in 30 seconds. There is a LED light source so that you can see exactly where you are going and a black light that shows you exactly what you are missing. A shoulder strap makes this steam mop easier to use and portable.
What You Get
In addition to the steam mop you get a 6×13 microfiber pad, 4 nylon brushes, a carpet glider kit, 2 additional washable pads, a cleaning steam head, a window squeegee, A concentrator nozzle and an extension hose. A fill cup plus a storage bag are also included. The steam mop weighs just under 7 pounds and has a 15.2 fluid ounce water tank.
Recommended or Not?
If you are tech junkie, you finally have a steam mop that was designed with you in mind. The black light is good for checking for possible pathogens that you are missing with this or other cleaning implements. The LED light source lets you see where you are going. The Sonic Micro Pulse vibration tech is perfect for breaking through tough crud.
Pros
Micro pulse vibration technology is not only innovative but effective as well.
LED light source is like a car's headlight, showing you where you are going.
Black light shows what you are missing during regular cleaning sessions.
Plenty of accessories including a storage bag to keep them altogether.
Washable microfiber pads for various purposes including a larger one for larger messes.
3 levels of steam that heats to a germ killing 212 degrees in 30 seconds.
Cons
Not very durable with complaints that the same piece breaks after only a few uses.
Tank is fairly small meaning that you are continuously refilling during every cleaning job.
Buying Guide
When choosing a steam mop there are several things that you have to consider. These are:
Whether you need distilled water or not
How do you control the steam?
Are there any accessories and how important are they to your decision?
The surfaces that you are using the steam mop to clean
Distilled vs Tap Water
For most steam mops, the instructions will recommend tap water. You may void your warranty if you do not follow this suggestion and may eventually ruin the steam mop altogether. Tap water is filled with minerals and contaminants that will block the small openings that allow steam to flow through. You may need to run white vinegar through the mop to clean and degunk these openings. If you have tried that and are still having less than adequate steam flow there may be a more serious problem.
Even on steam mops that are "okay" with tap water, distilled water is the safer option in the long run.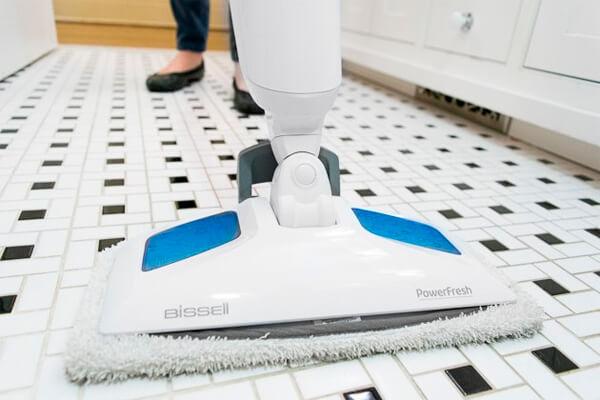 Controlling the Steam
Every steam mop has a different way of controlling the steam. Some use a setting where you select from a set range (usually low to high) and go from there. Others use "on demand" which allows you to release a burst of steam by pulling a trigger on the handle. Some steam mops use a smart sensor which is triggered by the speed of the mop itself. With this type of system, the faster that you mop the more steam is created and released.
Not every steam mop has a control. Using a mop that does not allow you to decide how much steam to use can be frustrating and typically leaves you refilling the tank more often than you need.
The Need for Extras and Accessories
If you are just buying a steam mop for quick clean ups around the house, you won't need accessories. On the other hand if you plan to steam clean every surface that you possibly can, accessories will help you manage more tasks and make the most of your steam mop. Basic accessories like a carpet glider and extra microfiber floor pads are important but there are packages that have far more than these and may include an assortment of brushes, nozzles and other attachments meant to let you clean cabinets, windows, mirrors and glass and more. There may be a concentrator nozzle so that you can use your steam mop to clean narrow areas more efficiently.
Some steam mops include the accessories that will allow you to convert it to a handheld steamer perfect for steaming the wrinkles out of clothing and draperies.
The Need for Caution
Steam and hot water can damage certain types of surfaces. If you have any question about the safety of a steam mop on your flooring, avoid their use. As a general rule, you are okay on any sealed floor as well as on any water safe surface. Spot testing is never a bad idea and should be done with every new type of cleaning tool that you are trying out. If you have replaced your steam mop with a new model or new brand it is still a good idea to do the spot test to make sure that nothing has changed.
Any steam mop that you buy should be easy to push and to steer, with an adequately sized water tank. This tank should be fairly easy to refill. Being able to remove it is great especially with a heavier mop that you may not want to lug back and forth to a water source during every cleaning session. Make sure that you follow directions for filling and installing the tank. Allow the water to heat to the correct temperature before you begin cleaning.
Remember that it must reach 175 degrees to sanitize and that steam at 212 degrees will kill most germs and bacteria in only one second.
Final Thoughts
A steam mop can be a valuable tool especially for a family that wants to combat illnesses where they start. That means that steam must reach a minimum of 175 degrees and must remain at that temperature the entire time you are cleaning. The best steam mops are the ones that are easy to set up, quick to heat and light enough that long cleaning sessions do not wear you out. You want to be able to get through an entire room without unplugging several times and without having to refill the water tank over and over.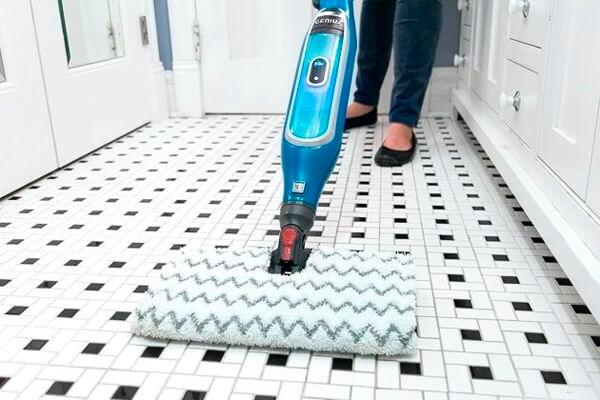 You also want to find one that does not leave your floor a soggy, wet mess when you are done. If you have to mop after your have used your steam mop, you have the wrong model. Make sure that you are only filling the tank as directed and are properly reattaching it. If this does not change the level of water that is coming out, you may have a broken model or just one that is poorly designed.
For most people steam mops are the tool they use for deeper cleaning a few times a week. Others may use theirs every day or every other day. The more that you use your steam mop, the better the model will have to be. Make sure that you know what you need from the mop, set a solid price range that you are willing to spend and then follow through with your research to find the perfect steam mop to meet all of your cleaning needs.
Summary
Reviewer
Review Date
Reviewed Item
Author Rating