There are 2 words that can make virtually everyone in the room recoil in terror. Those words are "bed bugs". Bed bugs are found in every state in the US and seem to be less than worried about climate, temperature or living conditions. As long as they get their favorite meal (human blood) every few months or so, they are good to go.
In fact, the average bed bug can live as long as three months without eating. When she does get a meal, a female bed bug will lay between 1 and 5 eggs per day. That amounts to roughly 500 eggs in her lifetime and she is rarely there alone.


While most people think of hotels and motels when they think about bed bugs, the industry experts say that 91% of all bed bug infestations are in private homes.
One in 5 people in the US have had bed bugs in their home at some point.
Bed bugs look like an apple seed when they reach their full size. Before that they are microscopic and able to fit in the stitch hole of your mattress or other fabrics. You may notice that you may have a problem by small stains on your bedding or furniture (bed bug feces) or by the bites they leave behind. They have developed resistance to many of the home based chemicals so they are doing you no good. In fact, you are only going to make your family sick, damage your furniture and possibly kill your small pets but you will still have bed bugs.
Exterminators are a solution but they are expensive and usually will need to come back for at least one repeat treatment.
Steam cleaners are the other option and something that you can use at home.
To kill bed bugs:
Steam must be at 113 degrees for 90 minutes.
At 118 degrees the time is cut to 20 minutes.
Steam can be used in cracks and crevices to a depth of just under three inches.
Steamer should have a capacity of around a gallon of water.
Your average carpet cleaner will not work because the water does not get hot enough. Be careful with how you use the steam cleaner and make sure that you read all instructions carefully. Do not use the pinpoint pressure because you are merely blowing the bed bugs around and not killing them. Here are some the best steamers for bed bugs for ridding your home of bed bugs and more.
Review of Top 10 Best Steamers for Bed Bugs
#1. McCulloch MC 1275 Heavy Duty Steam Cleaner: Best Steam Cleaning Accessories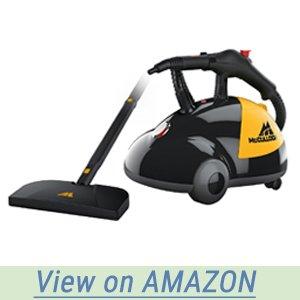 The McCulloch MC 1275 Heavy Duty steam cleaner provides pressurized steam so that you can clean virtually any surface inside and outside of your home without harmful chemicals and without scrubbing for hours on end.
This model has a number of accessories that allow you to make quick work of virtually any cleaning task.
Water is heated and ready to steam in less than 8 minutes for around 45 minutes of continuous steaming action. The tank is 48 ounces. The unit comes with a super long power cord (15.7 ft.) and a 9 foot hose so there is nothing that you cannot reach.
Accessories include: floor mop and mop pads, brass brush, scrub pad, squeegee, 2 extension wads for even more length, a funnel and measuring cup for easy tank filling, a triangle brush for all of the corners and 5 nylon utility brushes. The whole steam cleaner weighs just under 15 pounds.

Recommended or not?
There are more than enough accessories to ensure that you get the widest range of use out of the unit both inside and out. The long cord and hose plus extension wads makes it even easier to use. Check the temperature of the steam as some people found it wasn't quite hot enough but if it is reaching steam levels it should be high enough to kill bed bugs.
Pros
Plenty of accessories for virtually any cleaning need.
Optional trigger lock means you can use continuous steam and brush away loosened dirt at the same time.
Not overly heavy.
Super long cord, hose and 2 extension wands lets you reach back in corners, down on the floor and up high without having to stretch, climb or stoop.
Cons
May not be very durable.
There are no replacement parts available if something becomes damaged or missing.
Steam does not seem hot enough to some people.
#2. Dupray Neat Steam Cleaner: Best Pressurized Steam Cleaner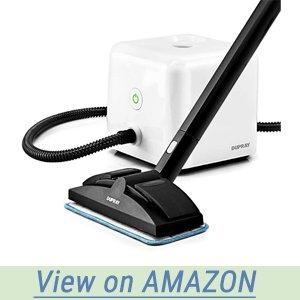 The Dupray Neat Steam Cleaner heats water up to 275 degrees for nearly an hour of cleaning time per full tank. While there are 18 accessories for this steam cleaner you have the option of using a regular towel or soft cloth to clean the floors instead of using pads. Water heats in around 7 minutes and emits low moisture steam for easy, non-soaking cleaning of virtually any surface. A trigger lock allows you to use constant steam and the entire unit will travel along behind you on smooth roll wheels.
A super long (16 ft) power cord and steam hose (6'6″) lets you reach corners, behind furniture and high and low places without having to climb or stoop. The tank is easy to fill with its builtin funnel and holds 54 ounces of water.
Steam pressure is rated at 50 psi (Pounds per square inch). The entire unit weighs under 10 pounds. There are 18 accessories that include: a rectangular floor tool, three microfiber pads, a window tool, 2 extension tubes, a microfiber cloth, a triangular tools plus the microfiber bonnet for it, 5 nylon brushes, a brass brush and an AddFresh fragrance disc.
Recommended or not?
The super high temperatures reached by this unit ensures that bed bugs, germs and bacteria are dead with an effectiveness rate of 99.99%. The unit is under 10 pounds and has plenty of accessories for all of your cleaning needs. A three year warranty is offered on most components while the steam cleaner boiler is covered for a lifetime. The tools are super useful as is the ability to use regular towels for floor pads if you would prefer. This steam cleaner emits less water than others making it especially good for use on mattresses, carpets, curtains and furniture.
Pros
Accessories that help you make the most of your steam cleaner's abilities.
Super long cord and steam hose lets you reach more areas.
Triangular tool lets you get deep in to corners where dirt and dust likes to accumulate.
High pressure and high temperatures like you would get in a far more expensive, commercial machine without the bulk.
Cons
Plastic pieces can bend, warp or break under the high heat.
The tank may leak.
#3. Steam Fast SF-370WH Multipurpose Steam Cleaner: Super Light Steam Cleaner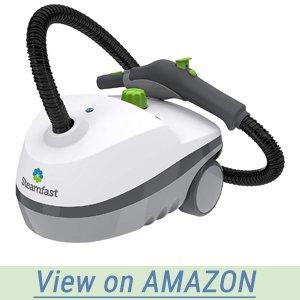 The Steam Fast SF-370WH multipurpose steam cleaner can be used in a variety of ways. A steam release lock allows you to use continuous steam or as a steam on demand. The 45 ounce water tank gives you around 45 minutes of steam cleaning time. The water is heated and ready in around 8 minutes. The unit is super light at just over 8 pounds and the power cord is very long.
The Steam Fast SF-370WH comes with 15 accessories including: a jet nozzle, 2 nylon utility brushes, a scrub tool, a squeegee, a corner tool with a both scrub and sponge pads, 2 extension wands, a mop head with 2 microfiber pads and a measuring cup for easy tank filling.
Recommended or Not?
The Steam Fast SF-370WH Multipurpose Steam Cleaner is light enough to carry around the entire house but the long power cord allows you to reach more places without having to do so. The accessories help with some of the finer details of steam cleaning and the heat is high enough to kill bed bugs and other nasty home invaders like germs, viruses and bacteria.
Pros
Super light, under 10 pounds.
Inexpensive (under $100).
Plenty of accessories for most cleaning tasks.
Cons
The unit's steam pressure is fairly low.
Some units may have defective switches.
#4. PureClean XL Rolling Steam Cleaner: Most Water and Steam Capacity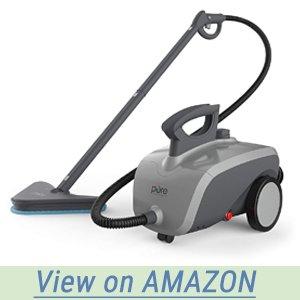 The PureClean XL Rolling Steam Cleaner has a large 1.5 liter water tank which produces over 45 minutes of steam. It only take 8 minutes for the water to heat to the correct temperature. The unit has smooth rolling wheels and an extra long, 16 foot power cord to make it easier to get to all of the areas in and out of your home that need the power of steam.
It comes with a number of accessories including: a mop head plus 2 microfiber mop pads, a triangular brush, a steam jet nozzle, a squeegee, 5 nylon utility brushes, a brass utility brush, a scrub pad, 2 extension wands, a measuring cup and a funnel. The PureClean XL Rolling Steam Cleaner has a 5 year, limited warranty.
Recommended or Not?
The PureClean XL Rolling Steam Cleaner is at the lower end of home steam cleaning machines. The accessories and long power cord make it super simple to use in any location inside or out. The 5 year warranty is great and probably necessary because it looks like many of the units die after the first year. Keeping that in mind this might be an acceptable option but keep all of the necessary documentation in case you need to exercise that warranty.
Pros
Plenty of accessories extend how you can use this steam cleaner.
The large tank gives you more steam time between refills.
Average heating time is around 8 minutes.
Cons
Plastic parts can break easily.
Too many units reported as dead after just 1 year.
Flimsy parts can allow steam or hot water to leak out of the unit which increases the risk for damage to the surface below and/or burns to the user.
#5. Vapamore MR-100 Primo Steam Cleaning System: Award Winning Steam Cleaner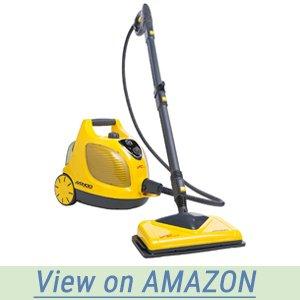 The Vapamore MR-100 Primo Steam Cleaning system was awarded the Best Steam Cleaner in its Class by a leading consumer rating digest. The company also had the confidence to back it with a lifetime warranty as well. It heats steam to between 210 and 220 degrees in less than 10 minutes and gives a total of nearly an hour of steam per tankful.
Accessories include: a floor cleaning head, a triangular corner brush, 2 extension wands, a water level dipstick, a steam gun and hose for concentrated steam cleaning, a carpet slider, a microfiber floor pad, a detail accessory adapter, a jet nozzle tools, a detail scraper, a nylon grout brush, 2 nylon brushes in medium and large, a brass metal brush, a clothes and fabric tool plus the cotton cover for it, a smooth surface squeegee, a measuring cup and funnel for easy water tank filling, a replacement O ring set and an accessory storage bag to keep everything in one place.
Recommended or Not?
The Vapamore MR-100 Primo Steam Cleaning System won the best in its class award from a well known, leading consumer rating digest. It does have some good accessories and the hour per tank is an industry leader for home based steam cleaning machines. It does provide plenty of heat, high enough to kill germs and bed bugs which is a plus. But, it is pricey at nearly $300 and does not provide pressurized steam like less expensive models can. Some units leak water nearly constantly which can ruin the floors beneath them if you aren't careful.
Pros
Highly rated, Best in Class steam cleaner.
High temperatures are enough to kill bed bugs plus germs and viruses.
An hour worth of steam per tank is among the highest in the industry.
Cons
It is a very expensive machine for home use.
There is no pressure to the steam.
It may leak or spit out too much water.
#6. Conair Extreme Steam Handheld: Best Handheld Steamer on a Budget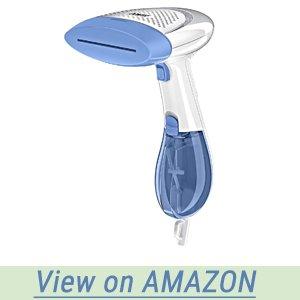 The Conair Extreme Steam Handheld steam cleaner was designed to be a quick steamer for fabrics and other small items. Available in blue and white, mint and white or purple and gray, the lightweight unit lets you steam suits, dresses, sports jackets and drapes as they hang to freshen, smooth wrinkles and set creases as you wish. It can be used in small areas to kill bed bugs but it will take a lot of time and effort.
You get a total of around 15 minutes of steam time from each tank with 75 seconds to heat to the correct temperature. You have the option of choosing between lower or higher heat settings. Accessories include a fabric brush, a creaser and a soft cushion brush. The reservoir is removable and easy to fill and the unit comes with a 9 foot power cord.
Recommended or Not?
If you are planning to use the Conair Extreme Steam Handheld steamer as a cleaning tool or in hopes of killing bed bugs in your house the answer is no. It is best used as a steamer for fabrics and clothing and not much more.
Pros
Very lightweight at just over 2 pounds.
Quick and easy to refill.
Saves money over dry cleaning and could pay for itself in a month for the average user.
Cons
Not good for killing bedbugs, germs or viruses.
Only good for smaller jobs.
Customer service is terrible for this company.
#7. PurSteam PS-581X Handheld Pressurized Steam Cleaner: Most Powerful Handheld Steam Cleaner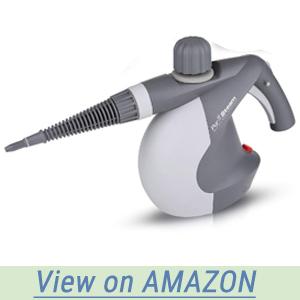 The PurSteam Handheld steam cleaner produces nearly 30% more steam than other handhelds and has a much bigger tank allowing it to do more cleaning as well. The 250 ml. tank takes around 3-4 minutes to heat and build pressure for use. It weighs a comfortable 5 pounds and has a nearly ten foot power cord.
A 9 piece accessory kit includes: a measuring cup and funnel for easy tank fills, an ironing brush cloth, a bent nozzle, nylon brush, a window squeegee, a straight nozzle and an extension hose.
Recommended or Not?
While it has more steam than other handhelds the PurSteam PS-581X still has some limitations when it comes to certain cleaning tasks. It also may not have enough lasting steam to be able to be an effective tool against bed bugs. For smaller tasks and minor cleaning it might be fine but it should not be called upon for taking care of heavy duty chores or for killing bed bugs, germs, bacteria and viruses.
Pros
More powerful than other handheld steam cleaners.
Produces a great deal more steam.
Fairly light at just 5 pounds.
Cons
Water spits out of every direction for this unit making it messy to use.
Reheats and rebuilds steam in frequent cycles which can be frustrating when trying to finish a single task.
Will not handle tasks such as killing bed bugs or germs.
#8. Wagner 0282014-915 On Demand Steam Cleaner: Best for Short Tasks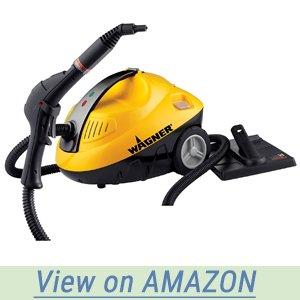 The Wagner On Demand Steam Cleaner has the ability to give you continuous or intermittent steam based on your needs. Water heats in only 5 minutes and the tank is easy to fill with the included funnel and measuring cup. Other included accessories are: the window squeegee, a floor cleaning brush and cloth, 2 extension tubes and a utility brush. The hose is 8 foot long however this unit has a fairly short power cord.
Recommended or Not?
While the unit is fairly light and easy to move from place to place, it does not have pressurized steam and the steam it produces is not overly hot. The short cord also makes it less than convenient as you have to keep moving it as you work or use an extension cord and increase the risk of tripping. It is perfectly fine for short or relatively easy cleaning tasks however it is not going to be the go to tool for serious scrubbing and should not be used for things like killing bed bugs, germs or viruses.
Pros
Quick heating time.
Can use with continuous or intermittent steam based on needs.
Accessories for other tasks.
Cons
Super short cord is disappointing and inconvenient.
Water does not stay hot for very long making this ineffective for important tasks.
Steam is not pressurized.
#9. Housmile Anti-dust Mites UV Vacuum with Advanced HEPA Filter: Best Multi-feature Steam Cleaner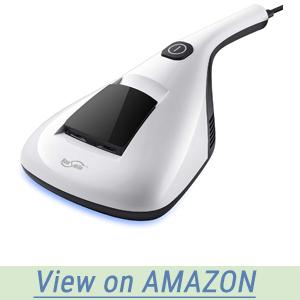 The Housmile Anti-dust Mites, UV Vacuum kills 99.97% of dust mites, bed bugs, germs, bacteria and viruses with steam, two stage filtration and an UV light. It uses high frequency vibrations to shake mites, dander and bed bugs loose and then vacuums them away. The UV light kills any remaining mites, bed bugs and other invaders. Steam reaches a killing temperature of 131 degrees. The unit is light at just under three pounds. The activated carbon filters are washable. The UV light will only activate when its twin sensors are both in full contact with an object as a safety feature.
Dust mites are microscopic creatures and like the common bed bug they thrive in bedding and mattresses. They are so small that there may be as many as 1000 in a single gram of dust. They live an average of 20 to 30 days.
Recommended or Not?
The Housemile Anti-dust mite, UV Vac has several features that can help deal with things like dust mites, bed bugs and more including steam, vibration, HEPA filtration and an UV light. It should not be considered for things like a serious bed bug infestation because it would be a waste of your time, however for small tasks it is perfectly adequate.
Pros
Several functions let you choose what you need for the task at hand.
Lightweight at just under three pounds.
Priced under $70.
Cons
Steam may not stay hot enough to be super effective.
Takes forever to use so could be exhausting for medium to large tasks.
Not very powerful.
#10. Nugeni Steampac and Portable Handheld Steamer with Extended Reach: Best Steam Cleaner with a Purpose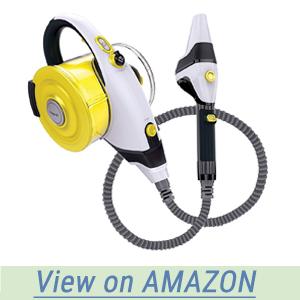 One percent of every purchase of Nugeni products including this portable, handheld steamer will be donated to Water.Org, a nonprofit group that works to help provide access to safe drinking water and sanitation.
The Nugeni Steampac and Portable Handheld Steamer gives nearly 40 minutes of steam per tank of water. It weighs under 5 pounds and has a super long, 28 ft. power cord. It has a number of accessories that include: a high pressure steam nozzle, a bristled detail brush, a brass detail brush, a squeegee tool, a garment tool with brush plus a cloth cover, steamer extended cord, a steam cylinder plus the cloth cover, a shoulder strap to make carrying and using the unit even easier and a fill pitcher. The Nugeni Steampac comes with a 3 year warranty.
Recommended or Not?
With plenty of accessories this should be the right steam cleaner to get many tasks done, however it needs frequent refills and the stated "39 minutes" of steam may be an exaggeration. The steam does not reach killing temperatures in most cases which means that it should not be considered for use as a bed bug eradication method. It does do a good job on other, smaller tasks and the fact that a part of the profits are used for charity is a huge bonus.
Pros
A great array of accessories for more versatility.
Easy to use and super light.
Proceeds go to benefit others in need.
Cons
Steam may not be hot enough to kill bed bugs.
Needs frequent refills.
Buyer's Guide
Before choosing any steam cleaner you must decide what the main task will be. If you are planning to have it on hand only to kill bed bugs as needed then your main goal should be to find a unit that has adequate steam at a high enough temperature to get the task done. It should have attachments that allow you to steam in cracks and crevices without having to lift and move heavy items.
If you want a steam cleaner that can do many tasks including killing bed bugs then you must look for one that will be able to create high temperature, pressurized steam for extended periods of time on a single tank.
You should look at these features:
How quickly does it heat up once the tank is full?
How long can it steam with a single tank of water?
How long is the cord and hose?
What type of accessories are included and how beneficial are they to your needs?
How Quickly Does it Heat Up Once the Tank is Full?
Even if you use hot water, the tank must go through its heating process before a ready light will come on and let you know the unit is ready to start steaming. The average small to medium tank will be ready at 2-4 minutes while larger tanks will take around 8 minutes. Some cycle through heating and pressurizing frequently which means that you may have to wait for the unit to be "ready" again during your tasks.
Some units must cool down before they are refilled while others can be carefully refilled immediately.
How Long Does the Steam Last?
To kill bed bugs you must have steam for 20-90 minutes depending on the temperature the steam is reaching. The higher the temperature, the shorter the steam time needed. However, at higher temperatures you run more risk of ruining your items if you are not exceedingly careful. The average home steam cleaner provides roughly thirty minutes of steam with some reaching nearly an hour per tankful.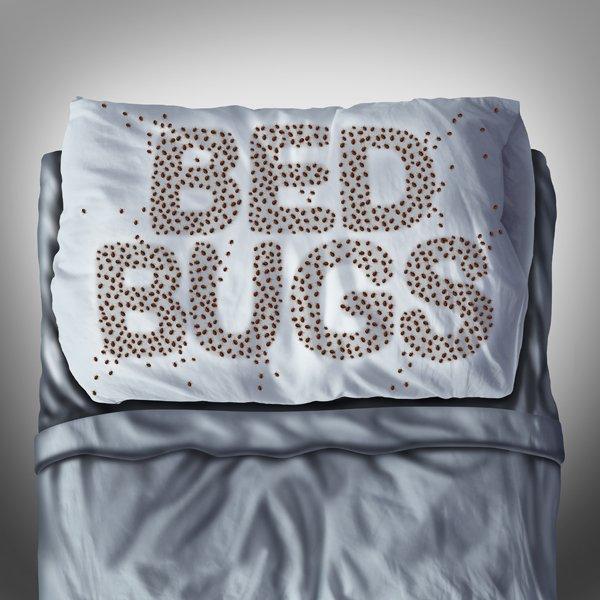 The Length of the Cord and Hose
A short cord and steamer hose mean that you will have to continually move the unit while you are working.If you do not have a lot of outlets that may mean there are areas where using the steam cleaner is not convenient or safe or areas that you skip. This is a problem especially if you are trying to get rid of bed bugs as they will just multiply in the neglected spot and then move around to other spots.
Both the cord and the hose should be of adequate length to make the steam cleaner worthwhile.
Accessories
Not every steam cleaner comes with a lot of accessories. Others will list several that are pretty much the same thing. A few brushes, a pad or two and extension wands are basic accessories and should come with most steam cleaners. For those with pressurized steam a jet nozzle as well as a straight nozzle are beneficial especially if you are working in tight areas.
Remember not to use a jet nozzle and pressurized steam to kill bed bugs because you will merely blow them around rather than killing them.
Steam cleaners that also have HEPA filters can be beneficial because you can kill the bed bugs and suck them and their eggs up making sure that you leave nothing viable behind.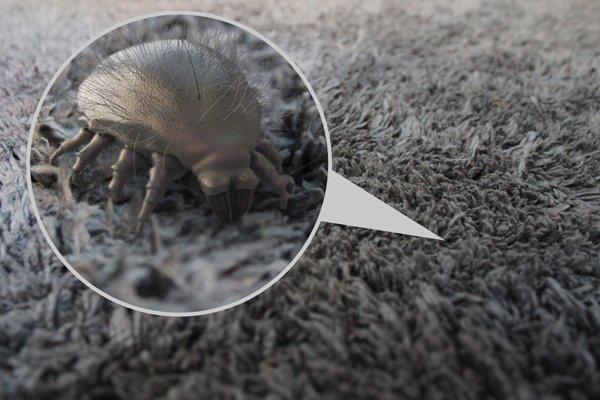 Conclusion
Buying a steam cleaner doesn't have to be confusing. Set a budget and then choose the model that has the most features for the tasks that you intend to use it for within that budget.
Remember that the steam must reach the right temperature (a minimum of 113 degrees) to kill bed bugs and that the higher the temp, the faster you kill them.
Some steam cleaners must be moved in a slow and methodical pattern or the steam may not be as effective. For those cleaners the faster you move, the more the temperature is affected. Read the instructions carefully and try to use the movements that are suggested as closely as possible. Cool steam is not going to kill anything nor will it help clean anything in your house.
Most people buy steam cleaners for more than the task of killing bed bugs, though so make sure that the features reflect that. The water tank should be of an adequate size so that you are not constantly stopping and refilling during every cleaning chore.
Remember that steamers do leave behind some moisture and there will be some fabrics that you should not use steam to clean because it can spot or may be damaged by the heat.
For safety, use a mat or towel under the steam cleaner especially if you notice that yours is the type that likes to leak. Mop up after the steamer is put away and set up fans to air dry any other surfaces that might be damp.
If you have any doubts about whether you have bed bugs or your ability to remove them from your home consider calling a professional.
Skip the harsh chemicals which are ineffective and tend to make the people, pets and plants in your home miserable.
Summary
Reviewer
Review Date
Reviewed Item
Author Rating