The best vacuum cleaner for hardwood floors should be safe for the floor itself and easy to use. The ability to switch easily from carpets or rugs to hardwood floors is a bonus for those who have combination floors. The vacuum should not lose suction between either type of flooring. It should also be easy to clean or empty regardless of its style. A corded vacuum should have a cord that is long enough to cover a great distance without having to switch outlets constantly while a cordless model should be able to hold a charge for a reasonable period of time.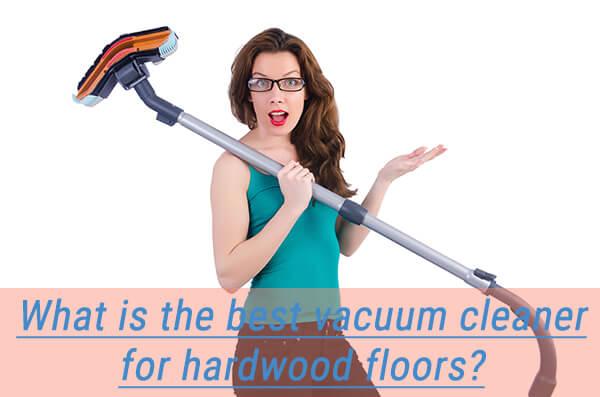 Vacuum cleaners come in many styles and have a very wide range of prices. Set a budget for yourself and then work to find a reasonable unit with all of the features that you need within that budget.
Remember to consider the length of warranty and the overall ratings of every vacuum as well as the manufacturer's reputation as part of your research.
A higher priced vacuum may pay for itself in terms of durability while the cheapest one that you can find today may cost you more as you try to repair and eventually replace it far too quickly.
Finally, remember that hardwood floors can be scratched and damaged by improper care. Any vacuum cleaner that you choose must be able to glide over the floor without leaving dents, imprints or scratches. You should be able to either turn off or remove the beater bar which is used to agitate dirt embedded in carpets but is not necessary on a smooth surface. You should be able to set the vacuum low enough to provide powerful suction but not so low that you are dragging it along the ground.
Note: because some brands use the same or similar names for different models in the same category, model numbers will be used where applicable.
Vacuum Cleaner for Hardwood Floors Review of 2019
#1. The Eureka Mighty Mite (Model 36706) Corded, Canister Vacuum Cleaner: The Best Bagged Canister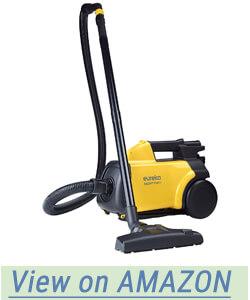 Founded in 1909 in Detroit, the Eureka company has changed ownership but never focus over its long history. Originally selling its various vacuum cleaners and related accessories door to door it has moved into the future with a website and a vast and growing network of online retailers as well as the option to find your perfect cleaning tool at a number of locally based retailers as well.
The Mighty Mite is a corded, canister style vacuum cleaner with a compact size but decent power and suction. It is adaptable for all types of floors from carpets and rugs to hardwood floors. It weighs just under twelve pounds and has a 1 year warranty.It features a power touch handle for ease of operation.
Tools and Bonus Features
The Eureka Mighty Mite Canister comes in a number of colors including blue, orange and violet. Another, bagless version of this vacuum cleaner is also available and is blue with a clear dirt collection cup. The Mighty Mite comes with the following standard tools:
Crevice tool
Upholstery nozzle and dust brush
2 Extension wands
Bare floor nozzle and deluxe floor brush
The cord is 20 feet long. It uses a 10 amp motor with an auto shutoff to protect against overheating especially during long cleaning sessions. It also has a blower port which allows you to blow debris away from areas for easier cleaning. This port can also be used to inflate toys and other items with the proper inflation adapters.
The Mighty Mite uses triple filtration and bags are readily available and easy to change as needed.
Recommended: Yes or No?
The Eureka Mighty Mite has a lot of positive qualities including a decent price and small size. It works well especially on hardwood floors and has enough tools to use in other ways but not so many that you are struggling to keep them together. It was designed to be used in the home, auto and beyond. The blower port makes it a great asset for cleaning around work benches or in the garage. The 20 foot power cord adds to the convenience.

It does have a few minor drawbacks but none that are so terrible that it would lose a recommendation. It is a great option especially as a second, smaller vacuum for fast cleaning jobs or for use in a workshop.
Pros
Lightweight at only 11.9 pounds
20 foot power cord, 10 amp motor
Several convenient tools are included
Blower port
Triple filtration
A number of fashionable colors to choose from
Auto shut off prevents overheating
Cons
Clogs often form in a weird angle in the hose which may be difficult to remove and affects suction power
Hoses kink frequently and sometimes detach from the unit while in use
Bags must be changed. Frequency will vary depending on a number of factors including duration and frequency of operation as well as the amount of dirt and debris in the home.
#2. The Miele Pure Suction Canister Vacuum in Lotus White: Most Long Lasting Vacuum Cleaner of Any Type
Miele is a family owned and operated business from Germany that started in 1899. It continues to thrive as a family owned business selling a wide variety of home based appliances from vacuum cleaners to washers and dryers and more in nearly 100 different countries. Each Miele Pure Suction Canister Vacuum comes with a full, 1 year warranty but are designed and tested to last up to twenty years based on typical household use under normal conditions.
Tools and Features
The Pure Suction Canister Vacuum Cleaner uses a 6 stage, variable speed vortex motor made by the Miele company itself. It also uses an air clean, sealed system and an air clean filter to prevent reintroducing dust and more back in to the air during the cleaning process.
The 360 degree, swivel wheels make this an agile machine and a combination floor head can be adjusted from carpet to bare floor with an easy to use foot switch. A metal sole plate allows the head to glide effortlessly while the rubberized wheels prevent scratching even on more delicate floor surfaces.
The working height is adjustable and the entire machine weighs just under 15 pounds.
Tools included with this canister vacuum include:
Telescopic suction wand made of stainless steel
Dust brush
Upholstery tool
Crevice tool
All tools clip directly on to the hose for convenience.
Awards and Recognition
The Miele Company has received many awards for their various products including Award Design recognition in 2017, the Good Housekeeping Seal of Approval for many years and the Energy Star Most Efficient Award in 2018.
Recommended: Yes or No?
While this is one of the pricier vacuum cleaner options on this list, it should last more than long enough to pay for itself several times over. It does require bags which should be factored in to the lifetime cost but all in all these are sturdy but easy to use machines with well made tools. The swivel wheels make it easy to use even in crowded areas and the rubberized protection means that you will not scratch even softer wood floors.
Pros
6 stage variable speed motor is made by the Miele company itself
Air clean sealed system and air clean filter helps keep the air dust free
Rubberized, fully swiveling wheels
Stainless steel, telescoping suction wand
Tools that clip directly to the suction hose
Change between floor types with a simple foot switch
Designed to last for decades, not just a few years
Cons
Some people have complained that the label on their boxes say "Made in China" rather than in Germany as listed in the marketing materials.
May be louder than some other brands.
#3.The Von Haus 2-in-1 Corded, Lightweight Stick Plus Handheld Vacuum Cleaner: Best Convertible Vacuum Cleaner for Hardwood Floors
Easy to use, the Von Haus vacuum cleaner can be used as either a regular stick vac or a handheld and converts with the simple click of a button. It is a bagless vacuum cleaner, relying on a 1.3 liter dust cup instead. That cup is both easy to remove and to empty and replaces with a simple clicking action. The vacuum uses a washable Hepa filter to help keep dust from flying around during cleaning sessions. It is available in either orange or gray as well as in a higher priced bundle which comes in a combination of the two colors.
Tools and Features
The Von Haus 2-in-1 corded stick vacuum cleaner has a 19.5 foot long, quick release power cord and several tools. Those tools include:
A crevice tool
Small brush attachment for use with the handheld
A hose adapter
A shoulder strap to make use easier and more comfortable.
This vacuum weighs just 5.5 pounds and has a 1 year warranty.
Recommended: Yes or No?
If your plan is to have a stick vacuum that can handle quick clean ups around the house and your floors are mostly hardwood, this may be the right one for you. With the ability to switch to a handheld for use on tools, drapes and other areas and its lightweight, this corded option is a good choice. However, it may be entirely too small to serve as a deep cleaning tool and also has a number of issues that might suggest that it is not right for people who will be doing more rigorous cleaning. It may not be durable to use daily especially in a home with pets that shed a lot.
Pros
Super lightweight at just 5.5 pounds
Easier on the budget than many of the other options on this list
Easily convert from an upright stick vac to a handheld with just the click of a button
The HEPA filter is washable for reuse
The 1.3 liter dust container is easy to remove and empty and just as empty to reattach.
Cons
Suction is not very strong in either mode
Units have been found to overheat easily
These are not durable machines especially when used frequently.
#4. SharkNinja (Model Number:NV350REF) Navigator Lift Away Vacuum Cleaner: Largest Dust Cup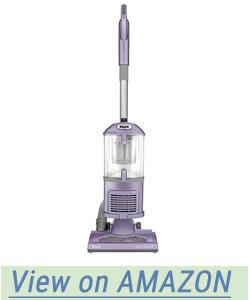 The SharkNinja Navigator Lift Away Vacuum cleaner is both fairly light and easy to use. It features swivel steering and an easy to use, easy to empty and extra large dust cup so that you can clean more areas before stopping to empty the cup. The brush roll can be shut off so that you can go from sweeping the carpets and rugs to bare floor cleaning without risking scratching or damaging the hardwood.
This vacuum cleaner comes with only one tool which is a combination duster and crevice tool.
The SharkNinja Company
A merger of two well-known companies resulted in what is now the SharkNinja company. It produces over 150 products through a wide range of categories including cleaning tools (Shark) and small cooking appliances (Ninja).
Recommended: Yes or No?
While the Navigator Lift Away does have some very good qualities there are more than a few issues with it as well. Positives include the long power cord and extra large dust cup while negatives include its lack of tools, short warranty period and the flimsy plastic material that it is made from. Having to replace a cleaning tool every few months does not make any sense no matter what the pricing point might be. There are better models under the SharkNinja brand with similar features and more tools.
Pros
25 foot long power cord allows you to clean larger areas before having to unplug and move the cord.
Extra large dust cup holds more dust and debris, is easy to remove and empty and easy to put back in place.
The ability to shut off the brush roll ensures the safety of your hardwood and other bare floors.
Cons
Only 1 tool is included with this model.
The warranty period is very short at only 90 days.
These are not durable machines and must be replaced frequently.
#5. The Kenmore Elite (Model No: 31150) Pet and Allergy Friendly, Beltless, Bagged Upright Vacuum Cleaner: Certified by the Asthma and Allergy Foundation of America (AAFA)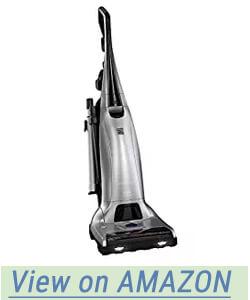 The Kenmore Elite Pet and Allergy Friendly Upright Vacuum Cleaner uses the 3D inducer motor which they claim will move about 20% more air without ever losing suction. It is also has a triple HEPA filter which removes 99.97% of dust and debris in the air. This upright vacuum also has an infrared dirt sensor which shows you exactly where you need to work with an LED light that turns off only when that area of the floor is clean.
Tools and Other Features
In addition, this vacuum has a super long power cord, coming in at 35 feet long. The telescoping want can extend up to 10 feet. The vacuum has 5 height adjustments allowing you to go from bare floor to deep carpet and everything in between.
Included tools:
Combination dust and crevice tool
The pet handi-mate tool for pet hair and dander
Telescoping wand
The AAFA Certification
The Kenmore Elite Pet and Allergy Friendly Upright Vacuum is certified by the Asthma and Allergy Foundation of America. Founded in 1953, the AAFA is one of the leading patient advocacy and education groups in the United States and is one of the oldest of these types of groups in the world. To become certified by this not for profit organization, every product is given rigorous testing.
Recommended: Yes or No?
A little on the pricey side especially when you factor in the bags that you will eventually need, the Kenmore Elite Pet and Allergy Friendly upright is still a reliable vacuum cleaner with some very interesting features. It is especially useful in homes where there are pets and/or homes where people need to be ensured of clean spaces because of breathing issues. Certified by the AAFA because of the triple HEPA filtration, you can be assured that this is getting as much of the dust and dander as possible. The infrared dirt sensor helps out even in dark corners or areas where cleaning may be a little more difficult. The LED light shows you where the dirt is and does not turn back off until it is gone. It is a bit heavier than other units at 20 pounds but not so heavy that the average person cannot use it.
Pros
3D inducer motor moves 20% more air without losing suction power
35 foot long power cord
Tools include a telescoping wand that can reach up to 10 feet
Triple Hepa filter
AAFA certified
Infrared dirt sensor and LED light
5 height settings
Cons
Slightly heavier than most units (20 pounds)
Is not very easy to maneuver
Customer service is difficult to reach and may not be as helpful as they could be.
#6. The Bissell Powerfresh Steam Mop: Best For Sanitizing Hardwood Floors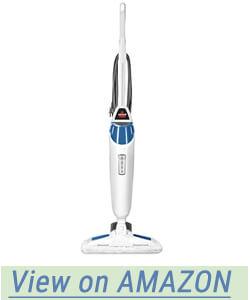 There is a difference between clean and sanitized. To be considered "sanitized" a surface must first be cleaned of all visible dust and debris and then further cleaned to reduce pathogens (germs and other organisms that cause disease) to a safe level.This can be accomplished with chemicals or with steam. Steam is the better, safer choice especially in homes with young children because many chemicals are toxic even hours after they have been used. They also tend to have unpleasant smells and if used incorrectly can be dangerous.
The Bissell Powerfresh Steam mop uses the power of steam to clean and sanitize hardwood and other, sealed floors with three steam temperature settings as well as a continuous steam button.
Tools and Features
A flip down scrubber lets you get crusty messes and the smart set, digital control lets you choose the right temperature of steam for the job at hand. The Powerfresh Steam Mop is ready to use in around 30 seconds and the 16 ounce water tank is easy to fill. The cord is 23 foot long and the swivel steering makes it easy to get around your furniture and other obstacles.
This mop comes with 1 microfiber soft pad, 1 microfiber scrubby pad, 2 spring breeze fragrance discs plus a carpet glider for use on most types of carpets and rugs. For safety, do a spot check before using steam to clean any carpet or rug.
This model has a 1 year warranty. Bissell with donate up to $10 for every pet rated product that is sold. That money will be given to shelters and rescues.
Recommended: Yes or No?
If you need to take your cleaning to the next level, steam is the easiest, cheapest and safest way to do it. Steam does not leave behind smells or residue of any kind so it is better for use around children and pets. Regular mopping is good for keeping the floor clean but steam will sanitize it. The Bissell Powerfresh Steam mop is easy to use and heats to the correct temperature quickly. It uses swivel steering so there is no problem getting in and around the furniture in any room. It is super light at only 6 pounds and can be set to give intermittent or continuous steam based on your needs.
Pros
Smart set digital control gives you the ability to control the amount of steam.
Choose from intermittent or continuous steam
Just 6 pounds
23 foot long cord
Easy to fill water tank
Reusable microfiber pads in both soft and scrubby are included.
Cons
May leak near the tank
Plastic parts are not durable and have a tendency to overheat and may even melt in some cases
This is not a very durable machine
Customer service is not as helpful as they could be.
#7. Tineco (Model no: A10) Master Cordless Stick Vacuum Cleaner: Best Rechargeable 2-in-1 Vacuum Cleaner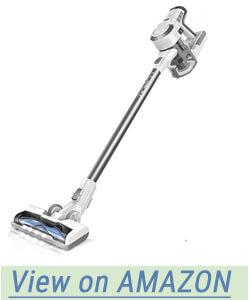 The Tineco Master Cordless is similar to the brand's Hero model with many of the same features. The Master, however is a 2-in-1 while the Hero is not. The Master comes in either Vibrant Orange or Metallic Grey and has a slightly higher price point than the Hero as well.
Tools and Features
The Master Cordless comes with a 350 watt, digital motor and 2 lithium batteries. Battery life is expected to be around 50 minutes of run time. This stick vacuum cleaners has a 4 stage, fully sealed filtration system. There is a continuous power lock and the dust bin is easy to open and empty. Included tools:
Mini power brush (for use with the handheld)
2-in-1 dust brush
Crevice tool
Rinse free, pre-filter cleaning tool
Hair cleaning tool
Extra pre-filter
Charge adapter.
This unit has a 2 year warranty. The main body is just under three pounds while the entire unit is 5 pounds overall.
Recommended: Yes or No?
This is a lightweight unit that can go from traditional stick vacuum to handheld with ease. It comes with a number of tools and is convenient to use. However, as with most cordless vacuum cleaners there are some concerns about battery life and you may find that it does not have as much suction power as the corded models. The Master Cordless stick also may clog overly easy with some areas being hard to unclog for some people. It is priced substantial higher than the brand's similar model which may be a factor to consider as well.
Pros
2 lithium batteries with an estimated run time of up to 50 minutes each
4 stage, fully sealed filtration system
Many included tools
2 year warranty
Cons
May clog easily with some clogs being in areas that are not easy to access
The battery life is often not what is stated
Batteries may stop charging without warning
This unit is not convenient to store and will not stand up on its own.
#8.The Dyson Cyclone V10 Absolute Lightweight Cordless Stick: Most Powerful Suction for a Cordless Stick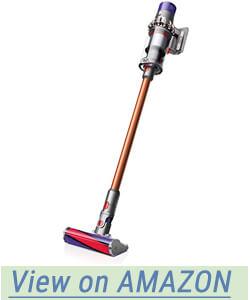 The Dyson company continually upgrades and redesigns their vacuum cleaners, promising that theirs are the only ones that will never lose suction, ever. The Cyclone Absolute cordless can be used for up to 60 minutes of run time if you do not use the motorized tools and up to 20 minutes in the second suction setting. It can be used as either a handheld or a stick vacuum. There is a convenient wall mounted docking system which allows you to easily store and charge your Dyson vacuum without fear of it falling over.
Tools and Special Features
The Dyson Absolute uses a ceramic shaft rather than metal so that it is much lighter in total weight. That shaft reaches 125,000 rotations per minute (RPM) for powerful suction and full cleaning power. The entire unit weighs in at 6 pounds and comes with a 2 year warranty. It has the following tools:
Combo tool
Crevice tool
Mini soft dust brush
Mini motorized tool
Recommended: Yes or No?
This model does have good suction but that comes at a premium. First, there is the cost. Dyson vacuums are among the most expensive on the market and the Absolute is no exception. In addition to the very steep price tag, you can expect very poor battery life especially if you opt for a motorized tool or need more suction power. Using this on the lowest setting barely gives you suction power enough to justify using it and that lower setting only extends battery life by 20 minutes at most. If you want the power and the Dyson name, spend a little more and get a corded vacuum or opt for a different brand at a much lower price point.
Pros
It does have powerful suction
Very light weight
2 year warranty
Cons
Very expensive
Battery life is very poor
Customer service is not reliable or responsive.
#9. The Dirt Devil Power Air Bagless Stick Vacuum Cleaner for Hardwood Floors: Best Budget Friendly Stick Vacuum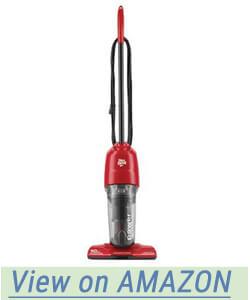 The Dirt Devil Power Air Bagless comes with a 20 foot power cord, a 10 amp motor and a 2 year warranty. The cleaning path is 11 inches wide. The bottom empty dirt cup is easy to empty with just the touch of a button so that you never have to touch the dirt yourself. It uses cyclonic filtration and weighs under 7 pounds. There are no tools included with this vacuum cleaner.
Recommended: Yes or No?
The Dirt Devil Power Air Bagless vacuum cleaner is a basic stick vac without any of the frills and special features that you see on other models from this brand. It is perfect for someone with a small house, as a starter vacuum or for someone who likes to have a basic vac for quick touch ups. It may not have enough versatility to work as a whole house vacuum and it does not work well on carpeted flooring or rugs.
Pros
2 year warranty
Budget friendly price point
Long power cord
Cons
No tools are included
Dirt cup is small and may be difficult to put back in place
Unit is top heavy
Dirt spills out of the cup if the unit falls over
This is a very loud vacuum cleaner
#10. Bissell Spinwave Powered Hardwood Floor Mop and Cleaner (Model No. 2039A): Best Lightweight Hardwood Floor Mop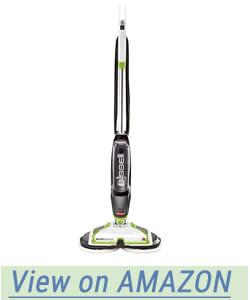 This powered mop was designed specifically for use on all sealed hardwood and bare floors. The tank is easy to fill and holds 28 ounces of distilled water. It uses an on demand sprayer so that you are in full control of how much liquid is on your floor. This model comes with 2 trial size (8 ounces each) of the multi-surface cleansers that are safe for use in the water tank. It also comes with a total of 4 washable floor pads, 2 soft and 2 scrubby.
Special Features
In addition to the easy to fill tank, the Bissell Spinwave Powered Hardwood Floor Mop comes with a 22 foot long power cord and uses swivel steering making it easier to navigate around objects. The cleaning path is 14 inches wide. This unit has a 2 year warranty.
Bissell, which has been in business since 1923 will donate a portion of the sale of all pet rated products to benefit animal rescues and shelters.
Recommended: Yes or No?
If you need a mop for your hardwood floors there are other options that will be less of a hit on your wallet. There are also several serious questions that seem to bother more than a few people including where does the dirty water go? With a regular mop and bucket you wash, rinse and you see the dirty water but with the Bissell Spinwave, you may not. Some users report that the pads barely get dirty which may indicate that they are not picking up very much for your effort. The pads are not absorbent either so if you are over zealous with the on demand sprayer you may end up with a sopping wet floor. This is one that is not recommended.
Pros
22 foot long power cord
Easy refill water tank
Washable floor pads in both soft and scrubby
May qualify for the pet charity program
Cons
Does not perform very well on messes even with the scrubby pads.
Pads are not very absorbent
Where does all of the dirty water go?
Buying Guide: What to Look For in a Vacuum Cleaner for a Hardwood Floor
The average person wants a vacuum cleaner to be easy to use, give them good value for their money and be safe for their floors. If there are more than one types of flooring in the home, the vacuum must work well for all or most of those floors or it may not be worth considering.
Easy to Use
A vacuum cleaner's main function is to get the floors clean. It should not be a major struggle to accomplish this task in any way. To that end, the right vacuum cleaner for hardwood floors should:
Be lightweight
Use swivel steering or at least have easy to maneuver wheels
Corded vacs should have a cord that is long enough to allow for maximum cleaning before changing outlets
Cordless vacs should have consistent battery life that is long lasting. Batteries should recharge fairly quickly.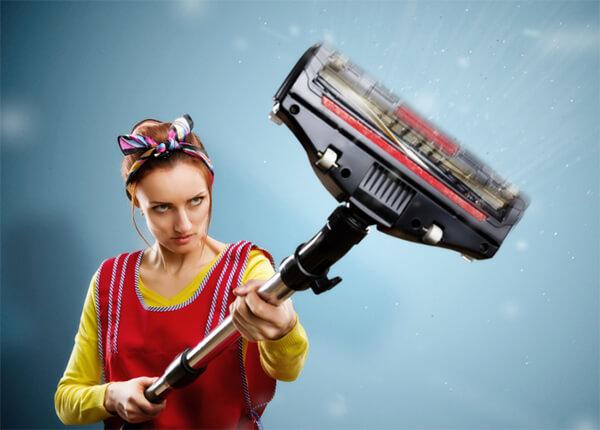 When making your choice between bagless/bagged, corded/cordless and other models always make sure that you will be able to find replacements readily.
Obviously bagless vacuums save money over buying bags but they sometimes have fairly small dust cups which require you to stop and empty it frequently.
A Good Value for the Money
From the budget friendly models to the higher end, status symbol vacuum cleaners you should be getting good value for your money. That means that the vacuum you buy today should last a reasonable period of time before needing to be repaired or replaced. It should also have a good warranty period (the higher the cost, the longer the warranty period should be.) Tools, if included should be equally valuable, easy to use and to store and should add value to the overall machine.
If you find that you rarely use most of the tools that you get, look for options that let you skip those tools or go for the lowest price model that gives you decent cleaning.
Customer service should also be considered as part of the value that you are paying for. If a company does not have a good history when it comes to dealing with questions or concerns it should be weighed against the other features during your comparison shopping.
Safety Features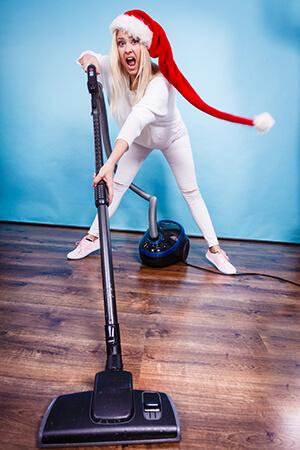 First and foremost, a vacuum cleaner should do no damage to your floor. Make sure that the model you are considering is actually rated for the type of flooring in your home. Hardwood floors can be scratched and dented by the wrong vacuum cleaners especially those that have rotating beater brushes that cannot be turned off or removed. Other safety features like automatic shut off when there is a clog can also be helpful and can prevent damage to both the vacuum cleaner and the floor.
It is important that you test any new vacuum cleaner or other cleaning tool in a small area of the room before undertaking a full cleaning.
Be aware of any warnings or recommendations that are given to you by the floor manufacturer and use extreme caution if your floor is old or uneven in any way. Floors that are not listed as "sealed" are especially vulnerable to damage and should be very carefully cleaned as directed by the installer.
Summary
Reviewer
Review Date
Reviewed Item
Vacuum Cleaner for Hardwood Floors
Author Rating