Your gorgeous hardwood floors were the selling point for your house. They remain a beautiful focal point for your home. In the evenings when you're relaxing in front of the television (or the fireplace if you're lucky), you love looking at all their little scratches and dull spots and the sections where grime is digging into the grain and just staying there.
Wait, what?
Or maybe you moved your couch to vacuum and noticed a huge difference where the couch once was. There's no doubt, your floors are looking dingy.
Get your wood floors back to their original glory. It's time. Rejuvenate has a line of products designed to target your specific floor needs, but are they any good? We've got the scoop in our Rejuvenate review. Let's break it all down and find out.
Rejuvenate All Floors Restorer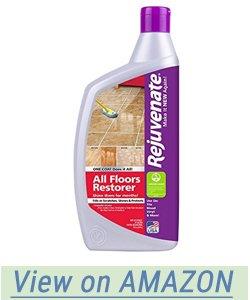 Our first product from Rejuvenate is their All Floors Restorer. It promises to restore your hardwood floors to their original glory without any sanding. It promises to fill in scratches and get rid of dull grime.
How Does It Work?
Rejuvenate works by filling in scratches and restoring grip to the floor. It's polymer-based formula shines and protects any sealed wood flooring by going on and drying in a thin protective layer.
Wear and tear causes scratches, dulling the overall finish of the floor. The polymer fills in those scratches, restoring a natural shine and preventing things like UV (from your windows) from damaging the finish.
It also restores traction to your floors by up to 50%. They'll be safer for the most vulnerable members of your family and might help you out a little bit too.
How Do I Apply It?
The formula comes ready to use with no mixing or diluting.
First, thoroughly clean your floors to make sure that any existing grime and dirt is removed.
Next, squirt a bit on your floors and use a soft, clean cloth to spread the product in an even layer slowly.
Once it's applied, you'll need to leave it alone until it's completely dry. Be sure to block the room against your children and pets, and make sure you apply in a direction that allows you a path to leave.
You can reapply every three months or so as needed to restore the shine and protection of your floor.
What Are The Benefits?
It's an excellent product for keeping your floors in top condition. Normal wear and tear is inevitable. You can slowly lose your floors to creeping grime that strips the finish away from your floors. It's crucial for the life of your floors that you have something to restore the finish every once in a while.
This Rejuvenate product is excellent for more types of flooring than just hardwoods. Most households have other types of hard surfaces throughout the house, so you can refinish and help traction with multiple types of surfaces. This is awesome for your cleaning cabinet: one product instead of multiple.
What Are The Downsides?
It dries pretty shiny, which may be great in the short term. However, once you start using it, it's essential to continue to apply it every so often. The shinier your floors are, the more clear it is when certain areas wear down.
If you know you're ok with reapplying the product as it begins to wear down, it can be an excellent option for you to refinish your floors temporarily. If you're looking for a one and done product, this one isn't it.
It's difficult to apply smoothly to much older floors because the surface of those floors is so irregular. If you have moderate laminate flooring or newer hardwoods that haven't worn down so much, it works a lot better.


Our Recommendation
We recommend this product for areas where your floors need a pick me up, and you're willing to reapply it every so often.
Pros
restores shine quickly without sanding
works on multiple surfaces
protects from UV exposure
Cons
doesn't work as well on very old flooring
needs to be reapplied frequently (every few months)
comes in just small bottles
Rejuvenate Professional Wood Floor Restorer with Durable High Gloss Finish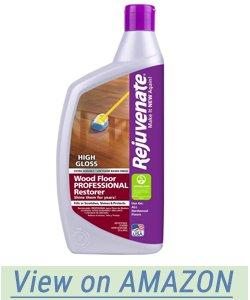 Rejuvenate's professional formula helps restore shine and fill in small scratches from wear and tear. It bonds to your existing finish to restore shine and protect flooring. It's not suitable for other types of flooring, but it does cover both residential and commercial hardwood.
How Does It Work?
Rejuvenate's professional formula is a powerful bonding agent. It's a polyurethane formula that goes on easily and dries into a protective, clear layer. It doesn't require any prior sanding because the formula fills in any dents or scratches, creating a solid, smooth layer of shine.
It's nontoxic and glides on with any cloth or mop action. There's very little ventilation required, and it dries in only about 45 minutes.
How Do I Apply It?
You don't need to mix the formula or dilute it in any way. It's ready to use straight out of the bottle.
First, thoroughly clean your floors to make sure that any dirt or grime is gone. You don't want to seal in dirt or hair accidentally.
Next, squirt some of the product on the floor and use a soft cloth or mop to spread an even layer over your floor. Keep moving over the floor until the entire area is evenly covered.
Allow it to dry thoroughly. Make sure that children and pets don't have access to the floor until it dries completely. Also, when you apply it, make sure you have an exit strategy, so you don't get footprints on your newly restored floor.
What Are The Benefits?
Refinishing your hardwood floors in your home or business helps protect them from further wear and tear. Floors that are appropriately finished are more durable and experience fewer replacement periods.
It comes in an easy to use formula that doesn't require mixing or diluting, so there's nothing you have to think about first. You don't even have to sand the floors down. It's one of the easiest ways to give your floors a facelift.
It doesn't have much odor, and it dries ultra quick compared to real refinishing times. You could be back to using your floors in under an hour.
What Are The Downsides?
This formula doesn't work on other types of hard surfaces besides wood. If you were hoping to consolidate your cleaning supplies under the cabinet, you might be in for a disappointment.
It is suitable for hardwoods and engineered wood flooring. It's not suitable for laminate floors.
You'll have to continually reapply the formula to keep your floors nice and shiny. The shine highlights areas where the shine has worn down. Once you start, it can be difficult to quit doing it. You'll have to remove it entirely yourself. If you're looking for a single application, this isn't the right product for you.


Our Thoughts
We recommend this one for a high gloss option for all wood floors in a household. If you aren't interested in refinishing any other type of surface, this one is a suitable option.
Pros
high shine option for hardwoods in residential and commercial areas
easy application. no mixing or diluting
doesn't require sanding
Cons
not suitable for any other type of flooring (including laminate)
covers just under 600 square feet (not enough for most whole house applications)
requires frequent reapplications (at least every couple of months)
Rejuvenate Professional Wood Floor Restorer with Durable Satin Finish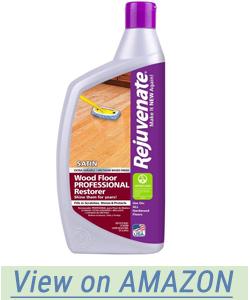 Ok, you hate ultra gloss finishes. You want something with less maintenance. Rejuvenate makes a satin finish version of their famous floor restorer that's suitable for woods with less gloss. It goes on the same way and dries just as quickly.
How Does It Work?
It's a polyurethane based formula that goes on easily. It's non-toxic and helps to fill in scratches and dents in your floor. It smooths over imperfections without creating a layer of gloss.
You don't need to sand beforehand because it rests on top of your existing floor's finish. As it dries, it creates a protective layer that helps prevent damage from UV rays (such as those from your window) and keeps wear and tear from shortening the life of your floor.
How Do I Apply It?
Clean your floors completely to make sure that you don't seal dirt or dust into the finish.
First, squirt some onto your floor and gently spread it evenly with a soft cloth.
Continue applying it to the floor until the entire area is covered.
Allow it to dry completely. Make sure no one has access to the room before it dries and that you have an exit strategy after application.
What Are The Benefits?
It's essential to restore your floors every so often to counteract wear and tear. Finished floors can look dull and dingy over time with foot traffic, pet nails, moving furniture, and other types of wear. Dirt and dust scratch the surface and the finish wears out over time.
Refinishing your floor with the satin finish restores the beauty of your floors without creating a high shine. It's a natural, subtle finish for floors that don't do well with high shine. In fact, if your floor has deep imperfections, this may be a way to work with those imperfections without completely redoing them.
What Are The Downsides?
It's not suitable for any other type of floor besides hardwoods. It's not even suitable for laminate flooring. If you were hoping to consolidate your cleaning products to just one, this might not be the right product.
The finish does wear away pretty quickly, so you'll have to reapply it regularly. It can become very obvious if you don't reapply around high traffic areas, so make sure you're committed to the upkeep. This isn't a one and done product.
Also, if you're hoping for shine, this isn't the product. It comes off in a nice satin finish, but gloss addicts aren't going to get the same shine results as they would with one of the above products.
Our Thoughts
We recommend this product for floors with their fair share of imperfections. The satin sheen won't highlight the scratches and dents of an imperfect floor, but it will help restore the overall look of the wood.
Pros
excellent satin finish
helps restore the natural beauty to your floors
no mixing, diluting, or pre-sanding
Cons
no gloss finish
must be reapplied regularly
can't be used on any other type of floor including laminate
Final Thoughts
We like this product for our wood floors because we don't want to spend a lot of time resanding and refinishing hardwood. You'll have to take that plunge eventually, but in between, you can extend the life of your floors with this short-term refinisher.
The all-purpose one is best for houses with a variety of floors. You may have to refill the bottle frequently if you've got huge spaces, but you can use it across surfaces without worrying about it.
The high gloss professional formula is excellent for homes or commercial spaces with all hardwoods. You don't need to refinish any other type of floor, so there's no need to use any other kind of solution. It's glossy and creates a high impact finish that really shines (see what we did there?)
The satin formula is excellent for floors with a lot of imperfection. The satin finish is more natural and subtle, bringing out the grain patterns in your wood floors and working with flaws. It's a much softer result than the high gloss of the other options.
Whatever you decide, it's essential that you're taking steps to keep your floors protected. UV light from windows can fade the finish across your floor without you even realizing it. Scratches from pet paws and wear and tear from children can ruin the finish of your floors.
Even if you don't have any of those factors, it's going to be obvious eventually where the high traffic areas are on your floors. The dust and dirt work their way into the grain of the wood and makes it look dingy in spots. A good floor restorer can help keep that dirt and grime from settling on your floors. It's much easier to mop over the restored surface, and you get your bright, clean floors back.
So tell us, how are your floors? Are they struggling? Let us know in the comments below.
Summary
Reviewer
Review Date
Reviewed Item
Author Rating