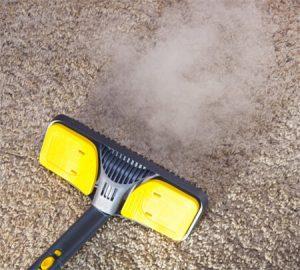 According to the experts at Good Housekeeping, the average carpet should be vacuumed once a week. If you have pets, children or live in an area where potential contaminants are high, that number should at least double. In addition to regular vacuuming, your carpets should be cleaned (shampooed and/or steamed) frequently to prevent the build up of fiber damaging dirt and grit and to get the below the surface dirt, germs and debris up and out of your home. Steam cleaning can be done every few months in a pet free home.
There are many varieties of steam cleaners for carpets, some that are best used only on fiber material floors and some that can be used on a wider range of flooring types. It is important to always consider what is best for your floor when looking at a steam cleaner and to choose what best serves your most important needs. For example, if every floor in your home is carpeted except for the kitchen, look for a model that works the best for carpeting.
Note: because some manufacturers sell models with similar sounding names, model numbers are provided when relevant to avoid confusion.
Best Carpet Steam Cleaner Review of 2019
#1. The McCulloch Canister Steam System M1375: Best Lightweight Canister Style Carpet Steamer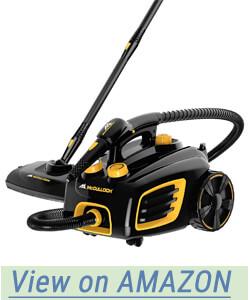 The McCulloch company is perhaps best known for outdoor equipment including lawn mowers, leaf blowers and more. For just over 10 years, the company has also been selling a number of steam cleaners and vacuums featuring the company's name and easily recognized black and yellow color scheme. The 1375 is a lightweight canister that comes with a number of accessories and features that make it easy to use inside and outside of the home.
Features
This canister steam cleaning system has both on demand and continuous, variable steam control allowing for fully customized steam. Steam is generated and released at around 58 psi (Pounds per square inch). The 48 ounce tank is heated to 212 degrees and ready to use in around 12 minutes and gives roughly 90 minutes of continuous steam per tank. The entire system weighs in at just under eleven pounds and has a 2 year warranty. The power cord is a decent size at 18 feet long and the insulated hose gives another 10 feet of reach.
Accessories
This system comes with a number of accessories, all conveniently stored directly on the body of the canister. These include:
13 inch mop head
Scraper
Triangle brush
Large brush
2 extension wands to increase your overall reach
1 jet and 1 angled nozzle
2 round scrubber pads
2 nylon utility brushes
1 brass utility brush
Round brush
Bristle brush
Microfiber mop pad
Scrubber mop pad
Storage bag
Fill cup
Recommended: Yes or No?
To properly clean and sanitize any surface, a steam cleaner must reach the right temperature and must be able to maintain that temperature for an adequate period of time. The McCulloch Canister steam system hits that level (212 degrees) and manages to produce steam for time enough to clean most surfaces adequately. It has a large tank, long power cord and enough accessories to allow for a wide range of cleaning activities. It is fairly light weight so moving it from place to place should not be a problem. It is also backed by a 2 year warranty.
Pros
20 accessories for virtually any cleaning task in and outside of the home
Long power cord, long insulated steam hose plus 2 extension wands gives you more than adequate reaching power
Steam lasts for roughly 90 minutes
Pressurized steam can assist in cleaning tougher messes
3 prong plug for safety
Cons
Customer service is not as responsive as they could be when there are questions, complaints or problems with this system
#2. The Light'n'Easy 10-in-1 Steam Cleaning System (Model No: S3601): Most Versatile Steam Cleaner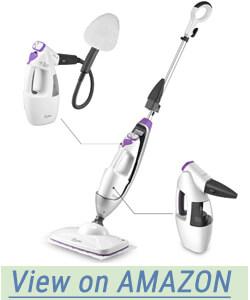 This super light, versatile system can be used in a wide range of ways for tasks in virtually every room of your home as well as outside. It features a number of safety features to prevent accidental steam burns and adjustable steam levels so that you can customize your cleaning time.
Features
The Light'n'Easy steam cleaner is ready to steam whatever surface you are cleaning in just 30 seconds, one of the fastest heating times in the industry. The steam levels are adjustable from low to high. The tank holds 11.5 ounces of water. The power cord is 20 feet long and the entire system is just over six pounds. There is a detachable handheld steamer that is perfect for steaming garments, drapes and for use on cabinets, counter tops and furniture. The handheld steamer can also be used in your vehicle as well.
Swivel steering makes this an agile cleaning tool and easier to handle around all of your furniture. Light'n'Easy offers a 1 year warranty plus 24 hour service on this unit.
Safety Features
Both the full unit and the handheld unit have safety features which prevent them from being accidentally turned on. For the full steamer to turn on the handle must first be tilted to the correct angle. For the handheld unit to be turned on, the smart switch sensor must be held.
Accessories
This unit only has a few accessories which include:
Cloth pad
Jet steam nozzle
Flexible hose
Fill cup
Recommended: Yes or No?
If you need something very lightweight for a range of tasks, this could be a good unit however, there are some drawbacks. First, it is not as durable as similarly priced steam cleaners which could be a problem for those who want daily or at least frequent use out of it. Second, the mop pad does not stay securely fastened to the bottom of the steamer which means that you frequently must stop what you are doing, fix the mop pad and then resume. All of these delays could lessen the time that you have actual steam and increase your overall cleaning time.
Pros
Super light at just 6.4 pounds
Smart switch on both the main unit and the handheld prevent accidental use
Swivel steering allows this steamer to get around obstacles
Adjustable steam allows you to control how much or how little steam you are using per task
Cons
Not a durable, long lasting product
Mop pad tends to come off during cleaning
#3. The Bissell Power Brush Full Size Carpet Steamer and Shampooer (Model No. 1623): Best Combination Steamer and Shampooer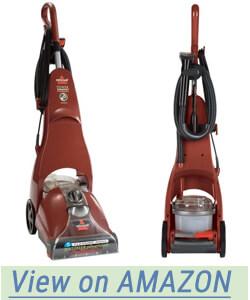 The Bissell Power Brush Full Size Carpet Steamer and Shampooer combines 2 full size cleaning tools into one convenient unit without doubling the price. It can be used as either the steamer or shampooer for most sealed floor types and has a number of accessories to allow it to be used in other ways as well. This unit has earned the Good Housekeeping Seal of Approval.
Features
This is a 12 amp full sized upright shampooer that uses a 5 row, rotating dirt lifting power brush. The tank holds 3/4 of a gallon for longer cleaning time. The hose is 7 feet long, the power cord is 25 feet long and the entire unit weighs under twenty pounds. There is a 1 year warranty o n this product.
Accessories
The tools that come with the Bissell Power Brush Full Size Carpet Steamer and Shampooer include:
2 in 1 spraying crevice tool
3 inch tough stain tool
Bare floor tool
Hard floor solution
Fiber Cleansing formula solution
Recommended: Yes or No?
This can be used to deep clean carpets and upholstery as well as for sealed bare floors. The rotating power brush is meant to loosen deeply embedded dirt so that it can be picked up by the unit's powerful suction. There are some questions about whether this actually functions as a steamer as there is no heating unit and no information is provided for steam capacity if there is any. If you plan to use a steamer more frequently than a shampooer, this is likely the wrong unit for your needs.
Pros
Super long power cord allows you to finish an entire room before changing outlets
Rotating brush is designed to pull up deep dirt
Large water tank holds almost a gallon of water
Cons
Water may leak from the tank and damage surfaces
This may be difficult to assemble for some people
Customer service is not helpful in some situations
#4. The Hoover SteamVac Plus Carpet Cleaner with Clean Surge (Model No. F592490INC): Best Dual Tank Cleaning System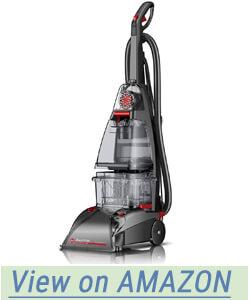 The advantage to a two tank system is not only in keeping the clean and dirty water separate but also in allowing for more water to be used for cleaning without having to keep stopping to empty, rinse and refill a single tank. The Hoover SteamVac Plus has additional features that make it easy to use while still providing a deep clean to most carpet types.
Features
The Hoover SteamVac Plus uses the Spin Scrub 360 brushes which rotate from all angles to give a deeper clean. These brushes have variable speeds which can be selected based on need.An addition powered upholstery and stairway tool is included. It also uses a Clean Surge power boost which is meant for use in heavy traffic areas or for cleaning stains. A heater speeds drying time so there is no worry about mold. It weighs 20 pounds and has a 2 year warranty.
Recommended: Yes or No?
While this is called a "SteamVac Plus" there is little indication that it steams at all. It does use heat to help dry the carpet during the cleaning process but it does not produce any visible steam. If you want a simple steamer, this may not be the right unit for you however, it does work fairly well as a carpet shampooer.
Pros
Spinning brushes rotate from all angles for a deeper clean
Dual tanks are easy to clean and keep the clean and dirty water separate
Heater speeds drying time
Clean Surge gives a power boost where you need it
Powered brush for use on upholstery and on stairs
Cons
While not overly heavy at 20 pounds this unit does not have swivel steering and may be difficult for some users to move
May leave some carpets too wet
No steam despite being called a 'Steam Vac"
#5.The Dupray Neat Steam Cleaner: Steam Cleaner with Highest Available Steam Temperature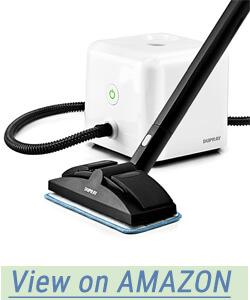 To kill bedbugs on upholstered materials, steam must reach at least 175 degrees. To sanitize on hard surfaces, steam must reach 212 degrees and must stay at that temperature for 10-15 seconds per inch of space. The Dupray Neat Steam Cleaner uses super heated steam that reaches up to 275 degrees and remains that temperature for almost one full hour per tank. It can be used for a number of tasks including cleaning, disinfecting, deodorizing and degreasing floors, cabinets, counter tops and more.
Features
The tank of the Dupray Neat Steam Cleaner is 54 ounces which is on the larger size. The steam hose itself is 6'6″ while the power cord is 16.5″. Water is heated and ready to use in less than 10 minutes and the tank is filled with a built in funnel. The option to use either continuous or on demand steam is available. The smooth roll wheels make it easier to move this steam cleaner from place to place.
Accessories
This steam cleaner comes with a number of tools which include:
Rectangular floor tool
3 microfiber pads
1 window cloth
2 extension wands
1 lance
1 microfiber cloth
1 triangle tool plus 1 microfiber bonnet for that tool
5 nylon brushes
1 brass brush
1 fragrance disc
Recommended: Yes or No?
The option of super heated steam sounds great for people who may want to deep clean and sanitize their home without the use of chemicals. This steam cleaner may deliver on that but it lacks steam pressure so it will not be as effective on some types of messes.
Pros
3 year warranty, Life time warranty on the steam cleaner boiler
Super heated steam which may reach temperatures of 275 degrees
Accessories for a variety of tasks
Continuous or on demand steam
Cons
Water may leak from this unit
Temperature of the steam may not always be as high as advertised
There is no steam pressure
#6. The Steam Mop Cleaner Therma Pro 10-in-1 Handheld Unit: Best Steamer for a Budget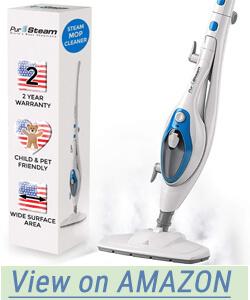 The Steam Mop Cleaner Therma Pro is a super light, handheld steamer that delivers adjustable rates of steam. Steam is ready to use in just 30 seconds. It comes with a 2 year warranty and free replacement for up to 30 days. It comes with a carpet tool, a nozzle brush, a round brush with a cover and 2 microfiber pads.
Recommended: Yes or No?
While this is a budget friendly unit it is pretty small. The tank is only 11.5 ounces. It can deliver roughly 20 minutes of steam cleaning time however it may need to be refilled far too often to be used for larger or deep cleaning tasks.
Pros
Budget friendly
Very light at only 2.2 pounds
Has three adjustable steam options
Cons
Unit is not durable
May be too small for larger cleaning needs
#7.The Rug Doctor Portable Spot Cleaner: Best for Extracting Stains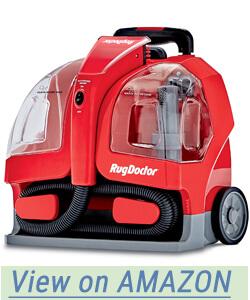 Although it may not be very large, the Rug Doctor Portable Spot Cleaner does have a number of features that allow it to deal with and remove many types of stains on carpet and upholstery. It does this with a motorized brush that moves at roughly 1200 movements per minute but without heat or steam. It also uses powerful suction to extract water and loosened debris at two times the standard rate so that your carpet dries faster.
This portable spot cleaner uses an easy carry handle that can be pulled out for easy moving and then retracted for storage.
You can read the full review Rug Doctor Portable Spot Cleaner here.
Recommended: Yes or No?
This is not a steam cleaner and has zero heat capabilities. Instead, it uses the rapidly oscillating power brush to break up and loosen dirt and debris from inside of the carpet, pulling it to the surface where it can be suctioned up into the tanks. It performs well for this task but should not be considered for full or day to day cleaning tasks.
Pros
Power brush produces 1200 movements per minute
2 year warranty
Dirty and clean water are kept in separate tanks
Cons
Hose is fairly short
No accessories of any kind
Not very durable
May leak from the bottom of the tank
#8. Simbr Steam Cleaner, Mop: Best Pressurized Steam Mop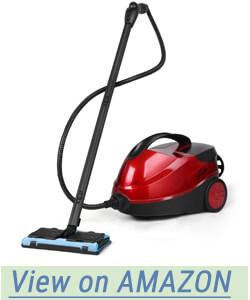 The Simbr Steam Cleaner, Mop uses a variable steam control plus pressure to blast away the dirt from whatever surface you are cleaning. The cap has a built in safety feature that prevents it from being opened or released as long the temperature is high or there is still built up pressure in the tanks. Steam temperatures reach 221 degrees. There is also a lockable steam trigger for continuous steam.
Features
Additional features to this steam cleaner include a 52 ounce tank which heats water to the correct temperature in under five minutes and gives up to 35 minutes of steam cleaning time per tank. The power cord is just over 13 feet long while the steam hose is 5 feet long. It weighs 13 pounds and has an 18 month warranty.
Accessories
The Simbr Steam Cleaner comes with a number of accessories which include:
Glass cleaning brush
Floor brush
Carpet glider
Ironing brush
Nylon brush
Fill cup
2 extension wands
Jet nozzle
Stainless, round brush
Nylon, round brush
Microfiber pad
Mop head
Recommended: Yes or No?
One of the few steamers with actual pressure, this one can loosen and power away dirt better than others. It also has more than enough accessories to make many cleaning tasks easier. The addition of the locking water cap which will not open if there are high temperatures or pressure is a bonus.
Pros
Variable steam control plus pressure allows you to clean and sanitize with less actual scrubbing needed
Plenty of accessories
Steam heats to a germ killing 221 degrees
Safety features prevent accidental burns
Cons
Small amounts of water may leak from some units
#9. Handheld Steam Cleaner by Wollin: Super Light Handheld Steamer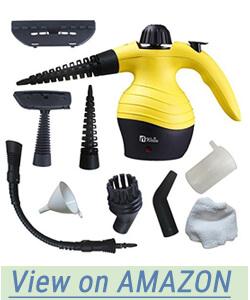 This ultra lightweight handheld steam cleaner is easy to use and heats up in less than 3 minutes. It weighs in at under 4 pounds and has a number of accessories that allow it to be used in a number of ways.
Accessories
This steamer comes with:
Extender connection nozzle
Spray nozzle
Bent spray nozzle
Spray cup
Round brush
Long spray nozzle
General spray nozzle
Measuring cup
Towel sleeve for fabric steaming
Recommended: Yes or No?
This is not recommended for steaming carpets because it is too small to accomplish the task very efficiently. It is a handheld steamer which can be used for a number of other tasks, however.
Pros
Lots of accessories
Lightweight and easy to use
Quick heating time
Cons
Steam is not always as hot as it needs to be
This may drip hot water especially with some of the nozzles
Is too small to be used for any serious cleaning tasks
#10. The Steam Fast Multi Steam Cleaner (Model SF-370WH): Best Canister Style Steam Cleaner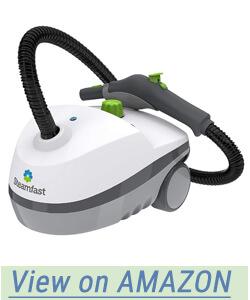 This small, canister style steam cleaner features a 45 ounce tank that heats water to a temperature of 200 degrees in under 8 minutes. Steam can be used on demand or continuous and should last for 45 minutes per tank. The company offers a 30 day money back guarantee plus a 1 year, limited warranty.
Accessories
This steam cleaner comes with a number of accessories which include:
Jet nozzle
2 nylon utility brushes
1 brass utility brush
A scrubber tool plus the scrubber pad for this tool
Squeegee
Corner tool
2 extension wands
Mop head
2 microfiber pads
Measuring cup
Recommended: Yes or No?
The steam heats to an adequate temperature for sanitizing surfaces and lasts long enough to be effective. The unit weighs less than 10 pounds and can be used for a variety of tasks from cleaning carpets, sealed hardwood and other styles of floor to upholstery and more.
Pros
Lots of accessories
Quick heating time
Lightweight
Able to choose on demand or continuous steam
Cons
Customer Service is not helpful when there are questions, concerns or complaints
This is not a durable or long lasting unit
Many reports of clogging even when using distilled water
The Carpet Steam Cleaning Buyer's Guide
There are several features that are important when it comes to dealing with steam. Key among these features is safety. Whenever you are using something electrical that also uses wire, there should be safety features that reduce your risk of serious shocks.These features can include polarized, grounded plugs and insulated power cords. Because to be useful in any capacity, steam must be at a fairly high temperature there should also be features that lessen your risk of being burned.
Never use a steam cleaner with children or pets in the area.
Some steam cleaners use pressure while others do not. Any pressurized steam has the potential to cause serious injuries so there should also be features that minimize this risk as well.
A release valve as well as a lock that keeps the tank from being opened if the temperature is still high or there is still pressure should be considered a plus.
It should be noted that even the most powerful steam cleaner will not replace the work of a traditional vacuum cleaner.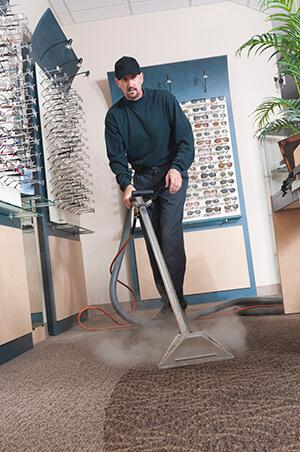 Most will require sweeping and preparation of the areas that are being cleaned to get the best results. To get the most out of the machine that you choose, these are the features that should be considered:
Powered attachments and/or suction power
The size of the water tanks
Is clean and dirty water kept separate?
Which type of flooring is this steam cleaner best used for?
Powered Attachments or Suction Power
Some steam cleaners also use a powered, spinning brush to agitate dirt from carpet or upholstery fibers. Others use suction to remove some of the dirt and water from the carpet during the cleaning process. This speeds drying time as well as helping to remove more of the debris that is loosened by the steam. If the steam cleaner does not use pressurized steam, powered attachments is a logical solution.
The Size of the Water Tanks
How big the tanks are will dictate two things. First, the larger the tank the longer it will take to heat the water to the correct temperature and second, larger tanks will produce steam for a longer period of time.
Keep in mind that larger tanks will add to the overall weight of your steam cleaner which is especially important to handhelds.
In a single tank type of steam cleaner, the collected dirty water may introduce debris that will eventually clog the nozzle. These units are also less effective than those that have separate tanks for dirty and clean water. Dual tanks also allow you to keep track of how much dirt you are getting out of the carpet, how much water is being removed and tend to have enough suction that drying time is far shorter.
Which Type of Flooring is This Steam Cleaner Best For?
If you have mainly carpeting, the type of steam cleaner that you choose should be fairly large and should have all of the features that you would expect such as a power brush for agitating dirt from deep fibers. If you have hardwoods, the steamer should not have brushes as they can scratch the finish.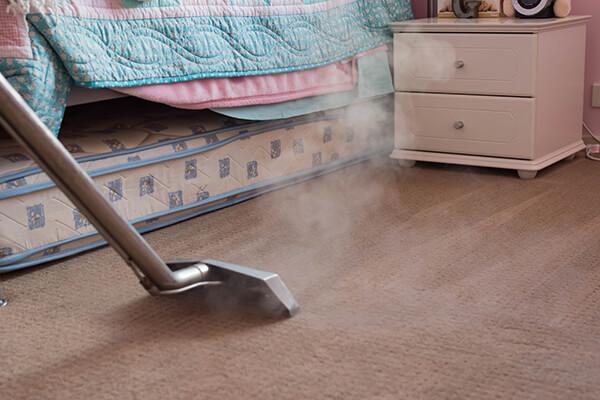 For a combination of floors there should be a way to protect the hardwood or other sealed finish floor from damage such as brushes that can be removed or turned off. Steam cleaners typically use a glider for a carpet but that can mean that you are not getting very adequate sanitation if that is your goal. Steam must make direct contact with the surface for the right amount of time and at the right temperature to kill germs, dust mites and more. The carpet glider will prevent this from happening so at best, you are giving your carpet a bit of steam to revive and refresh fibers.
The smaller types of steam cleaners may also falter because the steam they produce will not last long enough to finish an entire carpet without multiple refills plus time spent waiting for the water to heat back up.
How Often Should You Steam Clean Your Carpet
The experts at Good Housekeeping suggest that the average home should be vacuumed once each week unless there are pets, children or excessively dusty conditions. Steam cleaning should be done every 3-6 months and professional carpet cleaning should be done once per year. Spot cleaning and stain treatment should be done as soon as possible. It is important to pretreat stains and some types of odors before using a steam cleaner as the heat may make these permanent in some fibers.
Always remember to use as little steam as possible and to ensure that the carpet is drying properly to prevent the risk of mold growth.
Summary
Reviewer
Review Date
Reviewed Item
Author Rating