No matter what type of flooring you have, making floors look their best can be a challenge. Traffic, age, neglect, and cleaning with the wrong products can do a number on floors. You may be looking for the right vinyl floor cleaner, but the plethora of options can make it difficult to choose. Fortunately, we have reviewed 10 of the  best vinyl floor cleaning products on the market.
It's important to choose the right cleaner for vinyl floor to avoid damage, prevent health problems and enhance the overall condition of your floors.
Review Top 10 of the Best Vinyl Floor Cleaner 2019
Babyganics Floor Cleaner Concentrate
Concentrated formula, 1 bottle makes 8 gallons of solution
Pediatrician & Dermatologist tested
Cleaning formula that is rinse free and carpet cleaner compatible
Rejuvenate All Floors Restorer
One 32oz bottle covers up to 650 sq.
Dries in 45 minutes and lasts for months
Perfect for residential and commercial use
---
Bona® Stone, Tile & Laminate Floor Cleaner Refill – Best for Non-Coated Surfaces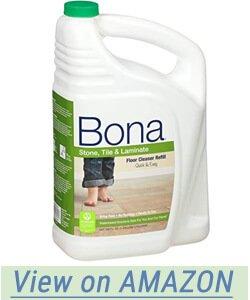 The company Bona® has provided a floor cleaner that's the bona fide real thing for cleaning hardwood floors. The formula cleans vinyl, linoleum, porous marble, terrazzo, LVT and any tile that isn't wax-sealed. It leaves behind no streaks and a shine that's not too overwhelming. The water-based cleaner is formulated to dry fast with no residue that leaves floors dull. Furthermore, the splash free technology makes it easier to pour, and there's no need to rinse after use.
Bona® Stone, Tile & Laminate Floor Cleaner is also backed by the Greenguard Gold certification, confirming that it's safe to use even around toddlers.
This product earns a standing ovation for its superior cleaning and deodorizing formula that is also safe for floors. However, it's not perfect. It must be diluted well or you may end up with sticky, streaky floors. Lastly, it may be safe for floors but not necessarily for you. It might irritate the skin and eyes, and the manufacturer recommends wearing gloves and eye protection during use.
We highly recommend this product if you need to remove dirt and smells and want to protect the condition of your floor. It's not easy to come across such a superior cleanser. We wouldn't recommend this for use without eye and skin protective gear or around children and pets.
Pros
Safe for use around the whole family
Water based
Uses splash-free technology
Creates a subtle shine
No rinse necessaryc
Fast drying
Easy to pour
Cons
May require extra work
May leave behind some residue and streaks
Doesn't work on waxed-sealed surfaces
Works better on a pre-cleaned surface
OdoBan 936162-G Neutral pH Vinyl Floor Cleaner Concentrate – Best ph-neutral floor cleaner for luxury vinyl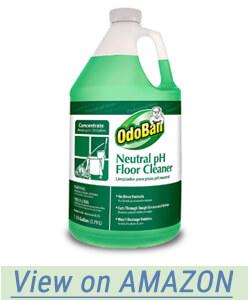 OdoBan has been creating quality cleaning formulas since 1980. Specially formulated to safely clean hard surfaces, the OdoBan Neutral pH cleans and shines vinyl, laminate, porcelain and tile. It's also streak free. The neutral pH ensures that your floors won't incur any damage. It also deodorizes and even removes the smell of cigarettes, urine and animals. The rinse-free formula was initially created to work on industrial floors, such as those in hospitals. It also works on old flooring. OdoBan comes in a 1-gallon container and can make up to 128 gallons.
This product earns a standing ovation for its superior cleaning and deodorizing formula that is also safe for floors. However, it's not perfect. It must be diluted well or you may end up with sticky, streaky floors. Lastly, it may be safe for floors but not necessarily for you. It might irritate the skin and eyes, and the manufacturer recommends wearing gloves and eye protection during use.
We highly recommend this product if you need to remove dirt and smells and want to protect the condition of your floor. It's not easy to come across such a superior cleanser.
We wouldn't recommend this for use without eye and skin protective gear or around children and pets.
Pros
Removes stubborn, unpleasant smells
Concentrated for more uses
Doesn't harm floors
Provides a thorough clean
Industrial strength
Shines
Streak-free
Rinse-free
Works well on old floors
Cons
May cause sticky floors
Not safe around children and pets
May cause irritation
Requires careful dilution to prevent streaks and stickiness
Better Life Natural Plant Based Best Hardwood Floor Cleaner – Best for Green Cleaning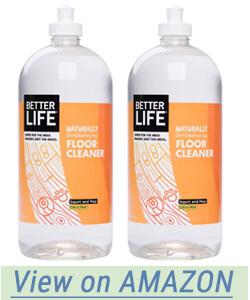 If you're adamant about safety and purity along with cleanliness, Better Life Natural Plant Based All-Surface cleaner might be a breath of fresh air. It uses all-natural ingredients with you and the environment in mind without sacrificing power. Better Life is one of the few companies that can proudly display their product's ingredients, which are as follows:
Natural corn-based and coconut surfactant blend
Pure grapefruit, bergamot, and spearmint essential oils
Purified water
Preservative
This cleanser has few, safe ingredients that work. It doesn't include the following common ingredients:
Dyes
laureth sulfates
Alcohol
Sodium lauryl
Parabens
Synthetic fragrances
Ethers
Ethoxylates
Petroleum solvent
It's also safer for the environment and uses solar energy to produce packaging, which is also recyclable. Better Life's product formulas are never tested on animals. Furthermore, their biodegradable ingredients break down up to five times faster compared to other conventional and natural brands on the market.
Debunking the assumption that natural, plant-based products don't work as well, it attacks even stubborn grime. It works on sealed floors, like bamboo, ceramic, laminate, hardwood, stone, and vinyl. The cleaner lathers up easily, so a little goes a long way. Customers also love the refreshing citrus scent.
We really like that this product uses plant-based cleansing technology and materials that are safe for humans, the environment, animals, and floors. It's highly recommended for all floor types, including hardwood.
Be sure to follow instructions and don't go overboard; It produces a lot of suds, and too many could leave behind residue and cause your floors to appear dull.
Pros
Plant-based ingredients
Free of common irritants and toxins
Great smell
Environmentally friendly
Safe for the whole family, including pets
Powerful
Cons
Produces a lot of foam if too much is used
Might cause sticky floors
Might leave behind residue
Babyganics Floor Cleaner Concentrate, Fragr – Ideal For Families With Infants and Toddlers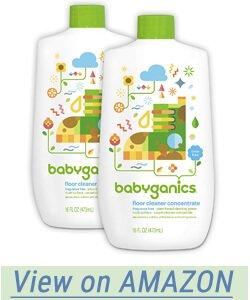 Babyganics has no shame in displaying the ingredients on the label since there's nothing harmful to hide. This floor cleaner concentrate is safe for use on all types of flooring, including carpet. Most importantly, it contains no ingredients that would harm infants. If you are concerned about the health of your children and pets, then this cleaner is ideal for you.
This cruelty free, dermatologist and pediatrician tested product is free of dyes, phalates, parabens, sulfates, phthalates, artificial fragrances and ammonia.
It's made with plant-based cleansers, which include the following (not in order of importance):
Water
Sodium Lauryl Glucose Carboxylate, plant-based foaming agent and cleanser
Lauramine Oxide (plant-derived and used to clean and boost foam
Decyl Glucoside (plant-derived cleaning agent)
Lauryl Glucoside (plant-derived cleaning agent)
Potassium Cocoate (plant-derived cleaning agent)
Caprylyl Glycol (Microorganism inhibitor)
Phenoxyethanol (as a preservative)
Biodegradable Methylglycinediacetic acid (chelator)
Sodium Citrate (plant-derived water softener)
Aside from its safety, it's concentrated, so you'll only have to use 1 oz for every 1/2 gallon of warm water. There's no overwhelming scent since the product is fragrance-free.
Now, for the not so good news. It's not for unsealed wood. Furthermore, it may produce too many bubbles and end up attracting dirt from the residue left behind.
Pros
Natural, plant-based ingredients
Safe for children and pets
Unscented
Discloses all ingredients
Not animal tested
Tested by dermatologists and pediatricians
Concentrated for more uses
Cons
Not for unsealed wood
Produces a lot of bubbles
Could attract dirt and dust
Rejuvenate All Floors Restorer – Great for Filling In Scratches and Adding Traction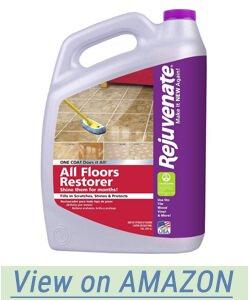 This unique cleaner works to restore shine and eliminate the appearance of scratches. It works on multiple hard surfaces, such as tile, hardwood, vinyl, laminate, terracotta, linoleum, fiberglass and more. Rejuvenate protects floors from fading and seals them as well. The formula makes floors less slippery and safer by increasing traction up to 50%.
It's not exactly safe and should not be used around children and pets. You should also wear eye protection and gloves during use. However, it does wear the GreenGuard label, which stands for low amount of chemical emissions.
Furthermore, this can harm floors that have polyurethane.
Overall, this is an excellent product if used with caution. It has some safety elements and does what it claims to do.
You can read the full review here.
Pros
Restores shine
Fills in scratches
Promotes traction
GreenGuard Label
Works on multiple surfaces
Cons
Not to be used around children and pets
Requires protection during use
Not safe for floors with polyurethane
Quick Shine Multi-Surface Floor Finish and Polish – Great for Environmentally Safe Shine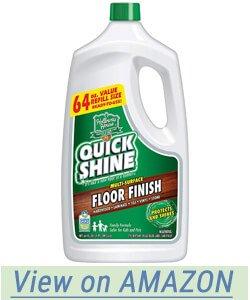 Quick Shine is a finisher designed to polish, protect and shine laminate, tile, stone, vinyl, hardwood and more. The water polymer formula creates a long-lasting shine. The makers of this product, Holloway House, went through rigorous tests to earn the Quick Shine Multi-Surface Floor Finish and Polish (Environmental Protection Agency) Safer Choice Label. To earn such an accolade, a product must be safe for the environment and the entire family, including children and pets.
This means they are free of inorganic phosphates, dangerous solvents, harmful surfactants, and heavy metals. The product was evaluated on its performance, ingredients, ingredients disclosure, VOCs, packaging and the product's pH.
What we didn't like about this product is that, although the initial use is picture perfect, it might in some cases end up much worse. The polish can leave a thick, white film, footprints and paw prints. Even worse, it may cause irreversible scratches and scuff marks.
Also, it must be used with a micro-fiber mop or cloth for best results.< We recommend this product for use on floors with virtually no traffic. If you have children or pets, it's almost certainly not worth the try. Although you'll experience never seen before shine, it seems to cause grime to build up and damage some flooring. It's best to ask your floor manufacturer before using this brand.
Pros
Brilliant shine
Protects
Can be used on various types of hard surfaces
EPA Safer Choice Label Certification
Cons
Must be used with microfiber mop or cloth for best results
Can cause permanent damage
Might cause a white film after first use
Leaves prints after use
Not recommended for areas with heavy traffic
SC Johnson Pledge Floor Care Multi-Surface Finish – Best for Quick Gloss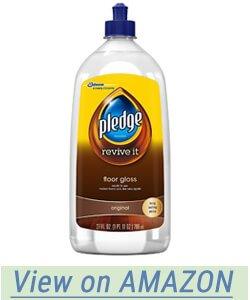 This product is backed by a reputable company, one of the oldest in the polishing business. It's a multi-surface finish that can be used on vinyl, hardwood, laminate, tile, linoleum and more. The multi-surface cleaner produces a transparent, quick shine, restoring old, dull floors and protecting them from damage. There is no rinsing required; just apply and allow 20 to 30 minutes to dry.
The product is free of bleach. However, it does contain ammonium hydroxide, phosphates, and other possibly harmful or irritating ingredients. The label recommends this to be kept away from children. We recommend using protective gear when using and keeping this product away for pets and children.
The shine may not last very long, and it attracts dust and dirt. With that said, floors should be cleaned often to avoid buildup and possible damage.
Pros
Reputable company
Easy to use
Can be used on multiple surfaces
Clear gloss
Restores
No rinse required
Cons
Contains ammonium hydroxide
Attracts dust and dirt
Shine might not be long-lasting
Contains phosphates
Black Diamond Marble & Tile Floor Cleaner – Best for Streak-Free Clean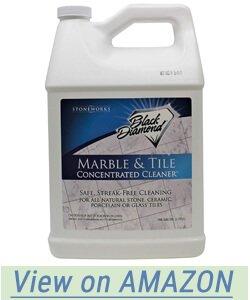 Although the name says marble and tile cleaner, this multi-surface cleaner also works on granite, ceramic, stone, vinyl, travertine, linoleum and porcelain. It's an easy to use, concentrated, streak-free cleaner that does not require any rinsing. It also has a neutral pH and a clean, pleasant scent that isn't overwhelming.
Black Diamond Marble and Tile Floor Cleaner is safe for floors and the entire family. It's a hypoallergenic formula, biodegradable and eco-friendly.
Although it's claimed to be safe for the environment and hypoallergenic, the warning label includes an ethoxylated, alcohol and C9-11 hazard. The label also recommends wearing eye protection and gloves, as well as washing thoroughly after use. Not all ingredients are clearly disclosed on the label.
Overall, this product shows promise in the area of cleaning without leaving behind residue. We recommend use if you are prepared to use it with caution.
Pros
Streak-free
Concentrated
Does not leave behind any residue
Hypoallergenic
Biodegradable
Claims to be eco-friendly
Natural pH
Clean, pleasant scent
Cons
Must where eye protection and gloves
Hazardous warning label
Not all ingredients disclosed
Armstrong 330806 Armstrong Once 'N Done Cleaner Concentrate – For Deep Cleaning
Proven to be very effective at cleaning hard surface floors, Armstrong Once 'N Done is also easy to use. As the name suggests, it's a one-step, no rinse process. It works on vinyl, ceramic and laminate floors, and the manufacturer claims it leaves floors dull-free and residue-free. We really appreciate that Armstrong Once 'N Done can clean deeply set, stubborn grime with a good mop and elbow grease.
Now for the not so good news. Maybe there should be no surprise that such an effective cleanser would have some caustic ingredients, such as ammonium hydroxide. However, the presence of the feature nonetheless completely shattered our hopes. Not only does ammonia come with a scathing smell; the harmful effects it can cause just aren't worth the try.
TOXNET, Toxicology Data Network, an affiliate of the National Institute of Health, lists a plethora of ammonium hydroxide side-effects and case studies. Some effects include blepharospasms, severe pain, blisters, trouble breathing, gastric and esophageal corrosion and the list continues. Ammonia also may not be good for certain surfaces, like hardwood or luxury floors. Just to add, Once 'N Done is not for use on hardwood and doesn't exactly specialize in shine.
All things said we would recommend this product only with extreme care. If your dirty floors are getting the best of you and you've tried everything, then, by all means, use with caution.
Pros
Durable
Easy to Use
One-step Process
Rinse-free
Dissolves stubborn dirt
Dull-free
No residue
Cons
Contains ammonium hydroxide
Not great for shine
Must use extreme care when using
Not for delicate or luxury floors
Shaw Floors R2X Hard Surfaces Flooring Cleaner Ready to Use No Need to Rinse Refill – For All Hard Surface Floors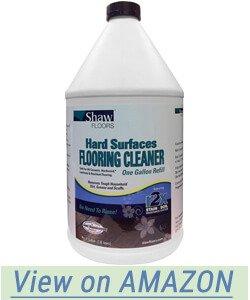 This floor cleaner can be used to protect and brighten floors, removing stains, dirt and even scuff marks. It's formulated to prevent residue that causes a dull finish. There's no need to rinse or dilute, and it has a subtle, pleasant scent. Shaw R2X is even safe to use on real hardwood floors. We couldn't find many negative attributes.
One downside is that it may still leave behind dulling white streaks and residue in rare cases. On the bright side, this usually occurs when floors already have pre-existing oil, residue or wax. Another caveat is that it may not be safe on painted floors.
The Shaw Floors R2X Hard Surfaces Flooring cleaner is highly recommended. It's flexible because it can be used on all floor types. It also deep cleans and doesn't harm your floors.
Pros
Safe for all floors
No rinsing required
No need to dilute
Smells good
Protects floors
Brightens floors
Cons
Could leave behind white streaks
Not for use on painted floors
Might cause dullness
Is It Safe For The Whole Family?
Many cleansers are made just to clean, and do not keep safety in mind. The standard cleaner will have potentially harmful ingredients, some more harmful than others. For example, as mentioned earlier, ammonium hydroxide can cause an unpleasant scent and is also harmful for your health. Peruse the list below that contains some of the popular Vinyl floor cleaning chemicals.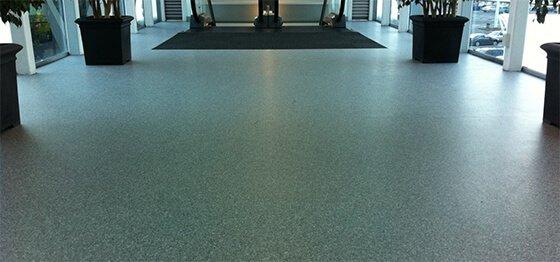 Phthalates:
Tox Town, an affiliate of the U.S. National Institute of Medicine, stated in one article that phthalates may cause harm to the reproductive system. It's also known to cause cancer in humans.
Ammonium Hydroxide:
As stated earlier, use of this chemical comes with a number of harmful side-effects. One National Institute of Health case study includes a 54-year-old custodian who diluted the substance for cleaning on a daily basis over a course of 19 years. Exams showed the man had incurred cataracts and lung damage and had trouble breathing as a result of chronic exposure.
Synthetic Fragrances:
Author Carol Potera, who published an article in Environmental Health Perspectives, stated that scented products can contain over 100 VOCs (volatile organic compounds). Many consumers reported irritation that resulted from using scented products. What's more is that companies are not required to list all the ingredients, and they rarely do.
Ethers
An Environmental Health Perspectives article written by Nate Seltenrich mentions that a mother's exposure to certain ethers can negatively affect her baby's cognitive functions. For example, low verbal acuity scores were associated with the mother's exposure to phenoxyacetic acid (PhAA).
Alcohol Ethoxylates:
The EWG (Environmental Working Group)lists these types of chemicals as possibly harmful to the respiratory system. They can also cause skin irritation and cancer, affect a child's development and harm the reproductive system.
Laureth Sulphates:
Although these chemicals are generally safe, they can cause eye and skin irritation, as stated in a US Library of Medicine article.
Safety Tips
Always read labels and instructions carefully.
Make sure the area is ventilated before you begin cleaning.
Be careful not to slip.
Don't allow the cleaner to come into contact with your skin or eyes.
Avoid mixing products.
Even if a product is safe for children and animals, there is always a risk of slipping, so be sure they are not in the area while cleaning.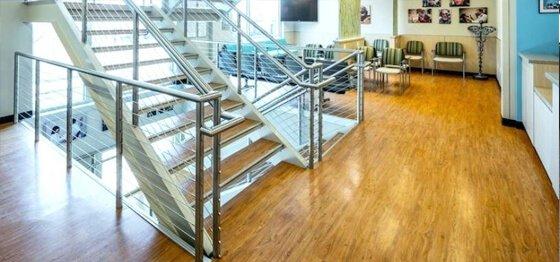 Is It Safe For Your Floors?
Many floor cleaners are known for removing dirt, stains and even scratches. However, there could be a price to pay. Prolonged use of cleaners has been known to cause permanent damage. Some may be abrasive, cause dullness or may change the color of your flooring. Be sure to only buy a cleaner that is safe to use on your flooring or deal with the risks.
Is It Affordable?
If it's not in your budget, then don't buy it. You can easily find safe and effective floor cleaners for reasonable prices. Do research to compare prices and read reviews to determine the quality level. Just don't assume a high-priced product works better than a lower priced one.
Helpful Additions
Microfiber Mop
To make the job easy, invest in a microfiber mop or microfiber cleaning pad to use in conjunction with your cleaner of choice. Microfiber is one of the most effective cleaning materials for a number of reasons. The University of Washington Field Research and Consulting Group names microfiber a superior cleaning instrument because it promotes thoroughness, captures microbes and requires less water and chemicals. Microfiber can easily get in between tiny spaces because of its small fibers, which are 1.0 denier or less. The material can easily absorb dust molecules and bacteria. In fact, the group included a study that found that a microfiber mop can reduce 99% of bacteria; whereas, a cotton mop reduced bacteria by 30%. In addition, microfiber comes in various color, which allows you to color code, reducing cross-contamination.
Warm Water
While hot water may be abrasive to some surfaces and possibly a safety hazard for you and your family, warm water can really make a difference. Some cleansers may not require the use of water, but if so, warm water can help loosen dirt and oil. On a final note, vinyl floor cleaners come in a variety of options. Whether you are more concerned with your floor's appearance or preventing health hazards, there's a cleaner that can meet your needs. Be sure to follow the tips and guidelines in the buyer's guide to help you along the way.