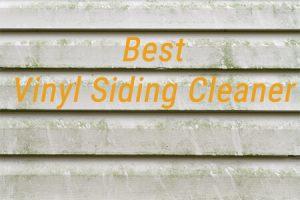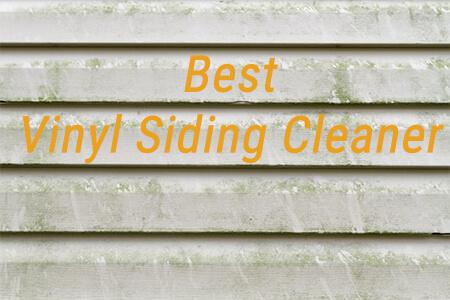 Vinyl siding is a low maintenance option that is very popular in today's home construction. Even though it doesn't require a lot of maintenance, you will still need to clean it every so often to keep up your overall curb appeal.
With tons of siding cleaners on the market, you need to do your research to make sure you are choosing the best vinyl siding cleaner for your home. Here are a few tips on what to look for in vinyl siding cleaners and a few reviews to help you start shopping.

Review Top 7 of the Best Vinyl Siding Cleaner 2019
RMR-86 Instant Mold Stain & Mildew Stain Remover: Best House Vinyl Siding Cleaner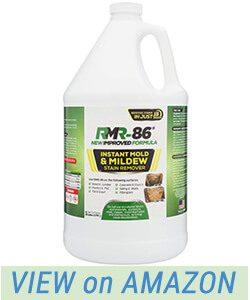 If you are looking for an ultra-fast stain remover, RMR-86 was created to get rid of mildew and mold stains in just seconds. With RMR-86's proprietary formula, it can target deep-set stains instantly saving homeowners and contractors hours of labor and time. It works well on vinyl, grout, tile, drywall, concrete, and wood, plus it doesn't leave any residue after you apply it.
RMR-86 doesn't require any scrubbing or sanding, and it can be applied to porous surfaces like fiberglass and concrete. Even though this is a commercial grade liquid cleaner, you don't have to be a professional contractor to purchase and use it. This is a safe product to use on most surfaces since it is a plant-based product.


Designed over time by disaster restoration professionals, this product was the results of tens of thousands of hours in the field to deliver a product that can literally remove stains within seconds and restore surfaces to a like-new appearance. RMR-86 can also be used on fiberglass, decks, outdoor furniture, shower doors, toilets, tubs, and counters as well as boats.
With RMR-86, you have a powerful formula that is bleach-based that will protect, restore, and renew 200 to 400 square feet per gallon when used according to the directions. This is an amazing product to use around the house both outdoors and indoors.
Pros
Works surprisingly well to get rid of mold and mildew
Works well on showers too
Works well without lightening colors
Cons
The product is so strong it will make you cry
Prep area beforehand as the product will bleach anything it touches
Star Brite Mildew Stain Remover: Best out there for Mildew Removal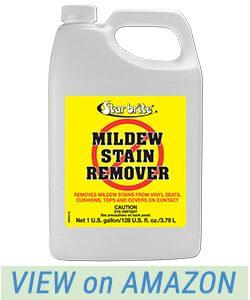 Designed to get rid of unattractive stains quickly, Star Brite Mildew Stain Remover will work on your home, furniture, and car. It starts to work right on contact and works well on almost any surface including painted surfaces, plastic, vinyl, and fiberglass. With their unique buffered formula, you won't have to worry about damaging threads or vinyl upholstery.
If you want a safe alternative to bleach, you can safely use the Star Brite Mildew Stain Remover around your house and RV. This easy to use the product only requires you to spray it on, give the area a little scrub, and then rinse.
Available in a 16-ounce container, you get tons of stain fighting power that will last you a long time and is the perfect solution to health risks and the ugliness that goes along with having mildew issues. Made in the USA, Star Brite Mildew Stain Remover also works on marine vinyl upholstery without worrying about harming stitching.
Pros
Works really well on boats
Better than bleach and water
Amazing results, it really brightens and cleans
Cons
Doesn't work as well on really set in stains
Takes longer than it claims to remove stains
Simple Green 13421 Pro HD Heavy Duty Cleaner is a non-toxic, non-corrosive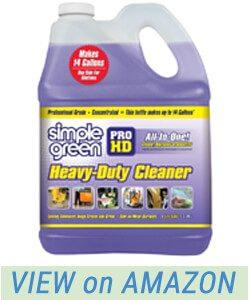 If you are interested in a professional grade cleaning product, Simple Green Pro HD is both non-corrosive and non-toxic. It was developed for multi-purpose contractor jobs that include use with pressure washers, washing parts, ultrasonic cleaning, and cleaning and degreasing homes, commercial kitchens and baths, RV's, cars, industrial equipment, floors, wall, and appliances.
This product is safe to use on metal surfaces and quickly gets rid of stains, grime, and grease.
You can use Simple Green Pro HD as a one-stop degreaser and cleaner on tile, showers, sinks, refrigerators, stovetops, counters, cabinets, canvas, vinyl, plastics, polished or stainless steel, aluminum, painted surfaces, and floors. You can also use Simple Green Pro HD as a heavier cleaning solution for exteriors of boats, RVs, vans, trucks, and cars, as well as oil and grease stains, bumpers, landscaping equipment, heavy equipment, tools, engines, and wheels. This is the best natural cleaner for vinyl siding.


This is a cost-effective cleaning solution that can be diluted to be used in floor scrubbers, carpet cleaners, and pressure washers. Simple Green Pro HD has a bio-degradable formula that is ideal to use in either commercial or residential settings to break down tough stains, grime, and grease giving you 14 times the cleaning value of its competitors.
Pros
Cleans up greases very well
Don't need to wear a respirator to use it
Works well on lawn equipment as well
Cons
Doesn't work any better than using a power washer
Too pricey for what you get
Mold Armor FG51164 E-Z House Wash: Best for Pressure Washer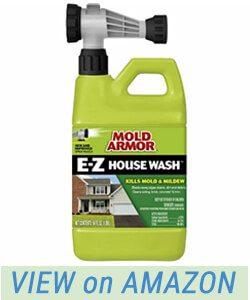 With an easy to use formula, Mold Armor House Wash will clean brick, wood, and vinyl siding without the need for scrubbing. It can easily and effectively remove the stains that algae, mildew, mold, and dirt can cause.
By simply using a hose sprayer, you can apply and get the right pressure for cleaning off the exterior surfaces around your home.
With Mold Armor House Wash, you can reach stains with its powerful spray to get rid of debris and dirt that you usually need a ladder to get to. With a 2X stronger formula, you can kill mildew and mold stains while providing just the right quantity of concentration for any type of exterior surface. This product is also EPA registered and safe to use on exterior surfaces.
After applying Mold Armor House Wash, you only need to wait ten minutes before rinsing it off to the results. It also works on stucco, aluminum, trim, and painted wood as well as resurfaced or restored finishes.
One 64-ounce bottle will clean up to 4,500 square feet, plus it includes a new and improved spray selector so you can choose the right spray pattern or the job including shower setting, wide spray setting, and jet-setting. This is the best vinyl siding cleaner for pressure washer.
Pros
Removes mildew without scrubbing
Works well with just a hose
Comes with a convenient sprayer for easy application
Cons
Takes a couple of tries to get everything off
Harder to use on the second story of your house
Home Armor FG503 E-Z House Wash – Safe for landscaping applications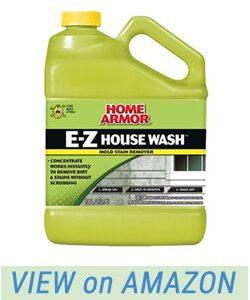 With only a garden sprayer, you can apply Mold Armor E-Z House Wash to your home's exterior to get rid of algae, mold, and mildew. Perfect for cleaning stains on exterior surfaces, it safely works on fences, decks, trim, concrete, stucco, brick, vinyl, and wood and aluminum siding. Home Armor is also safe to use on landscaping applications as it won't harm landscaping or plants when it is used as directed.
Home Armor does not require scrubbing and can get rid of heavy soil and stains when used at full strength.
One gallon can cover up to 2,000 square feet and will work in just ten minutes. This is the perfect product for homeowners and professionals who need to get the job done.
Pros
Works well by just spraying it on
Works really well on green and black mold
Works well on areas that are really saturated
Cons
Make sure to cover everything as it will bleach stuff
Doesn't come with a spray nozzle
Wet & Forget Outdoor – Safe for Plants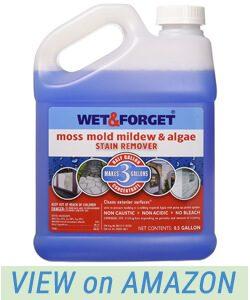 Taking the hard work out of cleaning, Wet & Forget Outdoor does not require you to pressure wash, rinse, or scrub. You just simply apply the product to an exterior surface so that Wet & Forget Outdoor can do all the work for you.
Working with the rain and wind, Wet & Forget Outdoor works to mildly get rid of unattractive growth over time.
Containing no bleach, Wet & Forget Outdoor is also non-acidic and non-caustic so you can easily use it on any outdoor surface without worrying about damage to the surface or fading. This is an easy to use product that you only need to spray on a surface and then walk away letting it attack the problem right at the root to give you long-lasting results.
Wet & Forget is safe for use around your plants and has pH close to water.
It will safely and easily get rid of mildew, mold, lichen, moss, and algae without worrying about damage to the exterior surfaces of your home. You can safely use it on your roof, deck, driveways, walkways, brick, boats, and RVs as well as siding to keep those unsightly stains away for a year.

Pros
This is the best vinyl siding cleaner safe for plants
Requires very little scrubbing
Works just like it claims
Cons
Takes a couple of days to see the results
If you spray it on in the spring, it will look good by summer
Krud Kutter HW01 Clear House Wash with Mild Odor: water-based, biodegradable, non-flammable, non-toxic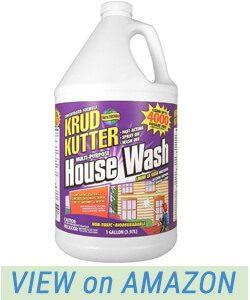 Using a special additive called "sporex" in its proprietary formula for house and siding cleaner, Krud Kutter HS01 attacks tough stains like moss, fungus, algae, mold, and mildew completely cleaning the surface of your home. It also dissolves tough stains like acid rain, tree sap, bird droppings, oil grease, and dirt with specific surfactants that can penetrate the surface. Plus, it can remove gray weathering on oxidation, chalking, and wood.
Krud Kutter HS01 is quick, safe, and effective on almost all surfaces including aluminum, vinyl, and wood exterior siding, tile, cedar, fiberglass shingles, and asphalt shingles as well as a cement block, brick, walls, walkways, masonry, stucco, and gutters. It is safe to use around plants as well as long as you rinse the surrounding plants before and after the application with water. This product does not contain petroleum solvents and can clean up to 1000 sq.ft. per quart or 4000 sq.ft. per gallon.
Pros
Cleans your house without harming your plants
Easily cleans mildew off your siding
All you need to do is spray it on and then rinse it off
Cons
Works just as well as a power washer
Not as effective as other brands
Vinyl Siding Cleaner Buying Guide
There are many diverse reasons why people choose siding for their homes. Some want to improve their home's aesthetics while others get them because of their low maintenance. No matter what the reason, there will come a time when you need to clean your siding which can collect lichen, mildew, mold, algae, grime, dirt, and dust over time.
Those that have already tried to clean siding know how hard these stains are to remove so finding the right vinyl siding cleaner is key to having the best curb appeal in the neighborhood.
The Importance of Getting a Great Vinyl Siding Cleaner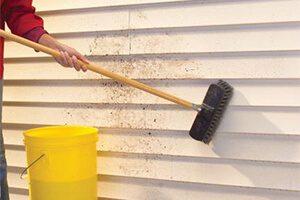 Even though vinyl siding is very low maintenance, it does require cleaning once a year. When washing your siding, you shouldn't just any type of siding cleaner as you want to make sure your cleaner is able to get the grim and dirt off of your home. This is especially important if you siding hasn't been cleaned well or at all over the years.
Then you will have to deal with a larger grim and dirt problem that can be very hard to clean off, plus you run the risk of health issues if you are breathing in the mold.
Having mold on or in your home can also attract bugs, particularly gnats which can give you a lot of trouble if they become infested in your home. They lay tons of eggs at once breeding very quickly and overwhelming your home before you know it.
You can avoid these issues by finding the right vinyl siding cleaner that is quick and strong while also being delicate enough so as not to cause damage to your landscaping or home.
Considerations When Choosing a Vinyl Siding Cleaner
Even though it may seem like a basic task to pick out vinyl siding cleaner, there are a few considerations to make before you decide on a cleaner.
Size of Your Home
Since there are many different size homes out there that have different width and length sidings, it is important to buy the right amount of vinyl siding cleaner for your project. This will keep you from making more trips to the store to get more or you will have to store it for next year's cleaning.
Type of Siding
Depending on your taste, sidings can be made from plastic, wood, cement, metal, aluminum, or vinyl so you need to make sure the cleaner you are buying will work with the type of siding you have. You can also use many cleaners on patio furniture, garage doors, shutters, the roof, and interior areas like shower doors and tile.
Some siding cleaners are meant just for siding though and can be dangerous if used indoors, so make sure you are using your cleaner in the appropriate setting for your safety and to protect the surface you are cleaning.
At most, your vinyl siding cleaner should work on all the exterior surfaces of your home. Depending on the cleaner, you may be able to spray it and then just rinse while others may require you the use of a brush to loosen the mold and mildew. Try to find a cleaner that will clean the type of siding you have as efficiently as possible.
House Surroundings
You also need to consider everything that is surrounding your home like slabs, pavements, and brick as well as plants, grass, bushes, and flowers. The cleaner you choose will come in contact with the bushes, flowers, and grass, and it may cause them to wilt or die, especially if the cleaner is really concentrated.
Cleaners that are highly concentrated are good for getting rid of tougher stains but if your stains are not that bad you may want to choose a non-corrosive and eco-friendly cleaner that is gentler for the plants that surround your home. Usually, they consist of acid, lye, bleach, heavy metals and are phosphate free.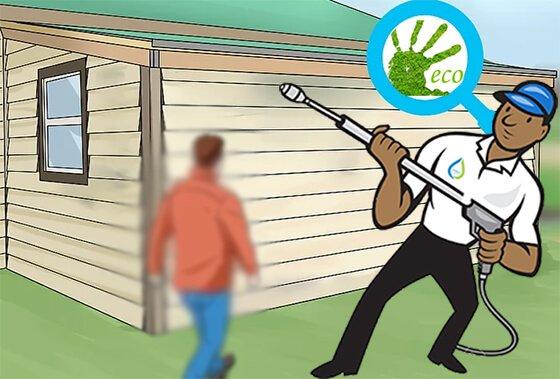 Types of Stains and Dirt
Depending on your geographical location, the stains on your siding may be different from someone else's.
For those that live in a dry and sunny place, you may have more problems with dust and need a siding cleaner that works well on dust.
Others may live in an area that is very humid or rainy and has siding that is covered with dirt, lichen, mold, algae, and grim. Cleaners that work well on dust won't be much help to you, so you will want to look for a cleaner that responds well to mold and algae. The best vinyl siding cleaners will be able to clean every possible stain off of your siding and may be your best choice.
Cost
Finding an affordable cleaner is one of the most important considerations in today's economy. Make sure the cleaner you are choosing has the features you need instead of basing your choice on what is the cheapest so you don't end up having to buy even more cleaner to finish the job.
Also, keep in mind the size of the container and make sure it will cover the square footage you have. Again, you don't want to buy the cheapest cleaner only to find you don't have enough.
How to Clean Siding
One of the most attractive and durable parts of your home, vinyl siding does need occasional maintenance so that it stays looking like new. Any exterior will stain over time with mildew, mold, and dirt causing your house's exterior to look worn out and grimy. Just a little effort and time can give your home a brand-new look.
Before you begin to clean your vinyl siding, follow these steps to avoid large messes and possible health hazards.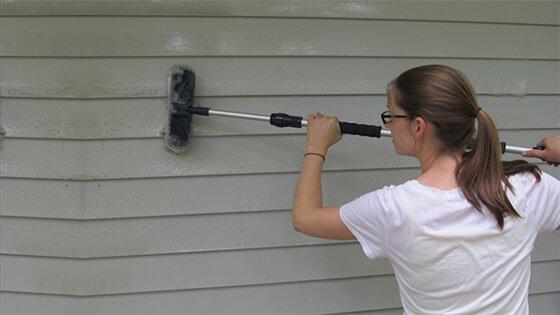 Safety First
Make sure to wear safety goggles, rubber gloves, comfortable clothing, and closed-toe shoes to protect your skin and eyes. A face mask is also a good idea so that you won't breathe in fumes from the chemicals used in the cleaner. Also, remove any objects that might get in your way like toys and outdoor furniture.
You will also want to close all windows and doors to stop any water from getting inside the house. Also cover your landscaping, pot, and plants with tarps to keep them from being damaged by the cleaning products. It is also a good idea to cover, unplug, or turn off lights and electrical units.
No Direct Sunlight
It's also important to choose the right day where there isn't direct sunlight. A cloudy day will stop the sun from drying spots too fast and unevenly.
Cleaning Your Siding
Your first step is checking the condition of your windows and siding. Take a quick tour of your home's exterior to make sure all of your siding is intact and you do not have any loose piece of vinyl. Also look for cracks in the siding where water can get it and find out on the long walls how the lengths overlap. Close all your windows and see if the glazing and caulking on the windows are in good condition so water doesn't get in as you are working.

Also, water your garden beds that surround the edges of your home making sure to soak the soil well. This will help to dilute any chemicals in the cleaner that will reach these beds so that the plants don't absorb them as easily.
Add the cleaner into your pressure washer following the directions on the container. Position the soap to the end of the wand on your pressure washing wand adjusting the pressure and angle so that it covers a wide area of the vinyl siding. Apply the soap to your siding while avoiding direct spray on the areas where vinyl lengths overlap which can force its way behind these vinyl panels and get into your insulation.
If the water does become trapped behind siding, it will not dry easily and can lead to water damage. This can also happen when spraying in corners so be aware of how water is affecting crevices where the siding meets.
It is also a good idea to wipe any of these areas clean with a dry towel to reduce the moisture in these areas.
Keeping the wand of the sprayer at a 45-degree angle will help to remove and lift dirt from beneath which is more effective than just blasting it straight on. Make sure to keep your eye on the soap level so you can refill it periodically as you run out.
When you are done with the siding cleaner, switch the tip of your sprayer to general use to get a stronger stream of water to remove the soap and the dirt loosened by the soap effectively from the surface of the siding.
Never blast the stream of water up or into corners as that can do more damage.
And, make sure to dry and clean corners to get rid of the extra moisture that may accumulate in these sensitive areas that tend to be more susceptible to water damage.
As you consider the type of vinyl siding cleaner that is best for your home, make sure to consider what features you need and what chemicals will be the best for everything that surrounds your home.
Once you know what type of cleaner you need, you should have no problem finding the right vinyl siding cleaner that will make your home look new again.
Summary
Reviewer
Review Date
Reviewed Item
Author Rating