Whether cleaning floors bring you pleasure, or you perform the chore out of necessity, you need a mop that gets the job done. Mops simplify the task by removing dirt and grime quickly and efficiently. Laminate floors, however, require a special type of mop. Below, you will find a list of of Best Mop for Laminate Floors. A brief synopsis, along with pros, cons, and recommendations is also provided.

Best Mop for Laminate Floors Review
Professional Microfiber Mop for Daily Use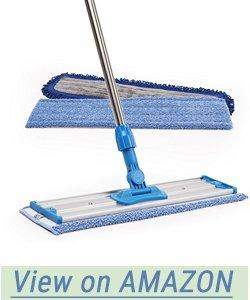 Designed by a team of cleaning experts, the Professional Microfiber Mop delivers an impressive performance. It comes with two wet mop pads and a dry mop pad, so you can give floors a light dusting or deep cleaning. This model features a stainless steel telescopic handle that adjusts to the user's height. An 18" frame swivels 360 degrees for quick, effortless cleaning.
These frames feature rigid aluminum, and a heavy duty swivel mechanism. The mop pads attached to the frame with three strips of Velcro, which is glued and riveted to the frame. They also have plastic end caps, which protect walls, furniture, and the floor.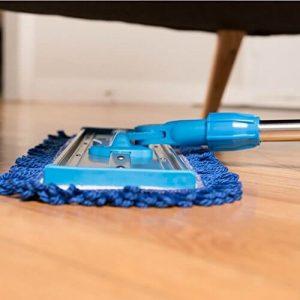 The heavy duty microfiber mop tool includes the heavy duty handle. This frame will also work with our stainless steel handles. To assemble the tool, simply loosen the compression fitting, insert the handle and tighten the compression fitting. You don't need to thread the handle into the frame. The threads are on the handle, so you can use it with things like our microfiber high dusters.
Recommendation: Suitable for daily use, this heavy-duty mop has a broad pad, allowing you to clean a large swath of the floor with just one pass.
Pros
Machine washable pads
Velcro strips keep pads in place while mopping
Plastic end caps protect the floor, walls, and furniture
Simple assembly
Comfortable to hold
Cons
Handle may be too heavy for petite individuals
O-Cedar Easy-Wring Spin Mop for Hands-free Wringing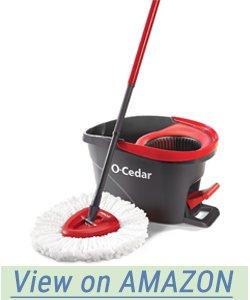 O'Cedar's Easy-Wring Mop and Bucket features a built-in tool for hands-free wringing. The triangular head pivots perfectly into tight corners. Plus, once you step on the bucket's pedal, it activates the wringer, alleviating the need to bend and get your hands wet and dirty.
Recommendation: It's the perfect choice for those who desire a deep clean, but prefer to keep their hands clean while mopping.



Pros
Splashguard keeps water from dripping on the floor while wringing
Effectively removes dirt and grime
Foot pedal provides hands-free spin wringing
Machine washable head
Handle extends from 36" to 48" inches
Cons
No wheels on bucket
Handle not suitable for tall individuals
Mop head may come off when applying force
Temples Pride Professional Microfiber Mop for Serious Cleaning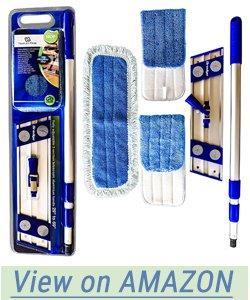 This mop removes 99.9% of bacteria and leaves a streak-free shine. The kit includes a dust pad, a wet pad, and a combination pad for use on damp or dry floors. A professional-grade telescoping handle extends and retracts in three places, making it easy for use by kids and adults. Wide 17" x 5" pads help speed up the process. The locking mechanism stops the mop head from rotating and allows you to keep it in a vertical or horizontal position.
Recommendation: The manufacturer touts a streak-free shine when you use the included drag-resistant pads. It's a brilliant concept—theoretically. In practice, however, you can only use forward movements with the drag-resistant pads. More specifically, you have to lift the mop after each pass, which can be frustrating and may take some getting used to.



Pros
Lightweight aluminum handle adjusts from 29" to 61"
Sliding cloth holders allow you to use the pad of your choice
Riveted Velcro keeps the wipes in place
Cons
Plastic twist lock handles not durable
Cannot go back and forth without the mop head flipping backwards when damp mopping
O-Cedar ProMist MAX Microfiber Spray Mop for Twice the Coverage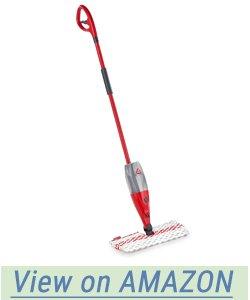 The O-Cedar ProMist Max has a dual-sided microfiber head that allows you to cover a large portion of the floor without stopping. A removable reservoir allows you to add water and cleaning solution. When you squeeze the handle's trigger, a fine mist shoots out, covering the full width of the mop head. Raised fibers help attack sticky spots and stubborn dirt.

Recommendation: The ProMist Max is one of the best mops on the market. It provides just enough moisture to clean sensitive laminate floors. Plus, the pad wraps around the mop head so you don't have to worry about it damaging walls and furniture.



Pros
Dual-sided mop head allows you to clean floors with a flip of the pad
One-touch release system lets you remove the built-in bottle to add solution
Use dry or damp
Ergonomic handle makes it easy to squeeze the nozzle and control the spray
Reusable mop pad washable up to 100 times
Cons
Trigger requires a firm push
Difficult to maneuver around tight spaces without the head coming off
Mopnado Deluxe Spin Mop for Easy Mobility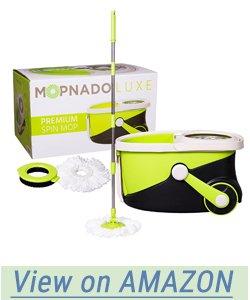 The Mopnado is durable, convenient, and efficient. A patented spin drive sets the Mopnado apart from its competitors. Use it damp or dry. It features a built-in agitator similar to a washing machine. As you push the spring-loaded handle, the mop spins, leaving dirt and debris inside the two-sided bucket. You can let the stainless steel agitator spin slowly to remove extra water or let it twirl rapidly to dry the mop head completely.

Recommendation: This mop gets two thumbs up for its convenient twist-lock handle that allows you to get to difficult areas without bending. You can also extend the pole to dust off ceiling fans and lights. For portability, the bucket features a retractable handle and smooth rolling wheels.
Pros
Stainless steel agitator resists rust and odors
Removable soap dispenser
Retractable handle and wheels for easy mobility
Leaves no streaks
Adjustable twist-lock handle
Cons
Depending on how frequently you use this system the agitator may stop working
Takes quite a while for the mop head to wring dry
Swiffer WetJet Hardwood and Floor Spray Mop Cleaner for Easy Operation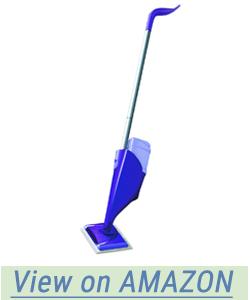 This all-in-one system comes with everything you need to tackle soil and sticky grime. Accessories include five textured pads and a bottle of pre-mixed cleaning solution. You will need four AA batteries to operate the dual-nozzle sprayer.
Recommendation: The Swiffer WetJet has an attractive price tag. If you find yourself constantly cleaning scuff marks and sticky spots, you will want to grab this mop. The pads feature soft scrub strips that allow you to remove stubborn marks and messes without damaging your floors.



Pros
Comes in three easy-to-assemble parts
Solution included
Simple operation
Scrub strips on the pads
Cons
Sensitive sprayer button on handle will squirt if you touch it accidentally
Noisy when sprayer is in use
LINKYO Microfiber Hardwood Floor Mop for Gentle Scrubbing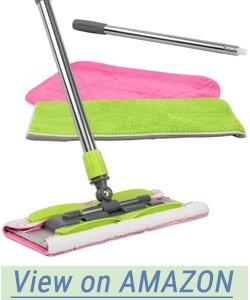 The Linkyo Microfiber Floor Mop doesn't have a lot of bells and whistles like more expensive brands. Still, it features reversible pads so you can clean the floor in a fraction of the time. It features a 360-degree rotating head and a long handle to reach difficult areas like the spot behind toilets. Sturdy construction prevents the frame from breaking during use.
Recommendation: If you have a high-traffic area that attracts scuff marks, you will appreciate the Linkyo. One of the biggest benefits of using this model is the reversible pads. They have scrub lines that are aggressive enough to remove stubborn stains without being abrasive on laminate floors. A clamp system makes it easy to slip the pads on and off.



Pros
Easy to maneuver
Simple clip-on design
Made of high-quality materials
Machine washable pads provide multiple uses
Two-year warranty
Cons
Additional piece needed to extend the handle (extra piece comes in the package)
Clasp for holding the pads wear quickly
Rubbermaid Reveal Spray Mop for Wide Areas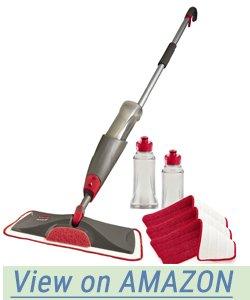 Rubbermaid has been making household and commercial products that make chores easier for over 80 years. It's no wonder that the Reveal Spray Mop contains a special microfiber blend that collects 50 percent more dirt and dust than other brands. As a result, you only need to take a few swipes to get the floor spotless.
Recommendation: If you're looking for a lightweight mop with a wide cleaning surface, you will be impressed with the way the Reveal Spray Mop slides across the floor with ease. You control the amount of solution needed to clean the floor. The pump-activated sprayer dispenses a fine mist through a wide nozzle. Most importantly, the unit has a non-scratch scrubber attached to the mop head. When you run into a tough spot, you simply flip the head and run it over the area.



Pros
Sturdy cleaning tool
Includes a detachable, refillable 22-ounce solution bottle
Reusable, machine washable pads save money
No batteries required for spray operation
Bona Stone, Tile and Laminate Floor Mop for High-traffic Areas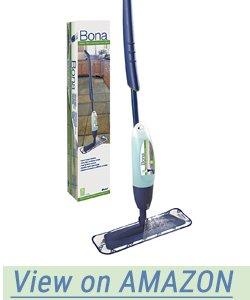 With the Bona Stone, Tile and Laminate Floor Mop you get a nice shiny finish. The microfiber pad and the included floor cleaner provide an effective clean. It has a long handle that suits most heights without having to stoop or bend to mop the floor.
Recommendation: Although the Bona Laminate Floor Mop does an excellent cleaning job, it comes with two major deal breakers. First, the cartridge has a design flaw, which causes it to leak. Secondly, the Velcro strip that holds the pads on the frame sometimes comes off while removing the pad.



Pros
Dries quickly
Leaves the floor shiny without dull residue
Easy to squeeze trigger
Comfortable handgrip
Cons
Velcro strip not properly secured and may come off when taking off the pad
Cartridge tends to leak
Twist and Shout Mop for Hard to Reach Places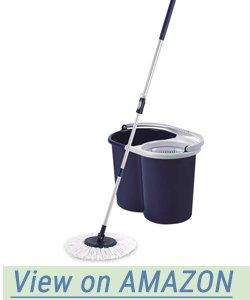 The Twist and Shout Mop is a joy to use. Thanks to a unique design, it features a self-wringing mop that operates without batteries or a push pedal. With gentle vertical strokes, the mop head rotates in the bucket, stripping away excess water. It has a super absorbent microfiber head that absorbs 8 times its weight in liquid and contains over 8,000 strands to trap dust, grease, grime, and spills.

Recommendation: This award-winning mop is loaded with features that make it a must-have. First, its telescoping handle adjusts from 44 to 55 inches, so users of all heights can use it comfortably. Secondly, your hands remain clean and dry while mopping. Furthermore, it pivots 180 to 360 degrees, making it perfect for cleaning under furniture, along baseboards, between cabinets, and behind toilets. The bucket is made of industrial grade plastic and weighs less than four pounds, allowing you to fill and empty it without putting a strain on the back.
Pros
Swivels 180 to 360 degrees
No solution required for a streak-free shine
Washable and reusable mop head
Mop head machine washable up to 300 times
Lifetime guarantee
Buying Guide
Types of Laminate Floor Mops
Laminate floor mops help you clean more efficiently and safely. Typically, there are three types of units: spray mop, bucket mop, and a cloth mop. Many models double as a dry or damp cleaning tool. The device may have a circular, rectangular or triangular plate and it may use either a microfiber cloth or pad.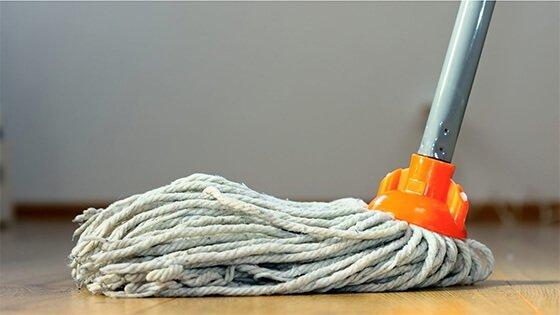 Spray Mop: This type of mop is suited for quick cleanups. It allows you to wipe away muddy footprints without lugging a bucket. The unit comes with a built-in or detachable container to hold cleaning solution. Usually, these mops have a trigger mechanism in the handle to release a steady stream of solution from the tank through a nozzle. Most models have a Velcro plate to attach a cleaning pad. As you push the mop over the floor, it wipes away the dirt and grime.
Spin Mop: The mop and bucket set is the best option for giving laminate floors a thorough cleaning. With these mops, you have the option of selecting a unit with a spinning mechanism or agitator to remove excess water from the mop head. Other features may include a splash guard to keep the water inside the bucket and a foot pedal that allows you to wring the mop without stooping.
Dry Mop: A dry mop doesn't come with a spray or bucket feature. However, you may pair some models with your own cleaner, pail, or both. They may have a bundle of microfiber strips (with or without looped ends). Alternatively, the mop may use disposable or washable sheets to handle big jobs or small spills.
Things to Consider Before Purchasing a Mop for Laminate Floors
Two of the main things you need to think about before buying a laminate floor mop is practicality and convenience. For example, is it may be more practical to use washable mop heads. However, you may prefer the convenience of disposable pads. The same rule applies when considering a mop with or without a bucket. Following, you will find a list of other factors to consider.

Budget: Expect to pay between $20 to 100 for a laminate floor mop. Besides the short-term cost, you also need to think through your long-term plans. Disposable pads and cleaning solution can be costly depending on how often you mop.
Maneuverability: To clean effectively, you need a mop that allows you to navigate under, around and through tight areas. Pivoting heads and adjustable handles allow you to achieve this task.
Portability: Water is heavy. So, if you decide to purchase a unit with a bucket, it is more convenient to purchase one that has wheels. Otherwise, you will strain to move it from one place to another. Try models that come with a drain plug, so you can empty the water without spilling. You should also check out buckets with splash guards. This feature prevents water from splashing on your clothes or your clean floor while moving.
Versatility: If you have laminate floors in the kitchen and tile floors in the bathroom, you will save money and time by purchasing a unit that works well on both types of floors. Also, consider the wet/dry options. With some units, you have to switch out the mop head or pad to perform light dusting and deep cleaning. You will also come across mops that use the same material for both wet and dry functions.
Durability: Mops aren't meant to last forever. Nevertheless, they should last a long time. In fact, they should be sturdy enough to withstand a rigorous back and forth movement when scrubbing is necessary. Stainless steel and aluminum are the most durable. Plastic parts can break if you apply too much pressure. If you choose a mop with plastic parts look for tools made of industrial-strength or professional grade plastic. Although rare, mops with wooden handles offer durability, but they tend to be heavy. Additionally, wood handle mops require more effort to move and may cause splinters.
Comfort: Models with telescoping handles allow you and other users to adjust the mop to a comfortable height. A properly adjusted mop helps reduce physical strain. Additionally, look for mops that have ergonomically designed handles to prevent hands and wrists from tiring while mopping.
Warranty: The manufacturer's guarantee will tell you a lot about the quality of a product. Some brands offer a one-year guarantee, and other companies provide two-year, or a lifetime warranty. Longer warranties usually mean that the company has tested the product and feel confident the mop can withstand rigorous use without breaking or bending. However, restrictions may apply, so make sure you read and understand the terms before making a purchase. Often, you can find a copy of the warranty on the manufacturer's website.
Mop Heads and Pads: Most laminate floor mops come with a microfiber pad or head that can be used damp or dry. Microfiber can hold a large volume of liquid, which leads to better wringing, and faster drying times. Additionally, if they are not disposable, they should be able to withstand at least 100 machine washings without shrinking or fraying. If the cloth is made of a material other than microfiber, it may not hold up well under frequent use and laundering.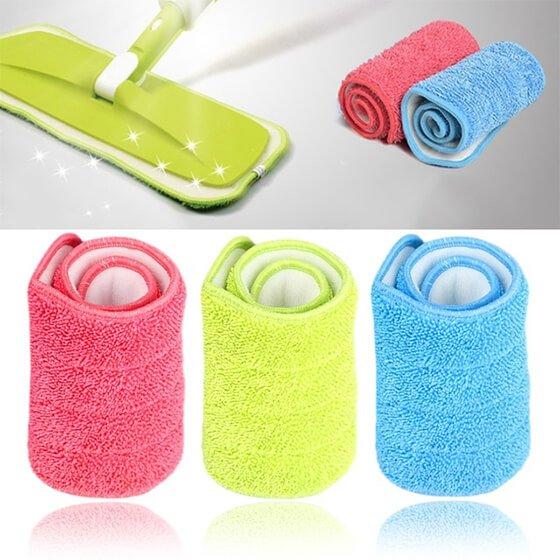 Frame/Plate Size: Large plates and frames hold a wider cloth, which lets you finish the job quicker. However, when you have to navigate between several nooks and crannies, a smaller plate or frame may be a better option.
Spin Mechanism: Mops with spinning baskets work like a salad spinner. The faster the mop spins, the drier the fibers will be. The centrifugal force drains excess water, leaving it damp enough to give the floor an effective cleaning. Some buckets have a spin mechanism that operates via a lever or foot pedal. The foot pedal option lets you pump the control continuously until the mop head reaches the dryness desired. In contrast, the lever option requires a slight bend to turn the spinner on and off.
Solution Dispenser: You will have your choice of purchasing a laminate floor mop with a built-in dispenser or a detachable bottle. With the built-in option, you have to pour the solution straight into the container. Mops with the removable vessels allow you to fill the container on the countertop and mix with small amounts of water, if necessary.
Laminate Floor Mop Care and Maintenance Tips
With proper maintenance and care, you can extend the life of your mop. Make sure you clean the mop after each use. If you put this task off, the mop will sour and begin to smell. Unfortunately, the stench will linger and may become so unbearable you will choose to throw it away. Even with disposable pads, you want to remove the dirty culprits immediately. Remember, if you use a bucket, you need to sanitize it, too.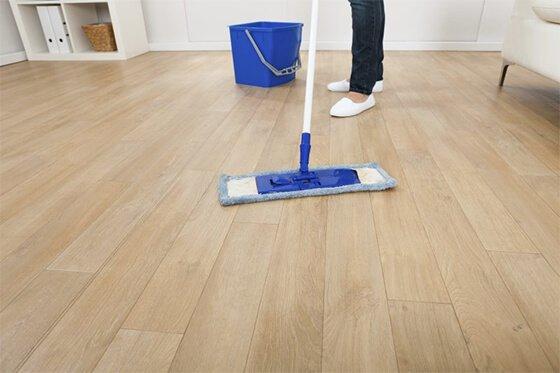 Always read the manufacturer's suggestions on how to use and care for the mop. Even if you had the same model previously, you should refresh your memory with the instructions. Sometimes manufacturers update the model and add new features. Also, keep these tips in mind.
Use the proper cleaning solution. Not all solution is safe for laminate floors
Only use the recommended amount of solution to prevent sticky, dull floors
Mops should be slightly damp. Avoid putting too much water on the floor. If water seeps under the surface layer, it may cause the planks to warp or buckle
Do not wax the floor
Never add bleach to the solution or use it to sanitize the mop heads or pads
Do not use fabric softener when washing the pads or mop heads
Always dust or vacuum the floor before mopping
Hold the handle at a 45-degree angle to prevent back strain
Make sure the mop head remains flat on the floor while cleaning
Check for loose fibers before and after each use
How to Mop Laminate Floors
Laminate floors may resemble hardwood or natural stone, but they need special care. Mops with microfiber heads pick up dirt and glide across the floor without leaving scratches and water behind. Swivel heads and adjustable handles help expedite the process. Follow the steps below to give your laminate floors the tender loving care they need.

Step One:
Before mopping, dust or vacuum the floor to get rid of any dirt or grit they may have accumulated since your last mopping. If possible, open windows and doors to supply ventilation and help floors dry faster.
Step Two:
Dampen the mop with warm water and spray cleaning solution on the mop. Regardless of the type of mop you use, you should refer to the manufacturer's recommendation for the proper amount of solution to apply.
Step Three:
Begin in the furthest corner from the entrance and start mopping in the direction the planks lay. Make two passes over each section—one to spread the solution and one to remove it. Continue this pattern, working backward until you reach the door.
Step Four:
If the mop has a double-sided pad, you can flip it over after a few passes to avoid depositing dirt back onto the floor. Or you can immerse the mop in water if using a bucket. Make sure to wring it thoroughly before you continue. Some buckets have a wring or spin feature to take care of this for you.
Step Five:
Go over the floor again with a clean damp mop to remove any remaining solution.
FAQs
Here you will find the answers to the most common questions regarding laminate floor mops.
Q. What are laminate floors made of?
A. Laminate flooring is made of five materials fused together. Each layer serves a specific purpose. The top layer is made of a transparent protective material to guard against stains and fading. A decorative layer sits underneath the transparent layer. It features a high-resolution photograph of hardwood or natural stone. Beneath this surface, is a high-density fiberboard core, which protects the floor from moisture and indentations. Next, a melamine resin provides stability. Last is the underlayment, which helps soften the impact of walking on the floor. This multi-layer construction makes laminate floors extremely durable and easy to clean.
Q. How often should I mop my laminate floors?
A. If you have laminate floors in high traffic areas such as the kitchen, hallways, and entryways, a weekly mopping should suffice.
Q. Can I use a laminate mop on other types of flooring?
A. It depends. Some floor mops are designed specifically for laminate floors. A few models can be used on all types of flooring. If you prefer one mop to do all of your floors, you will need to make sure it is suitable for the types of flooring in your home.
Q. Why can't I use a string mop or sponge mop on laminate floors?
A. Aside from taking longer and leaving streak marks, string and sponge mops hold excess water, causing it to seep between the planks and cause irreparable damage.
Q. How often should I change the water while mopping?
A. You should rinse the mop as you work and refresh the water if it appears brown or cloudy.
Q. Should I wash the mop heads after each use?
A. Yes. Failing to clean the mop head or pads after each use will leave an unpleasant smell. You can wash them by hand or in a machine. Let them air or tumble dry. Under no circumstances should you add heat, if you put them in the dryer.
Q. Why do I need to dust, sweep or vacuum before I damp mop?
A. Avoid sweeping laminate floors with a traditional broom. Instead, use a duster or vacuum to remove debris. Dust mops attract soil like a magnet. A vacuum will suck up hair, pet dander, and other bits dry mopping and dusting will miss. If you don't dust or vacuum beforehand, you simply spread the particles around. Over time, those small particles will act like sandpaper, scratching the floors and making them look bleak. When you damp mop the floor, you pick up the remnants that dusting and vacuuming leaves behind. Consequently, the floor gets a thorough cleaning.
Q. What can I do if my floors feel sticky after mopping?
A. If your laminate floors feel sticky after mopping, it means you applied too much cleaning solution. Refer to the manufacturer's recommendation for the correct amount. Some cleaning products need to be diluted with water before use.
Q: How can I get streak-free laminate floors?
A: It can take a little practice to get your floors streak free. Although some brands claim to deliver a streak-free shine, the real trick involves a combination of preparation and cleaning solution. First, you must clear the floor of dirt and debris with a vacuum or dry mop. Next, you have to make sure there is no excess water on the mop. Then, you have to apply the right amount of solution. When you apply these three principles, the floor dries quickly without any streaks.
Q. How will I know if the cleaning solution is safe for a crawling baby?
A. You will need to check the ingredients used to make the solution. Vinegar is a safe alternative. The smell may be strong at first, but it dissipates quickly.
Summary
Reviewer
Review Date
Reviewed Item
Author Rating